Photographing a Project Over the Course of Two Years – The Hungarian House of Music
Architecture
Business
It's very difficult to start telling a story when you don't really know where to start. Maybe it was in 2015 or 2016 when I first came across the visual designs, which immediately piqued my interest. An incomparable building was visible on them, one that I had never seen anywhere before, let alone in Hungary — it was a rendering of the future Hungarian House of Music.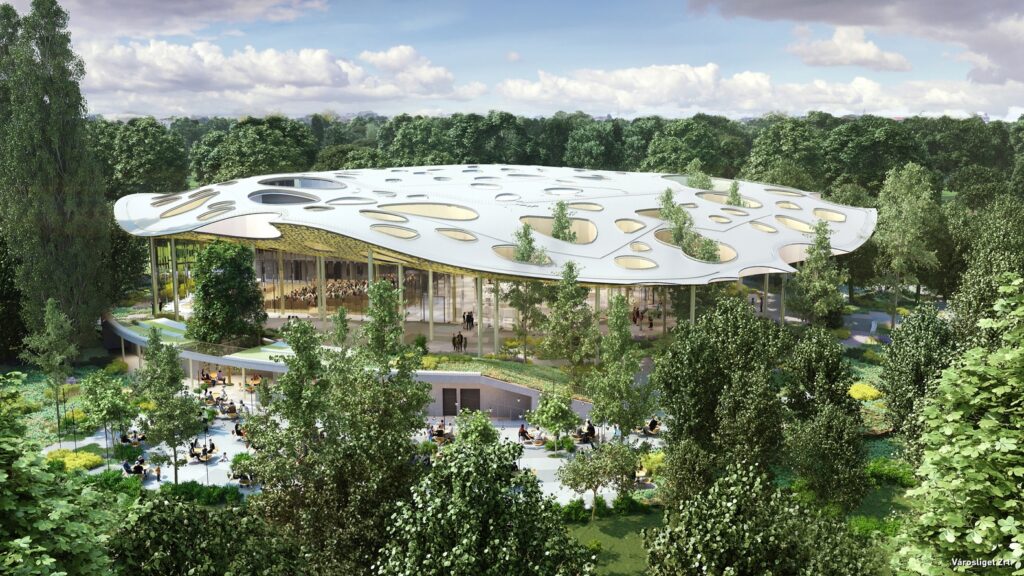 The first time I was ever interviewed by an online magazine in 2018, I mentioned that another one of my dream commissions was part of the Liget Budapest project. At that time I was particularly interested in the Ethnography Museum.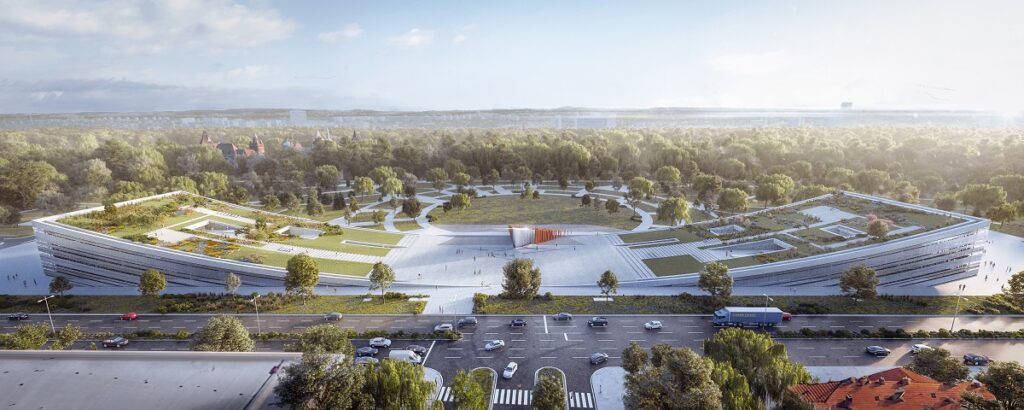 I was very interested in these projects from the moment I saw the renderings. From the very beginning, I wanted to work not only in Hungary but also somehow to be noticed on an international level. I knew photographing such an internationally outstanding project would help me work toward this goal. Liget Budapest Project is Europe's largest and most ambitious urban cultural development envisions the complete renewal of Budapest's largest and most iconic public park. I knew that I wanted to be part of it in one way or another.
How I Became Involved
I followed the constructions carefully, but I did not manage to get in. None of the contractors from my existing contacts participated (yes, I looked into it), so I only watched from the car from time to time as the Museum of Ethnography grew out of the ground. Then, in the summer of 2020, I had a free afternoon and flew the drone over the Városliget, and the sight enchanted me again. I quickly shared these pictures on Instagram, hoping that they would arouse the interest of Liget Budapest.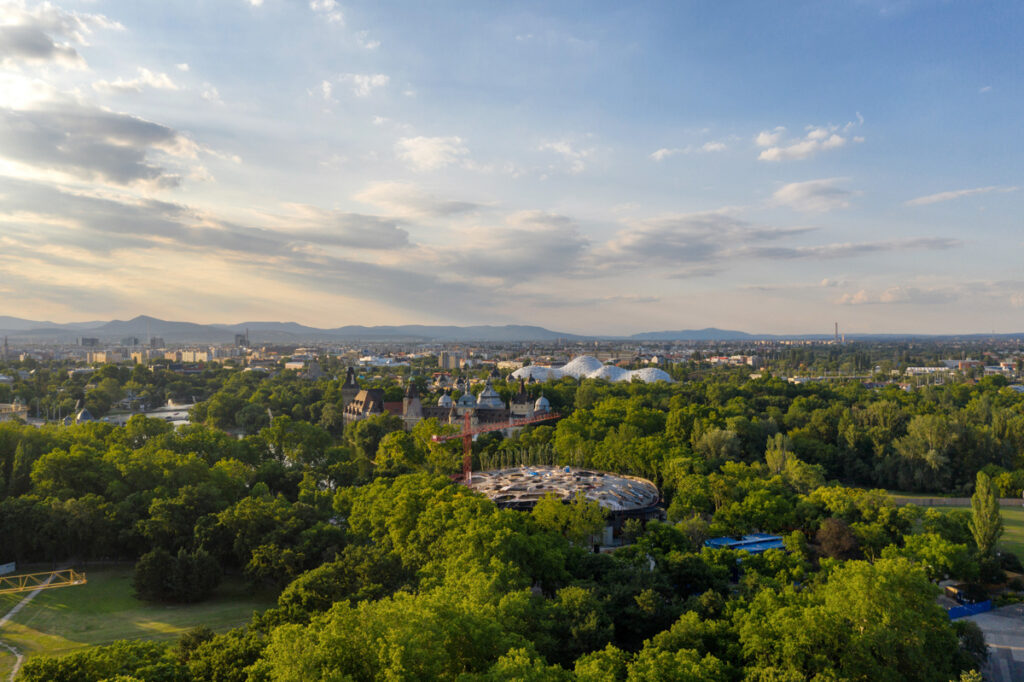 At that time, I was not yet successful, the post was only shared, so I remained in an "observant" state. Whenever there was an assignment nearby, I always flew my drone here a bit.
This is how these pictures were taken. After seeing these photographs, they contacted me and I was given a permanent commission to photograph construction sites and make video materials.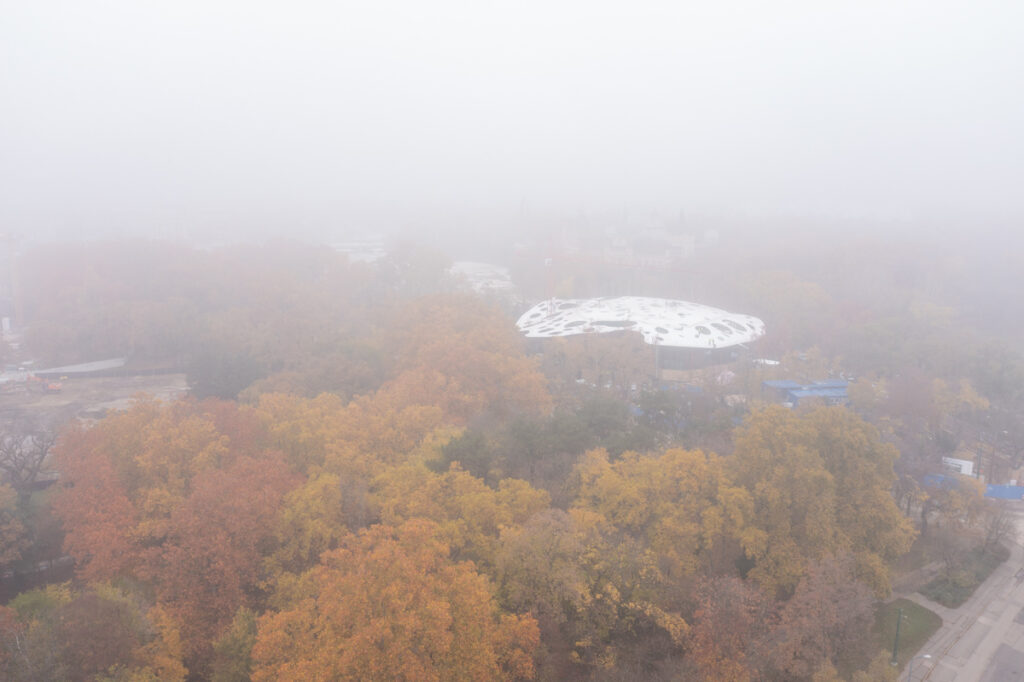 The Process – I'm the Photographer for the Project!
From then on, I visited the construction site every week, sometimes looking for interesting details, and other times more comprehensive "situation reports" were prepared. I was completely surprised by how clean the construction site was and what order the workers left behind before they went home.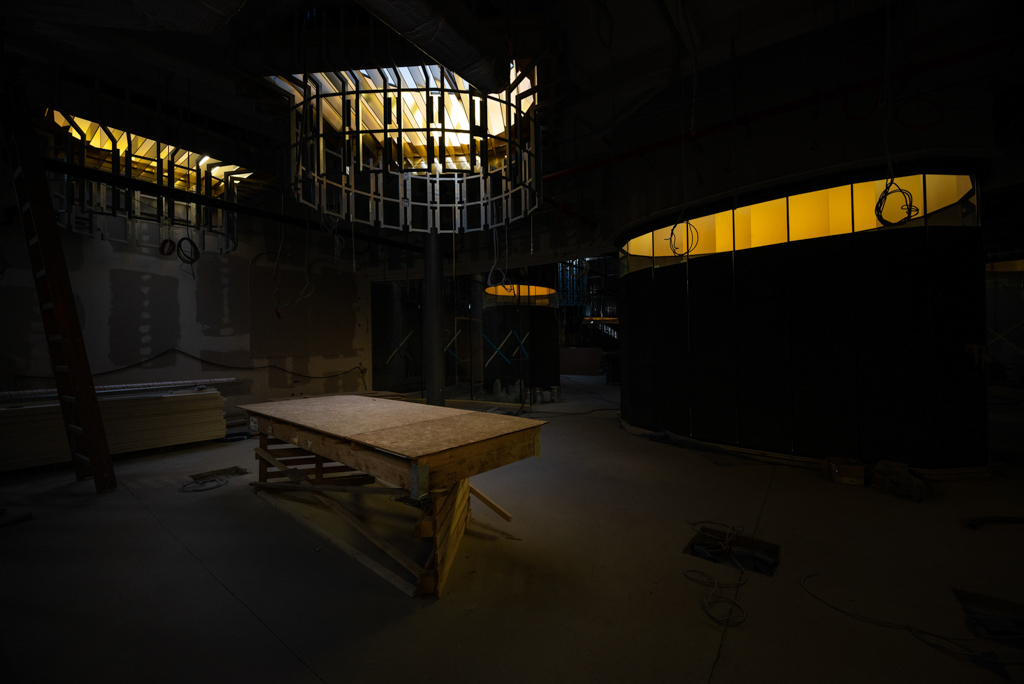 I have never encountered anything like this before, although I have never been tasked with going out to a construction site every week. I have followed projects during construction before, but I usually visited them every 1-2 months, mostly during the day, so it was a completely new experience to wander around the empty, quiet construction site after work hours.
The main task was to provide visual material for the communication team so that they could report on the development of the construction. In these pictures, beautiful compositions and the development of the building were the main focus, focusing as much as possible on the parts closest to the future finished building. In addition, I sometimes had to capture exciting moments, such as the installation of the last huge glass panel.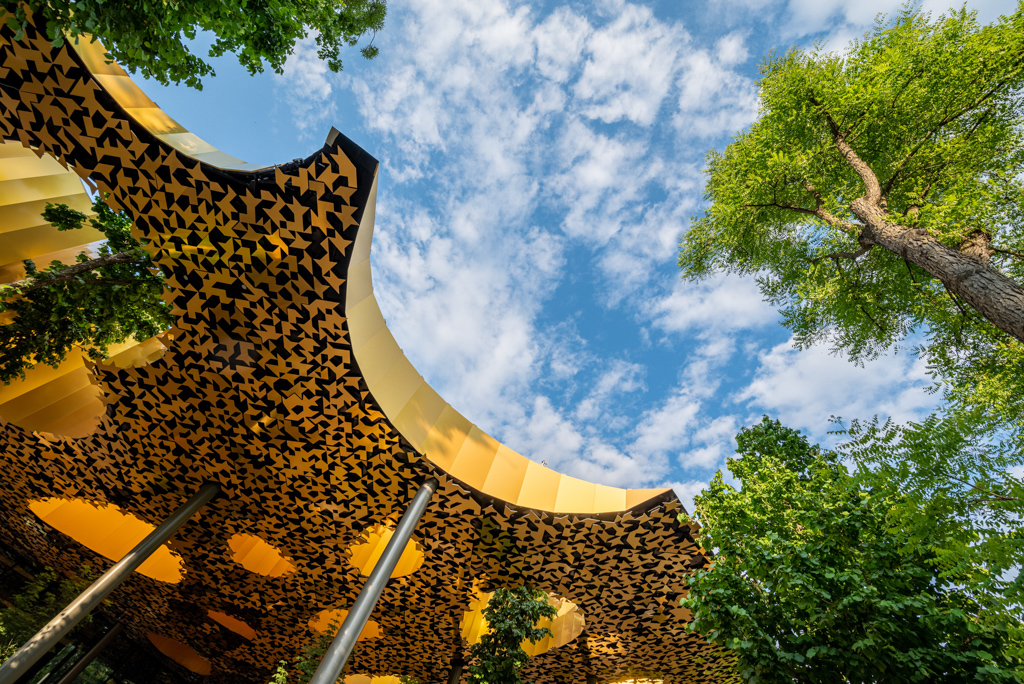 The fact that I visited the construction site so many times gave me a good basis for preparing the final material. In October, the first series was made, when some photos showed the house as an almost finished building. We wanted to make use of the autumn colors, as we had to wait a long time for that after the handover.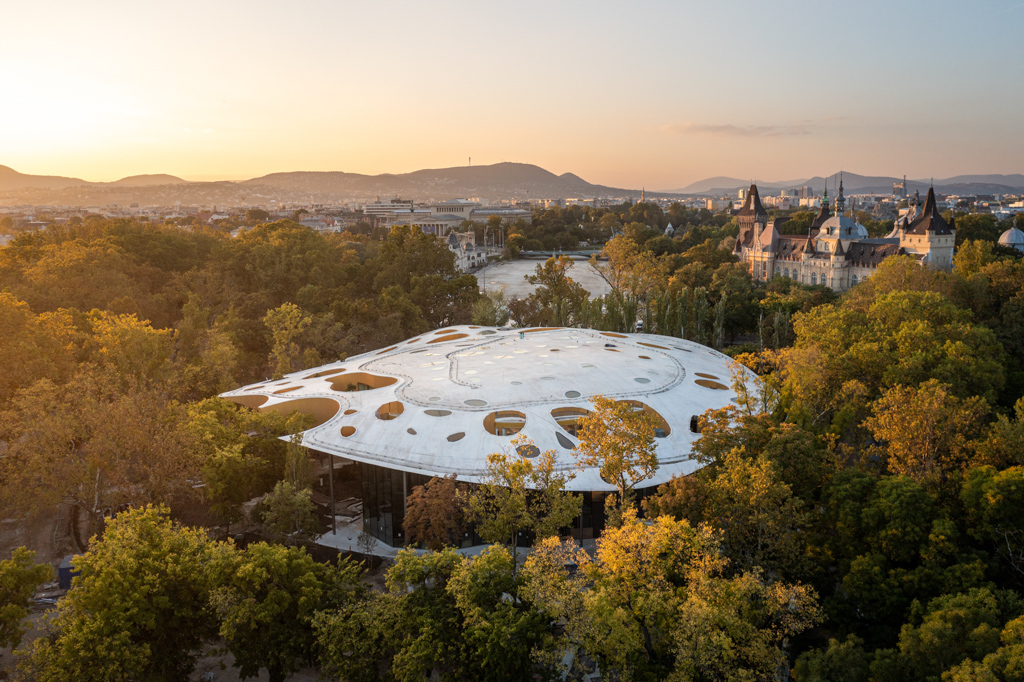 Photographing the Finished Building
After that, we specifically prepared for the final photo shoot, which was completed in several days in January. I first "got" the empty building on a Sunday before the opening, which was an unforgettable experience for me. After the many months, I spent in the building during the construction phase, it was amazingly uplifting to see and show this wonderful building through my pictures. I was able to take photos for days in the House of Hungarian Music, conceived by the Japanese Sou Fujimoto and then shaped into a building with the Hungarian M-Teampannon team of architects. Even now, I get goosebumps when I think back on those moments.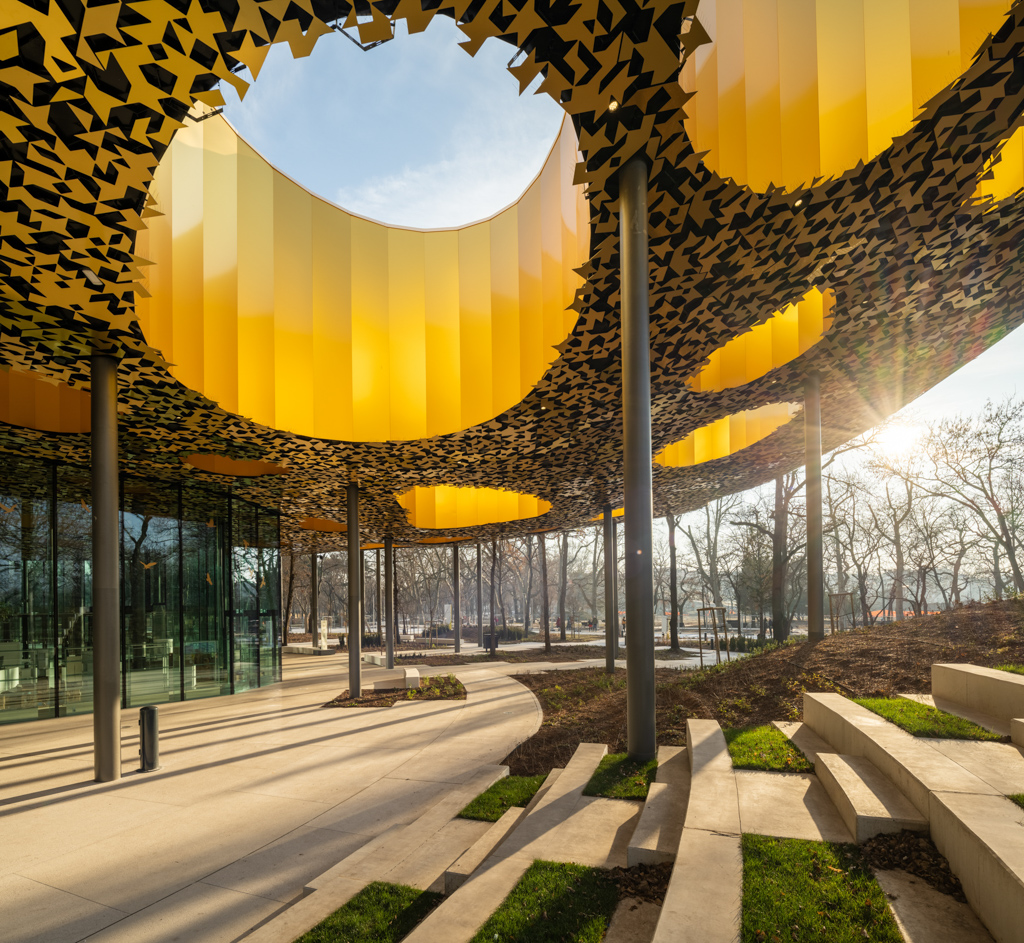 And after the handover, we dedicated a day to the spaces filled with visitors, so we ended up with a very complex, diverse set of images that appeared in many places in the world press, the building won a number of awards. (Just like I was awarded the Loop Design Awards Architectural Photographer of the Year 2022)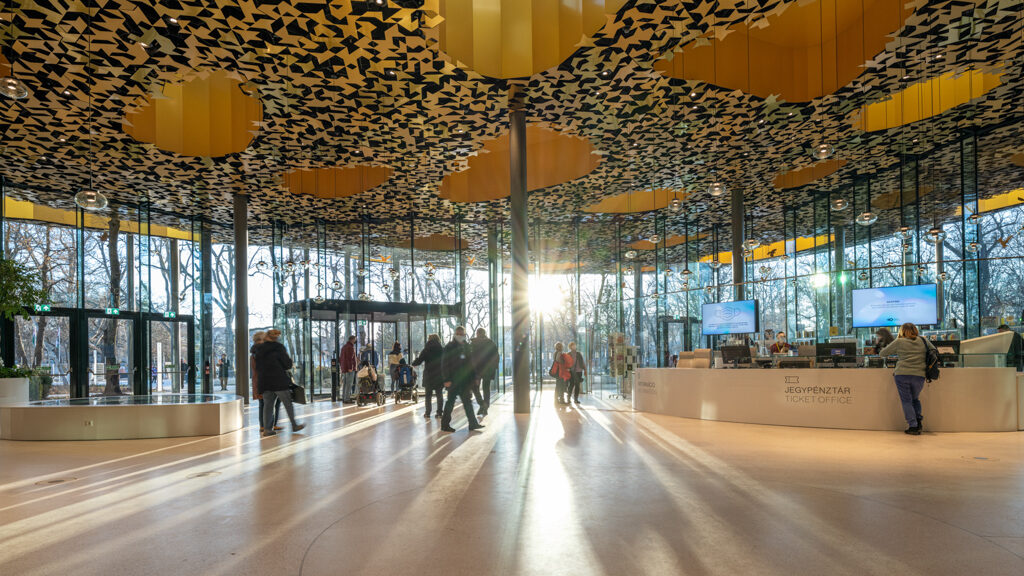 I'm very sorry that I only found out afterward that Iwan Baan also photographed the building for Sou Fujimoto for a few days, so I didn't get to meet him. The fact that even after that, you will probably come across my pictures in the press, most recently in Architectural Digest, for example, is a huge thing for me.
Final Sets of Images
I asked Mike how I should represent the work I did here, and he said that he always says: "pick the best 15 images". Okay, but how on Earth will I be able to do that? Sorry Mike, but I decided to show many more images, to give an idea to our readers what is like to photograph a project like this over a year. (I'm talking about the finished stage of the building.) Besides all I agree with Mike if it would be into your project portfolio, then sure, you need only 15 images max.
So here are my favorite images sorted out into different topics to highlight not only the architecture but how it changes in different seasons:
Aerials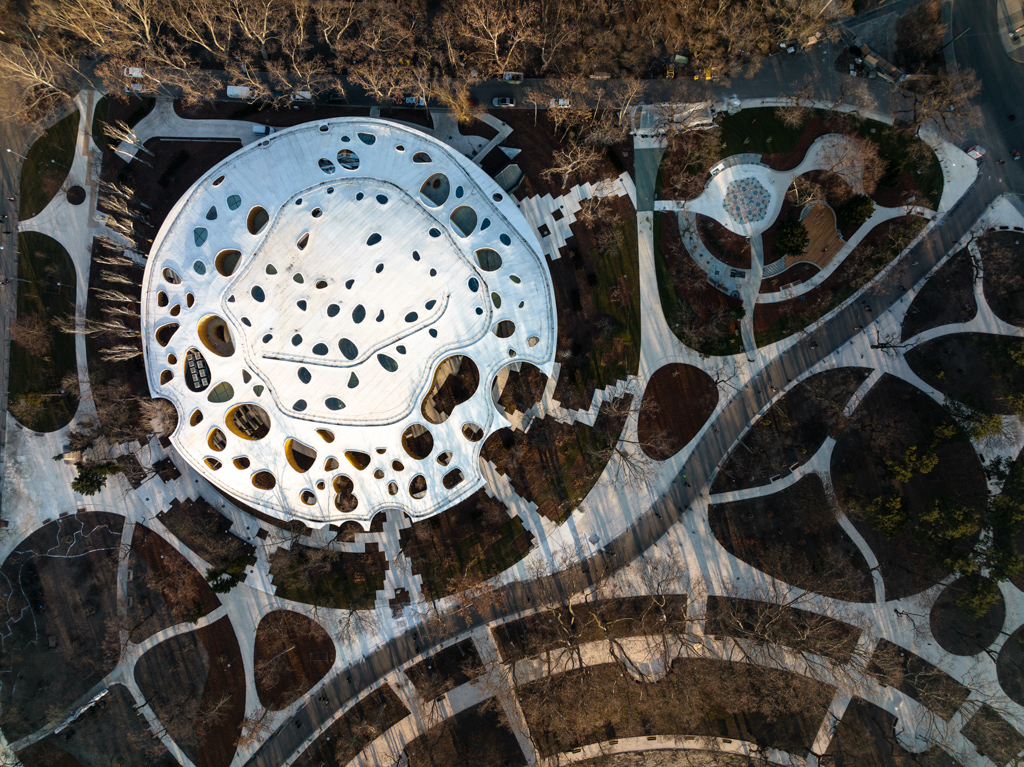 Exteriors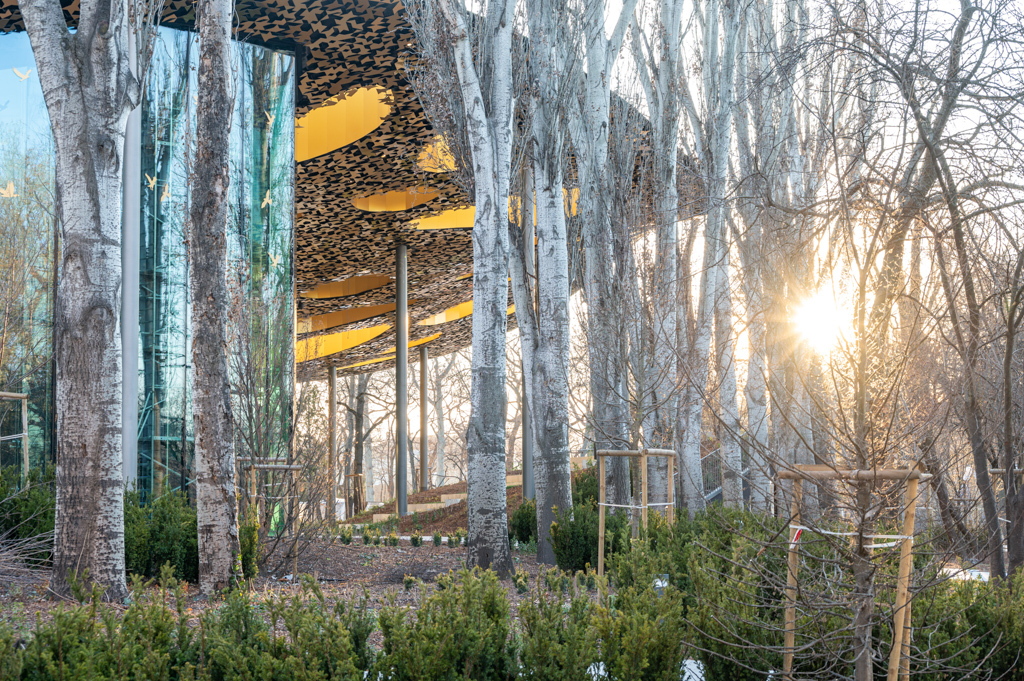 Details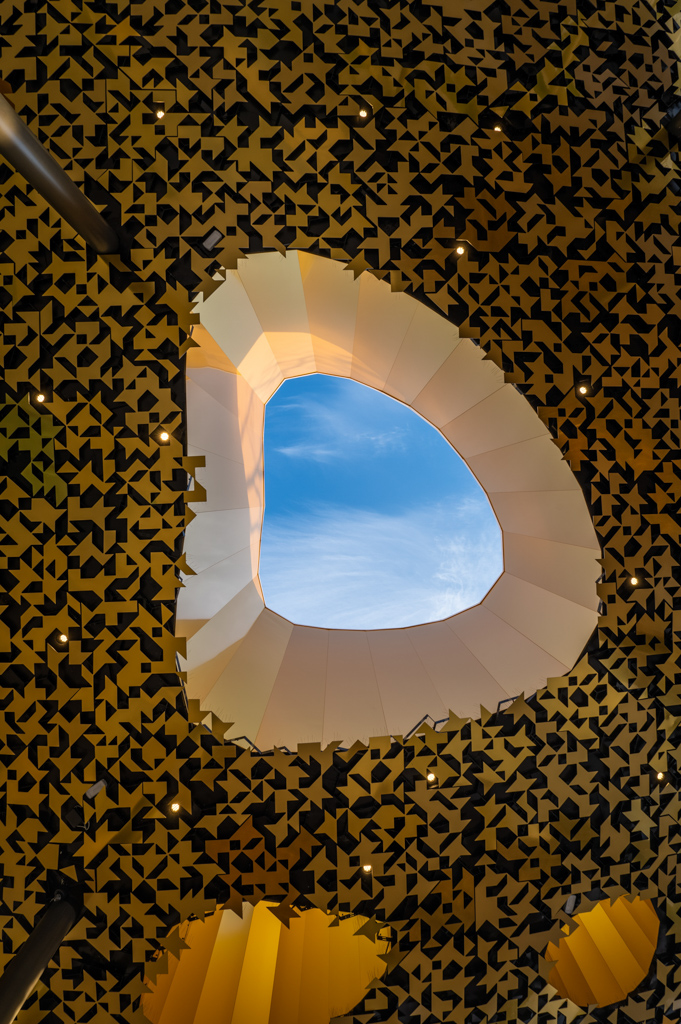 Interiors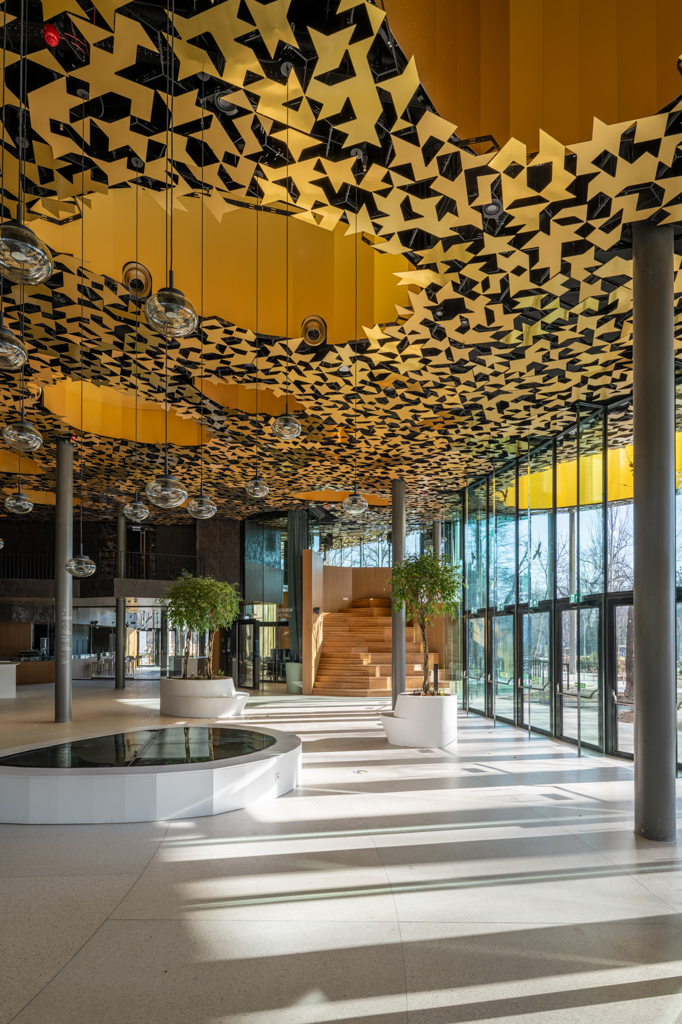 Staircase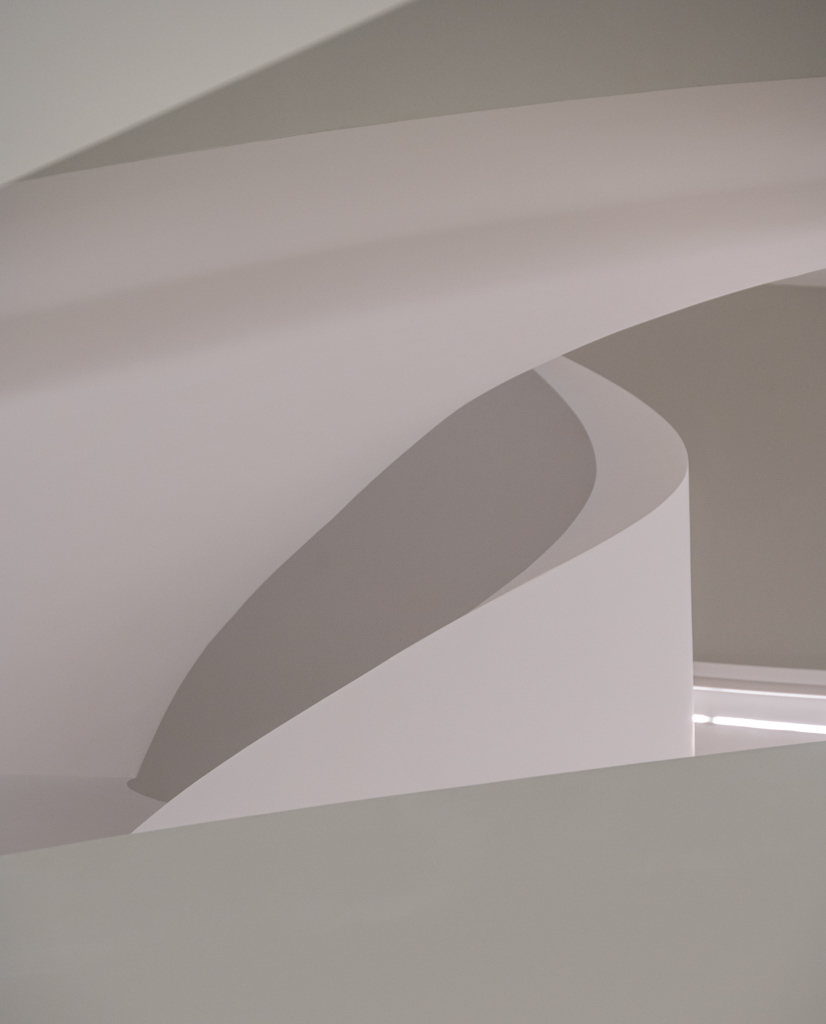 Even now, I am the photographer of Liget Budapest with my team, because since the building was handed over, we have also been working on events. This is mostly the task of Bence Szabó, who took the cover photo of this article also. It is an interesting experience to stay in touch with the users of the building even after the handover and to see how the house is filled with life.
Final thoughts
Some interesting things, what did this project bring me?
I was at the construction site of the House of Hungarian Music and the Museum of Ethnography more than 60 times
Nearly 10,000 frames were made in 2 years (only from the House of Music 😀 )
I submitted 1,200 detailed pictures for the book being prepared, of which nearly 600 were taken of the finished building in 10 months, so we have pictures from all four seasons
The Liget Budapest project also includes the renovation of the Museum of Fine Arts, so I was lucky enough here to make a series just for myself, and then I became the photographer of the temporary exhibitions before the openings. Can you imagine what an experience it is to visit the Bosch, Matisse, El Greco, and Csontváry exhibitions before the crowd and to make a series about them? I'll tell you, it's huge! 🙂
I really learned to work in a team, because in many cases I was only responsible for taking the pictures, but the post-processing was done by someone else, so I sometimes had to work according to the guidelines they gave me.
I wrote two articles for APAlmanac so far using the materials I created here
Here are a couple of sample images of my photographs I did in the Museum of Fine Arts.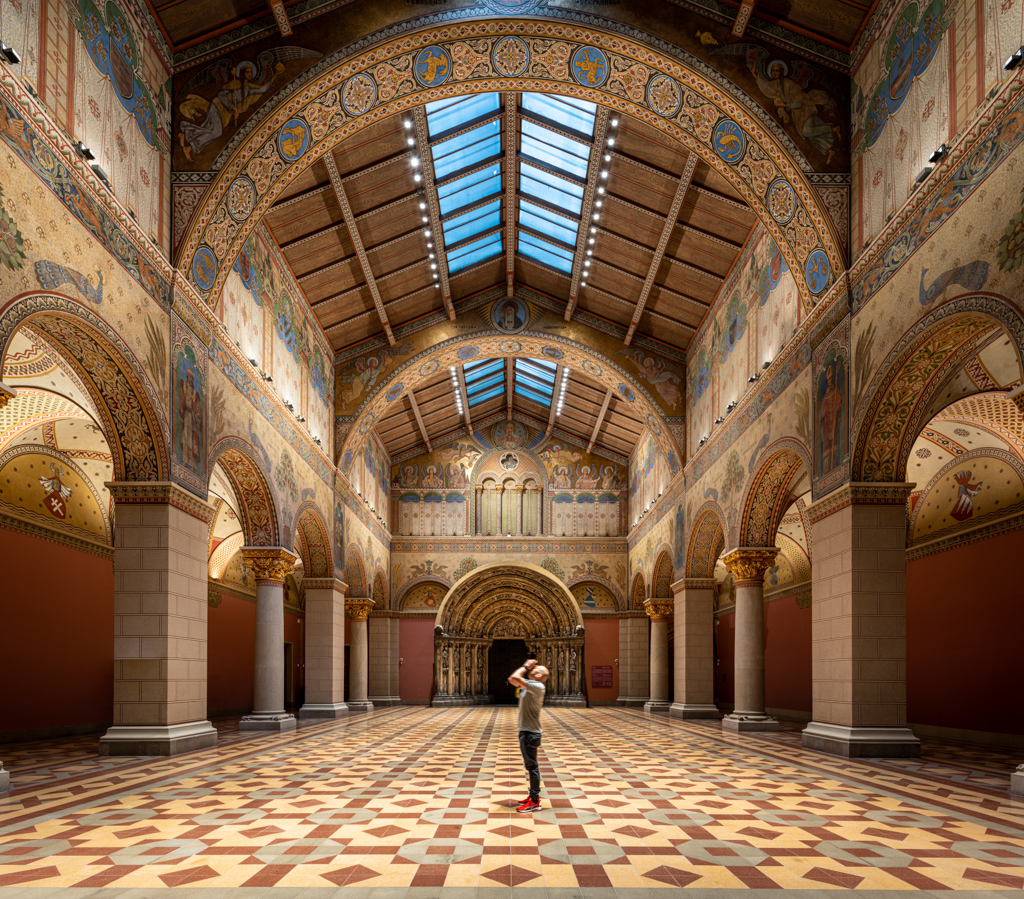 In summary, I can say that my dream job has actually come true in this project, and I can't wait for it to continue with the start of the construction of the Hungarian National Gallery.
I hope this article encourages you to consider architectural photography as a slightly more complex task and shows you a way how you can get closer to one of these assignments.