In my career in this industry I have  been lucky enough to meet and work with countless photographers through teaching workshops around the world, running this blog, and managing industry groups comprising thousands of members. Nearly every single time I get a chance to meet another photographer, the conversation reverts to our shared struggles of running a business in a largely independent field. We don't have a union, we don't have a break room to chat with our colleagues, we don't have anyone sticking up for us – as we all know, it's a very self-directed way to make a living and can get extremely tough to set boundaries and enforce contracts.
What's included?
My actual contract
No BS, this is the actual contract that I use every day in my business. I've redacted my own name and information and uploaded it in three different formats (Word, PDF, and RTF) so you can use whatever program you'd like to swap in your own information in place of mine. Or feel free to change licensing terms, payment terms, or whatever else you'd like, to suit your work style and client expectations. Click the gallery images below for a sample. The actual contract spans 11 pages in PDF format.
An explainer document
Most of the contract is relatively self-explanatory for anyone who has worked as a professional photographer for just a single gig or for decades. Nevertheless, there are certainly some more nuanced sections of the contract which are helpful to completely understand. Arbitration, separate exhibits and attachments, and expiration of limited licenses, to name a few. The explainer also shows you just how I get my clients to sign the contract and the simple workflow that I use to ensure a quick send of the contract and estimate, and a frictionless way to get clients to sign the document without having to print or open up a PDF reader to do so. I want my clients to have an easy experience working with me, and that includes their experience signing contracts. I know they can be onerous and burdensome, but that is not the case here. Quick, efficient, and clear – the three hallmarks of a great contract in any business.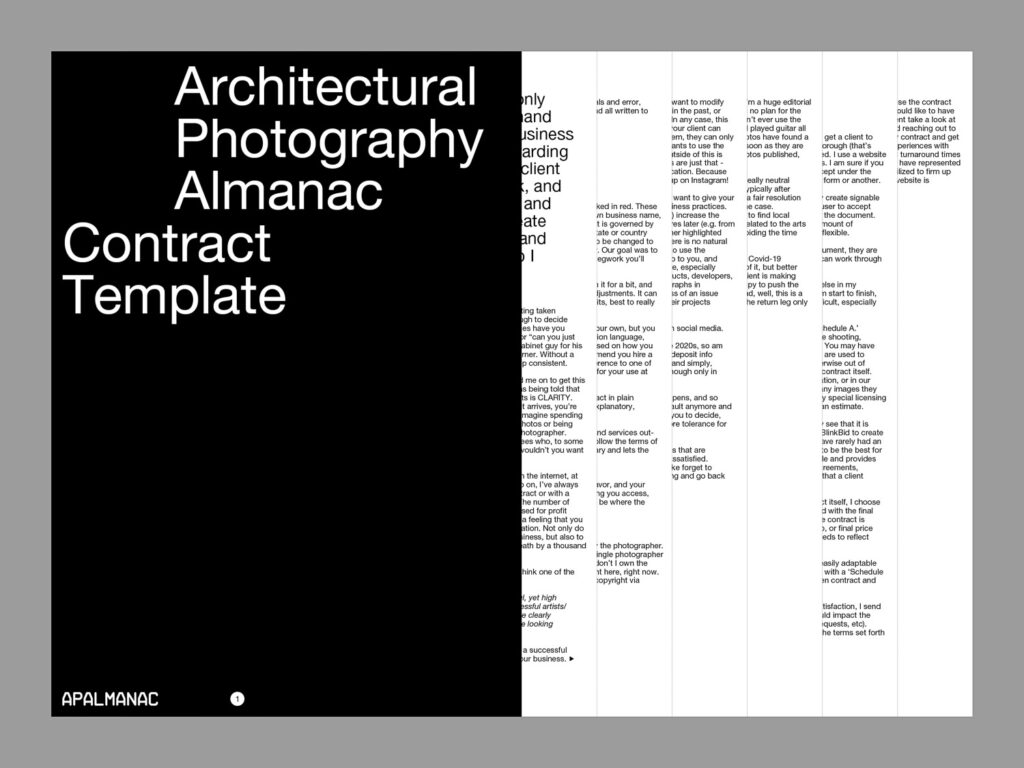 A sample estimate
Similar to the contract, my estimate has been crafted to work in tandem with the contract, and will show you how I structure and build an estimate to correspond to the contract. I use BlinkBid to craft my estimates, which is a fantastic program built for photographers, videographers, and production studios that need to keep track of revisions, licensing, advance payments, and expenses beyond creative and retouching fees.
Who was this written for?
I've made a very conscious effort to have this be usable by any architecture, interior, or real estate photographer anywhere in the world. Anyone who wants to work like a consummate professional. Anyone who wants to protect their business interests, provide their clients with clear expectations, and be able to defend yourself when jobs go awry (hey, it happens!). We have all been there. I am confident that the architectural photography industry as a whole would be a better place if everyone used this contract. No matter what sub-genre of architectural photograph you produce, the core of this document will be relevant and very easily adaptable to your business. Whether you're delivering 100 images per shoot or 3 images a day for a giant hotel ad campaign, you're covered.
FAQ
I don't live in America. Is this relevant?

Yes. Because I not only work in California, or even solely America for that matter, I've worked diligently to make this as clear as possible regardless of where you are working. There are some universal truths with regards to photography; to name just a few, you should be paid for the work you do and you should also control the rights to your images that you've created. There should be a clear set of expectations from you, the photographer, and from the client. You should be kept safe on the job. You should be granted access to your subject matter with minimal hassle. You should be paid for work beyond the original scope of the assignment.
As far as I know, in most locales in the world, these statements are fairly basic, but it is incredible how often I am told that photographers struggle with enforcing these very basic rights (though the degree with which you are able to enforce and collect infringement monies for copyright violations may vary drastically). Feel free to translate this into your preferred language (or swap the Zs for Ss, for those using British English). Consult a local lawyer, barrister, etc, to tweak the language for your individual business case.
How will the product arrive?

The product will arrive in a .zip file containing a .docx, .pdf, and .rtf version of the file. Click on your preferred file format to open in your preferred text processor, or upload the .docx file to Google Drive and edit it with Google Docs, if you would like a free solution. Also included is a PDF "explainer" document which should open easily in any default PDF program bundled with your computer.
Can I use this on my iPad/Kindle/iPhone/Tablet?
You may have difficulty downloading onto a mobile device unless you can download directly into the 'files' app (iPhones and most Apple products include this). We recommend downloading first to a desktop or laptop in order to adjust the contract to your liking, and then transferring to your phone or iPad using your preferred method.
Do you know a lawyer I can use?

Yes. I worked with Hew + Bordenave to fine-tune this for architectural photographers. I've worked with them on copyright litigation cases and they are a joy to work with. Based in California and Hawaii, they can probably help you if you are in America and have questions regarding copyright infringements or difficult legal situations related to your photography business.
Your purchase funds the Architectural Photography Almanac
We are proud to run a blog free of advertisements and as a result our topics are not influenced by financial bias or pressure to positively review a certain piece of gear or suck up to any industry figures.  Writers are free to explore any topic, whether controversial, opinionated, or otherwise. Sales of this contract template generate income that helps to pay for server costs, pay the writers for their valuable contributions to architectural photography, and for our Mailchimp subscription which we try not to annoy you more than once every other week with despite the angry emails that tell me I'm wasting people's precious inbox pixels.