Architectural Photographer Brandon Barré Documents Ancerl Studio's Epic Waxwing House
Project of the Week
Hangar doors, electrochromic windows, hidden cabinets, and gorgeous clad surfaces… this week's featured project has it all! We'll be checking out Waxwing Residence by Ancerl Studio, which has been perfectly photographed by Toronto-based architectural photographer Brandon Barré.
Brandon kicks things off by sharing "This was an incredibly inspiring project to shoot, and we did it in the middle of a 2020 lockdown in Ontario, Canada so it was particularly memorable in that regard as well.
I really wanted to do this project justice as it was a very special project for Ancerl Studio — built for a large blended family who clearly had a vision for a very progressive new residence. Going into it, I knew I wanted to stick to as many head-on shots as possible to let the lines and story of the architecture speak for itself and occasionally incorporate a human in the shot for scale, focal point, and life. In these very streamlined angular architectural designs, it's the people inhabiting the spaces that often become the points of interest in the images."
Brandon's perspective showcases the way the exterior mirrors the greenery outside, helping this massive angular home blend in a bit with its surroundings.
"This was literally a project that was finishing construction as we were shooting so just off-camera were construction workers, stylists, cleaners, boxes and debris, so it was a little challenging from that perspective" he continues. "In reality, it just slowed the process a bit and these images were all accomplished in 2 and a half days."
Waxwing Residence sports an epic 40′ hangar door that unites the home's interior and exterior living spaces. Brandon does a stellar job here. His composition is powerful and the balance in exposure between the interior and exterior feels perfect.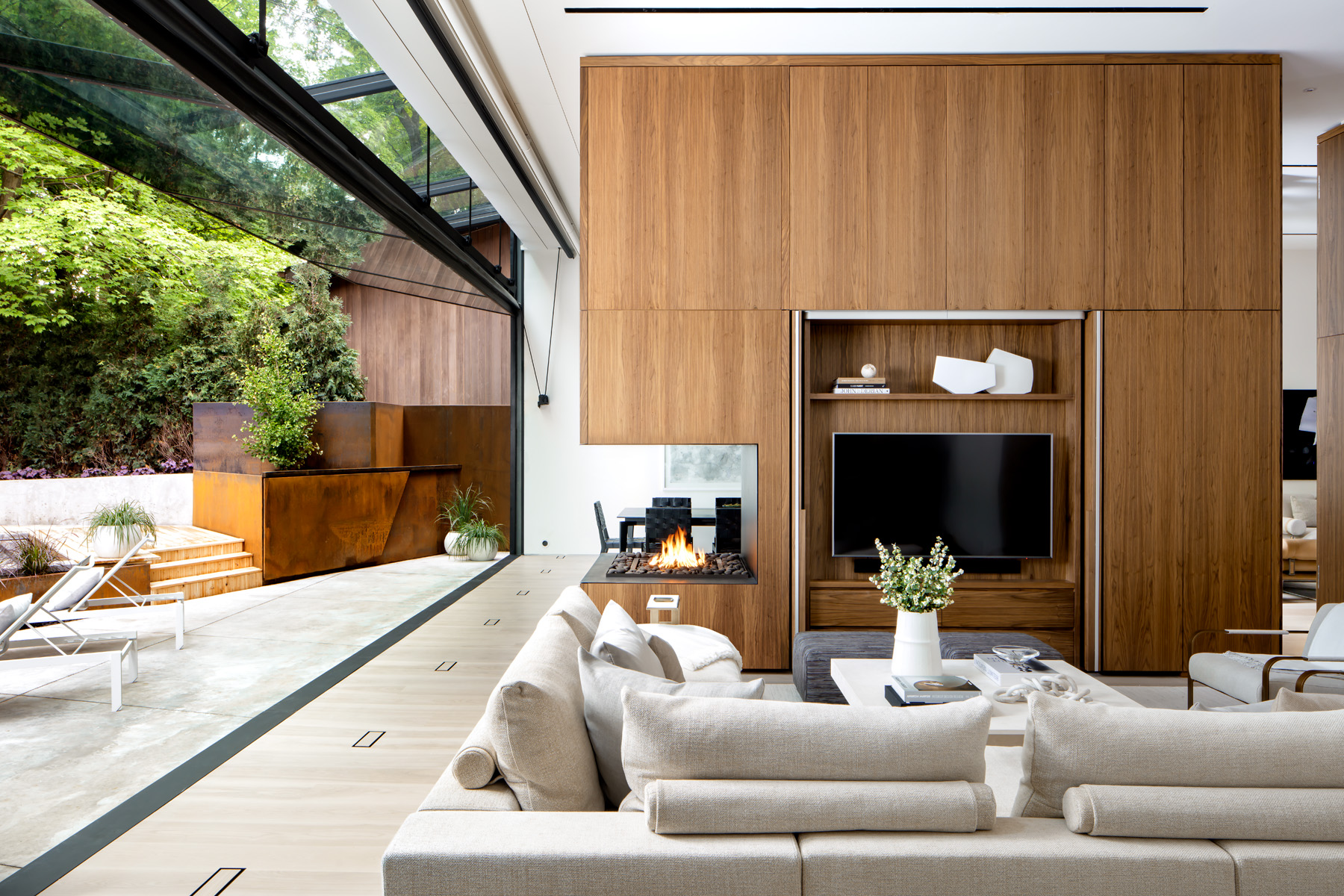 Brandon explains, "I currently shoot tethered with the Canon R5 and only TSE lenses. I make use of natural light as much as possible but also supplement a few plates with color-corrected strobe (⅛ blue and green gels are a must to correct for glass and nature color casts). I usually ceiling bounce or use a softbox to balance the situation to later work on in post."
Check out the concealed espresso bar. I love the way Brandon shows off the hidden gems and functional bits that make this residence a masterpiece!
Another thing I admire about his work is the way that he shows us just a sliver of the next room over. This allows our attention to focus on the elements of the room we are in, but piques our interest and leaves us wanting to know what's next.
The use of a model gives scale to this large, beautiful room, and shows the architecture being used as intended.
The myriad of lines in this frame draws our eyes into the bedroom. Look at how bold and graphic this image is!
Again, another diptych that translates an incredible feature of this home: the electrochromic glass.
There is a delicate quality about Brandon's work that radiates a sense of calm and quiet. It melds perfectly with the mood and private air about Waxwing Residence.
"The weather was also a potential obstacle and this beautiful daytime backyard exterior shot required another visit the following day shooting in between rainfalls," Brandon shares. "It was totally unplanned and that shot has become one of the most reposted on social media!"
It's easy to see why. This photograph is brilliant. The interplay of light and shadows, the tidy landscaping, and that mammoth hangar door blurring the line between the exterior and interior — it is just such a great scene!
To show the functionality of the hangar door, Brandon created this lovely animation:
I asked Brandon what advice he would give to someone shooting a similar project and he shared "Bracket, bracket, bracket!
When you are shooting for the shadows, use a flare card (or phone) to block the windows and any other insanely blowing out situations to capture naturally lit shadow detail in those loooong exposures."
Sage advice!
Many thanks to Brandon for sharing this lovely project with us! Head over to brandonBarre.com or @brandon_barre to ogle the rest of Brandon's awesome work!
If you have a project you'd like to be considered for Project of the Week, you can submit it here.