BAAM Podcast Fires Up Again With Doublespace Photography
News
BAAM Podcast has broken its radio silence with a beautiful episode featuring one (er…two) of my favorite architectural photographers, Doublespace Photography. After a brief hiatus for technical and personal reasons, the podcast is back in full force and chock full of free knowledge.
The most recent episode interviews Amanda and Younes of Doublespace, who are critically acclaimed, frequently published, powerhouses of thoughtful photographs. Based in Toronto, Doublespace photographs both institutional and residential architecture. They are recent winners of the 'Canadian Architect Photography Award of Excellence' and have worked with clients such as Zaha Hadid, Snøhetta, and Libeskind Studio. This duo had heaps of great information and insight to share with Barry and Andy in this episode, and you can expect to hear them touch on:
The perks and challenges of working as a pair
Shooting spaces to convey their feeling
Not getting wrapped up in a particular shooting style or formula
Self-Editing for a more impactful portfolio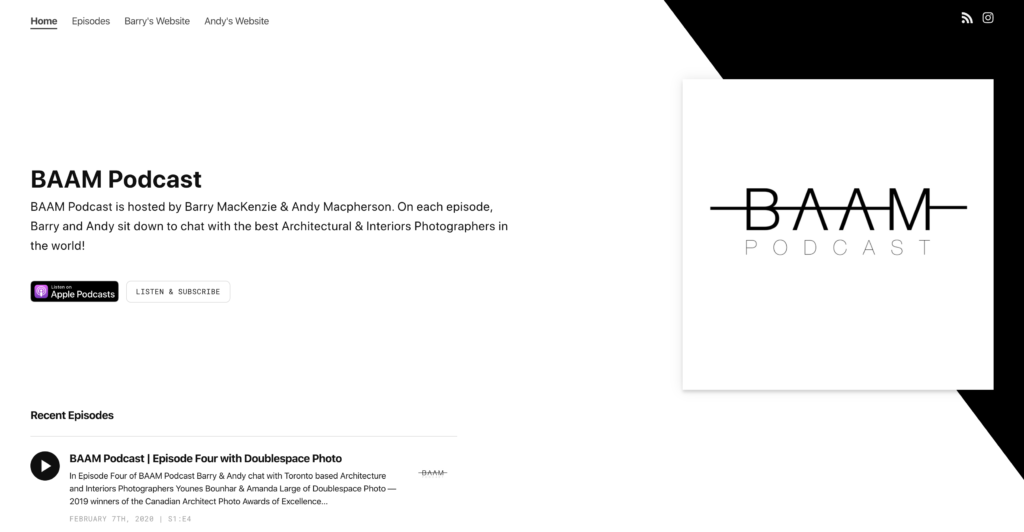 If you're new to the BAAM Podcast, it's the incredible lovechild of photographers Barry MacKenzie and Andy Macpherson. BAAM cuts through the noise of other photography-related podcasts by honing in specifically on architecture and interiors, and features interviews by the big players in the industry. Next time you're sitting at your desk doing post-production or diving to your next shoot, fire up the BAAM Podcast on its site baam.simplecast.com, Apple Podcasts, or Spotify.
P.S. The gang at APA would like to wish Andy Macpherson and his wife a big congratulations on the birth of their daughter!