Sanjog Mhatre Captures Mumbai's Growing Cityscape, Culminating in His Recent Shoot for The World Towers by Lodha
Architecture
Interviews
Sanjog Mhatre is an architecture photographer based in India.  Now based in the country's second-most populous city, Mumbai, Sanjog has at the ripe age of only 23 years, already photographed dozens (132 to be exact!) of the tallest and most significant buildings in this supercity of 20 million people.  I recently had the opportunity to interview Sanjog and am delighted to share our conversation below. 
Most of his work thus far has been commissioned by developers, and it is interesting to compare their photographic requirements with that of an architect.  I admire how Sanjog's go-getter attitude and perseverance has helped him shape the career he's always dreamed of.  A little bit of tenacity and resourcefulness can go a long way.  Hope you enjoy our chat below.
Hi Sanjog, thanks for chatting with me today.  Can you share a bit about your background, how you initially got into photography, and your particular interest in high-rise buildings?
"I was born and brought up in Nalasopara — a town on the far outskirts of Mumbai some 60 km from the more affluent city centre. Papa was an autorickshaw driver, so I had no exposure to luxury or the sights of tall modern buildings for most of my life. This made me fascinated by the sight and views of tall New York City skyscrapers in movies such as Stuart Little and Spiderman, of which I was an ardent fan.
My paternal relatives live in the city centre, and we used to visit them once every year for festivities. The terrace of the building where they lived was a great point to watch the Mumbai skyline undergo a massive transformation from the late 2000s — with tall buildings sprouting up in Lower Parel, Prabhadevi, Worli and Tardeo. I became fascinated with them even more and used to click them on my father's 2mp cellphone camera.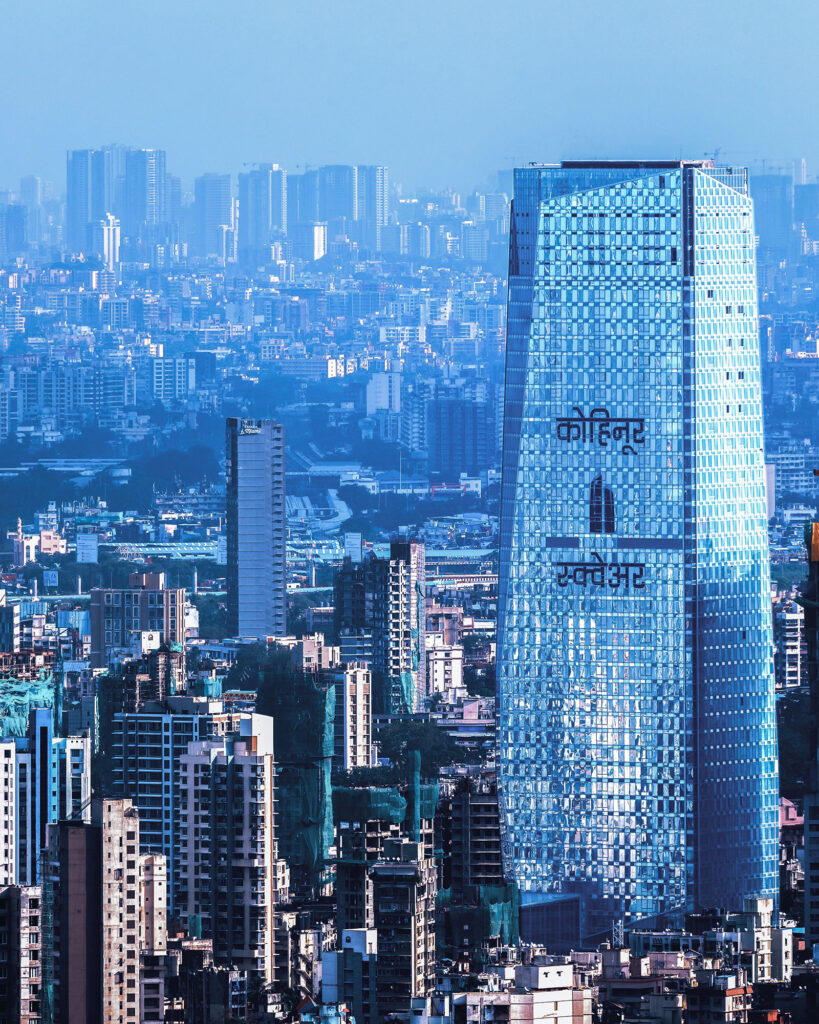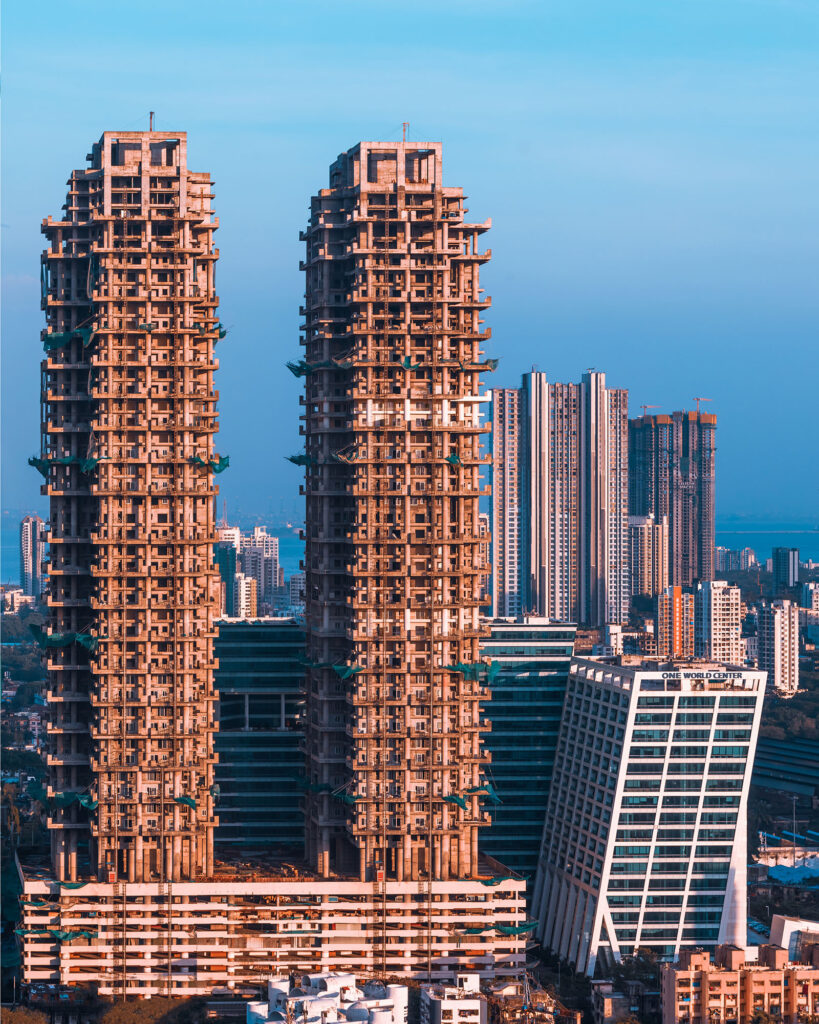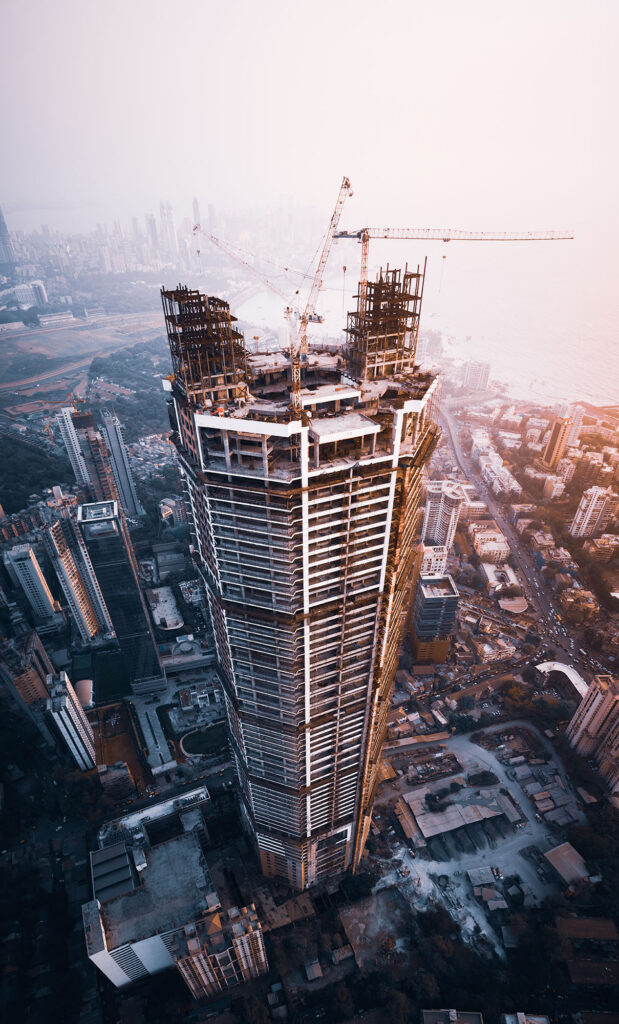 I harboured aspirations of becoming a civil engineer to further familiarize myself with these tall buildings. Since 2013, as a 16-year-old, I followed the progress of these Mumbai buildings and ongoing/upcoming projects on skyscrapercity.com, where I was further inspired and thrilled by photos of the same buildings and city views, particularly the ones by photographer Humayunn Niaz Ahmed Peerzaada. I even opted for colleges in the far end of Mumbai city, just to regularly see the skyscrapers during my long commute.
Subconsciously, I found myself randomly taking photos of buildings that I walked past on my phone. In 2014 a dear friend, Pratik Kamble, discovered my interest in taking photos of buildings. He was impressed and really pushed me to consider photography as a profession. This was the moment when I discovered my inner calling for photography.
The thrill of looking up at huge skyscrapers as well as looking down from the top of one is a unique feeling which is part of what drove me towards wanting to shoot these types of buildings. I look at buildings as if they're not inanimate lifeless structures, but as if they have a soul. I find that each building's elevation has some character, some personality to it — all influenced by its architectural design, the perspectives from which it is seen and its orientation relative to its surroundings. To me, even a skyscraper that is under construction seems to scream 'I'm a work in progress', which will make a mark in the future. This helps me to look at buildings and their architecture in my own way and perspective, and helps a lot in creating photos of the elevation that are simple yet possess some special character."
You are now capturing some of the biggest and most important projects in India, can you tell us a little bit about how your career began, and how it has evolved to where it is today?
"On November 18th 2015, I set out as an 18-year-old kid desperate to get access to any skyscraper's roof and photograph the city from there on my mobile phone. I was literally on foot, knocking on doors to all the tall high-rise buildings in downtown Mumbai. Unfortunately, I was denied access by everyone until finally at the end of the day after a lot of unsuccessful attempts, I was let in by Ahuja Towers, Mumbai's second tallest skyscraper back then. I shot photos to my heart's content from its roof (level 55) on my Samsung Galaxy S5 that evening and immediately uploaded them to my Instagram.
I continued trying to gain access to more skyscrapers after that, but didn't have another breakthrough
until 2017.
Finally, in January 2017, I sought access to IndiaBulls Sky — a skyscraper in Elphinstone Road, Mumbai. I happened to connect with Aniket Patil, Senior Luxury Sales Manager at IndiaBulls Real Estate, and struck a barter deal with him — that I be allowed to shoot from IndiaBulls Sky in exchange for the photos from that day for his sales and marketing use. I was allowed the same. A friend of mine, Amey Rane, had a DSLR and he taught me how to use one just 15 minutes before the IndiaBulls Sky shoot. I shot photos on a DSLR for the first time that day.
I continued photographing on phone from a couple of other buildings, until in February 2017 Gauravv K. Chawla sir, the director of the Bollywood movie Baazaar found me via Instagram. I met him in the Emmay Entertainment office — the production house behind Baazaar. He was quite friendly and impressed with my work. He asked me to be a part of the Baazaar team, wherein during the pre-production stage, I'd be taking photos of the city views, skyscrapers, and their interiors on my phone. I got to visit a lot of buildings in Mumbai that I had been denied access to only a year two earlier. I was even assigned the task of clicking a cityscape that was intended for the poster of the movie. Though it could never make it to the final poster, I wasn't good at it back then.
I kept taking photos of skyscrapers, city views and going on rooftops with DSLRs borrowed from generous friends until in November 2017, one of my posts of Raheja Imperia, a skyscraper that was under construction in Lower Parel, was spotted on Instagram by Pushkar Jadhav sir, Senior Head of Marketing at Raheja Universal (developers) back then. He was impressed with the different angles that I brought to the table and landed me my first paid real estate photography assignment — taking photos of Raheja Imperia. This was a huge milestone in my blossoming career — one that opened up a wealth of new opportunities as I kept getting more proposals to photograph buildings for real estate groups, contractors, and architects.
As of today, Towering Goals (my architectural photography business) is an architectural photography service specializing in capturing tall buildings that reach the sky as well as wide-angle views of city skylines. I am creating my own hyper niche within this where I provide solutions to different problems that can be accomplished through certain architectural photographs — like establishing a skyscraper's proximity to a landmark, or its dominance in an area. Having studied Mumbai's geography, the locations of skyscrapers, and their orientations/alignments for so many years, I have a mental 3D map of the city. This gives me an idea beforehand of how and where I can photograph a target project from. What sets Towering Goals apart in the local
market is its ability to bring unseen perspectives of skyscrapers and high-rises from rare, but well-thought-out vantage points without the need to use a drone — a necessity in a city and country where there are a lot of drone flying restrictions in place."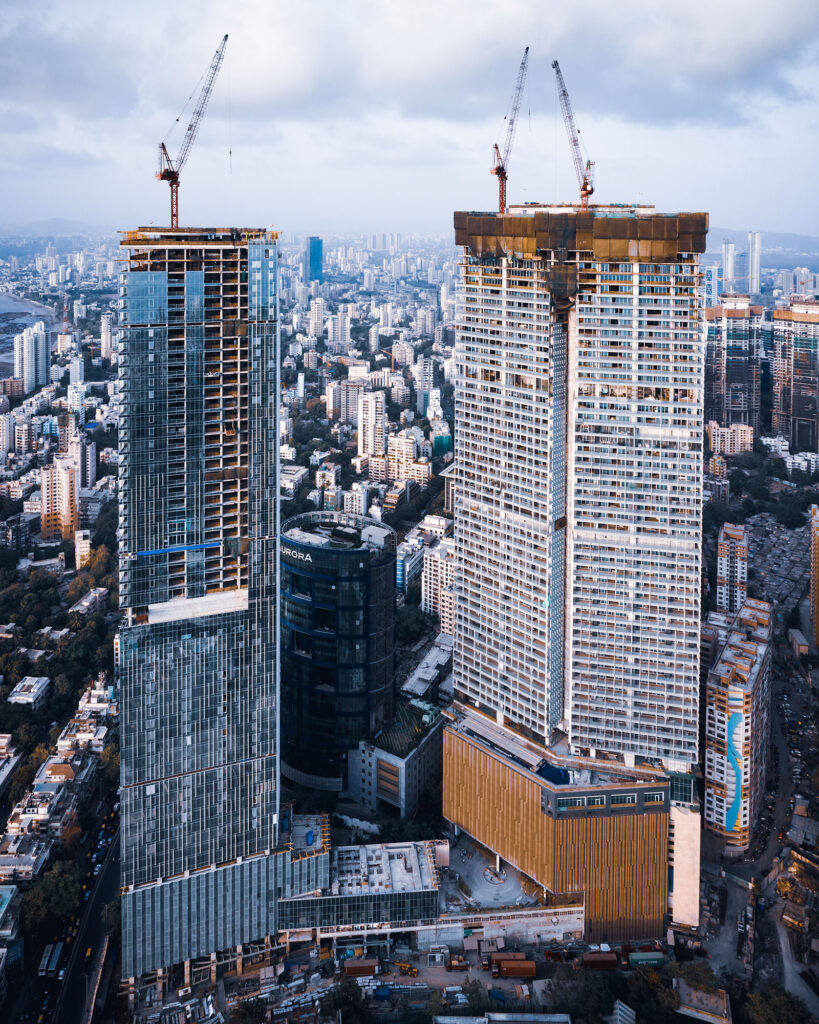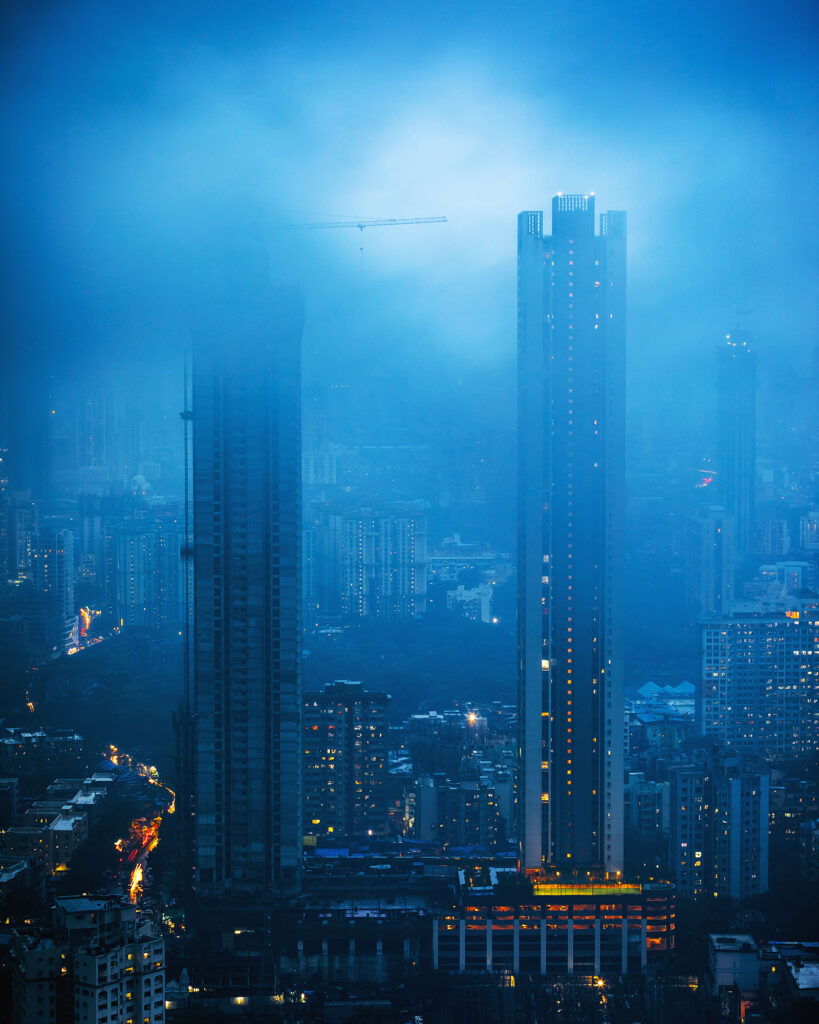 You recently shot The World Towers by Lodha in downtown Mumbai.  Can you share some insight into the project and how you went about photographing it?
"The World Towers by Lodha are a trio of residential skyscrapers located in Lower Parel, downtown Mumbai. Designed by Pei Cobb Freed & Partners, the project includes India's tallest residential towers — World One and World View at 280 meters/919 feet, 76 floors. World Crest is the shortest of the trio at 223 meters/730 feet, 60 floors. As the last tower to be constructed (World View) topped out this year, I was assigned the task of capturing this project from various vantage points.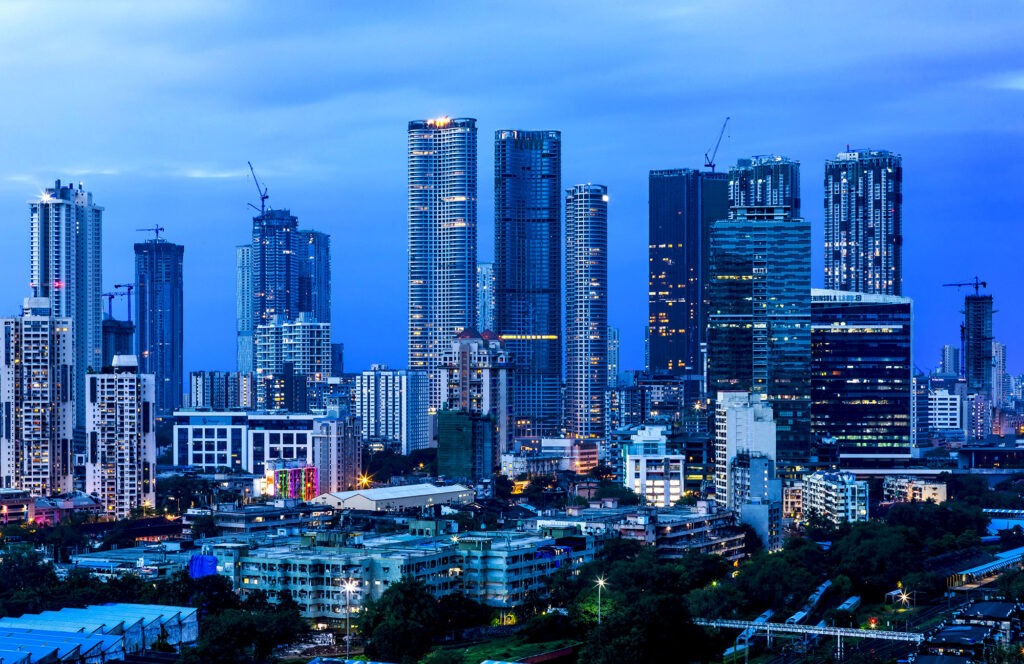 My work included covering the entire project as a complex of 3 towers in different framings as well as individual coverage of two of the three towers — World One and World Crest. I had to cover the entire complex without the use of a drone. Knowing this part of the city for a long time, I did my homework and figured out the perfect vantage points to photograph this trio of towers from without even needing a scout visit.
One of the main briefs and biggest challenges was that the shots which were expected to cover the entire project needed all three towers to be established with zero overlap. The three towers are placed at the three edges of an imaginary triangle with varying orientation and alignment with respect to each other.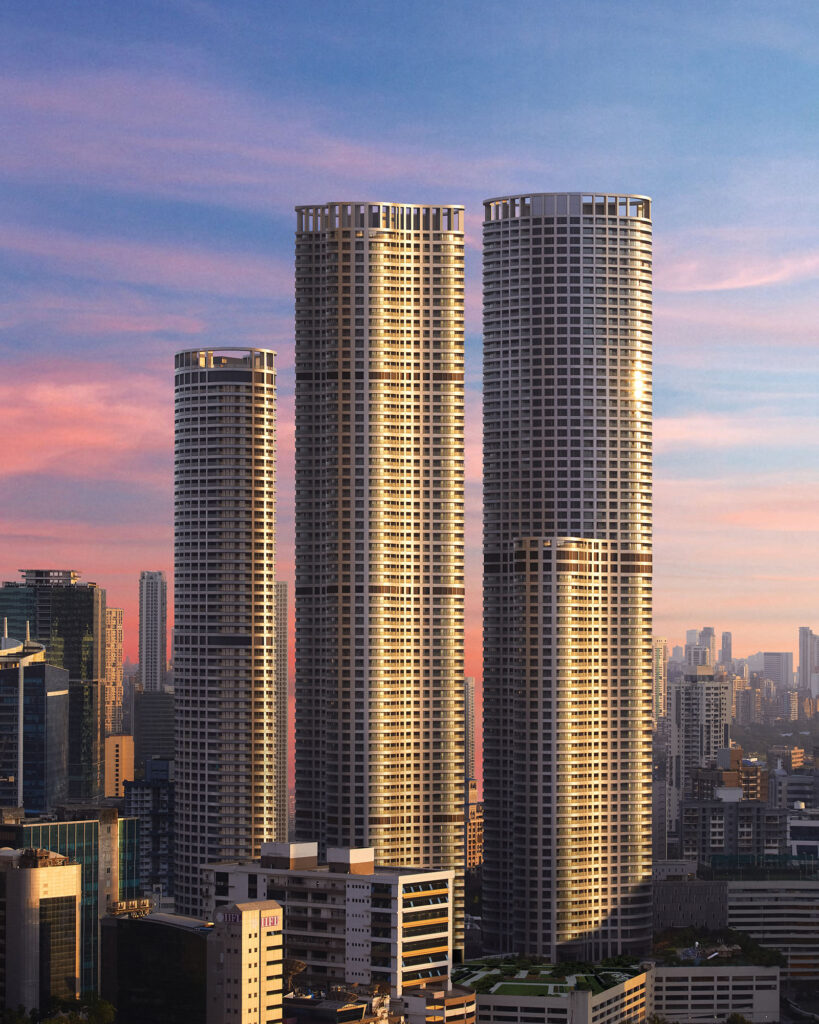 Therefore, the images which would capture all three towers with sufficient gaps between each other could only be made along a north/south axis. No photos taken from either the east or west would meet the requirement for view corridors between the towers. I shortlisted six buildings along the north/south axis that would offer suitable views — two to the north, and four to the south.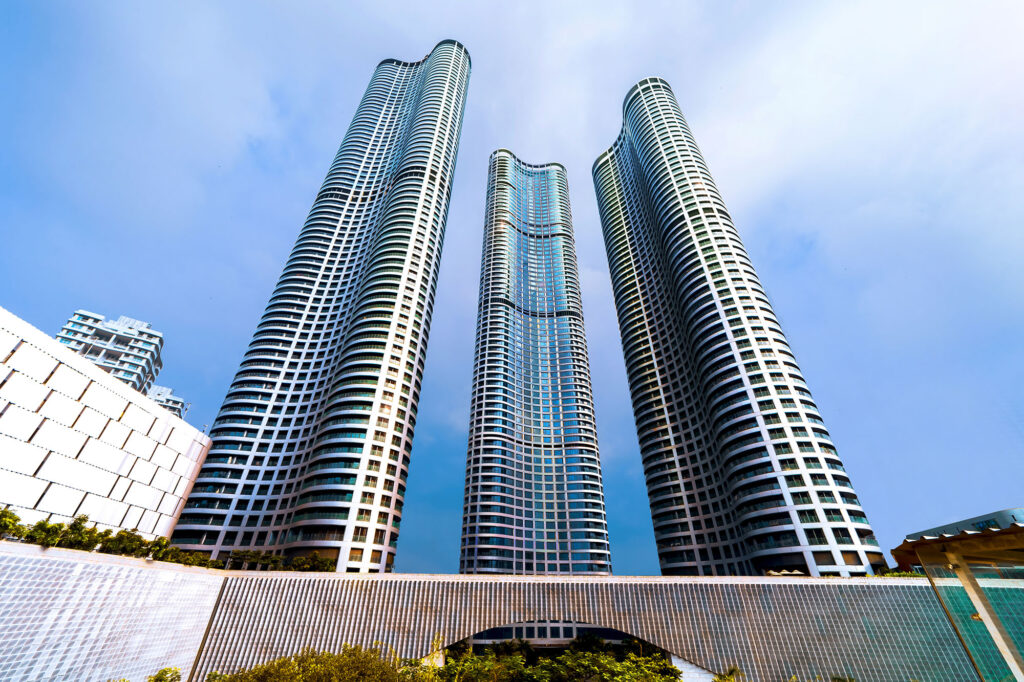 The next challenge was to secure access to these vantage points — most of which were the roofs of commercial complexes or luxury residential skyscrapers/high-rises. Buildings in Mumbai are very particular about security and are tough to get into for an outsider, even if you apply formally for permission. Plus these were some of the most secluded and exclusive places in Mumbai, hard to reach for the commoner. Accompanied by an official document from Lodha Group stating that I'm authorized and appointed by the group to take photos of the towers, I began approaching all these locations to request and secure access for photographing the towers. At least 20 buildings were shortlisted (including the six buildings which offered a full view of all three towers).
Along with these requirements, there was an additional requirement — to photograph the lighting on The World Towers from five distinct locations on all five days of Diwali, the festival of lights. The upper 30 floors of World One were about to be lit up with 8000 bright LED lights for five days to mark the Diwali 2020 celebrations. This was a different spectacle that the city of Mumbai was about to witness and I was assigned the job of photographic documentation of the same for Lodha Group.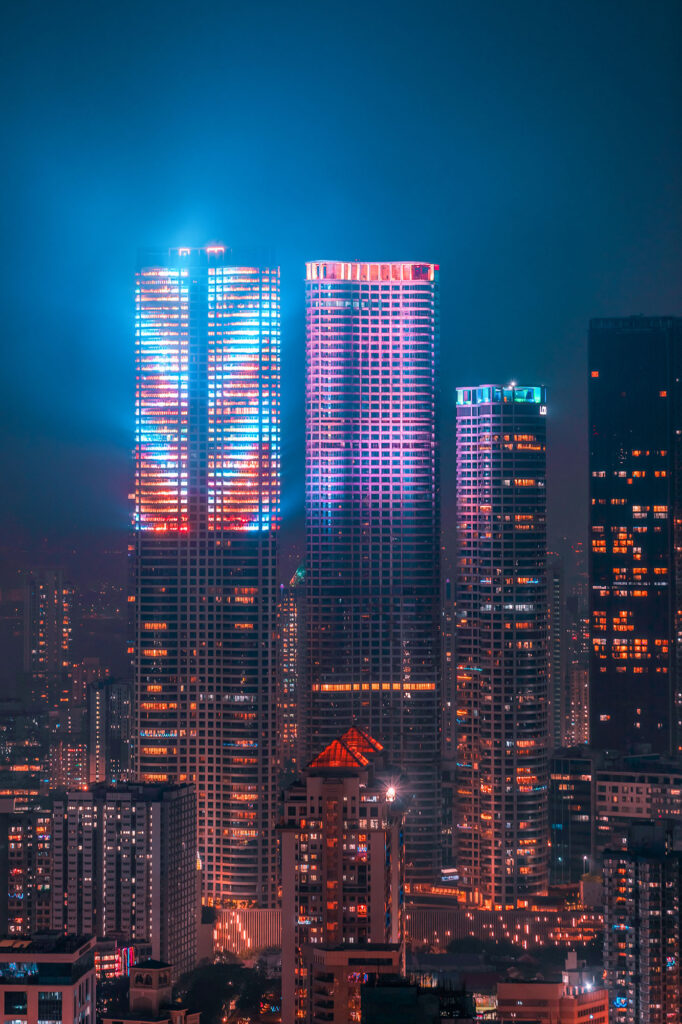 The on-site permission process — of which 50% of my work typically lies — is usually the biggest test of both patience and persistence. With work of this scale, the fieldwork is significant and time-consuming. Some buildings were relatively easy to secure access to, some were a huge test, and some demanded an outright miracle. I struck barter deals several times wherein I sought access to a building in return for photos. In the end, I was able to shoot from 12 buildings. All six buildings shortlisted for the prime views of the project were accessed. This entire process took 22 trips over two months.
One particular skyscraper where I shot from was finally accessed by me after a long two months of effort. I spoke to and tried requesting permission from all kinds of people in the following order — the engineering wing of the skyscraper's developers, the co-developers, the structural consultants, the formwork consultants, and contractors. I spoke to all of them and didn't get a fruitful response until finally making it to the top of the skyscraper following a barter agreement with the architects of the building. Sometimes you just can't give up."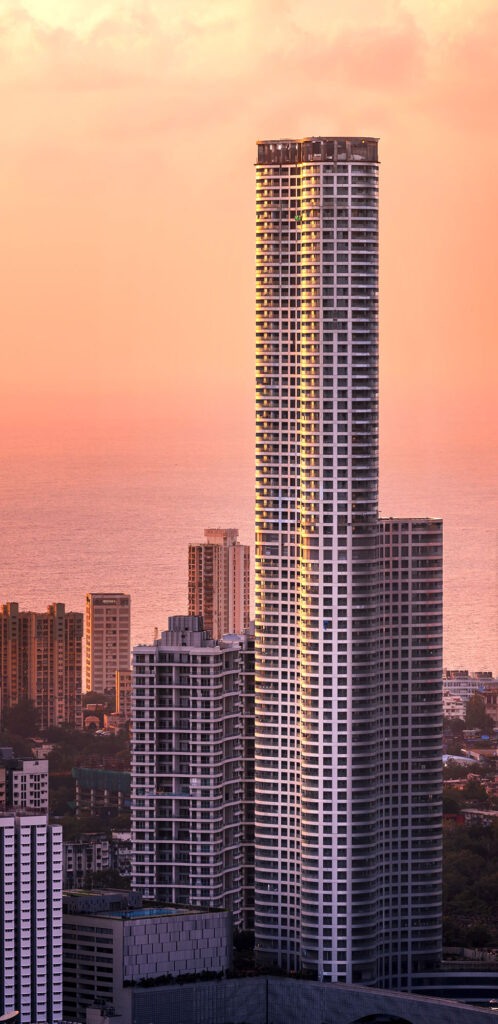 Where do you see your passion for photography taking you in the future?  How do you see your career evolving?
"I've been fortunate to photograph from the top of 132 Indian buildings, a major number of them being in Mumbai. I hope to put myself on the map internationally, by photographing in as many major world cities as possible.
As of now, there is a long road ahead, even locally. The Indian architecture photography scene is yet to fully mature. Brands and companies hiring architecture photographers are still a long way from realizing its worth (barring a few). It is undervalued by a large margin. I aim to change that, or at least witness it changing.
I have begun to create a handful of drone videos. Armed with my passion for seeking and collecting information about buildings, I aim to take it a step further by documenting buildings in a more full-fledged manner, both in terms of video as well as in writing."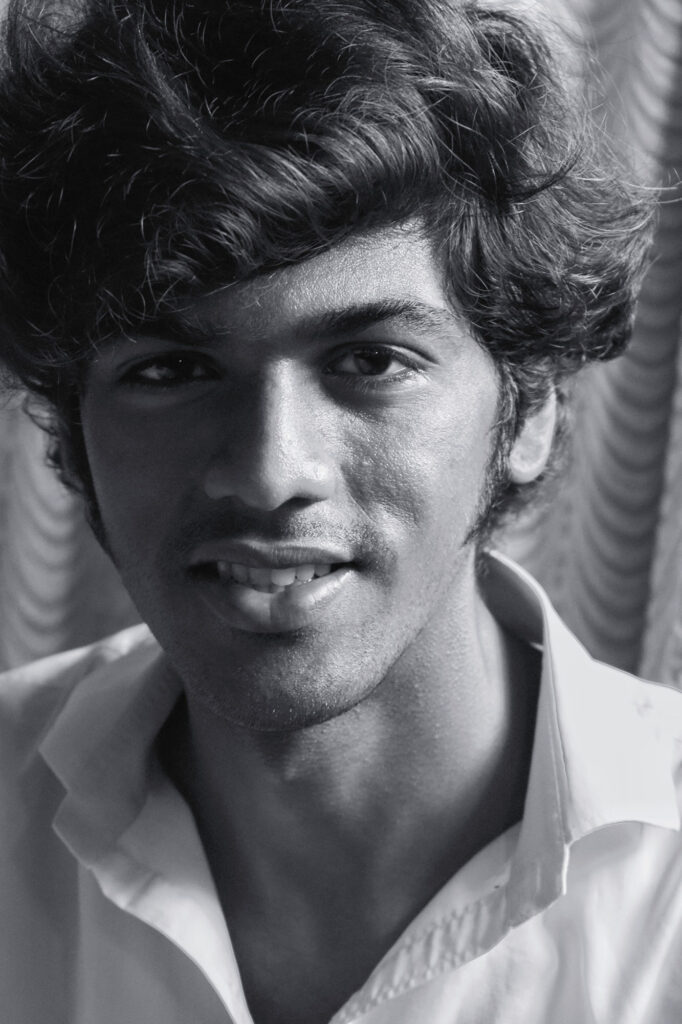 ---
My sincerest thanks to Sanjog for chatting with me and sharing his photographic journey with us. I have no doubt that this is just the tip of the iceberg for your career as a photographer! If you want to check out more of Sanjog's work to gain more insight into the architectural scene in Mumbai, go ahead and give him a follow at Towering Goals on Instagram.