How I Photographed Carla House, One of My Favorite Shoots of 2019
Architecture
One of my most memorable shoots of 2019 took place at a beautiful location in Beverly Hills, CA. An architectural masterpiece designed by Walker Workshop situated on a ridgetop in the famed Trousdale Estates neighborhood, this house was an absolute stunner and the project had been on my radar for a good 3-4 years before I actually got the chance to photograph it. In fact, for a long time, I didn't even know if I'd be able to photograph it; this is the story of how one of my favorite gigs ever came to fruition – I know, buckle up, edge of your seat, tenterhooks kind of stuff, he said sarcastically…
The Beginnings
Back in 2015 or so, I came across renderings for the projects which had made their way onto a few developer websites and planning permission documents. A previous client of mine had mentioned that they were going to be involved in the project but completion was still years away; but after seeing the renders I was absolutely hooked. I didn't care how or when, but I made it a mission of mine to photograph this project: it was so unique and so interesting that I knew it would make for incredible portfolio material. As years pass and clients came and went, I continued to keep a finger on the pulse of the project. Through plenty of somewhat passive, slow, networking and a little bit of luck, I was eventually introduced to the developer of the project who has ended up hiring me to photograph around 10 of their projects; many of which are significant landmark homes in the LA area.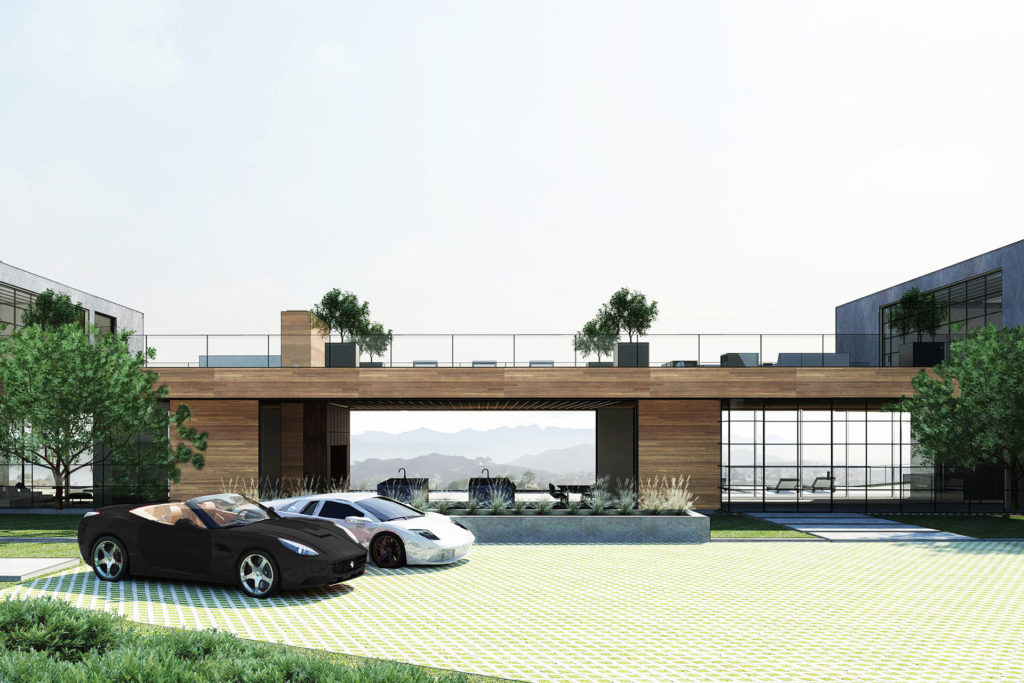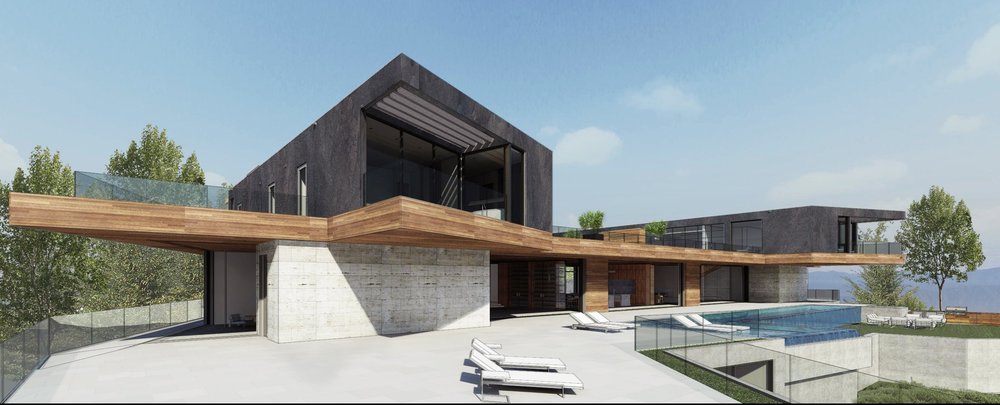 In talking to my client, I learned that they would be interested in investing a significant amount of time into photographing this project; covering it in all sorts of lighting conditions, both wide and tight shots to show not only the overall flow and design of the project, but also the incredible detailing and quality throughout. Traditional interior and exterior as well as aerial photography was requested, at multiple times of day. I was essentially offered whatever I needed to make it happen, a rare and amazing opportunity to create the best photographs possible. Usually reality gets in the way of perfection, but I was pretty much granted total freedom to come up with a plan and execute it here.
The Planning
Around November of 2018, I got my first chance to scout the project. This gave me my first sense of scale of the project; to put it mildly; breathtaking. Some of the most aggressive residential cantilevers I'd ever seen, hundreds of feet of sliding glass, a unique and memorable design, exquisite craftsmanship in nearly every sense of the word. On a clear day, views to the Hollywood sign, all of the San Fernando Valley and Burbank, downtown Los Angeles, the San Gabriel mountains, and if you crane your neck far enough, the Santa Monica Mountains and Pacific Ocean. Soaring ceilings, a unique layout, gorgeous sightlines in every direction.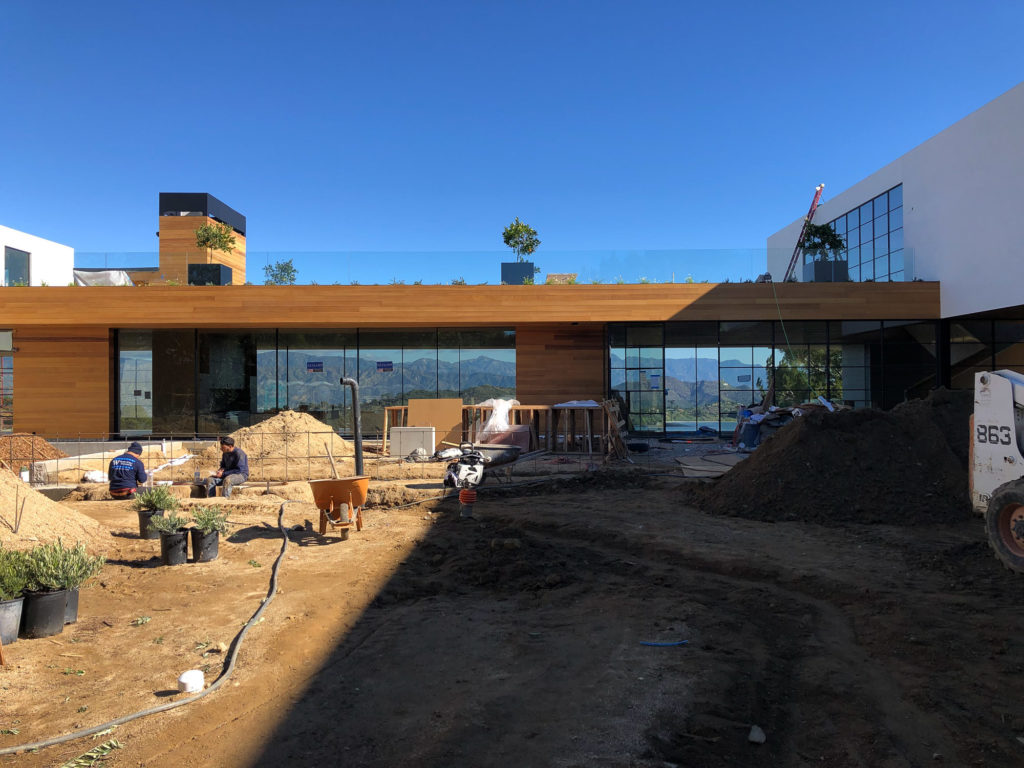 Using my iPhone, I took a few preliminary snaps, just to remember what I was facing in terms of scale and lighting conditions on site. Normally I'm hesitant to scout average-sized residential projects too far ahead of time; I've seen so many homes and photographed in every kind of condition than I can kind of just show up and make the magic happen without too much stress if the days are long enough. Scouting also tends to 'lock me in' to pre-chosen compositions; and it can often give the client ideas that they want to run with even if the conditions on the shoot day aren't right for them.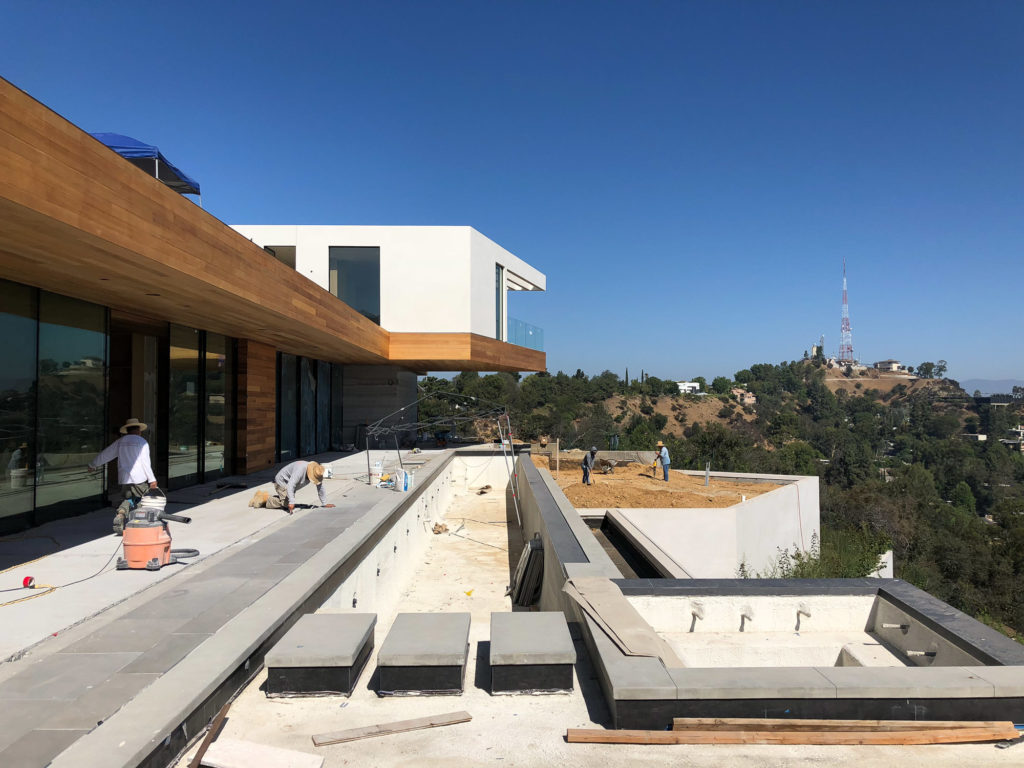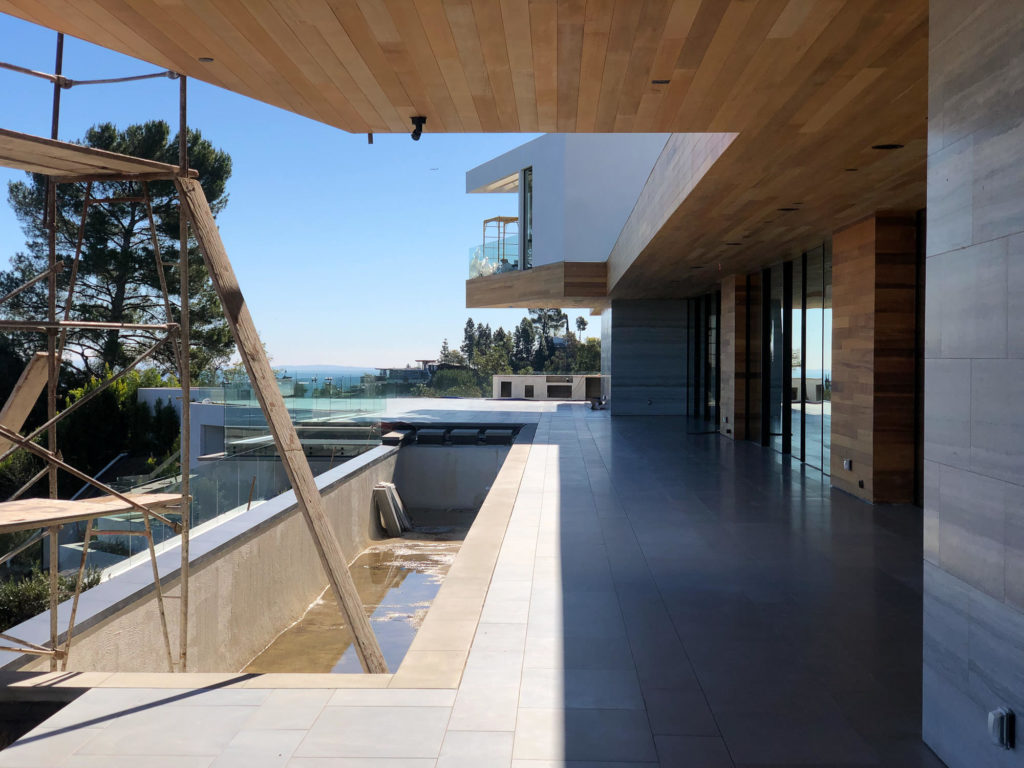 Perhaps the furniture installed clashes with the composition that we chose two months prior when the home was empty, or perhaps the sun has changed position significantly and the light that was great during the scout doesn't work the same one season later. Or maybe we scouted in the winter when the trees weren't grown in and now they obscure the view out the windows, etc – you get the point. A lot can change between a scout and a shoot so unless it's a big advertising job or something that's remarkably complex or large, I prefer to just show up and make it happen. This also allows me to improvise a bit and be able to roll with whatever comes up while not getting sidetracked because I missed a shot that we committed to four months ago. Know what I mean?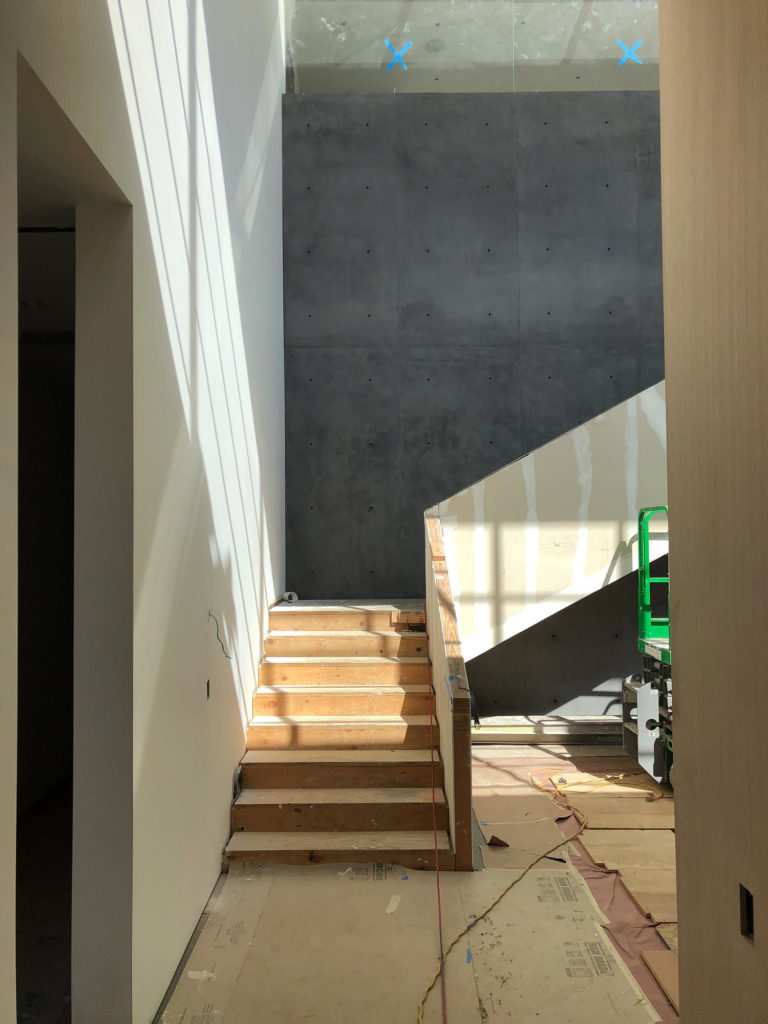 Except you can't really approach a 20,000 square foot house without a scout (to me, anything above let's say 10,000 square feet is scouting territory, it's also multiple day-shoot territory, if you want to produce anything that isn't total garbage. what can I say, I'm a slow and thorough photographer). It would literally take fifteen minutes to move our camera and lighting setup from one end of the house to the other, so we needed to put in a little effort and make a solid plan ahead of time. I try to scout as close to project completion as possible; preferably the day before the shoot.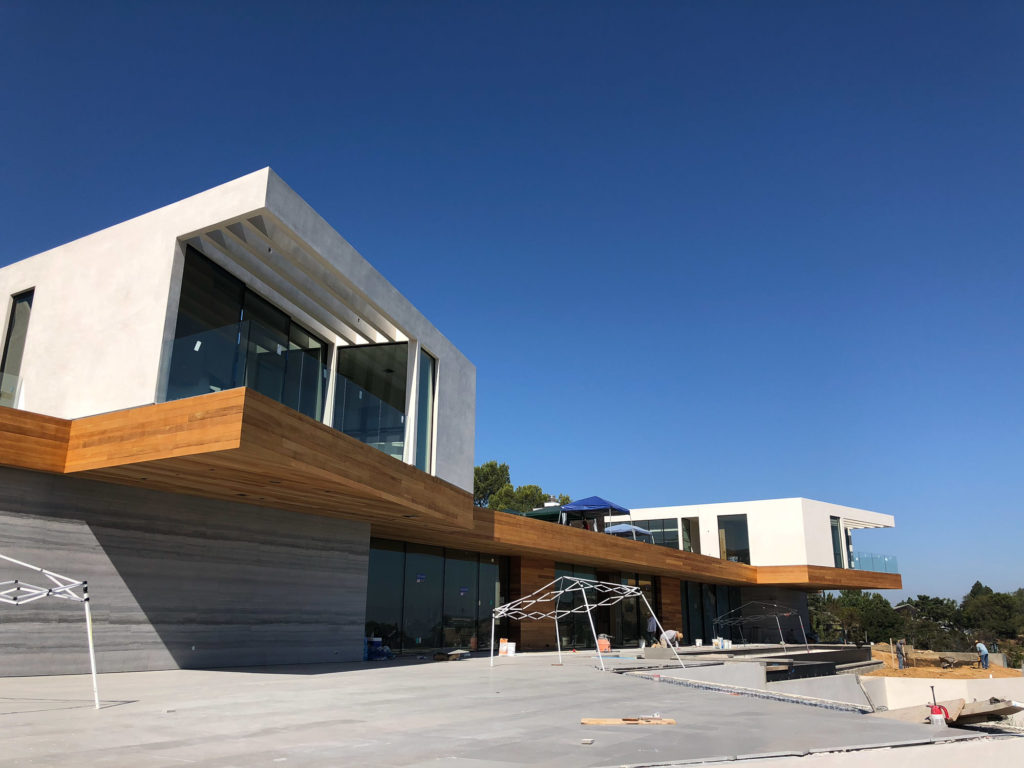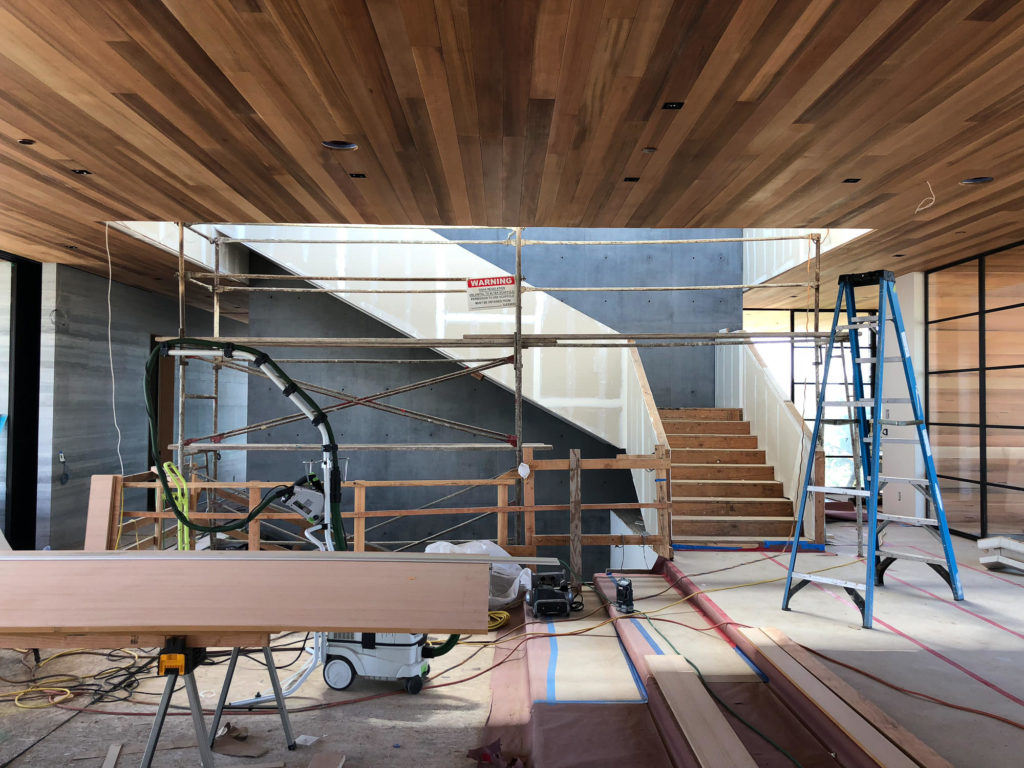 All of this scouting gave me a pretty good idea of what it would take to thoroughly photograph this project. I settled on a three day shoot, with a fourth possible contingency day scheduled incase of horrendous weather or any pickup shots that we missed that I'd have to go back and get; we were hoping to produce 60-70 images to completely cover the home, which at around 20,000 square feet and with this level of craftsmanship seems reasonable. As this was a spec home, the timeline for the shoot would be extremely tight – I was setting up for shots while landscapers were putting finishing touches on, electricians were installing outlets and bulbs, and cleaners were moving the last of the construction debris away. For the first couple of days it was pretty hectic on location, weedwhackers, electricians, vacuums, and every other noise-generating device under the sun were present from about 9am to 5pm.
The Shoot
Fast forward to June of 2019 – more than 6 months since my first scout, three months since a second scout (I was in the area and couldn't help but check on progress to get some more ideas), and one day before our scheduled shoot. We arrive around 4pm, and the weather is absolutely impeccable, with perfectly clear skies, perfect golden sunlight permeating the olive trees that had been planted just months before, the dappled sunlight trickling in to this amazing location. Have I painted a Tolkien-esque enough image yet? Absolutely perfect in every way. The entrance to the home is a long narrow driveway and the exterior that you first experience upon arrival is rather subdued and understated; the real money shots are of the pool deck and bedroom wings which cantilever over the massive east-facing views. Catch my drift, here? The front, while stunning in its own right, only holds a small fraction of the best photographs – they're mostly going to be the east facing parts of the home.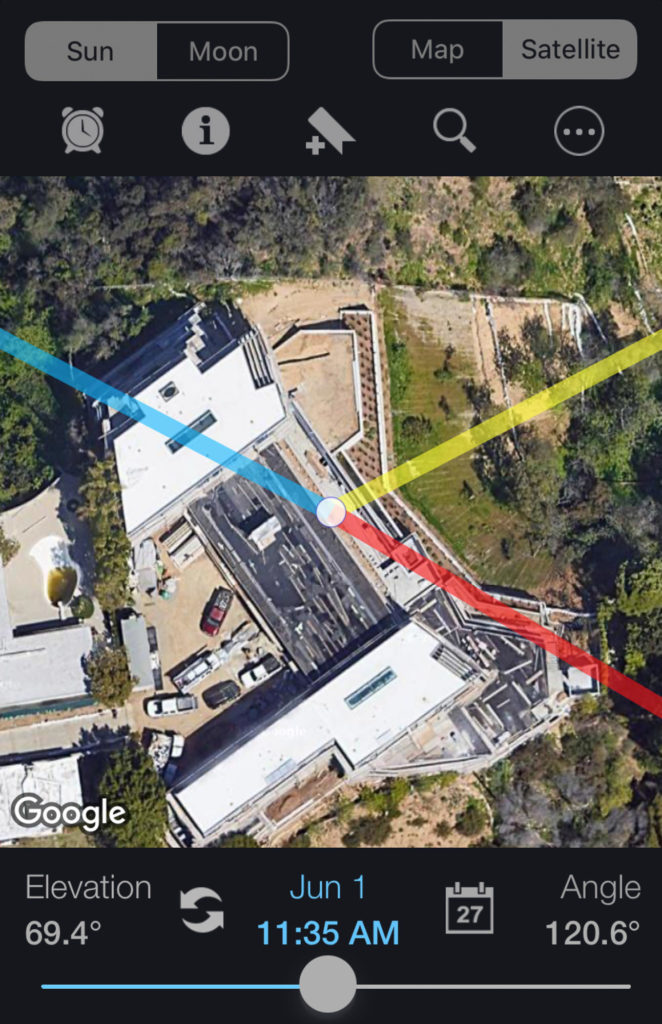 So immediately I groan; mostly because I hate the morning and with the eastern exposure it's going to mean I have to peel myself out of bed at 4 in the morning to get there for sunrise which is some time around 5 in the morning as it's the middle of June. Not. Cool. At least it will be well worth it, with perfect light and a pristine home to photograph!
Our plan would be to work around the house during the prettiest moments – as the days were 16 hours+ long, we'd be able to produce plenty of images in the morning until the light became too harsh, take an extended lunch break, and then get back to the house around 4pm to catch the falling light which would disappear around 830-9pm. I made a rough plan of where I wanted to be and when; using alarms on my phone to alert me to good light in certain locations. With three days to create the images we needed, there was plenty of time built in for improvisation and I knew that there would be beautiful moments that revealed themselves to us only when we were least expecting them. We were, for all intents and purposes, set up for the perfect shoot.
Day One
Day one, 4:45am, the music that I've chosen for my alarm which I'm pretty sure is the gentlest, calmest, purest music on Earth (Brian Eno, Music For Airports) has somehow turned from one of the most relaxing pieces of music in history to one that makes me want to frisbee my phone through a window. After maybe 5 hours of sleep (I never sleep before shoots!) it's time to roll out. In pitch blackness, I stumble outside, and I immediately notice that a damp stillness hangs in the air. After my eyes adjust for a minute or two, I understand that the entire city is blanketed in a deep fog.  I'm crossing my fingers that by the time I get up to the top of the hills where the house is, we'll have punched through the clouds and be greeted with an epic marine layer below us and a glorious sun casting pastel pinks and oranges into our subject.
LOL.
Not today, sucker.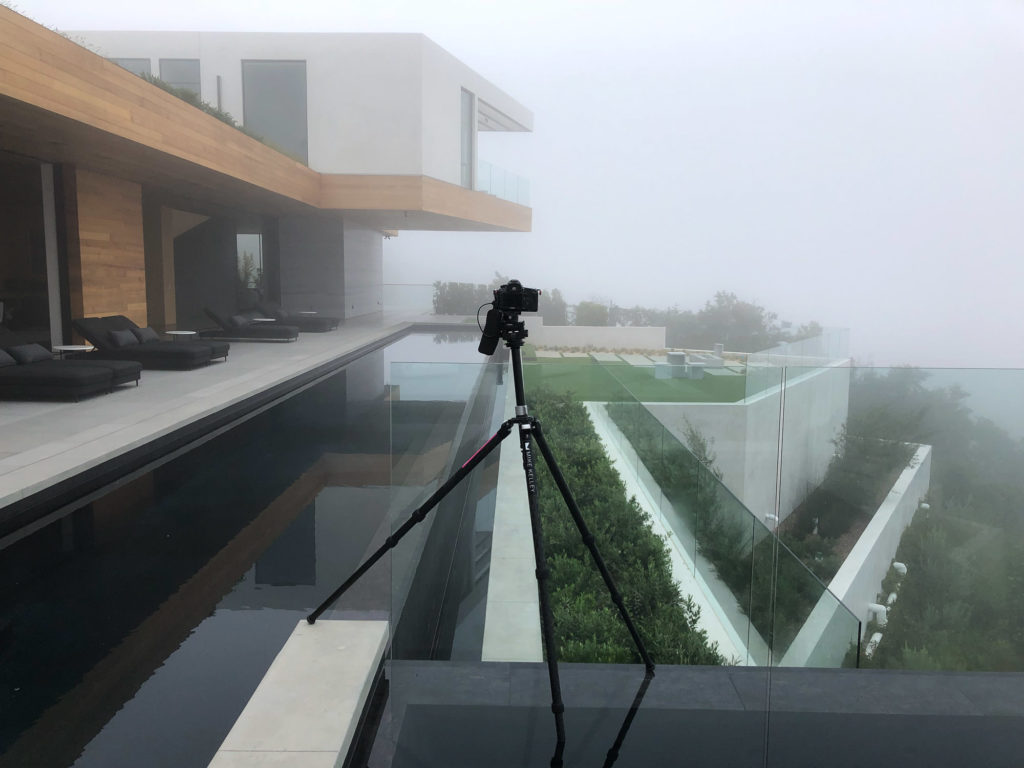 I was discouraged for about fifteen more minutes – about until the time my brain actually turned on. I paced back and forth praying for a break in the clouds, as the marine layer that sometimes settles in Los Angeles tends to stay low to the ground and dissipates earlier the further inland you get. It only got thicker. And wetter. And, well, spookier. So I decided to embrace it, given that we would have multiple days and at least one of them would be clear in the morning.  I played heavily into the moody vibe of the low, dense fog, and composed in a way to add mystery and mood to the images. Keeping compositions simple and clean, this wasn't the time for big wide money shots that showed everything with the lights on – it was time for simplicity that reflected the stillness and calm that comes with the sound suppression inherent in foggy conditions; a quietness that is rare in Los Angeles. Adding a figure helps the viewer understand the size and scale of the home, and also shows the functionality of the cantilevered bedroom balcony.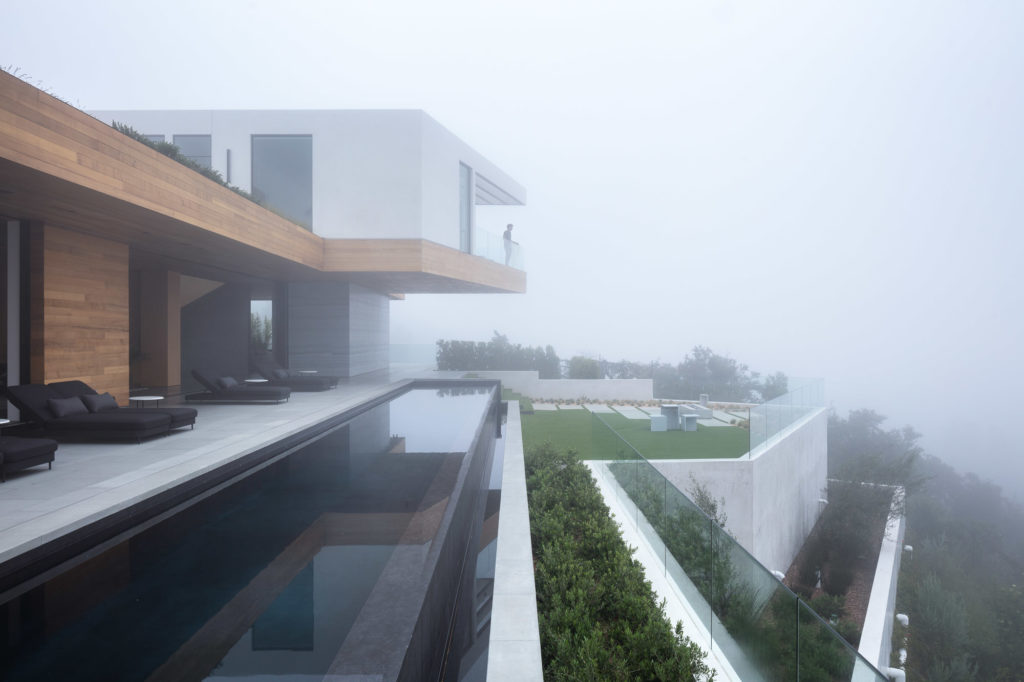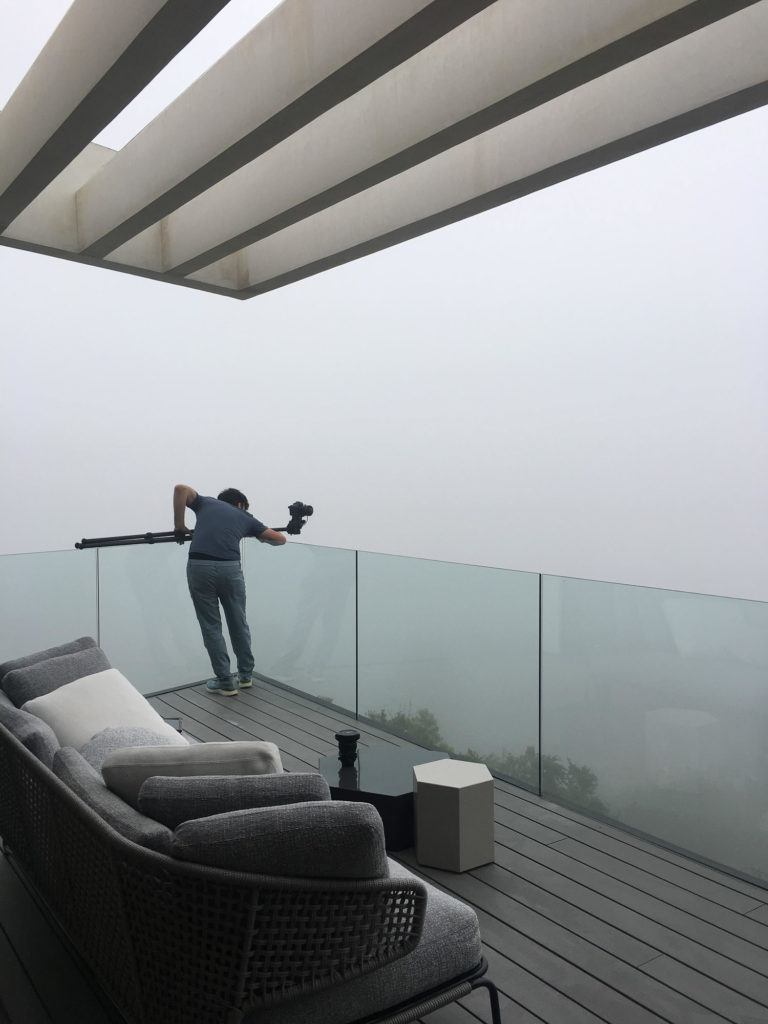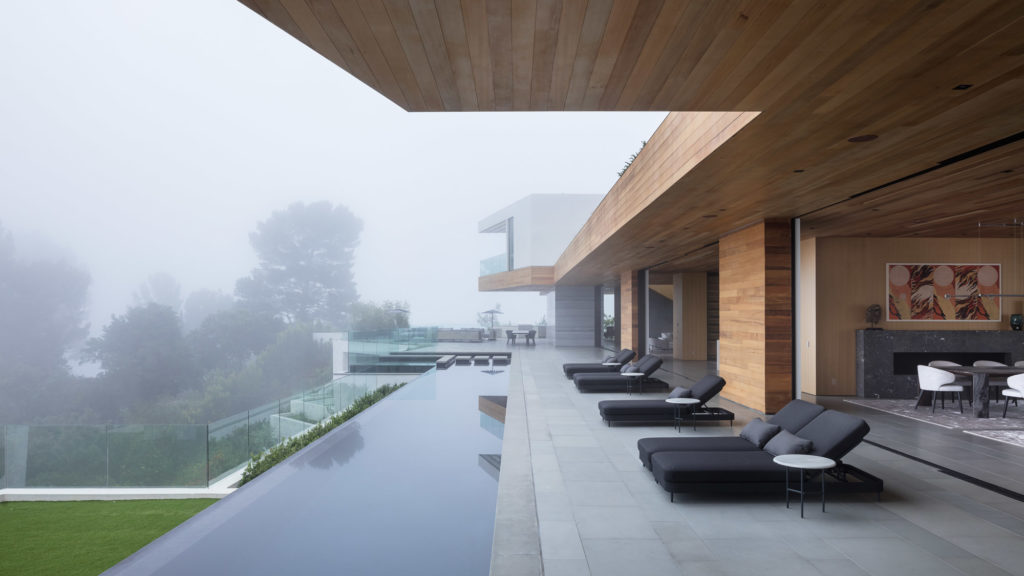 After an hour or two playing around with the dense fog, it was time for breakfast. My assistant Colleen had to, as usual, tear me away from the camera and force feed me a breakfast burrito because my addiction to creating images overpowers any sensation of hunger until it's too late and then my hanger rears it's ugly head and I basically become the least fun person on planet earth. Thank you Colleen for the intervention.
Somewhat unfortunately, as the light intensity increased with the morning, the fog didn't really recede – and what was beautiful, moody morning light underneath the fog just transitioned into flat, boring overcast light as the fog blew around. For the entire day, we had intermittent clouds and the sun poked through a tiny bit here and there but nothing major occurred in terms of sunlight penetration for the bulk of the day. We used this day to focus on non-light sensitive images, such as the theatre, bathrooms, and a few areas that didn't have major views to capture which would be improved with a little sun.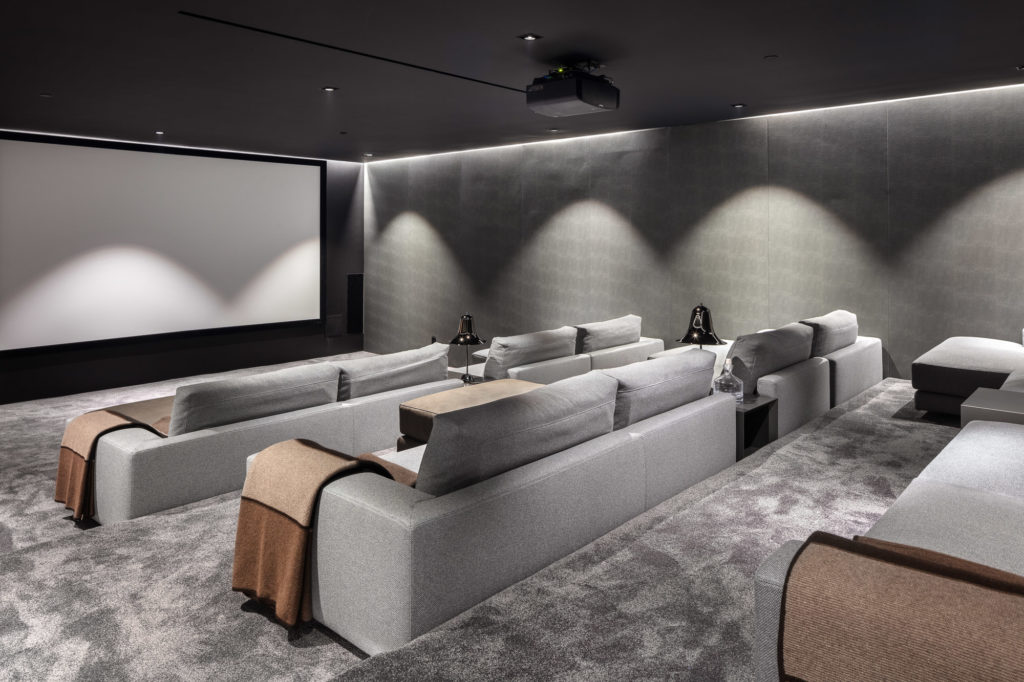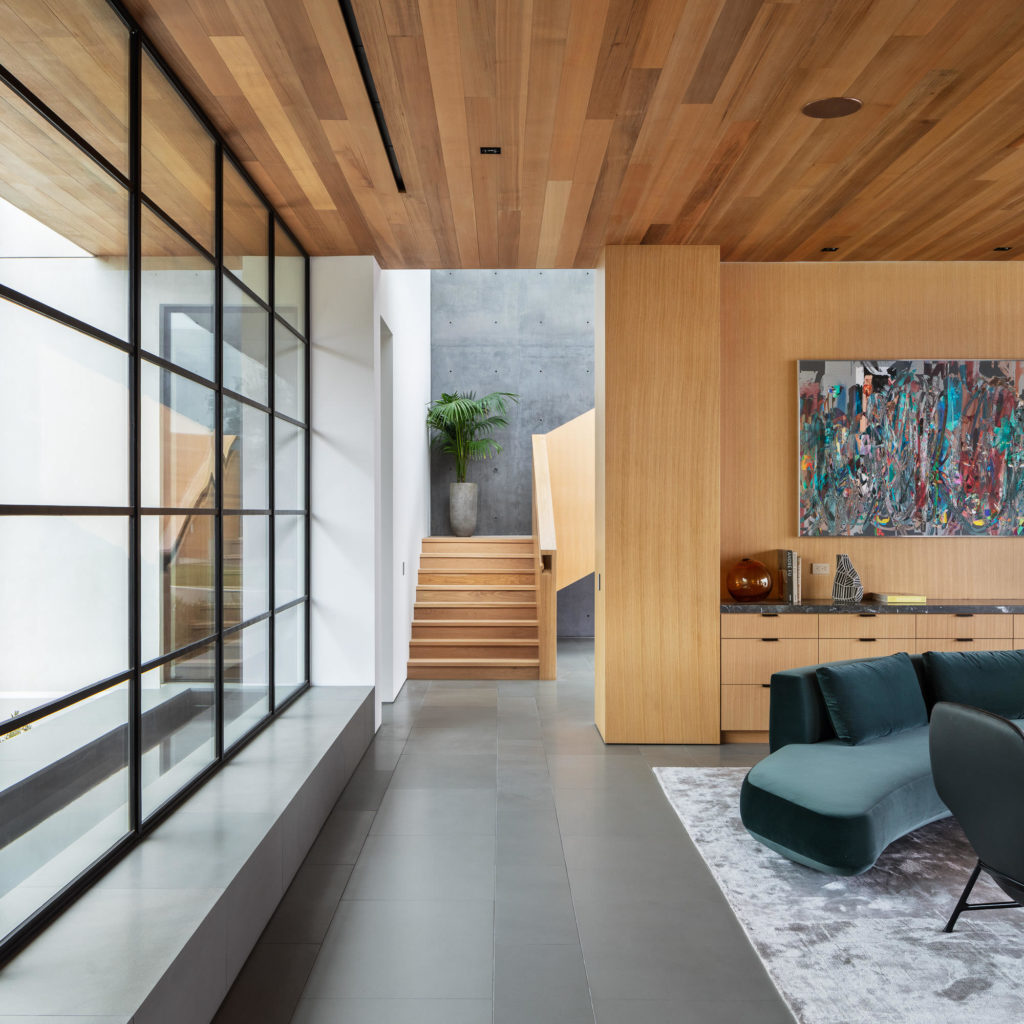 Towards late afternoon of day one, we finally got a bit of a break with the weather. The marine layer and overcast began to burn off around 4pm, and patchy fog met the legendary California golden hour. Every 20 minutes or so the location would be bathed in an amazing yellowish light, only to be covered up with fog a few minutes later. Luckily, as time passed, it seemed like the fog was breaking apart more and more – five minutes of fog was followed by five minutes of sun and clarity; rinse and repeat. There was something absolutely incredible about the transient weather that was finally revealing itself to us, and we rushed outside to find some shots that would work in this light.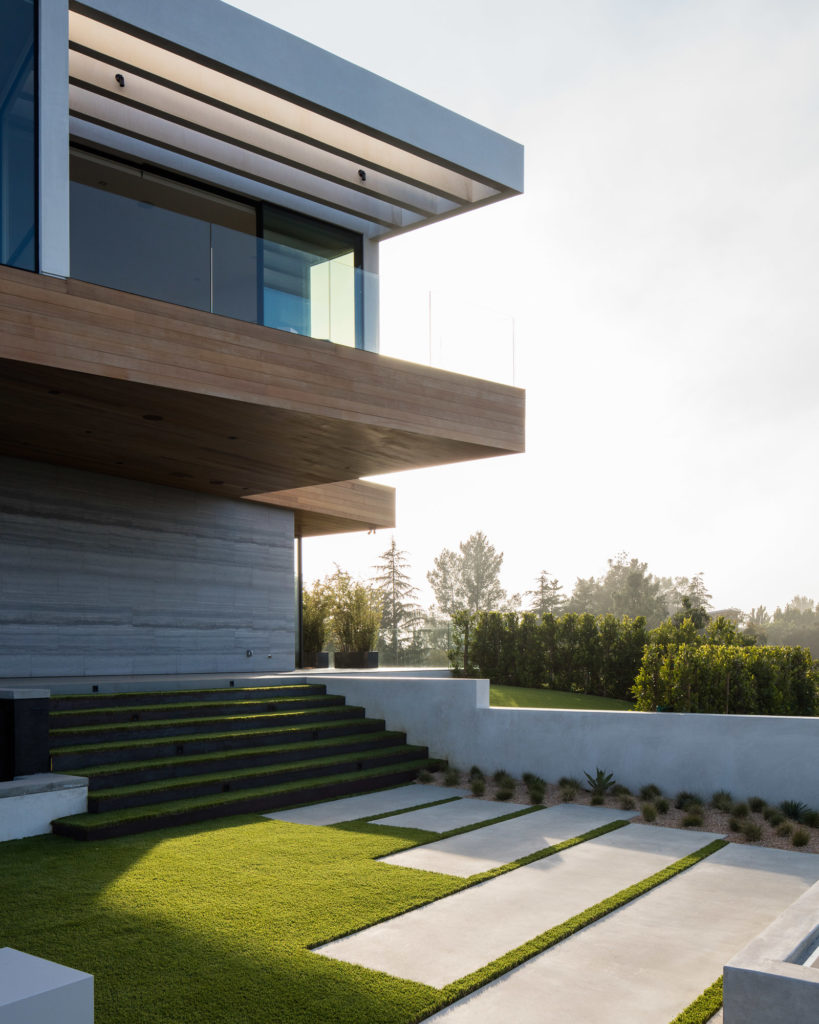 I admit that I struggled to make the most of this epic lighting situation. It took a few minutes of fiddling and pointing the camera in the 'wrong' places before I finally snapped out of it – I blame the exhaustion – but realizing that backlight was what I was looking for, I sprung into action, moving quickly to lug our equipment through the labyrinthine pathway from grassy yard, by the pool, through the home, up a set of stairs into the secondary bedroom, repeating a shot from earlier in the day when fog dominated everything, yet this time the image was about 100 times more impactful.
The sun's position essentially lit up the fog behind the house and gave it an incredible depth while the contrasty light provided life by way of reflections in the pool and color in the background. Seeing an opportunity to get some people involved for scale, I mobilized Colleen and my wonderful client (who was trying to get work done despite my antics, many thanks), and within 30 seconds had them positioned perfectly on the other end of the house.
Have a casual conversation, yeah, inch out a little further, okay, hold, perfect. One single exposure, and we're done. Serendipitous, right?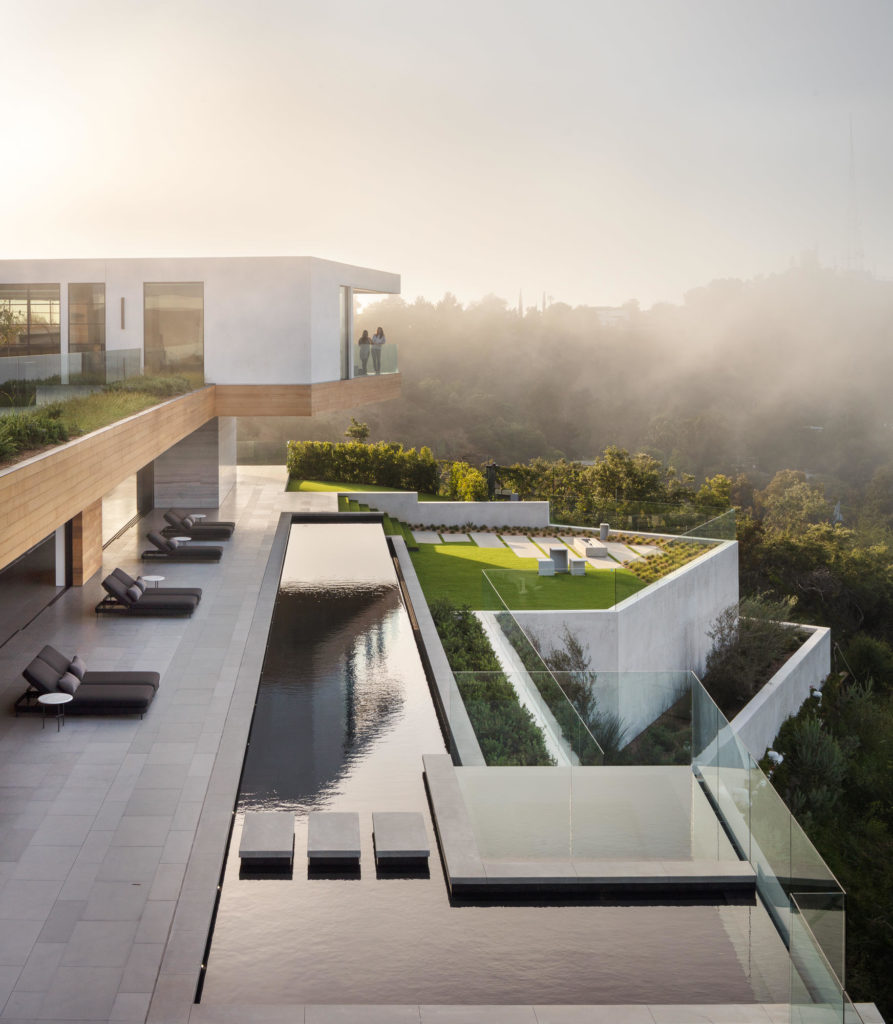 As the fog continued to clear, conditions only got better. We creeped closer and closer to twilight and the pastel oranges and pinks of sunset mixed with the cotton candy fog which clung to mountainsides in the distance. I lined up a few twilight photos, taking care to capture as much of these incredible conditions as possible; after all, nature is the best art. Just using the massive sliding doors to place a picture frame around some of the most gorgeous conditions I've seen in Los Angeles in a decade of living there was all it took. We scrambled to remove about half of the furniture and objects from each scene to simplify the images as much as possible, and before I knew it we had three or four twilight images in the bag.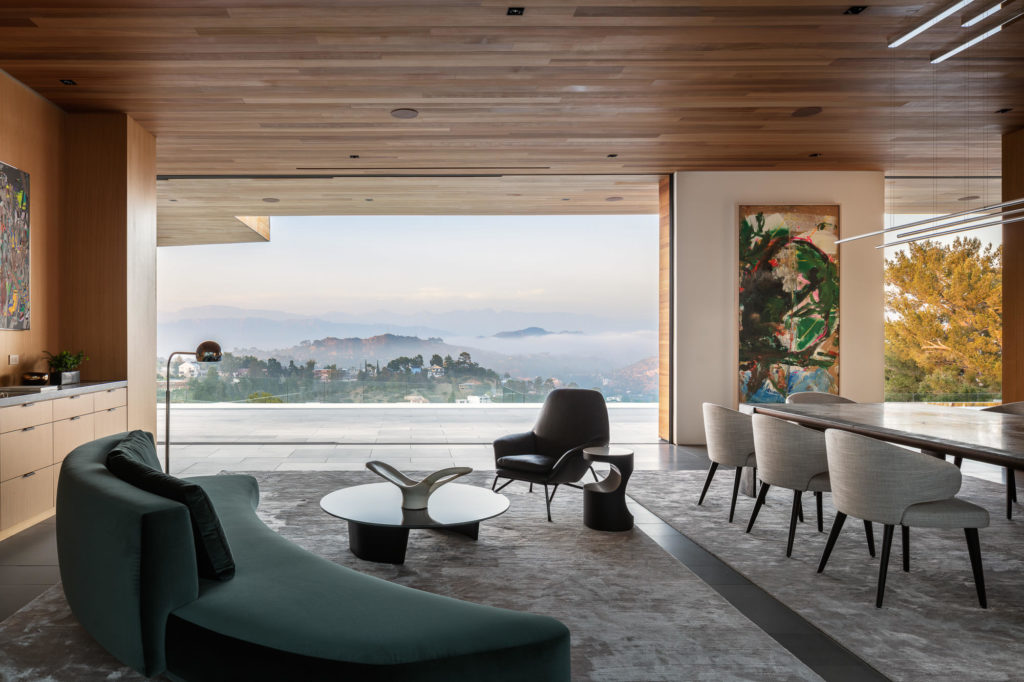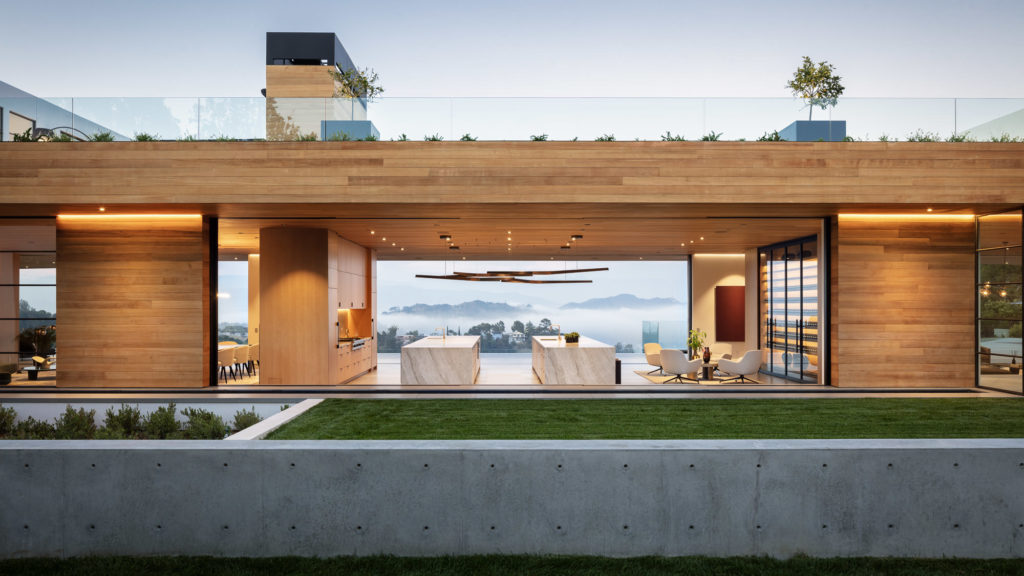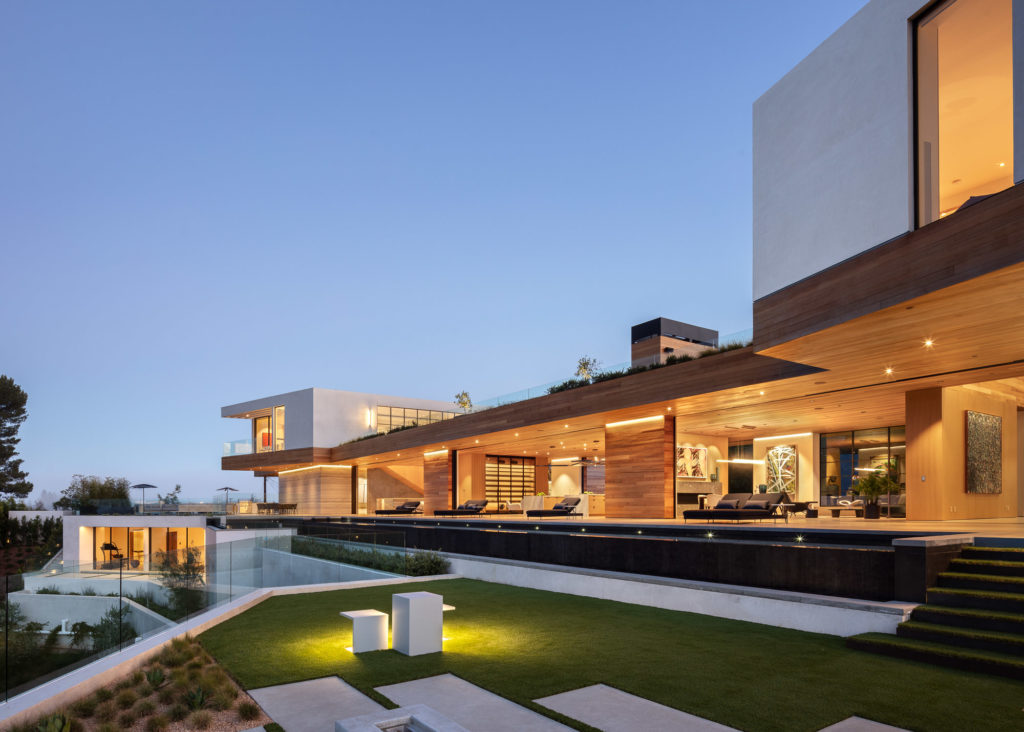 As soon as the sun completely disappeared behind the horizon, we were socked in with thick fog nearly immediately, as if a giant switch had been flicked and the weather gods grew tired of spoiling us. A gift, but one that was taken advantage of as much as possible. Pretty sure my heart rate was spiking through the roof for the last hour of the day, despite the fact that I could hardly walk after being on my feet for a good 14 hours.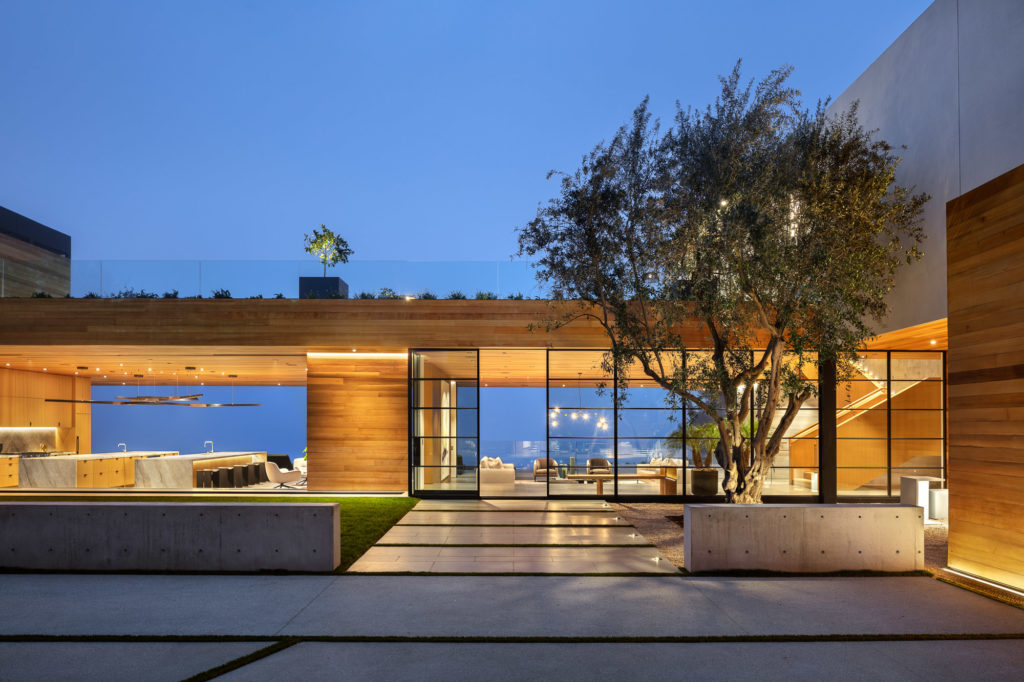 Day Two
To keep reading this story, check out my e-book 'I'll Just Fix That in Post, and Other Lies I Tell Myself." Your purchase funds the Architectural Photography Almanac and allows us to continue to bring you high-quality architectural photography related content.