What's included?
Photo-by-photo breakdowns of major commissions
Come along with me on some of the most important photoshoots of my career, spanning America to Asia, from homes to airports to high rises. I will be the first to admit that I do a good job of making it look like all fun and games on instagram, but in I'll Just Fix That in Post, and Other Lies I Tell Myself, I lay bare the struggles and difficulties inherent in some of these productions. Things go right, and things also go wrong – so, so wildly wrong – but creating great images is job number one, and at the end of the day we have to produce something great no matter the circumstances. Leaving critical equipment 6500 miles away at home, dealing with indigestion halfway around the world, and smashed art objects are just a few of the problems faced throughout the stories told in the book.
Behind-the-scenes images, camera, and equipment information
Follow along step-by-step as we construct scenes and re-arrange furniture to style a scene from nothing, or place the perfect human figure in order to create a story and understand the scale of landmark architecture. Get up with me at 4am to photograph a home at sunrise, survive on coffee until a midnight wrap after an 18 hour day, and better understand the settings and equipment used to create my images. Learn how I harness both flash and natural light in various settings, or how I visualize a completed photograph by starting with an empty room, finishing with a publication-worthy image that sells to multiple clients.
Who was this written for?
I've made a very conscious effort in I'll Just Fix That in Post to make sure that everyone from the complete beginner to seasoned pros find something to chew on. If you're looking for boring stories of where to put the camera and what settings to use, you won't find those here, but if you want something that can inspire you to approach your next shoot in a different way, you're in the right place. If you're looking to find out what goes into a four-day residential shoot or what's involved with flying around the world, jump in.
The Chapters:
Gear and settings breakdown
Arranging the objects in your scene
Inserting people into an image
Photographing the Tom Bradley Terminal at LAX
Photographing the Disney Concert Hall in Los Angeles
How to arrange access to create the photographs you need
Photographing Regalia in Miami
Photographing from a helicopter
Photographing a hotel in China
Working in Bangladesh
Photographing Carla House in Los Angeles
A few of the images that the book discusses in detail…click to enlarge!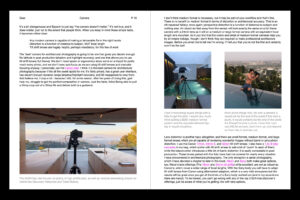 The book was beautifully designed for easy readability on digital platforms
Can I read a sample before I purchase?
I have previously published one of the chapters in the book on APAlmanac, a sample of which can be read here. The length of the chapters in I'll Just Fix That in Post varies, though each shares multiple teachable moments, behind-the-scenes images, and real-world information you can take with you on your own shoots.
Your purchase funds the Architectural Photography Almanac
We are proud to run a blog free of advertisements and as a result our topics are not influenced by financial bias or pressure to positively review a certain piece of gear or suck up to any industry figures.  Writers are free to explore any topic, whether controversial, opinionated, or otherwise. Sales of this e-book generate income that helps to pay for server costs, pay the writers for their valuable contributions to architectural photography, and for our Mailchimp subscription which we try not to annoy you more than once every other week with despite the angry emails that tell me I'm wasting people's precious inbox pixels.
I guarantee you this book will save you $40 in frustration throughout your career
Consider your $40 investment a mashup of group therapy, an epic self-roast (plenty of laughs at my expense) and technical manual. If you disagree, end up learning nothing, and find this to be ineffective in helping you make better pictures or running a tighter business, let me know within two weeks of your purchase and I'll refund your money. I promise that the lessons I have learned and shared here will save you far, far more than $40 over the span of your career. Probably more than that over the next single job you take on.
FAQ
Are you going to print this as a real book? The picture shows a real book.

I would love to. It would be beautiful. But at this time I have no plans to – I've done two "real" books and the logistics and headache were just massive. I think I'll keep it as an e-book for the time being, unless a compelling reason to print this is presented to me. And yes, I know about the lead image, it's a mockup created in Photoshop – but I can't think of a better way to illustrate the fact that it's an e-book with some stories in it and separated chapters – I'm sorry!
Can I read this on my iPad/Kindle/iPhone/Tablet?
You may have difficulty downloading onto a mobile device unless you can download directly into the 'files' app (iPhones and most Apple products include this). We recommend downloading first to a desktop or laptop and then transferring to your phone or iPad using your preferred method. If you'd like to download straight to an iPad, please refer to these instructions. As far as Kindles go, it depends on the version – the e-ink reader versions are not recommended as they cannot show the image-heavy layouts without severe degradation and loss of detail. I don't own a Microsoft Surface though reports are that it works fine on them in a PDF reader.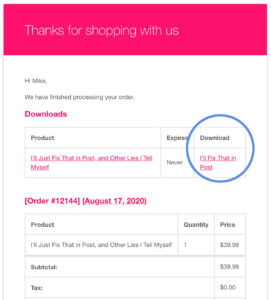 How will I receive the download?
A link will be emailed to you shortly after purchase where you can download the product. The subject of the email will be "Your Architectural Photography Almanac order is now complete" and the body of the email will look like this (see inset image). Click on the link in the blue circle and your download will activate. This email will allow you to download the product three times, so if you lose it or would like a copy on a laptop and a desktop, you are welcome to download again.
Do you take a payment processor other than PayPal? I have a personal problem with them.
At this time the only payment processor APAlmanac is using is PayPal. You do not need an account, though, and can pay with a credit card without signing up or providing PayPal with your email address.
I have a question that you didn't answer, who can I reach out to?
Please email us at contact@apalmanac.com.