On today's rendition of Project of the Week, we are taking a look at a gorgeous set of photographs by architectural and interiors photographer Lauren Miller. Lauren is based out of Toronto and her work has a quiet and textural quality about it that I just love.
The particular project we will be taking a look at today is Ashley Botten Design's Lake Rosseau Cottage in Ontario. A modern take on a classic lakehouse, you can expect to see a soft palate, plenty of mood, and lots of atmosphere in Lauren's photos here.
Lauren kicks things off by sharing "The project was very intentionally visually quiet, warm and cohesive – so it was a joy to photograph.
The scale of the home was great, we got to explore the use of space a lot more freely than I usually do, usually shooting in downtown Toronto. The views and consistent use of materials throughout were some design elements that really sang across the entire series. The goal for this project was to definitely capture that quiet intentionality – which were helped along by some of the lighting vibes we went with and styling choices."
She continues, "The day of the shoot was really chill. We had some hot light in the late afternoon which felt tonally a bit different from what we had through most of the day – which was more of an overcast moody vibe. Luckily my assistant Patrick was on hand to help scrim and block some of that hotter late day light."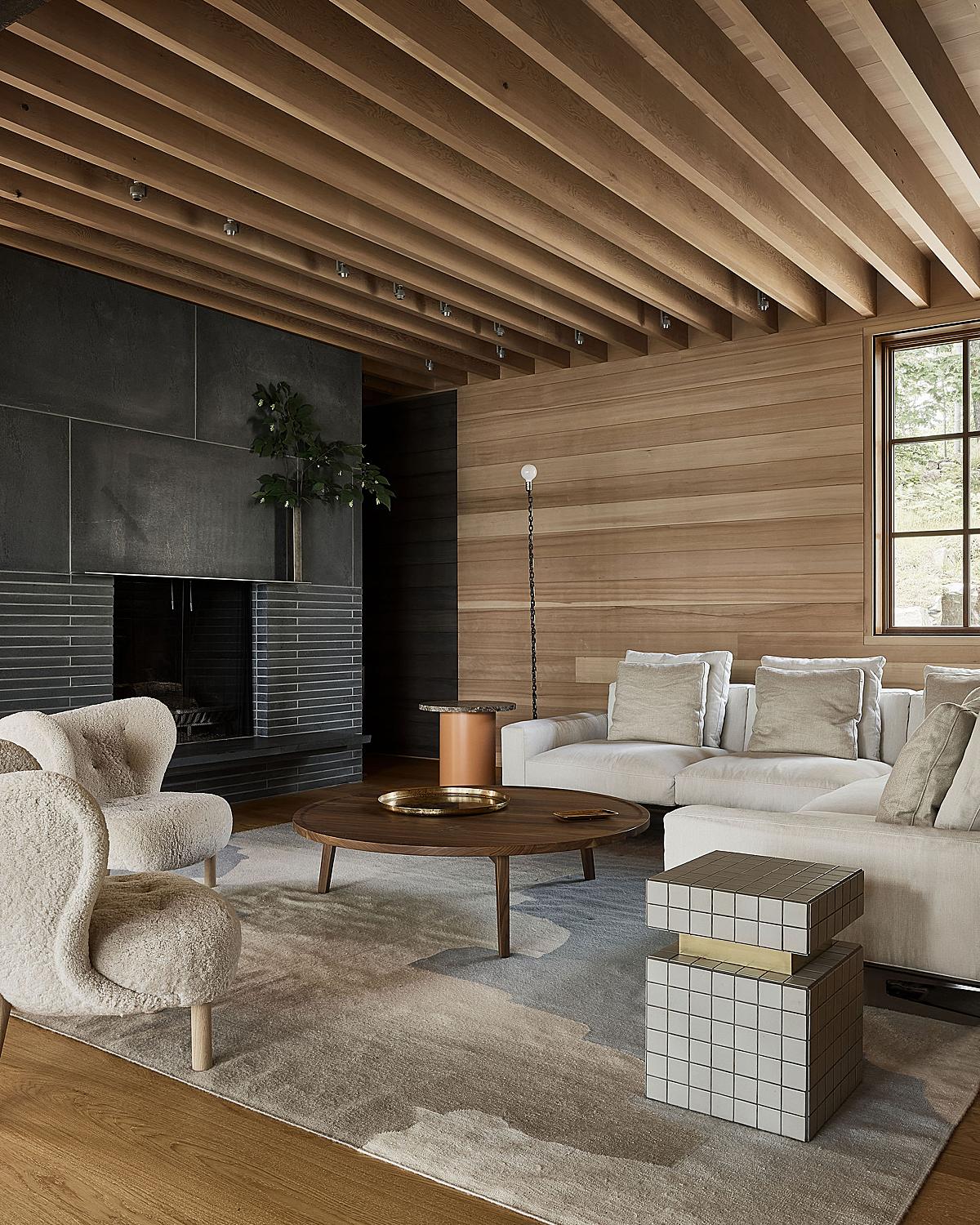 The intimacy of Lauren's compositions keeps our eyes focused on the magnificent details of each room. She shows just enough to communicate the overall idea and mood of each space while keeping the images easy to understand and leaving us wanting to know "what's around that wall?" or "what's just out of frame?"
Each photograph she makes is steeped in a wash of beautiful and soft directional light. It carves out the shapeliness of each space and the objects occupying it.
"I usually like to think about how it would make sense for a person to approach a room, and chat with the designer about some of the key elements that speak to them about what makes the space great," Lauren tells. "I ask questions like – would a person be standing as they really experience this room? Or be seated? Does this lend itself to something more graphic and straight on? Or is it best shown with a bit of movement and softness on an angle – like you're moving through the space vs. landing on a particular element. I'll often use my phone to make a bit of a visual 'to do list' in each space once we decide on how we're going to tell the visual story.
I love the way she lets things trend on the darker side without losing any detail or making things feel drab. While moody and broody, each scene is filled with texture and beautiful line and form without feeling overtly complex or distracting.
"I'm so obsessed with the bedding shots – especially the shots of the two twin beds. There's something about the styling and lighting that makes me feel really inserted into a particular moment – it being late summer, sleeping in linen bedding, looking at the lake. It just shot so emotively and made me feel something, which is always a sign I'm vibing on a photo," Lauren says.
For all of you gear heads out there, it turns out that like most photographers who craft emotive images, Lauren is not.
"In terms of equipment, I shoot on a Canon R5, usually with the RF 24-70 lens – with a pair of Profoto b1 units as lighting support. I'm not a big gear head, and I think my favourite tools are often the simplest," she explains.
"I have more 5 in 1 scrims than I can count, and am often reducing light more than bumping it up. That was particularly important with this project, as so many of the rooms had indoor/outdoor space fluidity, and we needed to shoot multiple slates to bring together and scrim the intensity of the outdoor light on elements on the inside of the house."
Lauren's tips for folks starting out in architectural photography are sage advice. She shares "Learn how to blend vector masks in photoshop! Second, your world changes when you have a second set of hands on set – always have an assistant. And finally, don't feel like everything has to be perfect styling-wise all the time, sometimes it's powerful for there to be curated bits of funk and weirdness here and there – I think that's what sometimes makes things so editorially interesting."
We'll wrap up this Project of the Week with a lovely photo looking out over Lake Rosseau. With a quiet and delicate mood, strong lines, and the feeling that you could just reach through your screen and touch the wooden siding, this image is the perfect summation of the Lake Rosseau Cottage project!
Many, many thank you's to Lauren for sharing her wisdom and gorgeous images with us.
See more of her dreamy work at lauren-miller.com as well as on Instagram @lomillerphoto
If you have a project you'd like to be considered for Project of the Week, you can submit it here.