Check Out The Passion Project of Photographer Leonid Furmansky as He Photographs 800 Bell Over Two Years
Project of the Week
800 Bell is a 600′ tall tower in Houston, Texas. Designed by Welton Becket & Associates, the 44-story skyscraper's unique look comes from the massive cantilevered shades on each floor that help break the harsh Texas sun as it shines through the glazing. Our photographer this week, Leonid Furmansky, fell in love with 800 Bell at first sight. He photographed the skyscraper over the span of two years, and despite plenty of obstacles along the way, Leonid's artistic vision came to fruition with the cooperation of the weather and a neighboring building's security guard.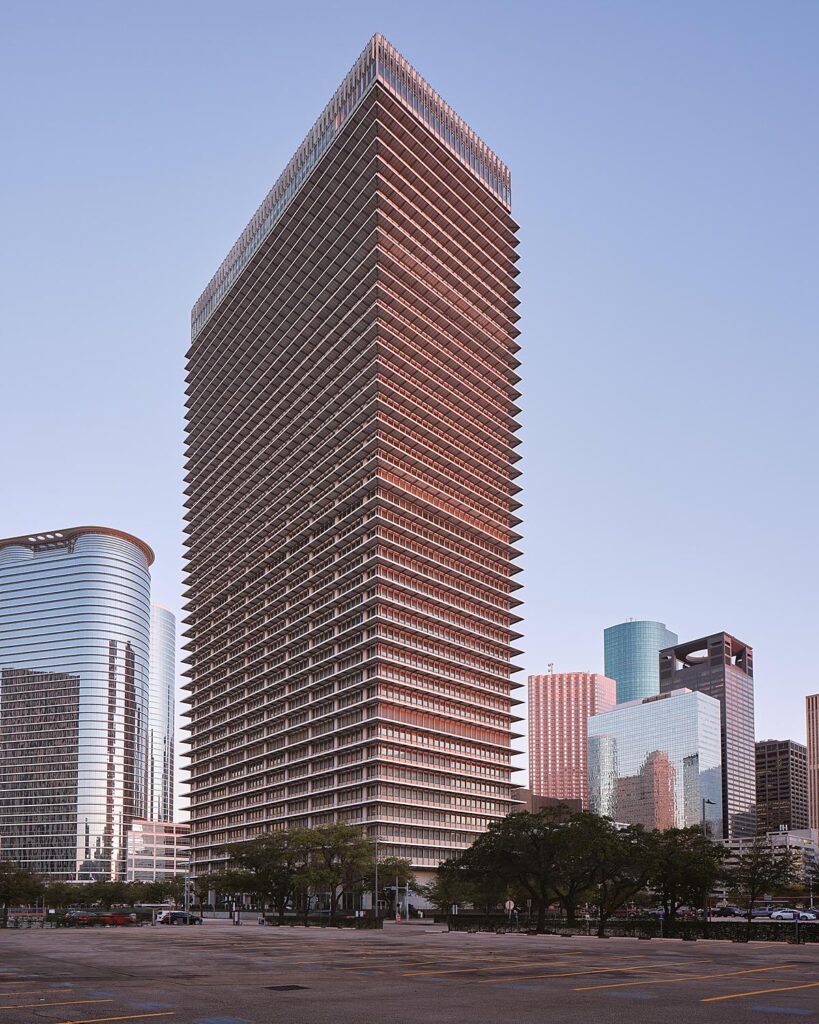 Leonid starts, "I first learned about the tower at 800 Bell St before my love for Architecture. I'm from Austin, Tx, and was visiting my friend Ej Dorian. I was riding BMX Street with EJ in downtown Houston he was showing me around the city. When I saw this tower I fell in love with it. It was different from any tower I'd seen. I took an Architectural Photography class later in 2014 and fell in love with the idea. I knew I had to document this tower later. This is a tower designed back in the day and the architecture office is no longer around. I photographed it out of passion. This is my favorite Tower in Texas. This later was published in Houston Cite, Divisare, Texas Architect and is soon to be a small book."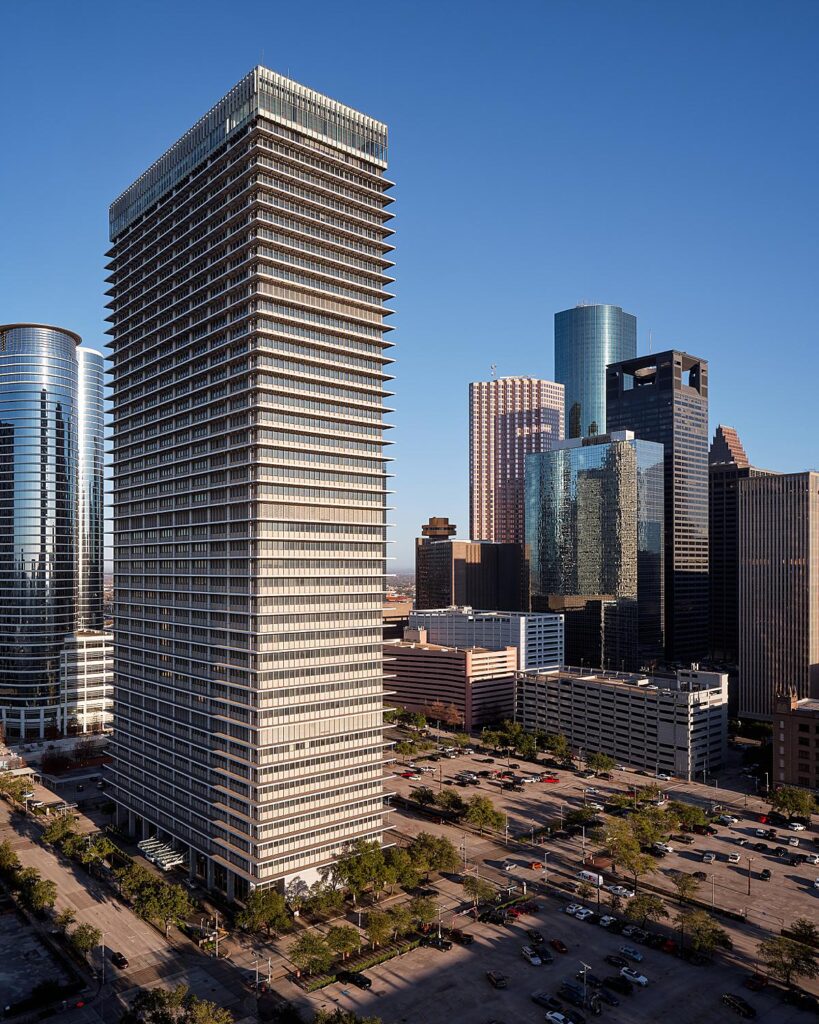 He goes on, "I shot about 7 – 9 days in a 2-year span of 2020 – 2021. I learned that this tower was in danger of being renovated or torn down. I knew I had to get on it before anything happened to it. The challenge was finding higher ground and getting roof access. I had to sneak into buildings during a pandemic and walk up garages that were empty because no one was going to work at that time. I definitely stuck out and it was very easy to catch me because I was the only one around. Texas had to have stay-at-home restrictions. I asked for permission and I was turned down by many, but some gave me access. I almost went to jail for trespassing one time but the police said I wasn't "Disturbing the peace" and showed them my portfolio and they let me go. That was nerve-racking last thing I want is jail time during a pandemic."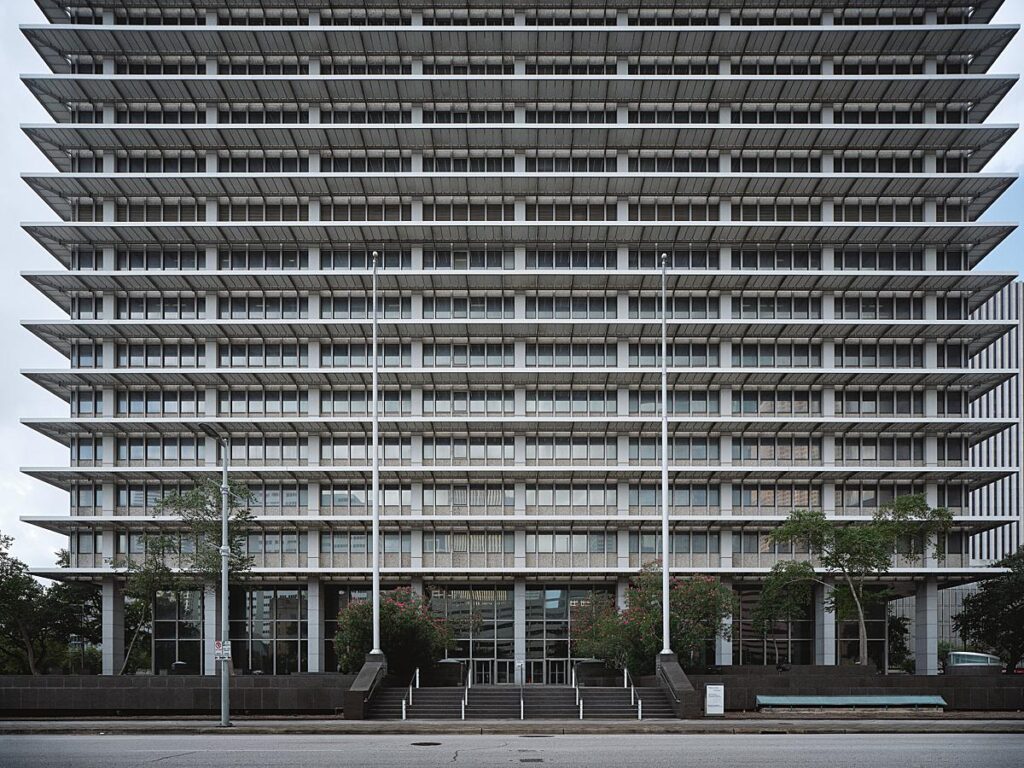 "I love Architectural Photography but I really really love photographing towers," Leonid explains. "I don't know why but it's the most alive I feel. It gives me energy. I love walking the city and being a part of the concrete jungle. I also blame my mentor Sean Perry and his beautiful body of work Monolith. Sean was my teacher and is now my mentor at ACC photography. He taught me everything about Art Photography and showed me photography books that's what made me look at Architecture differently. That school changed my life," he says.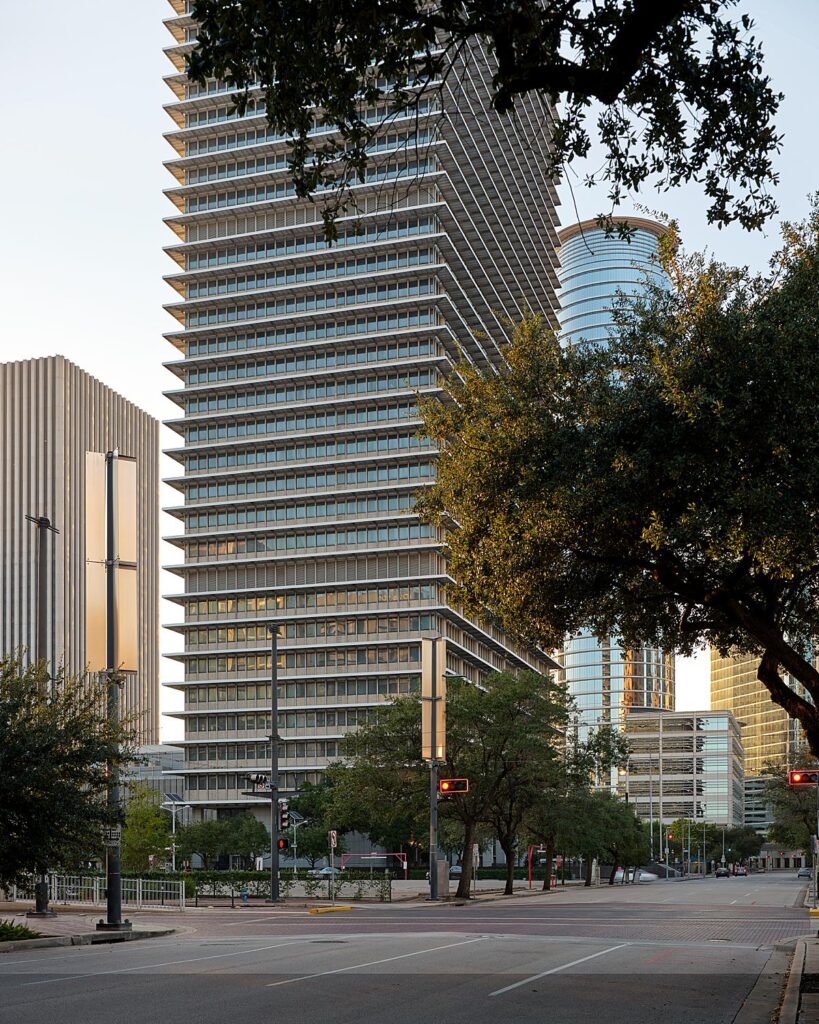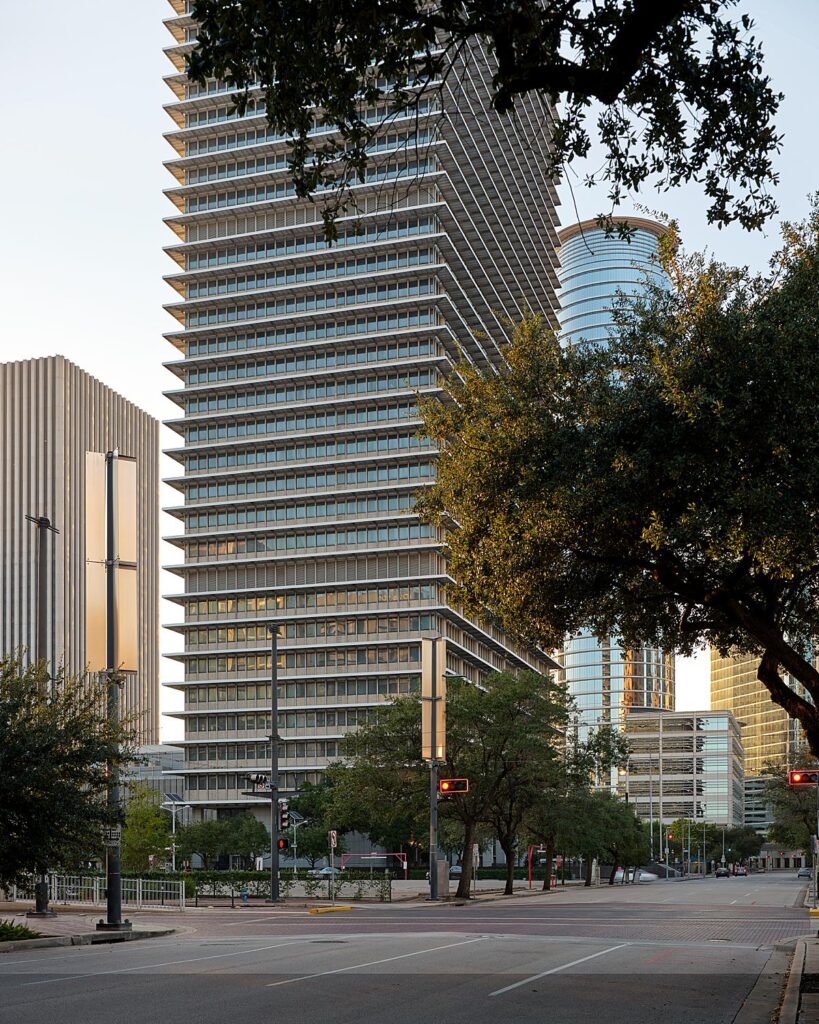 Leonid says, "I use CaptureOne, and this time I shot digitally. I import, curate, sleep on it, and edit. Everything was processed in Photoshop."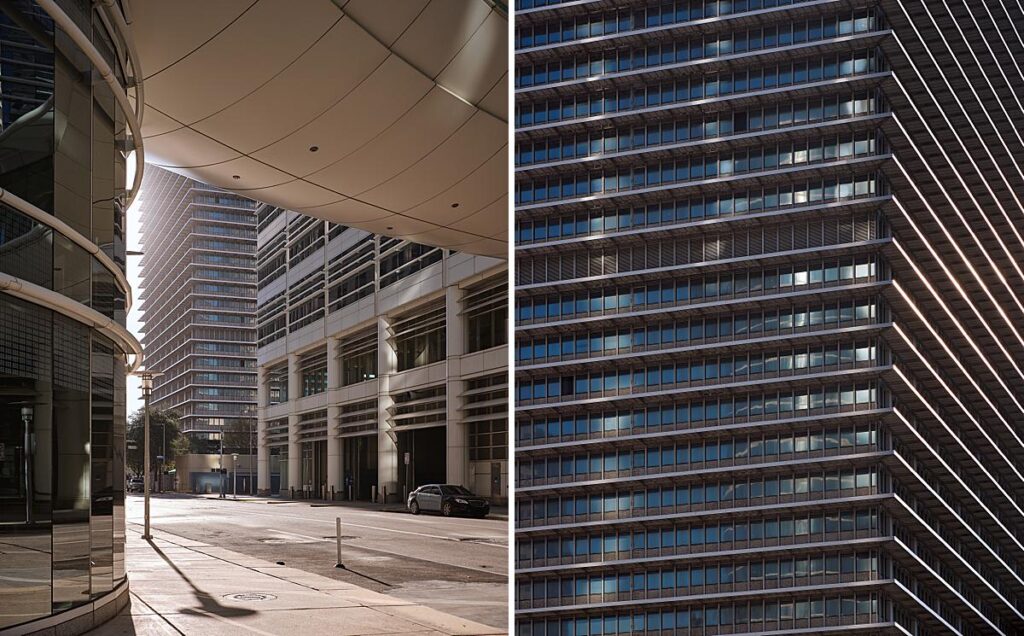 What stands out to me about this project is the wide scope of images and a feeling of completeness. We see the tower from all different angles, both in context and singularly zoomed in on the details.
There is beautiful light in each shot, giving us a sense of the time of day and adding warmth and intrigue. Leonid put in a tremendous amount of time and effort into this series, and his passion shows.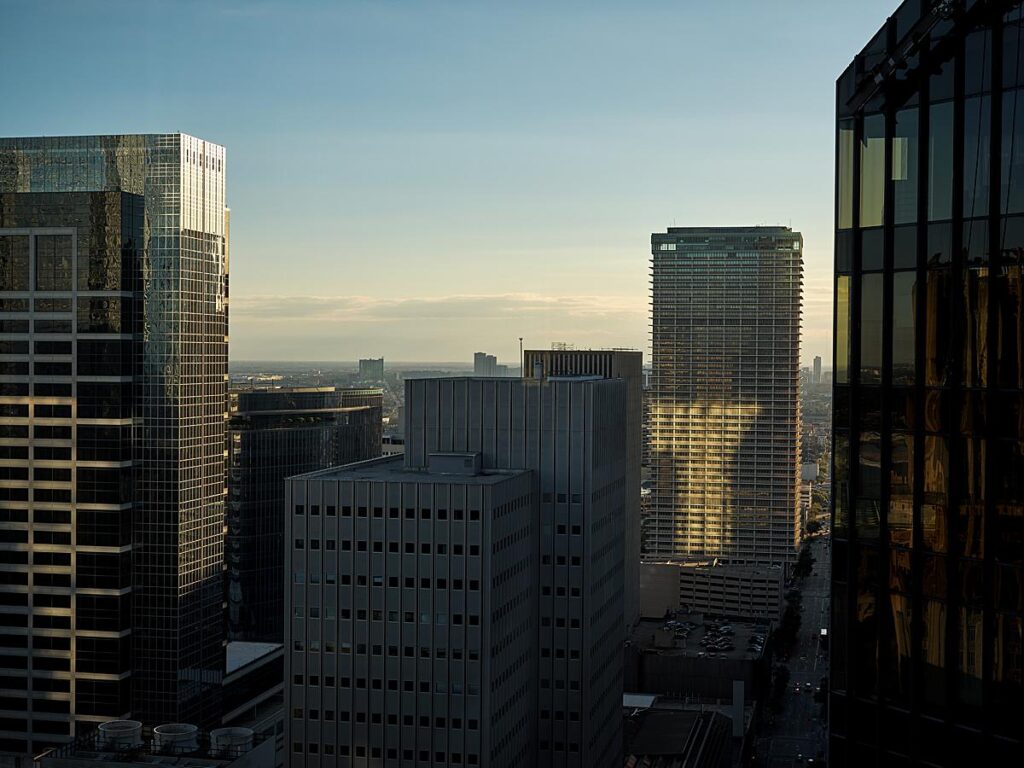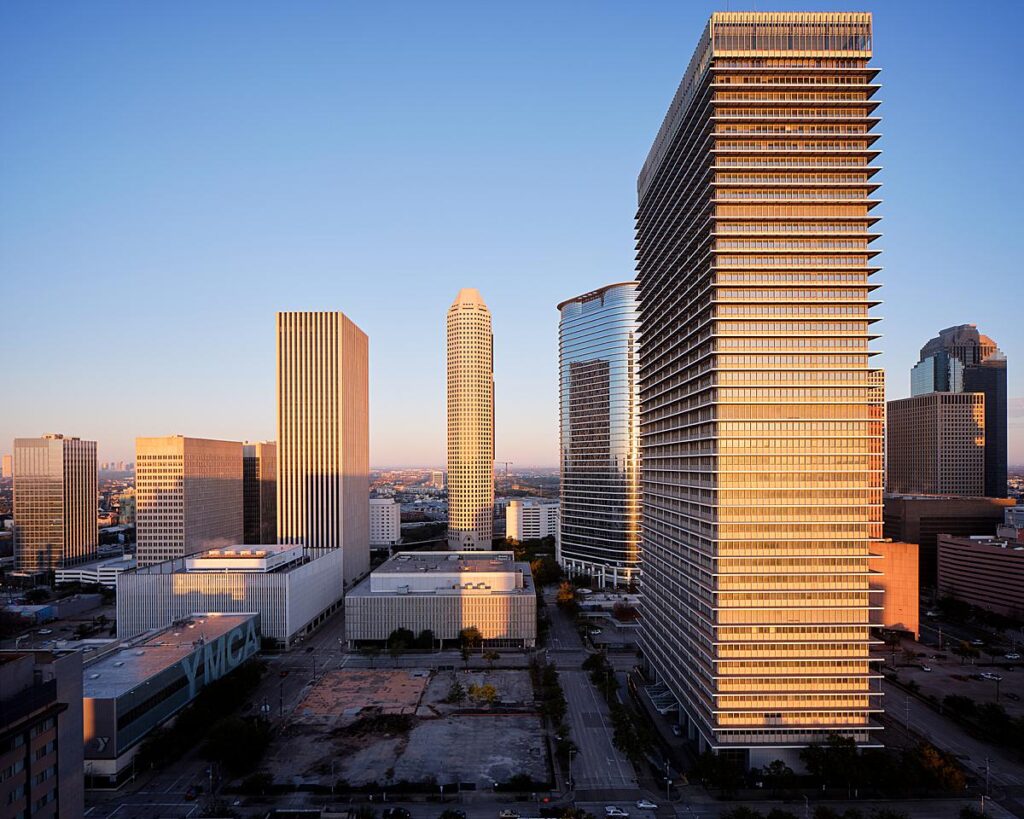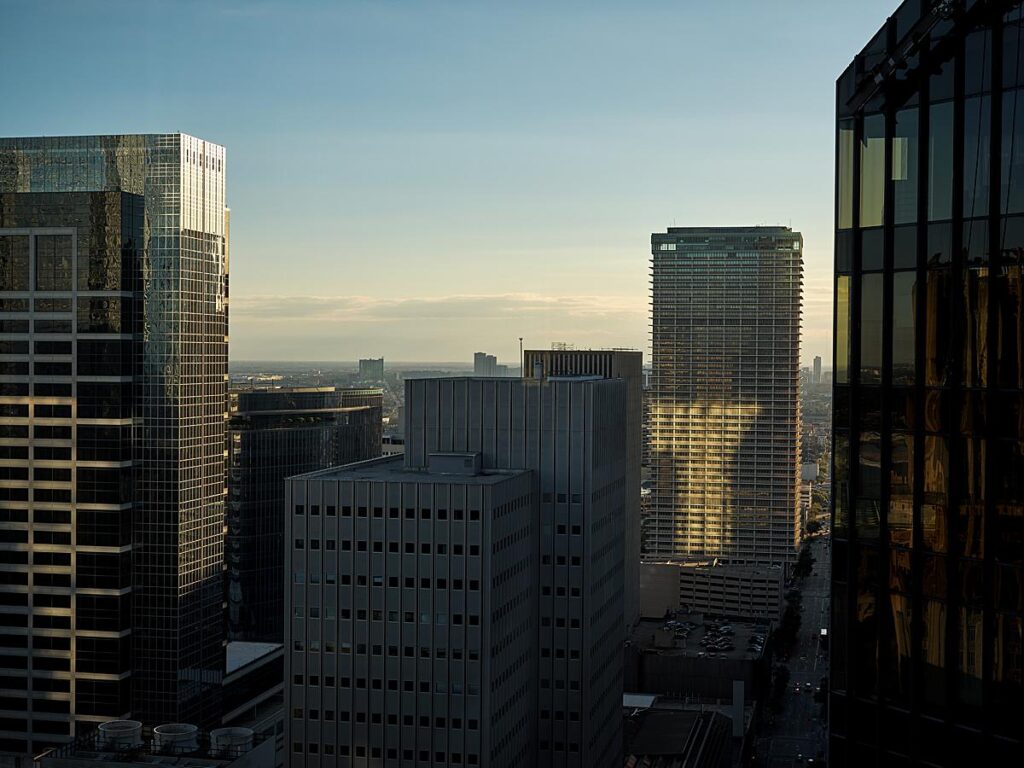 See what I mean? We went from golden, gorgeous patterned light to a cold and foggy view of the tower. The variety Leonid has included is so awesome.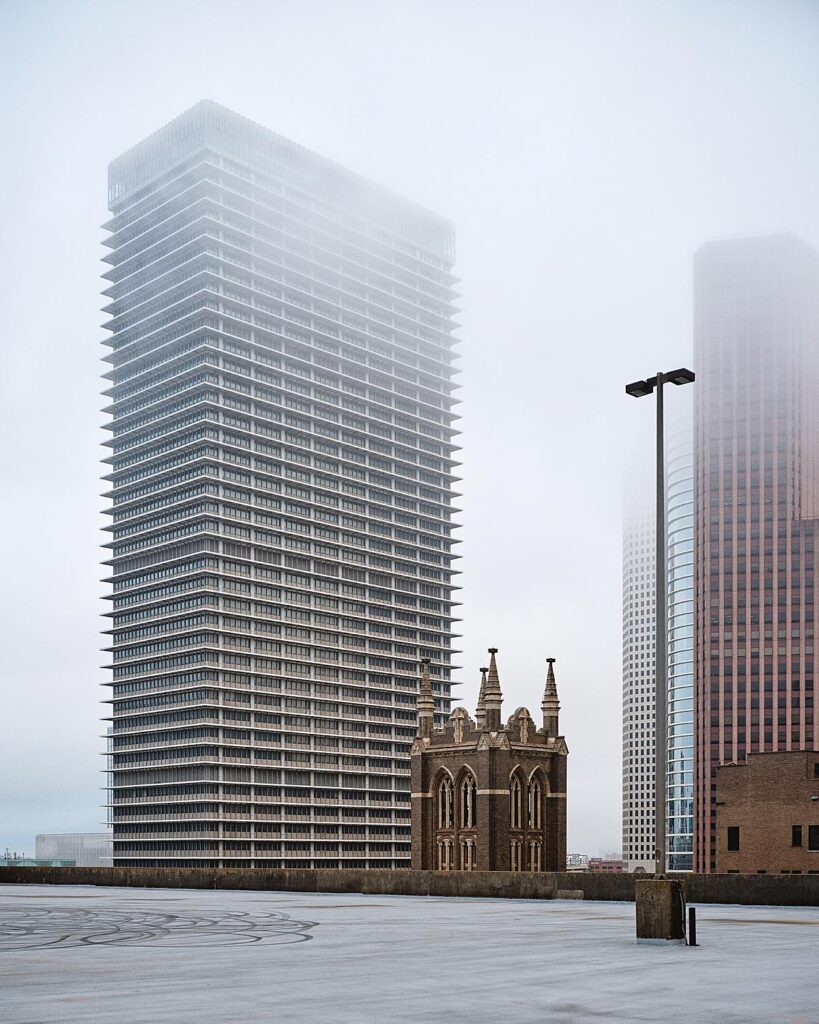 Leonid speaks on making his favorite photograph (below), sharing "It's my best photograph. It is a staple of my career. This defines everything I am about photography. I hope to be remembered for this image. Houston is defined by rain and fog and I swear I dreamed of this photo I knew it was going to happen it was like the law of attraction. One morning at sunrise I begged the security guard to let me up he was bored so we went up together. I remember being overjoyed almost in tears it was what I wanted the whole time I was documenting this tower. I couldn't believe it – it was a dream come true."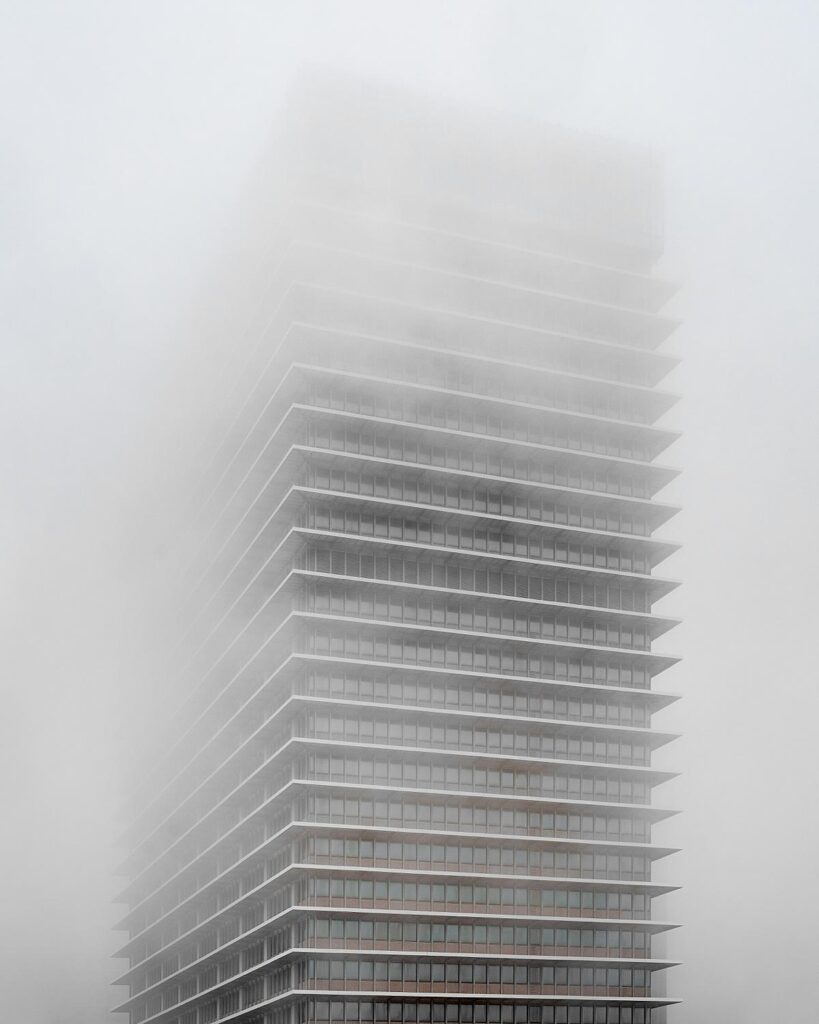 As we wrap up this project of the week, we'll close on two photographs I particularly love. On the left, we see 800 Bell St. framed by the surrounding buildings. Our eye is drawn straight to it by the dark foreground and the leading line of the road. On the right, a close detail shows a lonely bank of windows lit up amongst a sea of dark ones. It adds some life and intrigue and lends itself to the story of this tower very well!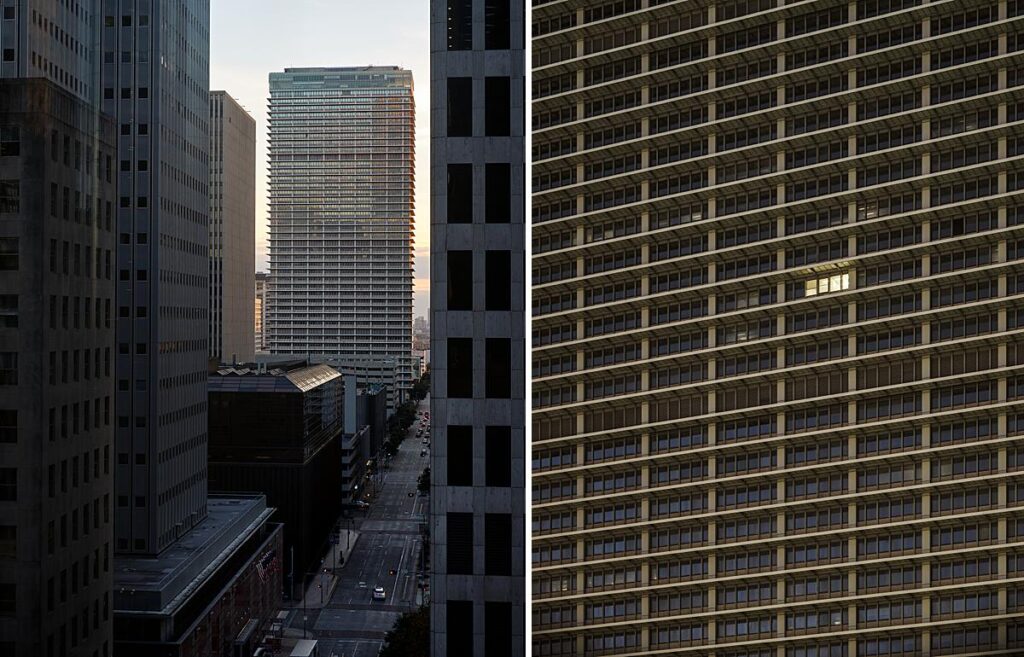 Leonid plans on making a book of 800 Bell St. and its sister tower 3100 Main Street. Keep your eyes on his site and social media for updates. Visit LeonidFurmansky.com to see more of Leonid's fantastic work. You can also keep in touch with him on Instagram @_leonidfurmansky. A big thanks to him for sharing this project with us!
If you have a project you'd like to be considered for Project of the Week, you can submit it here.