The Results Are In On Architizer's 2021 One Photo Challenge
News
Each year Architizer holds the widely known A+ awards, celebrating the greatest architectural achievements of the year. They also hold the "One Photo Challenge" which asks participants "can you capture a single photograph that tells a compelling story about architecture and its inhabitants?" After all the submissions are sorted through, a shortlist of 100 architectural photographs is culled down to two overall winners — one student winner and one non-student winner, along with 10 commended entries.
This year the jurors included renowned photographers like Ema Peter and Sebastian Weiss, including APA veterans Hufton+Crow, and Ana Mello.
The Overall Winners
Non-Student Winner: "The Roofscape of the Obscure" by Venla Rautajoki
Venla Rautajoki is a photographer and interior architect SIO at Futudesign based in Helsinki. She shares with Architizer that this photograph was made at the Amos Rex Museum, taken as a boy climbed across the peephole that looks down onto the museum floor. There is something magical in this simplistic yet obscure image, which makes it the perfect translation of Amos Rex's rolling domes and playful architecture.
Student Winner:"Poor Man's Canvas" by Kavin Kumar La Sa, Anna University
Kavin kumar la sa photographed this image in Kannagi Nagar, "a resettlement home for fishermen communities." Kavin uses this photograph to draw our attention to the art that exists within these communities, and how the murals here "illustrate ideas of home, hope, and livelihoods." I love the scale and the framing Kavin uses to draw us in and help us understand just how massive this mural is.
Commended Entries
Among the 10 commended entries, some of my personal favorites are no strangers to APALMANAC. You might remember Tom Harris' series on Studio Gang's Eleanor Boathouse from Project of the Week: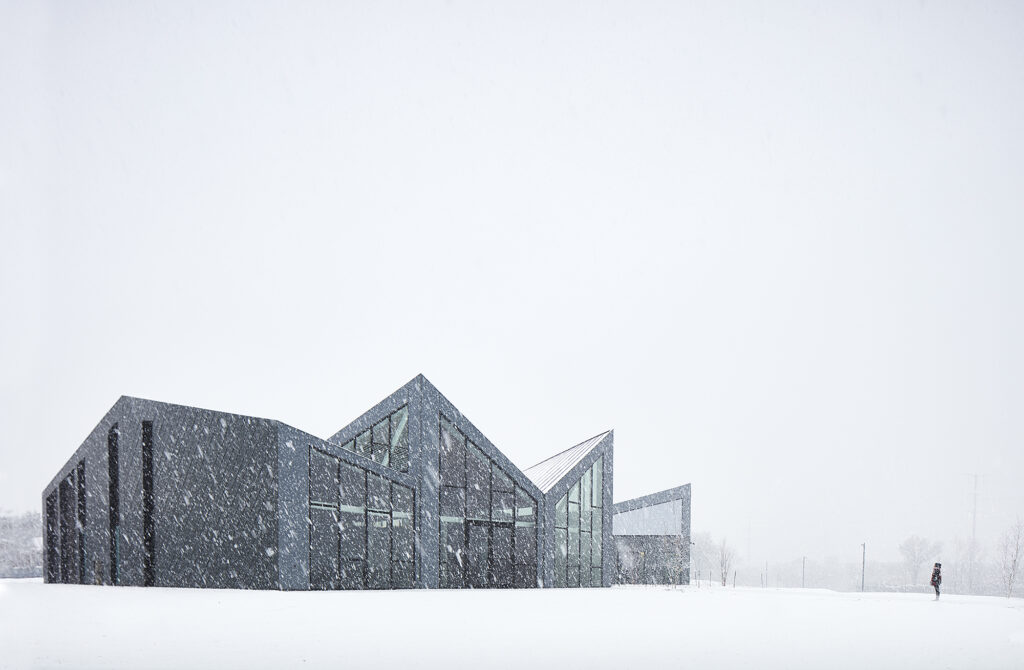 The list also includes our friend Peter Molik's Terlingua Night, taken of a guest house looking out into the Chihuahuan desert.
One of my absolute favorites is "Architecture and Nature Aligned" by Alex Nye, who harnesses the golden specular sunlight to create one of the coolest images I've ever seen!
To see the rest of the esteemed winners and read the backstories behind each photograph, pop over to Architizer's One Photo Challenge page!