Tom Harris' Serendipitous Shoot Leads To An Iconic Series Of The Eleanor Boathouse
Project of the Week
Mike and I were recently talking about the modern greats of architectural photography, which naturally left us drooling over Tom Harris and his rockstar portfolio. Our mutual favorite (so much so that Mike even scored an autographed print of it) is Tom's series on Eleanor Boathouse by Studio Gang.

What made me love this set even more, is that Tom told us our favorite shots were actually a bit of a happy accident. So, kick back, relax, and get ready for this great story!

Tom explains: "I was hired to shoot the public opening of the building, as the boathouse was finished but the landscape was incomplete and we were holding off until spring to shoot the final images. The mayor was there for a ribbon-cutting and I made a few photographs of the architects speaking, Rahm Emmanual cutting the ribbon, and the community walking through the space. As everyone packed up and left, I did as well. It was a dreary day and the job was done.
On the way home I realized I had forgotten my tripod! I had stashed it in the office after making a few images so I could move about unencumbered for the editorial shots. As I made my way back it began snowing heavily. When I arrived there was only one person on site, Weiju Lai, the project architect. She and I retrieved my tripod and in about 45 minutes proceeded to make one of the most magical sets of images that I've been lucky enough to make."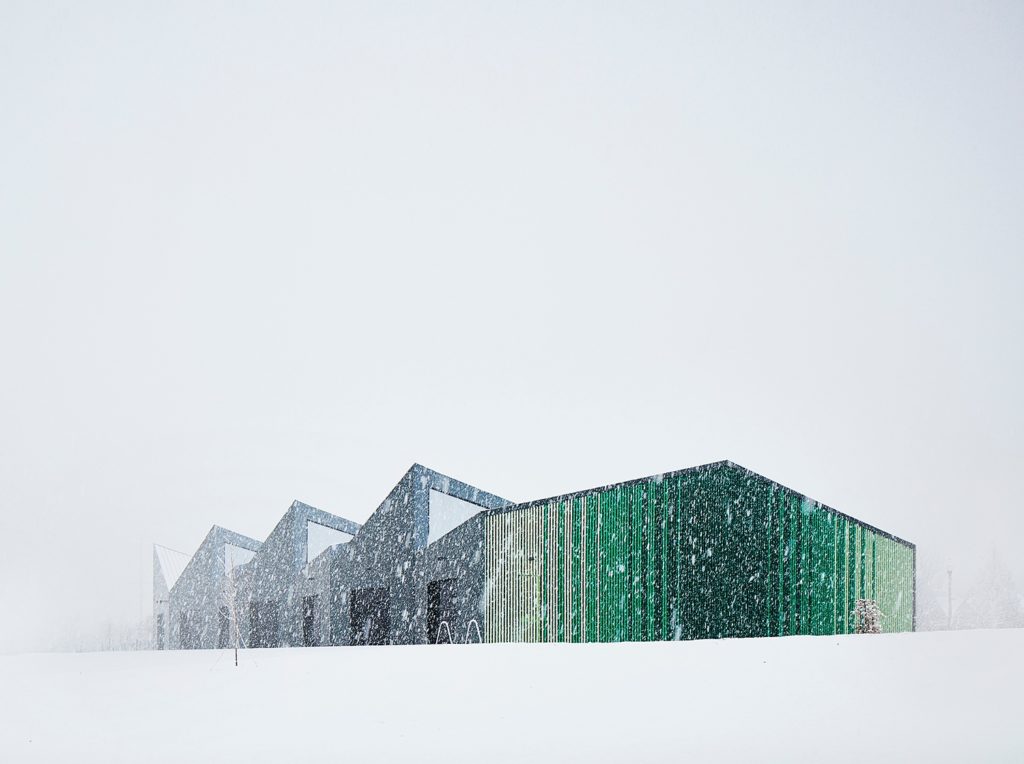 "We were alone in a snowglobe, she walked with me and was the scale figure in a few of the images. It was a struggle to keep the camera producing good clean photographs as it was constantly being covered in huge melting snowflakes, wiping the lens down between every image was important. The photos came easy, the snow subsided and began melting, we left, it was perfect. I returned in the spring to document the project more formally, but the snowy images are still my favorite."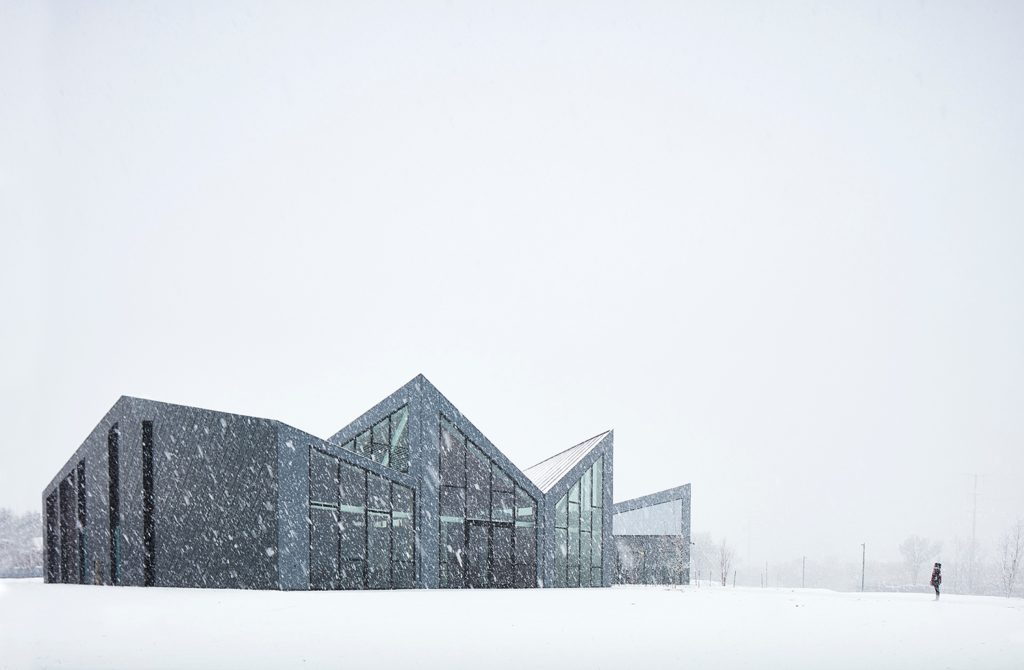 Unable to shoot tethered in this environment, Tom depended on the good 'ole histogram to dial in his exposures. Harnessing the giant softbox effect created by the snow storm, he had no problem crafting a series of well lit, dynamic exteriors.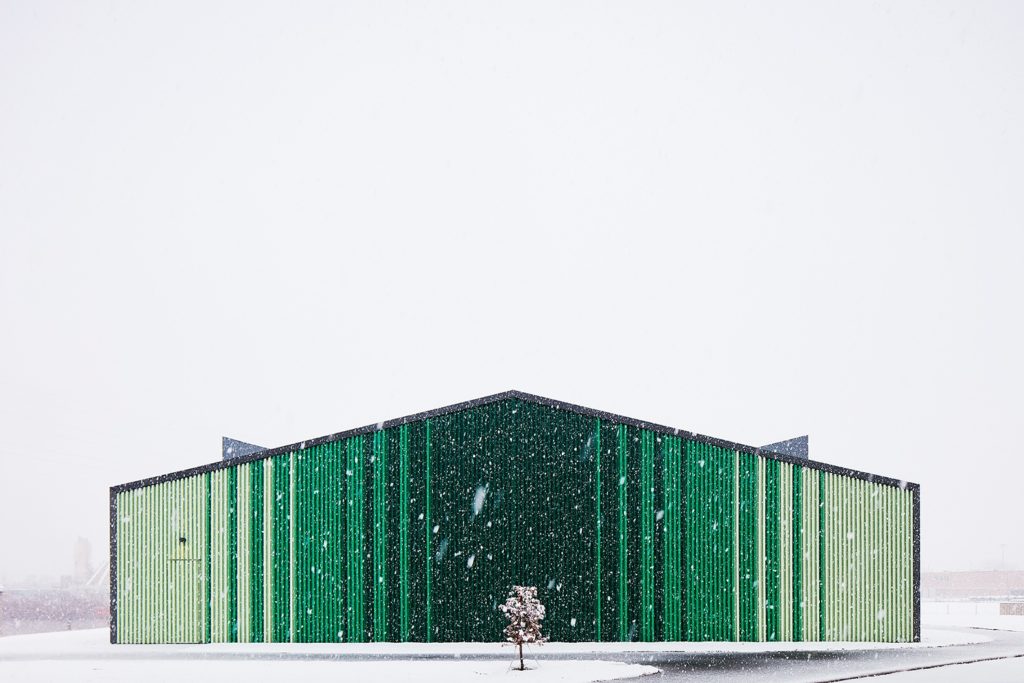 While the snowy images have a magical mood about them, the formal "spring set" are nothing to scoff at. Tom employs great directional light that washes over Eleanor Boathouse's facade and gives dimensionality to the interesting shapeliness of the structure.

I love how Tom shows the functionality and purpose of Studio Gang's building here. While the snowy set feels rare and otherworldly, it is easy to forget that Eleanor Boathouse is … well, a boathouse. The crew team carrying the skull inside is a subtle reminder of this building's function. The geese in the foreground imply that water is nearby, while doing double duty and giving some whimsey and life to this scene.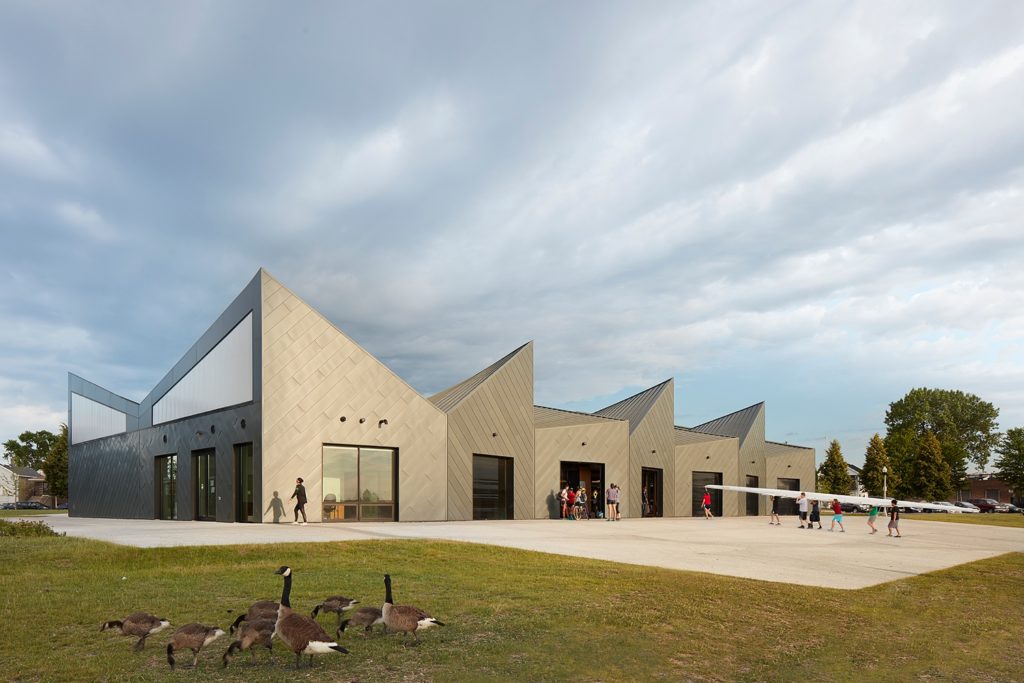 "Architecture is designed for people! As a result, I, along with most of my clients, plan shoots in a way where we might capture the space being used as naturally as possible, we made more than one trip to the boathouse so that it would be captured appropriately. We coordinated our shoot with the parks department in order to be certain we'd have the right level of activity" explains Tom.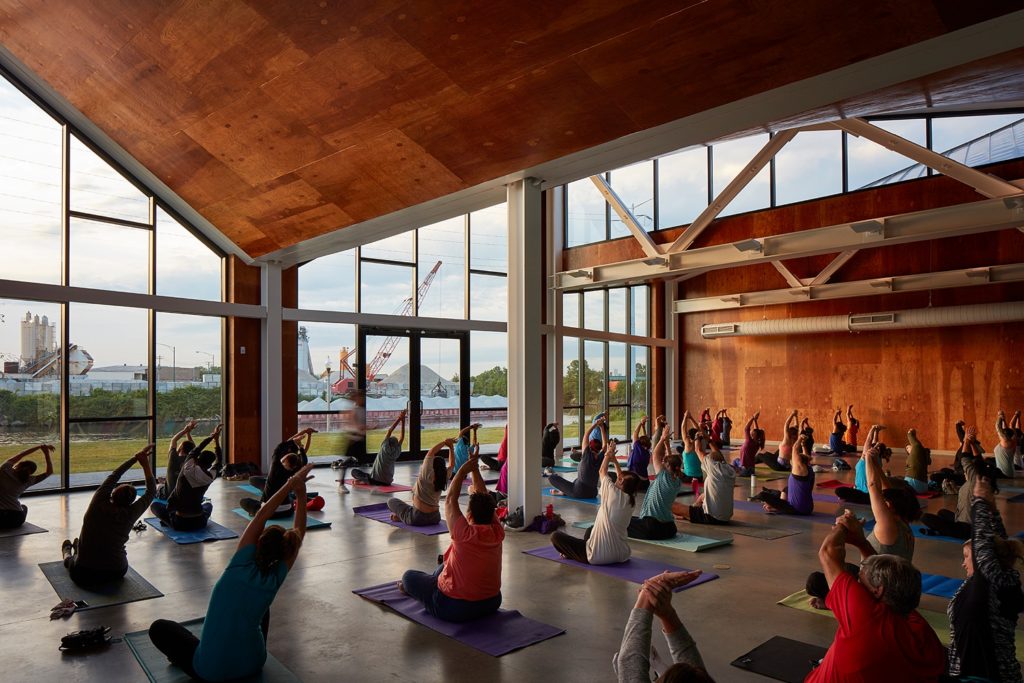 Tom's framing here is lovely. Again, the boathouse has a nice dimensionality create by the side lighting. Hard shadows give some punch to this scene while implying the second building in the complex.

Ever curious about post processing, I asked Tom how he manages to toe the line between keeping things natural, but still coming across as carefully attended to. On that, he noted:

"That's something I strive for in my work. Post production is a deep pool with endless variation and nuance. I suppose I have a set of internal guidelines that are meant to honor the architecture — this means no major architectural edits in photoshop — as well as honor the image. I try to keep things photographic, but still keep them as true to what the eye experienced as I can. This means occasionally there are appropriate times to crush the blacks or let the highlights go a little bit. This also means there are times when the camera is overwhelmed by the variables of reality and the eye did a better job of seeing the scene, and more work needs to be done in post production. I do take great measures to make things look natural right out of camera though. This starts with making photographs at the proper moment in the day, and bleeds into supplemental lighting, blocking of reflections with black cloth, and so on."
We are grateful to the incredible Tom Harris for sharing his images of Eleanor Boathouse and the story behind them with us! Be sure to check out the rest of Tom's gorgeous work on his website tom-harris.net as well as on Instagram @tomharrisphotography.

If you have a project you'd like to be considered for Project of the Week, you can submit it here.