'A Print for Ukraine'
News
Our friends at Mass Collective have put together a wonderful initiative called 'A Print for Ukraine,' specifically geared toward architectural photographers who are seeking ways to help support Ukrainian people affected by the ongoing Russian invasion:
Photographers documenting architecture and the built environment from around the world have joined forces to offer their work for sale in aid of those affected by the ongoing humanitarian crisis in Ukraine, in an initiative organized by the London-based Mass Collective.
A Print for Ukraine will be launching on Thursday 17th March, with fine art prints from photographers worldwide available at a special affordable price point of £50 (approx $65, €60), in A4-sized editions.
100% of net proceeds from the print sale will be donated to the British Red Cross, whose teams on the ground are actively distributing food, hygiene parcels, and are helping evacuate people from the areas affected by the conflict. Additionally, each donation will be matched by the UK government.
You can expect to see some seriously gorgeous prints, including these: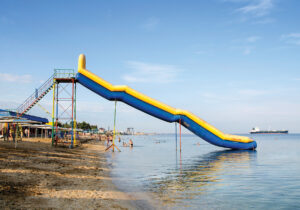 The print sale runs from March 17th through the 27th. You can purchase a print and help out the humanitarian effort for Ukrainians here: