Nicole Reed is a Melbourne based Photographer and earlier this year, she embarked on a once in a lifetime dream project to photograph hotels in Pyongyang as part of a book titled Hotels of North Korea.
Last July, Nicole held an exhibition at SUNSTUDIOS in Australia titled "Scenes From The People's Paradise – Pyongyang". The exhibited work was what Nicole photographed around Pyongyang as she travelled between various hotels for a personal project that was years in the making. Her exhibition gave me a chance to get a glimpse of the adventure she had and to chat with her about her dream assignment – one that is uniquely interesting in the world of architecture photography.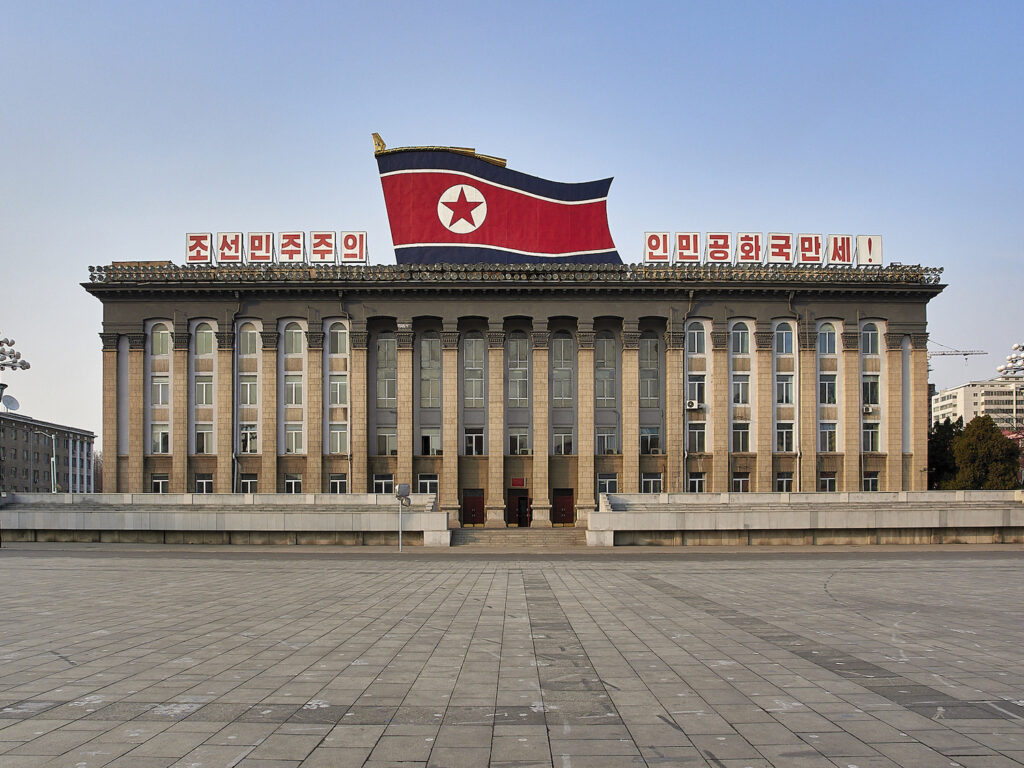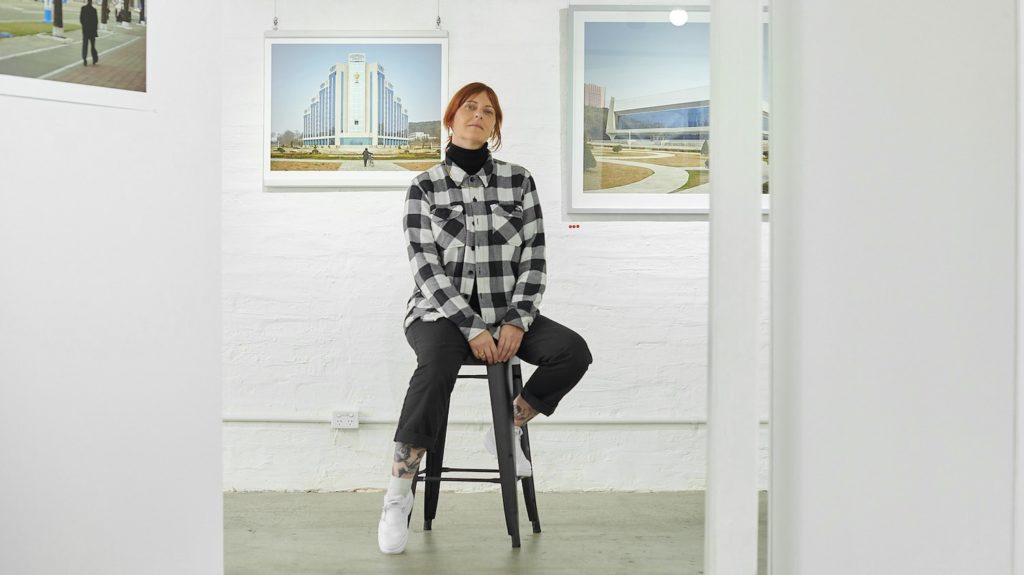 Nicole, thank you for taking the time to sit through this interview on behalf of AP Almanac.  Tell us a little about yourself and how you got into photographing architecture and interiors.
My career started in the publishing industry which focused on pre-press and post-production for publications. One of the most valuable skills I had was the digitization of negatives and slides into print-ready CMYK files. This was an important skillset as it proved vital when I transitioned into digital photography.
In my early 30s, I hit a mid-life crisis and I wanted to change careers as I felt too desk-bound. I was already taking photos for the publication I worked for and I realised that this is what I really loved doing. To make that transition, I had enrolled in a photography course at the Royal Melbourne Institute of Technology; however instead of learning about current technology I was learning darkroom skills. I didn't have the patience or time to persevere, so I left.  During the course, I had met an interior designer who was also learning photography and subsequently she hired me to photograph her projects. I picked up many more clients in the process from her recommendations, and that was 12 years ago.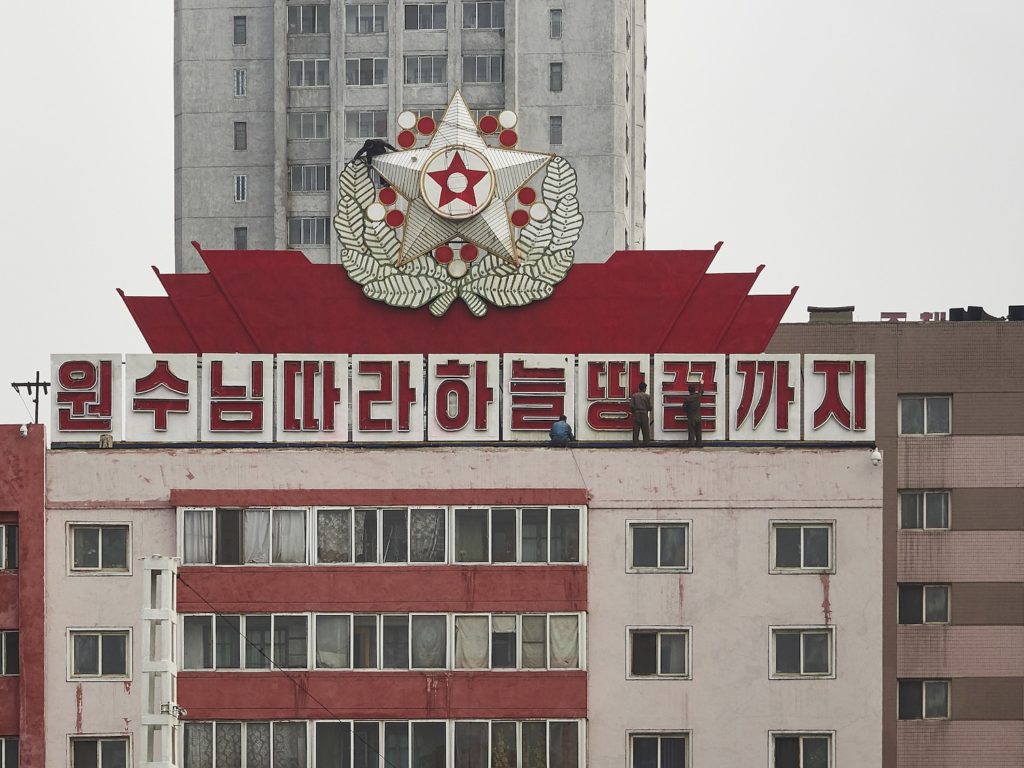 Quite a turnaround going from desk-bound to North Korea-bound hotel photographer. How did this assignment come to you?
It was actually based on a personal connection; I was approached by James Scullin (editor note: Not the former Australian PM), an acquaintance of mine, as we share a couple of mutual friends who had both recommended me to him as a photographer who would be interested in the project. 
When James had originally floated this idea over a year ago, I was ecstatic because it combined some of my favourite things: architecture, interiors, photography and travel. Especially because it involved travelling to a country which is closed off to the rest of the world; no one I know had ever been there.
Additionally, this being a book project, I could utilise my knowledge from my previous career in publishing. As well as having prior experience in my own book projects, Fieldnotes, which I produced with my partner Leigh, on Hong Kong and Japan. The book encompassed photos and Leigh would make music from field recordings and then put on a vinyl record that accompanied the book.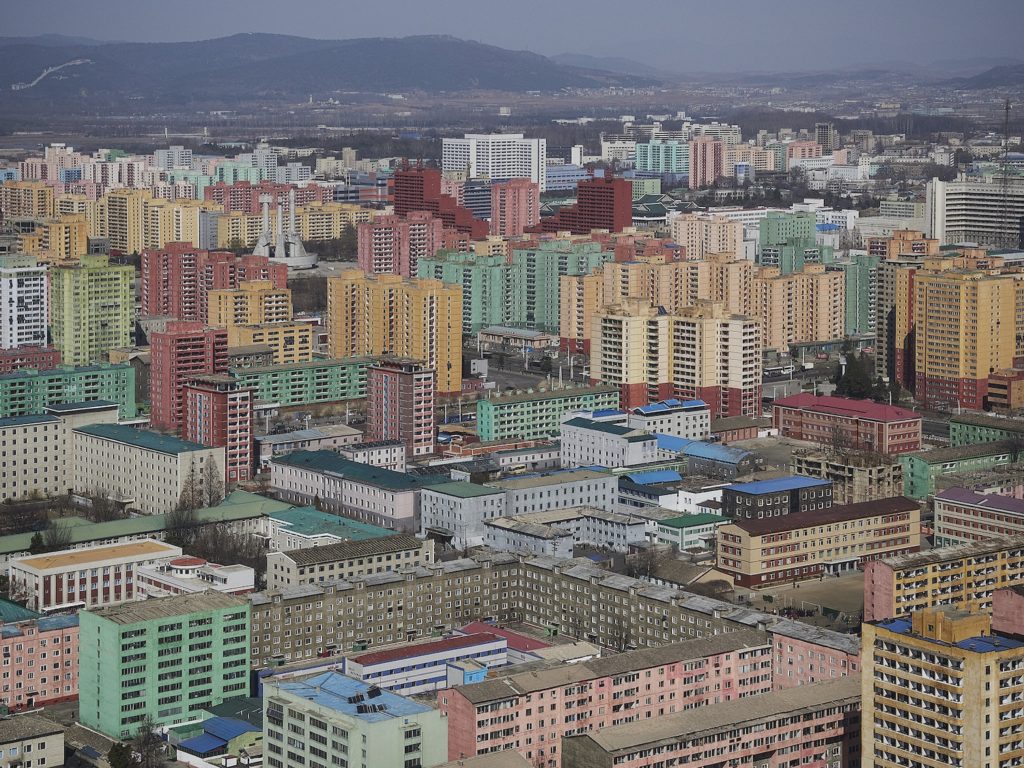 Let's talk production planning – what was the process for getting into North Korea and getting around once inside the country?
The process of going to North Korea is not the same as how one would go to any other nation as you cannot buy a ticket and enter the country on your own. Firstly, you can only enter North Korea through a group tour or a private tour which is organised via a DPRK approved travel agency. The travel agency assists with you a special visa and organises everything for you.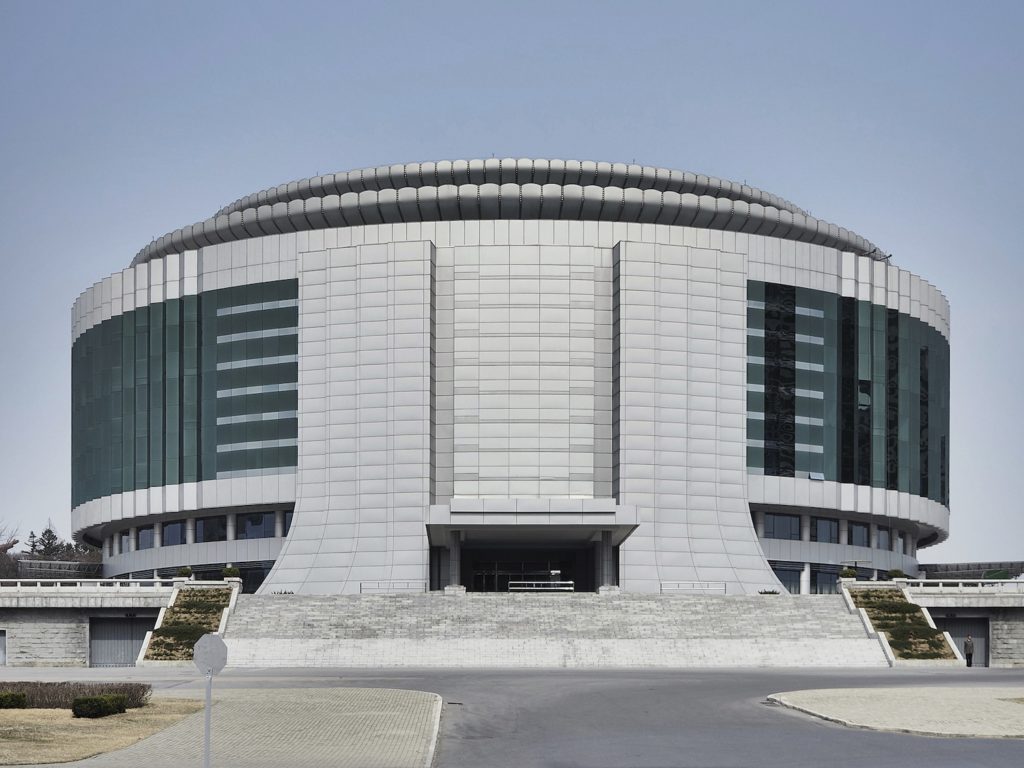 For this project, James liaised with a company called Juche Travel Services to arrange a private tour so we could make up our own itinerary according to the work we had to do.  He framed the project as an architectural photography project showing the beauty of North Korean architecture to people outside of the country who normally wouldn't have any opportunity to visit DPRK.
As part of our tour, we had two guides (Ri So Hyang and Pak Un Gyong) and a driver, whom we met at the airport. The guides had escorted us everywhere and even looked after our passports.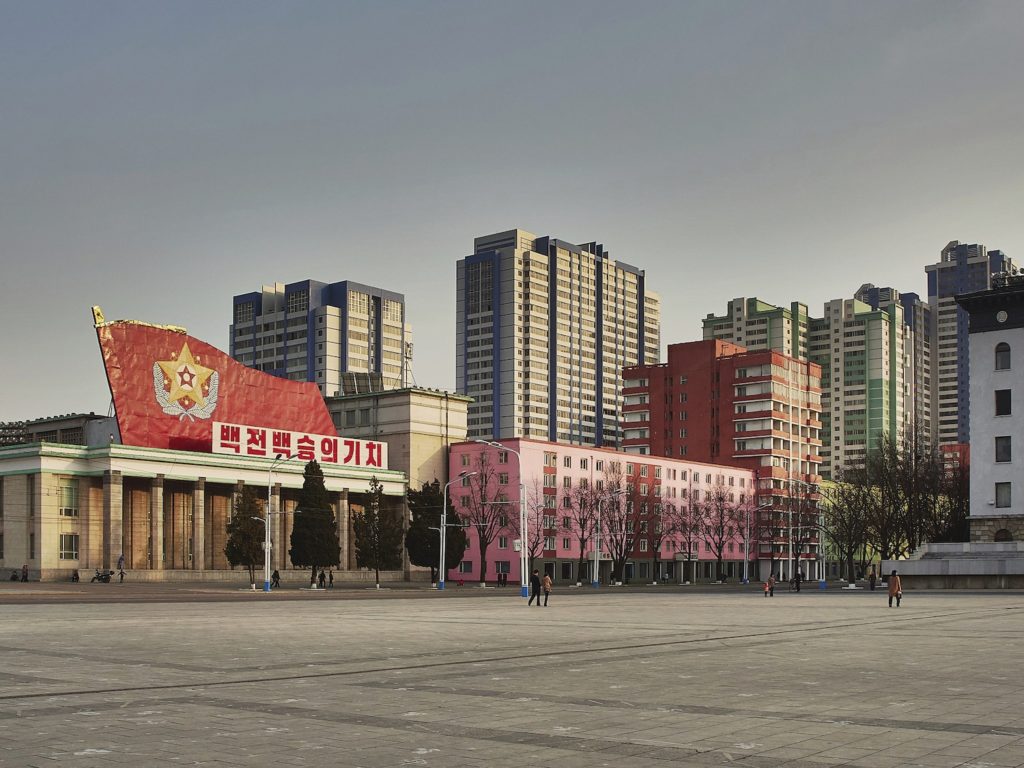 Sounds relatively nerve-wracking! Were there restrictions on what equipment you could take in, or what you could point the camera at?

There are no real restrictions on the type of camera gear you can bring but they do get dubious on telephoto lenses. As part of my visa application process, I had to take a picture of all my camera gear I was planning to bring for the project. For this project, my gear included my Canon 5DMK4, 24mm T-S, 45mm Tilt-Shift and a few prime lenses, filters and a tripod.  I couldn't leave without my Olympus EM1 M2 either.  I didn't take my laptop with me as the weight was becoming an issue instead, I had a dozen memory cards and a Western Digital Wireless Passport Drive that had a built-in SD Card slot.
Since my Canon 5D MK4 has dual card slots, I ensured that the RAW files got copied to both cards and then I also backed them up to the hard drive. Upon leaving North Korea, as a precaution in case my gear got stolen or lost or damaged, I gave James a set of cards with all the hotel images on them to take with him.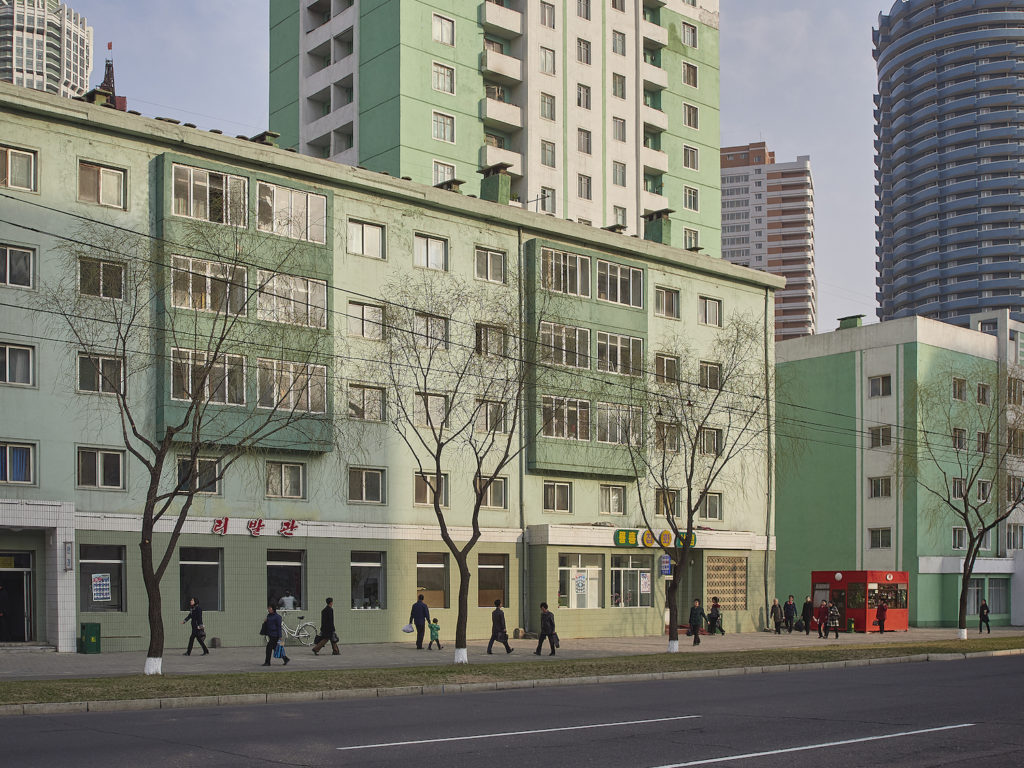 Let's hear about the project itself – how many hotels did you photograph and how did you get access? Access is the eternal struggle for photographers and besides the whole 'getting into the country' problem, I'm sure accessing specific hotels in North Korea was also another layer of difficulty to contend with.
The aim of the project was to photograph eleven hotels and we stayed at three of the hotels over a period of five days. Before going over James had negotiated with a couple of the hotels to permit us to photograph them. As for the rest of the hotels, our tour-guides spoke with hotel management to permit us to photograph the premises.
The hotels included for this project were Haebangsan Hotel, Pyongyang Hotel, Pothonggang Hotel, Changwangsan Hotel, Koryo Hotel, Ryugyong Hotel, Ryanggang Hotel, Sosan Hotel, Chongnyon Hotel, Rakrang Hotel and Yanggakdo Hotel.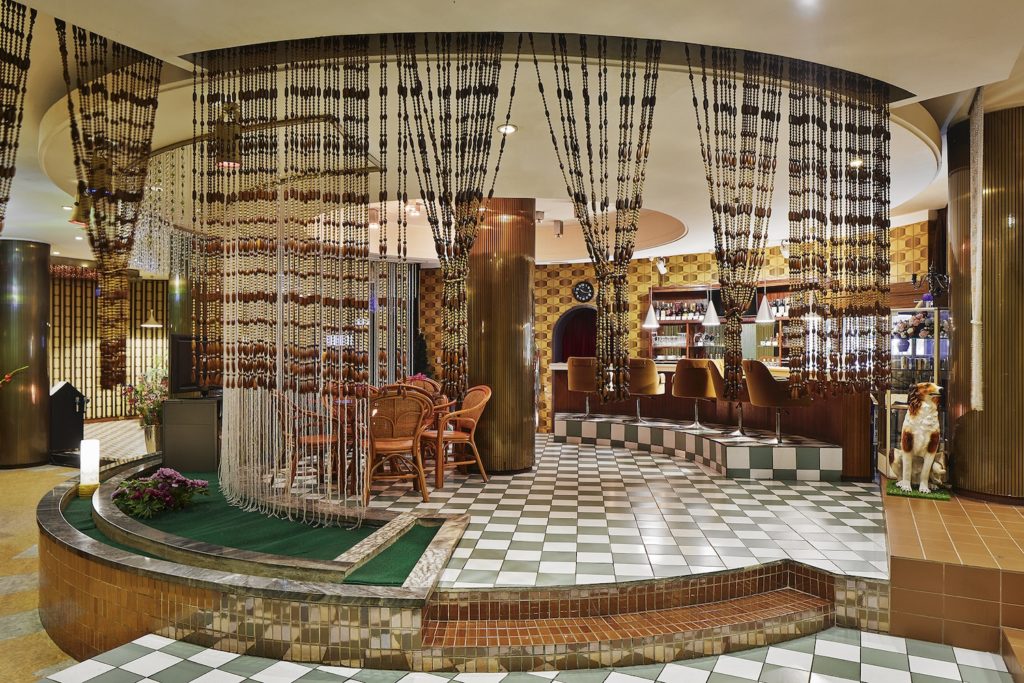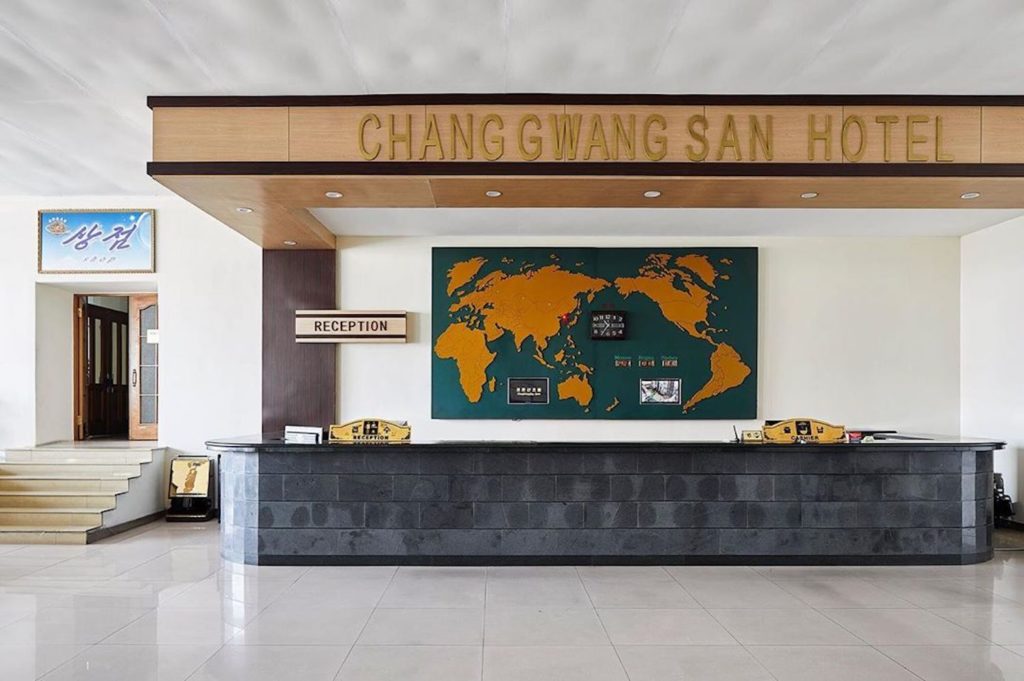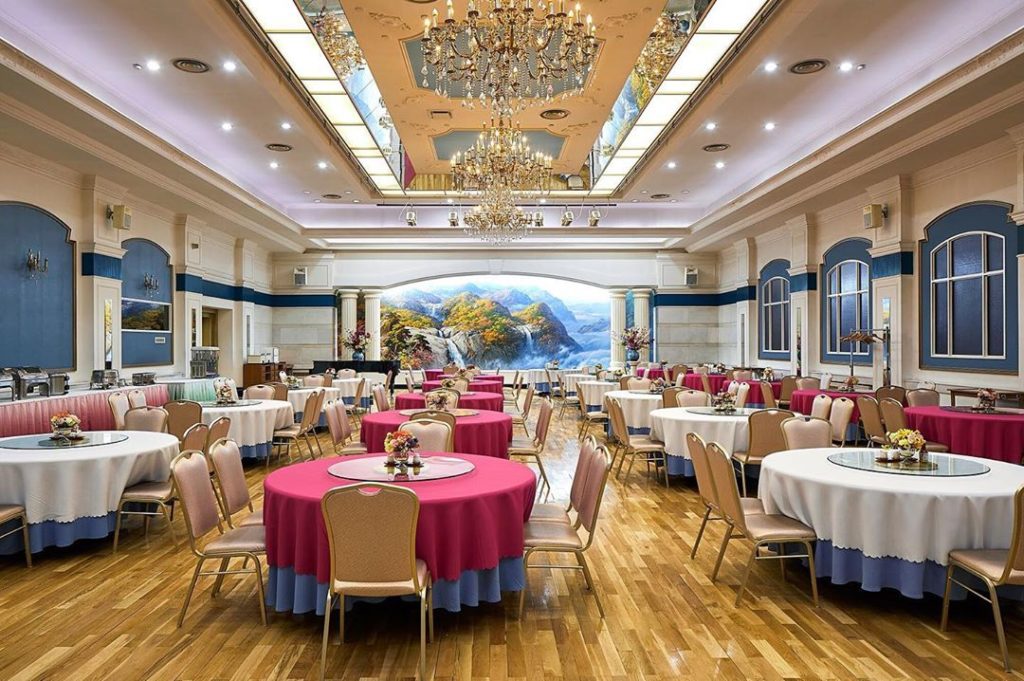 In terms of interiors of the hotels, we focussed on photographing the lobbies, karaoke rooms, swimming pools, spas, cafes, bars, supermarkets (inside the hotel), book stores and the dining halls which were impressive in their own right.
Most of the hotels were renovated in the 1990s however, the interiors of the hotels felt like being in the 70s or 80s. It was like a time machine. For instance, the karaoke room in the Koryo Hotel from a 70s themed movie set.
My favourite hotel was the Chongnyon Hotel, the exterior was very Soviet-influenced, and the tower was covered in green tiles that glistened in the sun.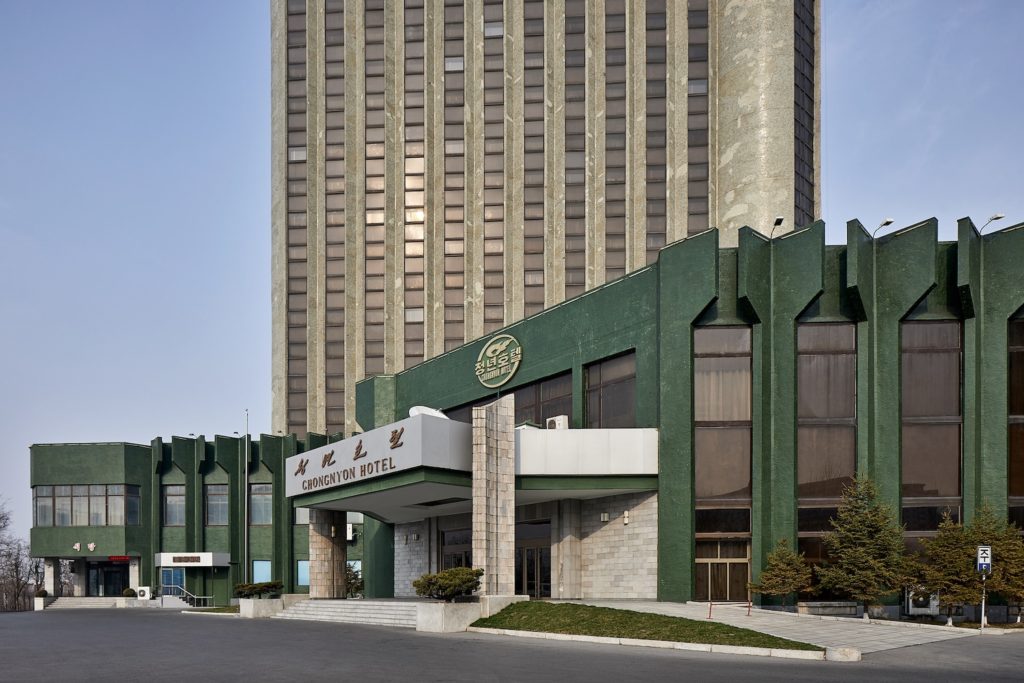 What were some of the biggest hurdles you encountered during the project?
As with most projects, time was not on our side…the scope of the project was massive, therefore we had to cover a lot in a short amount of time. Often it took some convincing to permit us to photograph the interiors and the hotel staff. There were occasions where I would be prevented from photographing certain aspects by the guides (a frustration any photographer knows well).
For example, I was photographing the lobby of a hotel which had portraits of the leaders and one of the guides had intervened as it was deemed as an official photograph because I was using a camera on a tripod. However, when I was travelling on the train, at the end of the carriage was a beautiful portrait of the leaders and I was permitted to photograph it. The difference in semantics was that whilst being on the train I was a tourist with a handheld camera.
We could not photograph anything that looked old or dirty. One of the hotels was under renovation so we only had access to certain areas and only handheld photography was allowed.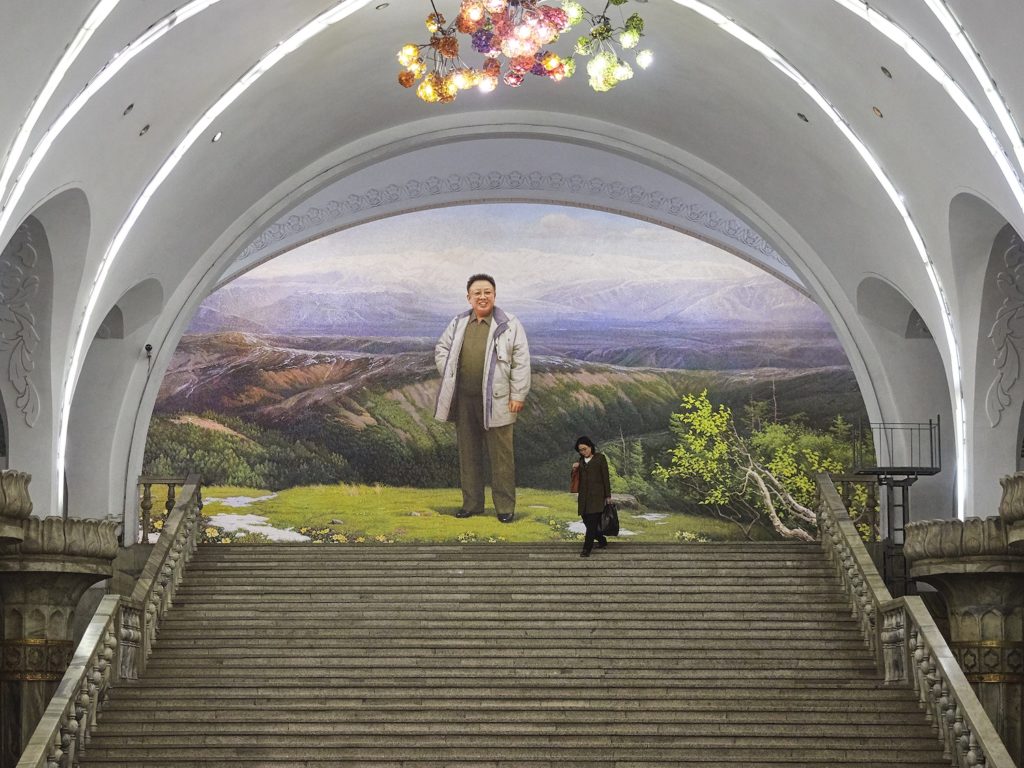 What were some of the highlights of your trip?
As we crisscrossed the city between hotels, whether on foot, train or car, I always had my Olympus with me and I used it to document the city life and architecture which later was featured in my exhibition.
It was in these opportunistic moments that I saw my biggest highlight – the sporting stadiums of Pyongyang. I have a fascination for the architecture of sporting stadiums and the stadiums in Pyongyang were nothing like I had ever seen before. Each stadium's architecture reflected the sport it housed. The weight lifting hall was round and shaped like a weight, and the table tennis hall from the front looked like a net.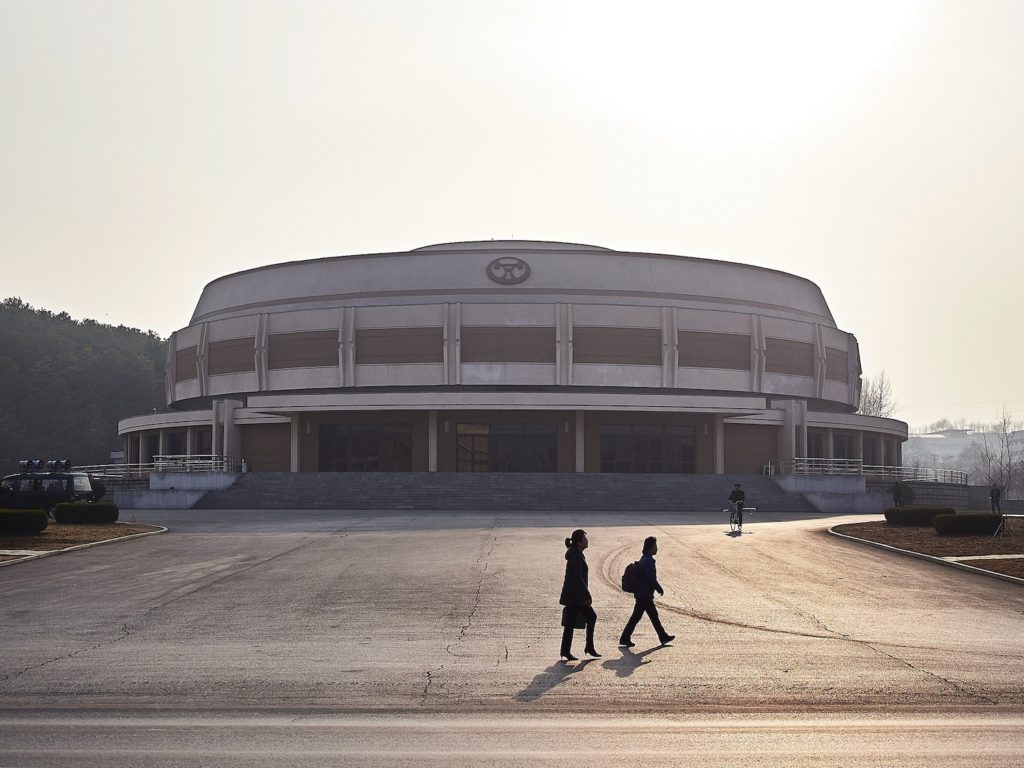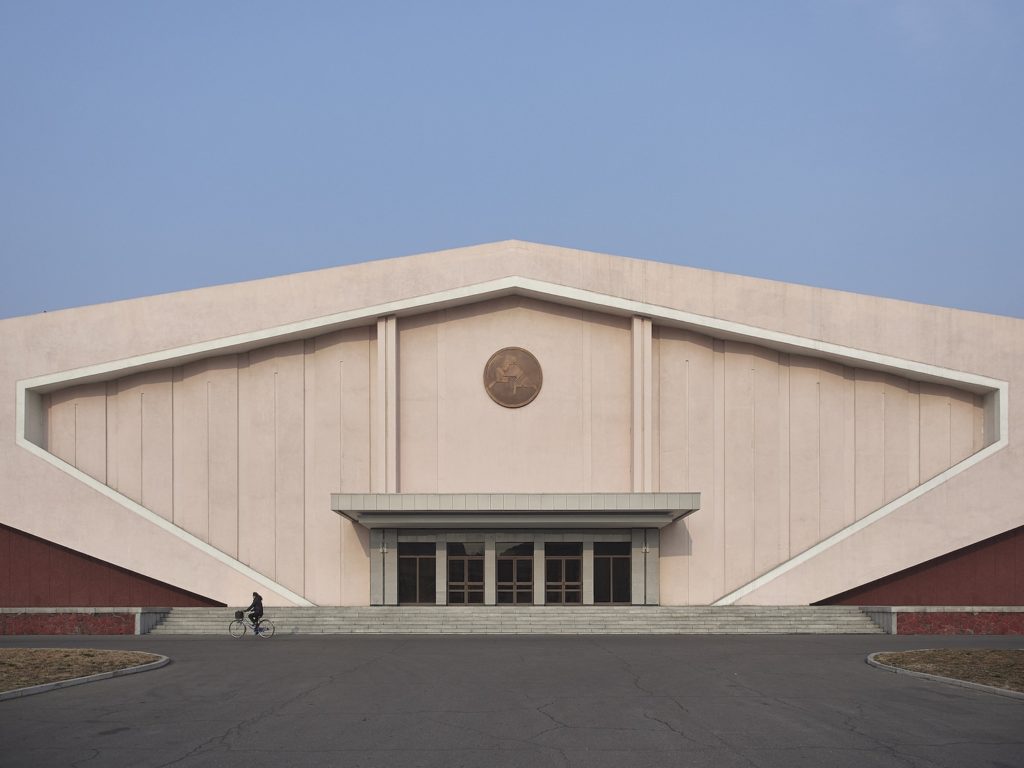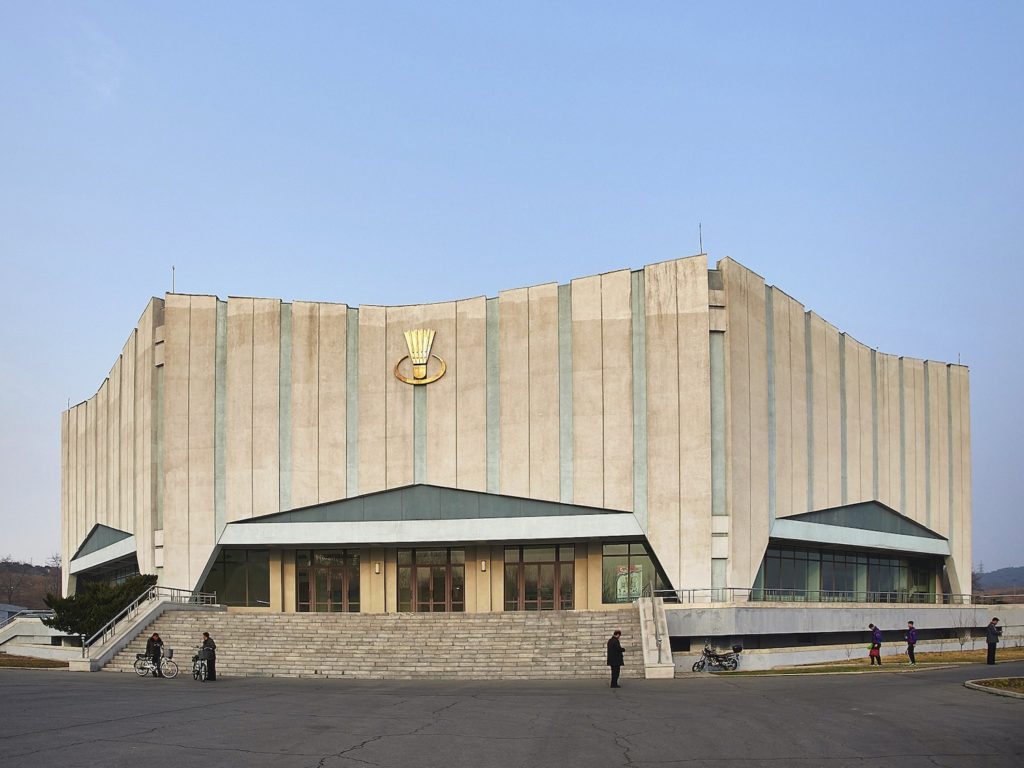 I did experience a few philosophical moments, which made me ponder how we live as consumers and how individualistic we are. In the DPRK they are taught that the country as a whole comes before the individual, which was something I took home with me.
People have asked about the morality of travelling to a country and bringing back something that only represents a certain part and not the whole truth. I was there to do a job, like anyone else really, and as the tours are very structured, you really only get to see the beauty of the city.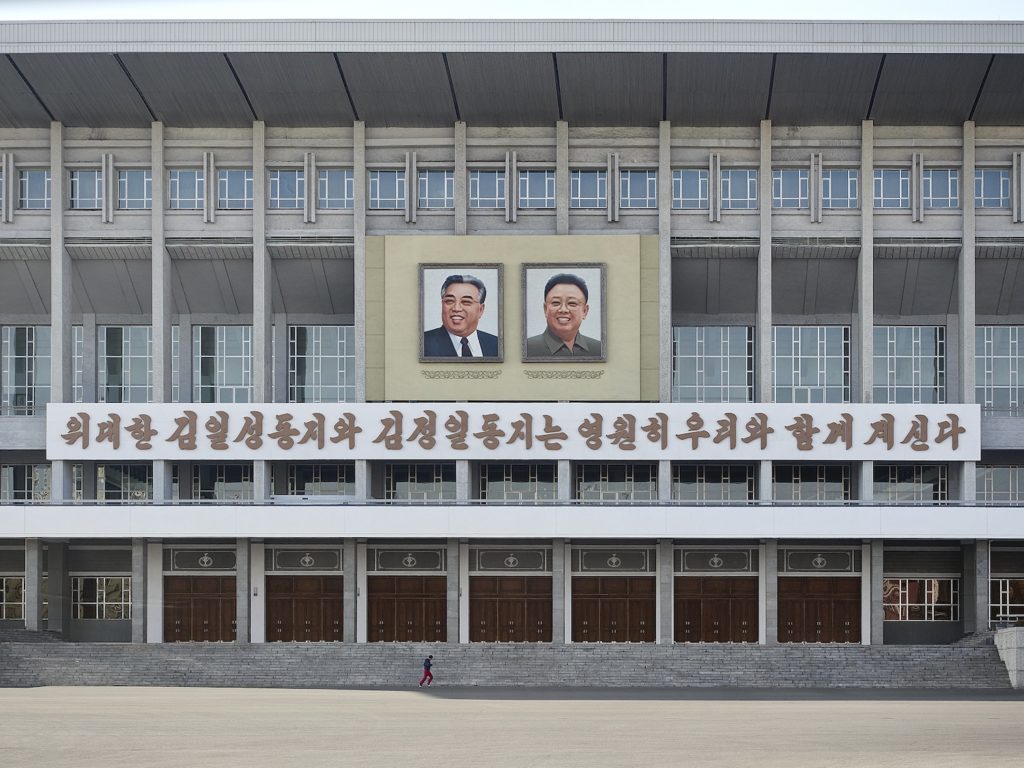 When is the book getting released and what do you have plans for the future?
The book currently is in post-production and James has commissioned Darren Sylvester to do the design. James is self-publishing the book and hopefully, it will be out before the end of the year.
As for the future, I would love to go back to North Korea with James and focus on hotels all over the country. If I was going back on my own, then I would love to photograph the inside of all the sporting stadiums I had seen in Pyongyang, I imagine they are just as intriguing on the inside as the outside.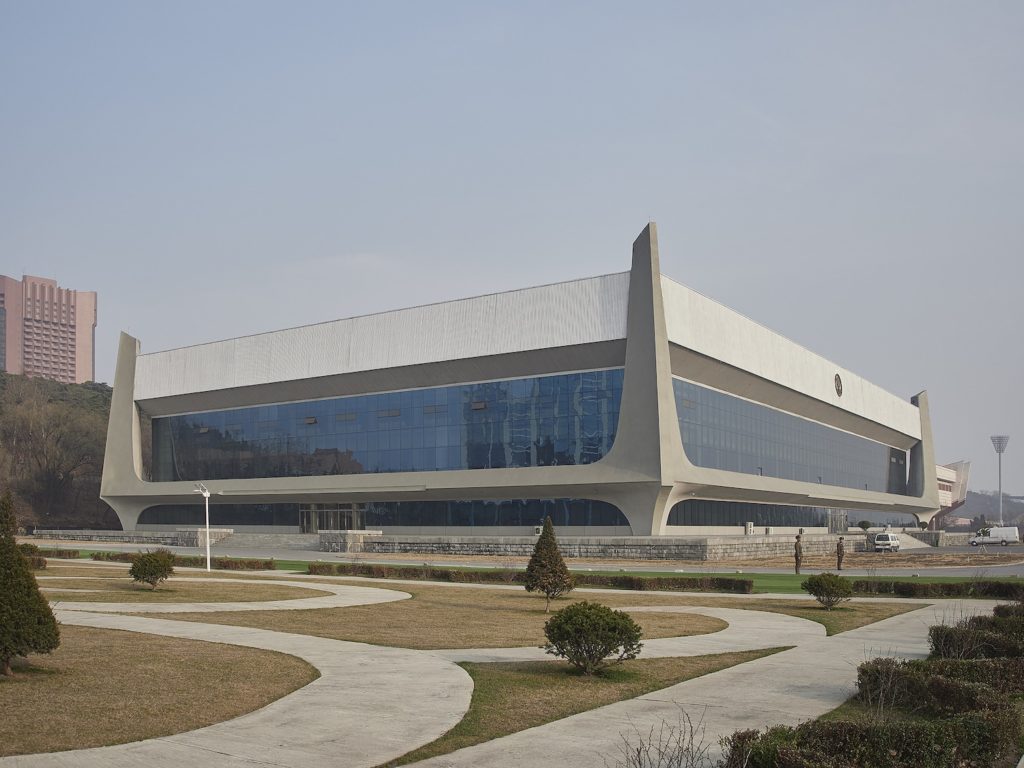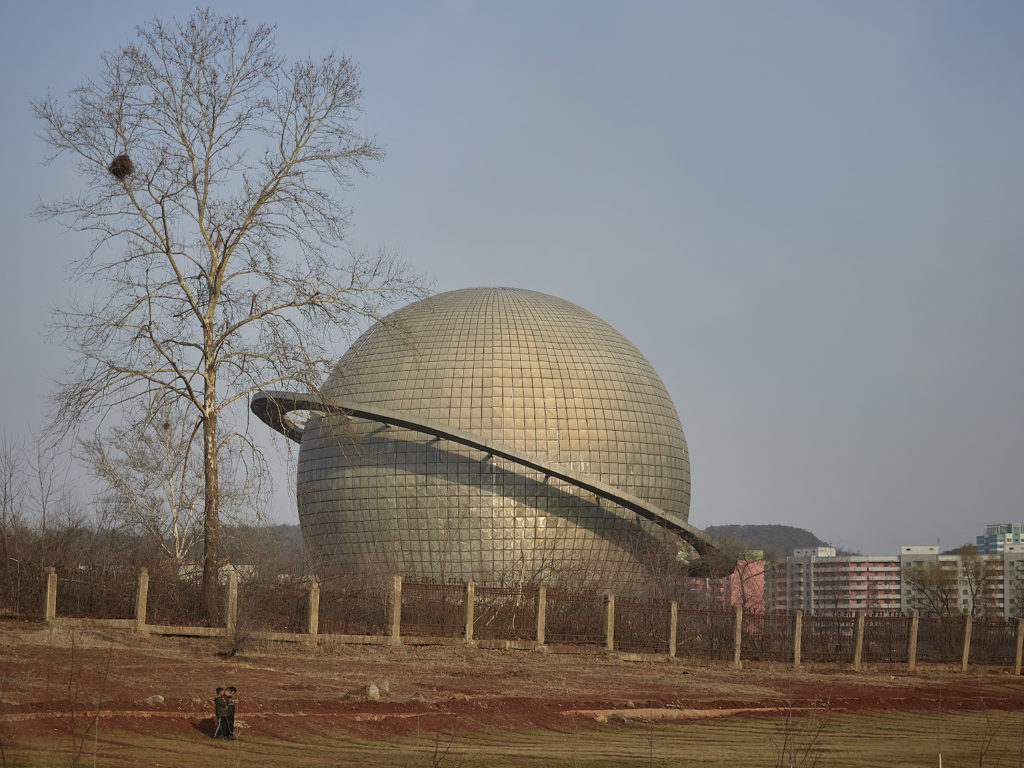 Lastly, any advice to a budding photographer who wants to document North Korean architecture?
Be part of a good travel group, be prepared to not be able to photograph what you want, be discrete and especially obey the rules. Also, take note of current travel warnings and the ramifications of other overseas travel. Currently, I am applying for a visa to go to the USA as they have a new regulation for people who have previously travelled to the DPRK. If you've been to the DPRK, you can't travel to the USA on ESTA.
Nicole, thank you for your time to tell us about your project. Her work can be found on her website and on Instagram. You can follow updates on Nicole's book collaboration via the book's Instagram account.