Fujifilm Tilt Shift Lenses and More Officially Announced
Gear
News
The Fujifilm GFX100s is a great camera for architectural photography. Many photographers use it in combination with shift lenses from other manufacturers. Thanks to adapters, we can use products from Canon, Nikon, or Laowa, for example. However, we have all been eagerly waiting for the long-promised native Fuji shift lenses. Finally, they're here! There's also a new GFX100 II camera!
On September 12th, Fuji introduced:
I'm sure you've all read the news about this gear, so I won't go into detail about every function, but I'll summarize what's most interesting for us architecture photographers. Fuji is taking the medium format system seriously and consistently developing it in a thoughtful and professional manner. I'm particularly pleased with the introduction of lenses with shift functionality!
FUJINON GF30mmF5.6 T/S
Many photographers on the internet complain that a wider lens was not presented. For me, this focal length is very interesting. There is a very good quality CANON TS-E 50MM F/2.8L MACRO available on the market, which many architecture photographers worldwide use, including myself. On the wider end, there are quite good lenses from Canon (17mm), Nikon (19mm), or Laowa (15mm and 20mm). The new Fuji lens fits nicely in between. With the GFX sensor and GF30mm, we get the equivalent of 24 mm, but I often use the 35 mm crop on the GFX100s myself, and I think it will be a great focal length for such use.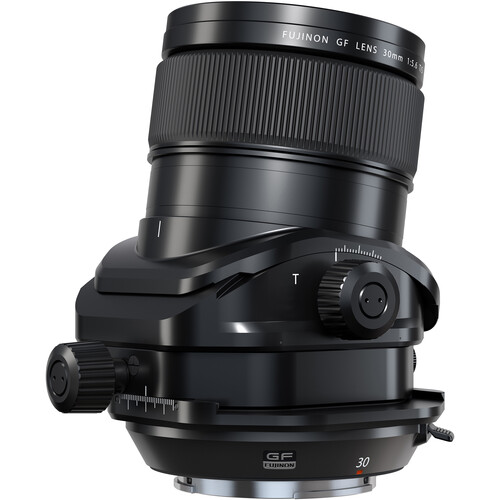 It's worth reading Dennis Radermacher's review, who has already had the opportunity to test the lens in practice.
https://lightforge.co.nz/fujifilm-gf30mm-f5-6-ts-tilt-shift-review/
: Fujifilm Tilt Shift Lenses and More Officially Announced
What I like about this lens after reviewing the press information:
A large shift range ±15mm
The lens is equipped with a sensor that detects the range of shift and tilt movements. This information can be checked in live view mode and is also saved in the photo's metadata, allowing for their use during RAW file processing. This will enable precise correction of distortions and vignetting, which was practically impossible with lenses of this type until now.
Relatively small size and weight (138,5 mm; 1,340 g) for a lens that generates an 85 mm image circle!
The lens is equipped with a specially designed tripod mount collar. This is a great solution for stitching and provides a convenient way to quickly switch between vertical and horizontal framing.
Focal length. It should be remembered that a tilt-shift lens, especially with a dedicated tripod mount, is a great tool for creating stitched panoramas that expand the field of view.
Aluminum lens hood
A 105 mm filter can be attached
For me, tilt is not an advantage. I practically don't use this function with this focal length. One significant downside of a tilt lens is that zeroing the tilt almost always induces a small but noticeable misalignment. With a sensor of such high resolution, even the smallest misalignment can affect the visible sharpness. It all depends on the quality of execution. I hope to test this in practice!
FUJIFILM GFX100 II
A few things that caught my attention after the press presentation:
I'm glad that they introduced a new sensor, and it has the same resolution as the one in GFX100 or GFX100s. 100 million pixels is really an optimal resolution, allowing for cropping and uncompromised use of the 35mm crop (60mpx).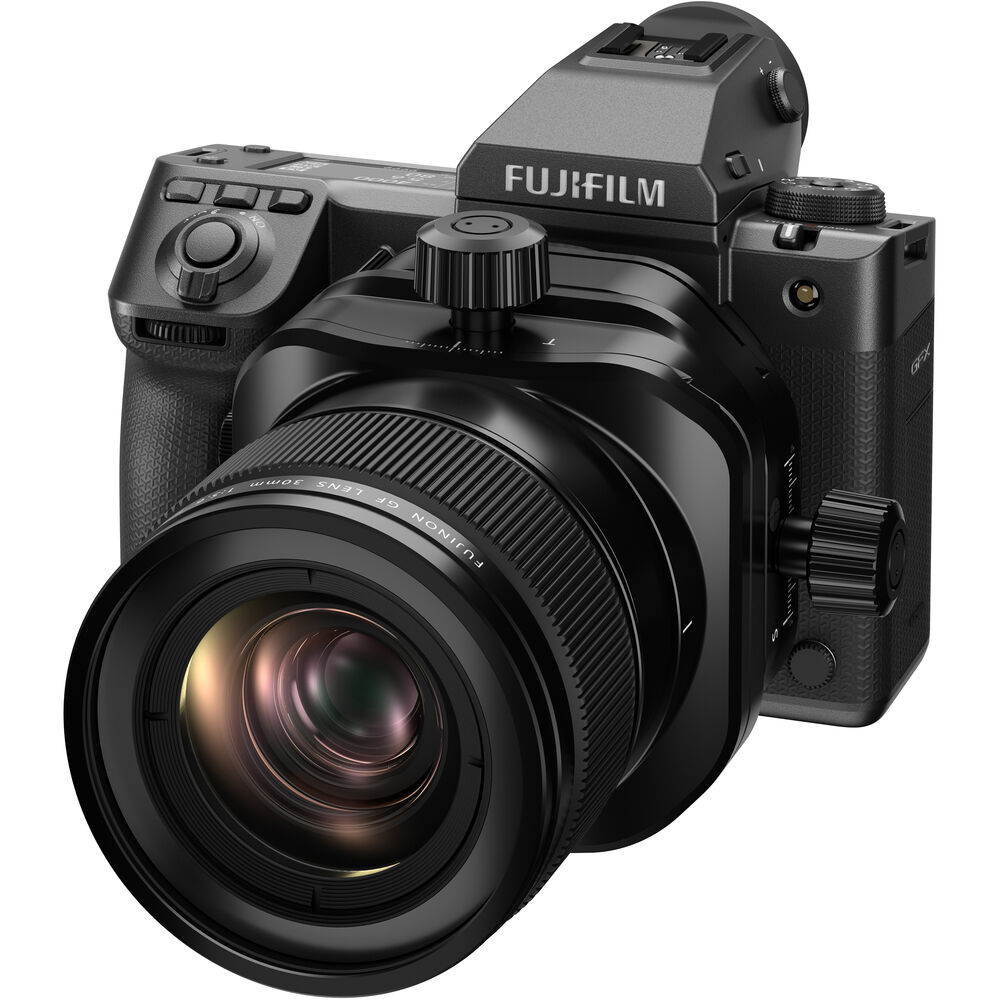 The new GFX 102MP CMOS II HS sensor and X-Processor 5 are much faster, but I believe they will also provide better tonal range, which is always important in interior or architectural photography. This might be indicated by the introduction of a native (non-expanded) minimum ISO sensitivity of ISO 80.
The hardware improvements also include a five-axis in-body image stabilization (IBIS) system with up to 8 EV stops of effectiveness!
The high-resolution electronic viewfinder at 9.44 million pixels will certainly make it easier to focus with manual lenses (e.g., the new GF 30mm f/5.6 T/S).
The introduction of a new card format may require additional costs when upgrading from GFX100, but on the other hand, SD cards are gradually becoming obsolete, so it's time to switch to a new and better medium. The camera has dual memory card slots with support for CFexpress Type B and SD cards.
The tilting electronic viewfinder adapter, the EVF-TL1 allows you to adjust the angle of the viewfinder from 0° to 90° when shooting horizontally, and from -45° to +45° when shooting vertically. This is a great feature, especially when working in harsh sunlight. Previously, this feature was not available in the smaller GFX100s model.
The use of the new sensor also brought a significant improvement in video recording performance. The camera can natively record 4K/60P 4:2:2 video and supports 8K/30P quality. It also supports various professional cinema formats, including Premista, 35mm, and anamorphic (35mm) with the appropriate lens mount adapter.
I'm very curious to see how the new equipment performs in practice. I'm pleased to see the GFX system evolving. The addition of shift lenses to the lineup is something many photographers have been waiting for.