While it maybe wasn't as great for backing up photos as it was for compressing them, Google Photos was a perfect platform to use as an easy-to-access online portfolio that was always in your pocket. I was using it extensively, not just for sharing the photos from photography trips with my friends, but also to send images to my clients for fast reviews before the final delivery. Plus, it was free!
A few months ago, Google announced that it will start charging for storage after you pass the free cap of 15 GB, so I started to look for another service that would enable me to store my photos and to have a backup of some kind that is always with me on my phone.
This search led me to find out that Amazon is providing unlimited photo storage for Amazon Prime users. So in addition to the other services your Prime membership gets you — like free delivery, Prime Video, and Prime Now — members can upload an unlimited amount of full-resolution photos without compression in many different formats. This means you can backup all your RAW photos (ARW, CR*, NEF, etc), your editing files (TIFF, PSD, DNG), and all the exported photos in JPG. As you can see later on in the article, I have already backed up more than 160,000 photos! The only downside that I have found is that large Photoshop files (PSB) are not supported at this moment and they are going to count towards the 5 GB storage you get for free for "non-photo" files.
Backing up your photos with Amazon
Amazon Photos is available as a web app in your browser and as an application for whatever device you use (Windows, MacOS, Android, iOS). When you sign in to the app, it is as easy enough as just dragging and dropping the photos you want to backup.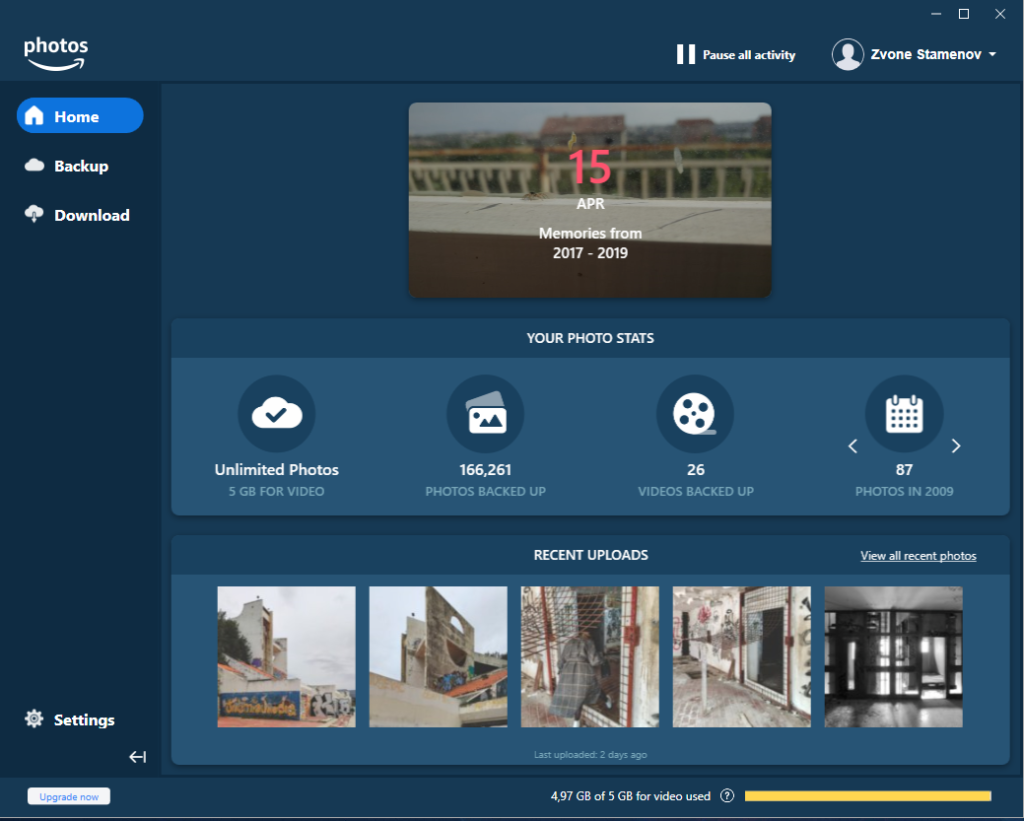 If you are looking to sort your images and organize them in folders, or tap into the other more complex features of Amazon Photos, I would recommend you access the storage over Amazon Drive web app, where it is possible to do some organization of the files like creating new folders, renaming, moving and deleting files: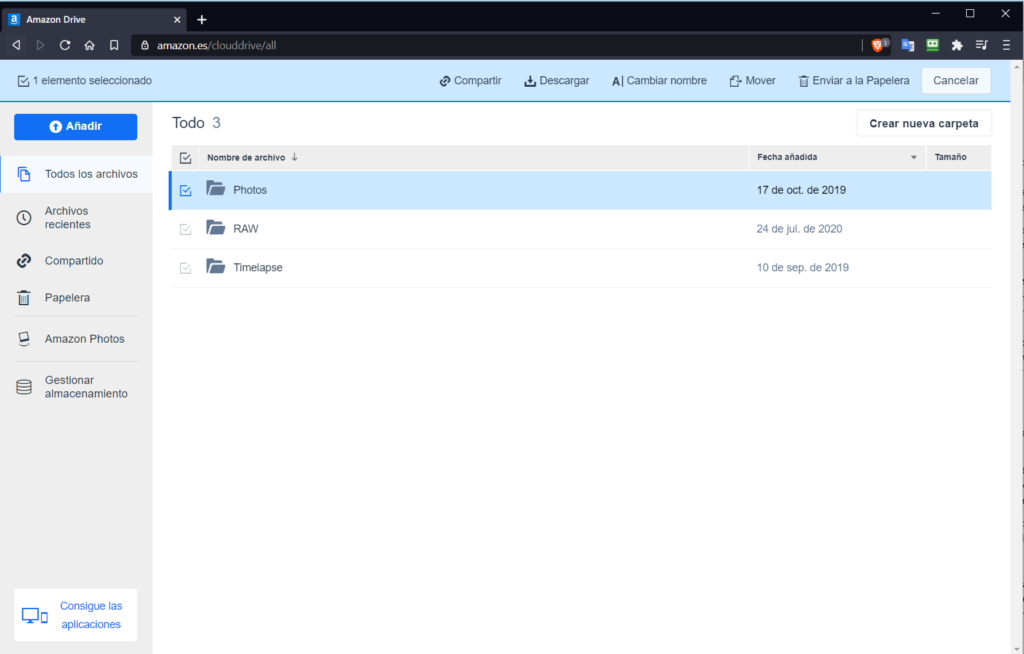 I always choose to backup my photos manually after editing them, but with Amazon Photos it is possible to select specific folders across your different devices to automatically backup to the app. That way, you can just set it and forget it!
Sharing your photos from Amazon
Once you are ready to share your photos or folders with your clients, all you need to do is find that folder on Amazon Drive, select it, and press the Share button. You'll then be given the option to either copy the link, share it via email, or to social media.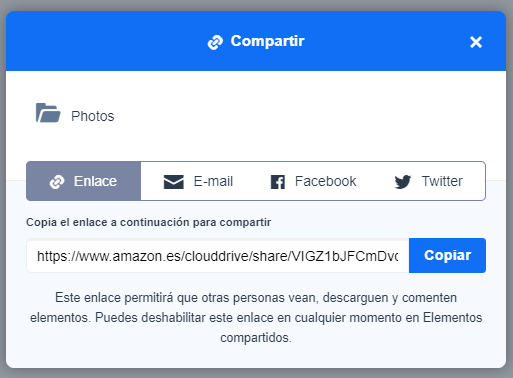 After you have turned on the sharing for the selected file or folder, it is possible to see all of the files that are being shared at that moment. You have the ability to toggle sharing on or off whenever you want.
Need to get a Prime membership?
Many people already have an Amazon Prime Membership, so using this feature is as easy as logging in you your Prime account, and using the menu to head to Amazon Photos or Amazon Drive. You can also just download the app and sign right in.
If you aren't currently a Prime member, their unlimited photo storage option may be a good excuse to sign up. Every country has its dedicated Amazon Prime landing page. Here are some links to the more common pages:
Amazon Prime USA
Amazon Prime UK
Amazon Prime Germany
Amazon Prime Spain
So what's it going to cost you? The pricing depends on where you live and whether you are paying monthly or per year. Currently (April 2021) the prices are as follows:
| | | |
| --- | --- | --- |
| Country | Price per month | Price per year |
| Amazon USA | 12.99 $ | 119 $ |
| Amazon UK | 7.99 £ | 79 £ |
| Amazon Germany | 7.99 € | 69 € |
| Amazon Spain | 3.99 € | 36 € |
In comparison, Google One plans are as follows:
| | | |
| --- | --- | --- |
| Amount of storage | Price per month | Price per year |
| 15 GB | Free | Free |
| 100 GB | 1.99 € (1.99 $) | 19.99 € (19.99 $) |
| 200 GB | 2.99 € (2.99 $) | 29.99 € (29.99 $) |
| 2 TB | 9.99 € (9.99 $) | 99.99 € (99.99 $) |
While a Prime membership is obviously more expensive, it does have reaching perks like two-day shipping (which you can use on gear), video streaming, and of course, unlimited photo storage!
Do you use Amazon Photos to backup your work? Let me know your experience in the comments!