Licensing Terminology and Business Best Practices — Don't miss these two powerful resources for protecting your photography business
Business
You know we love talking about image licensing around here! Even more so, we love great licensing assets and educational resources.
We were recently put on to two powerful educational resources by amazing architectural photographer Melissa Kelsey and are grateful to her for sharing them with the community. In turn, we'd like to share them with you!
The first resource is AskSternRep, a website and Instagram account founded by photographer agent Andrea Stern of SternRep. In a similar vein to one of my personal favorite resources, @aphotoeditor, @asksternrep is a free business resource form for photographers. Artists submit specific business questions and Andrea shares insightful answers from her experiences as a rep and industry pro. Just as with @aphotoeditor, the comments section and community conversations give a ton of helpful insight from all of our photographer peers.
Melissa shared with us that a recent discussion on @asksternrep about usage requests and licensing that stood out to her:
That leads us to the next powerful business resource – The Artist Management Association (AMA).
Described as, "a diverse range of artists including…photographers…members can join committees and participate in conversations to create real and meaningful change. From legislative advocacy, educating clients on industry best practices, ensuring safety measures on set, to promoting diversity in our community.
While members run their companies differently, there are common issues we all face and the AMA provides a place for these concerns and experiences to be addressed and shared. All of our initiatives are vetted by legal counsel to ensure compliance with all laws and regulations."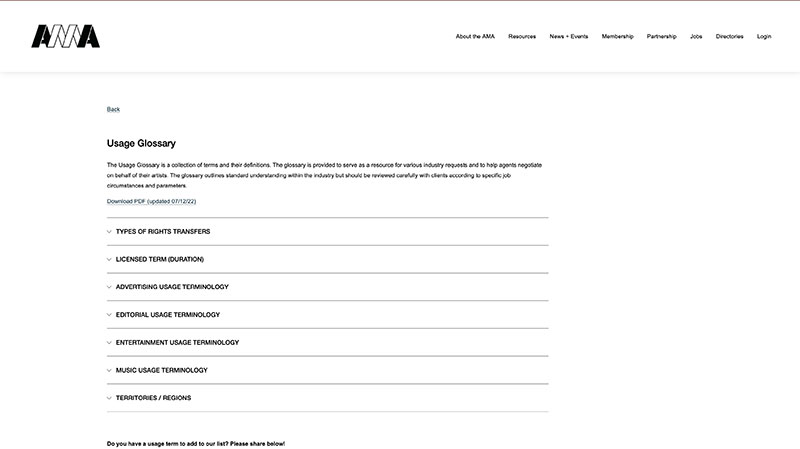 The AMA offers up 3 glossaries that break down terminology that you'll find in usage agreements, terms & conditions, and agreements. This works two ways – if you're faced with a form sporting all sorts of acronyms and jargon – like CVM, Living One Sheet, Initial Publishing Rights, and Indemnification — now you can decipher what you're being asked to sign. On the flip side, when it comes to setting up your own agreements, contracts, and licensing clauses, now you'll have the proper terminology. As Andrea says above, "Do not risk losing your fair income and lower usage pricing for all photographers."
We couldn't agree more. Do it for yourself, and do it for the industry!