Let's Increase the Value of Your Work (For Both You and Your Clients)
Business
Hi everyone, Rob here! I just joined the APALMANAC writers rank and am really thrilled to be part of the team that makes this magnificent, unique platform come to life. My brief is to write about architectural photography with an emphasis on post-production, so in the future, I'll bother you with color management, image blending, and all other kinds of topics you can think of that involve our production process. But I will also be touching upon marketing and perhaps even on the easy part: getting the right images on your memory card.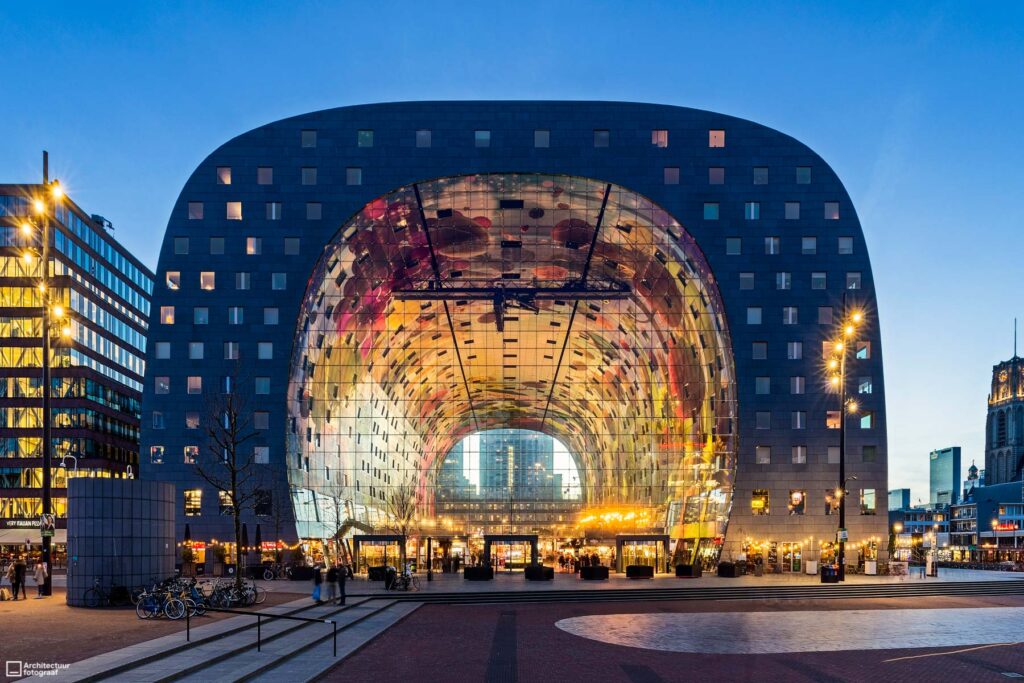 Living in The Netherlands, I started my architectural photography business in 2015 after a fundamental career switch, so I'm in my seventh year now. I've been working for many different kinds of clients, and I'm always thinking of how I can do better — Better at listening to my clients, better at taking the right images, better in post-production, better in marketing, making a better website, etc. That is a constant drive that I feel we have to have to really stand out from the crowd. So now you know me!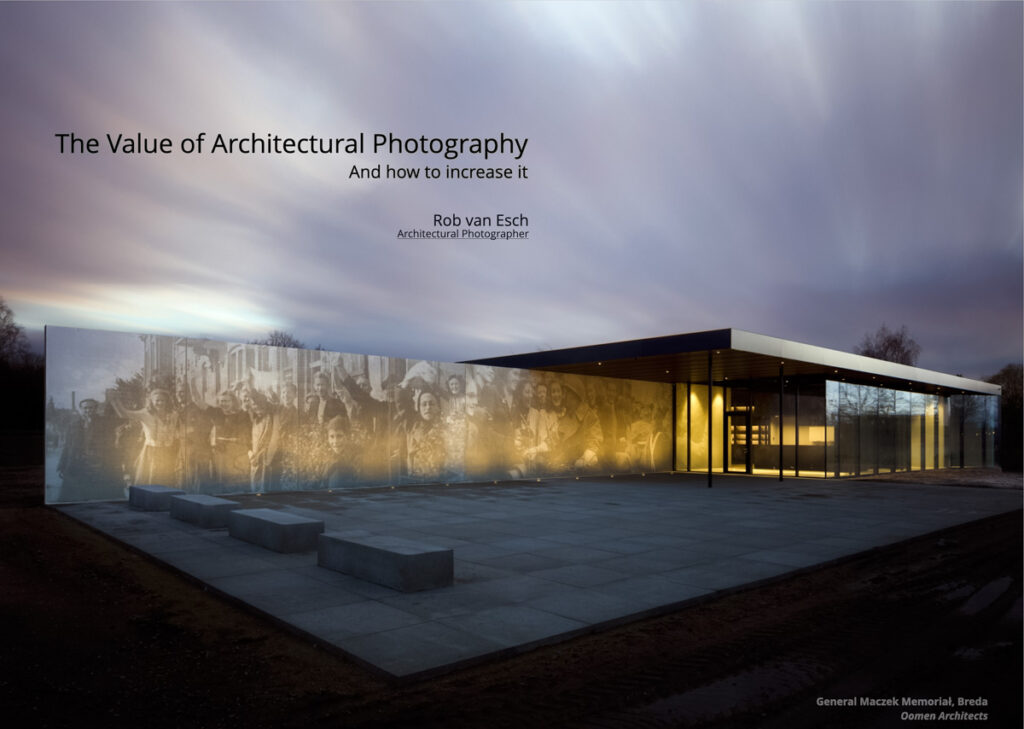 Recently I published my new eBook: "The Value of Architectural Photography, And How to Increase It." You can download it, completely free, on my website. Although the world is flooded with images, we as architectural photographers nourish our niche in the market. An important reason for this is that having architectural photos taken is an economic decision by the client. It is an investment by the architect in improving his own brand experience and thus his market position. The eBook lists all kinds of uses of our images and it's good to be aware of them as you are the one to anticipate that usage. The better the communication strategies is that the client is implementing, the higher the return on investment in photography.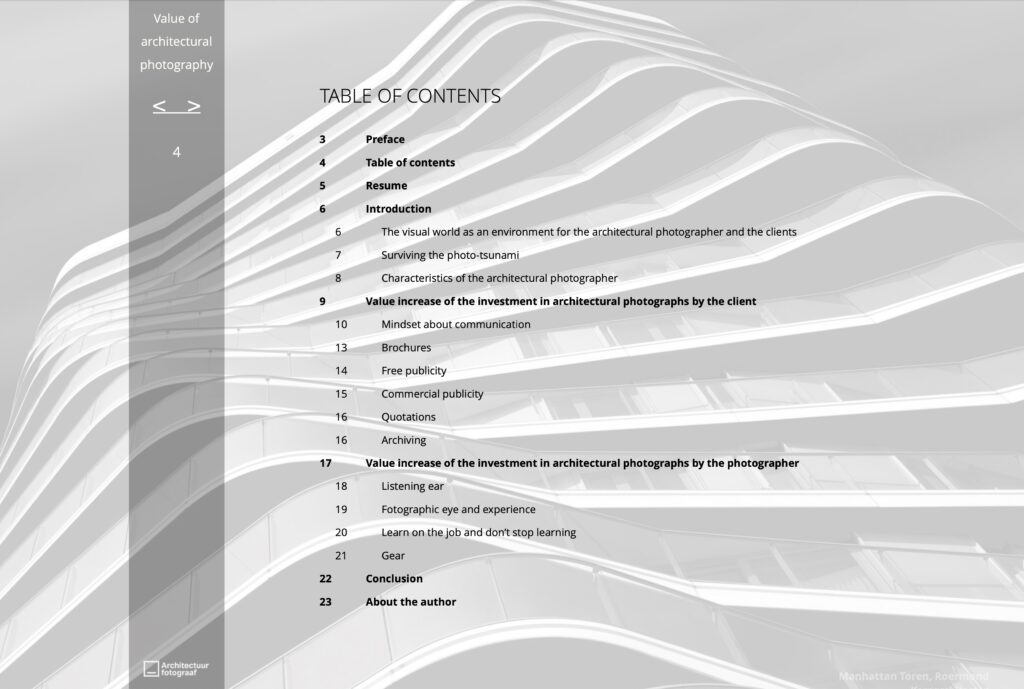 The photographer can also do a lot to improve the value of his or her work. I'll now mention three ways of doing so. Perhaps most important is the ability to really listen to the wishes of the client. Sometimes that is immediately clear, other times you have to finetune the conversation to really hear what he or she is asking. Second, learn on the job and never stop learning. And finally, gear remains important.
If you'd like to know more, you can read it all in my eBook. If you like listening to podcasts, you're lucky: I was interviewed by Trent Bell in episode 43 of his podcast AD&P: Architecture, Design & Photography. Check it out here!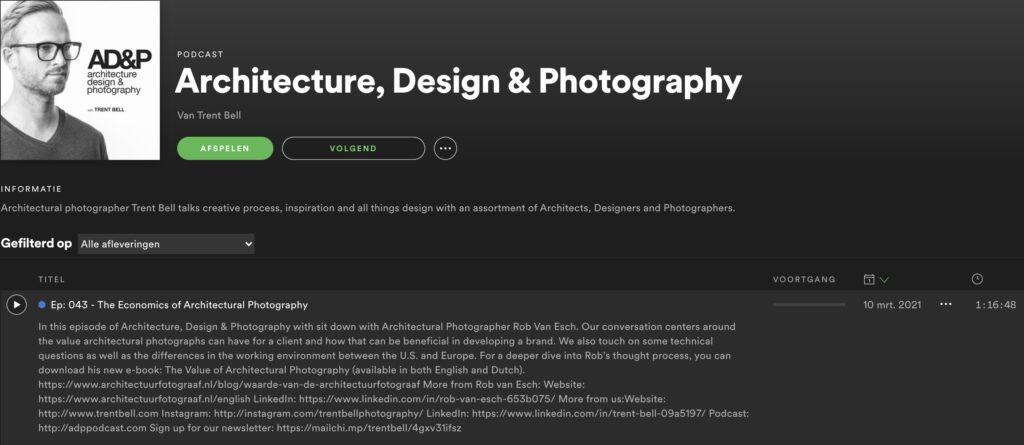 The podcasts can be listened at Spotify, Apple Podcast and Simplecast.

One last word for now. Bruce Springsteen sang: "You can't start a fire without a spark." How true is that! It also goes for me as a contributor to this platform. I can think of dozens of topics to write about, but it's much more fun to touch upon the topics that are at the top of your mind. So please load me with feedback and questions about architectural photography, and the post-production process, that you are interested in. That is the spark that really helps the fire burn!