For those of us living in California and the rest of the West Coast of the US, it's been a crazy few months to say the least. Wildfire smoke has engulfed nearly every part of the region at some point over the past two months, turning skies grey and orange from Los Angeles to Seattle.
Many architectural photographers have continued to work through the fires and the resulting smoke – myself included – to great frustration and annoyance. While obviously not even moving the needle in terms of inconvenience compared to loss of property and even life, our little circus must go on, as the economy hasn't (yet) ground to a total halt.
Bay Area architectural photographer Peter Lyons has been featured on the blog before, but I was absolutely floored when I saw his work that was produced on a day with some of the worst air quality any part of California has experienced ever. Being commissioned to photograph this bungalow in mid-September, while the sky was literally blotted out orange in the middle of the day is a challenge I would not wish on any photographer, but Peter rose to the occasion and upon seeing the original image and what he was able to come up with as a final shot just blew me away.
Peter was kind enough to share the story of how he made and post-produced these photographs under dark and smoky skies.
Wednesday, September 9th in the San Francisco Bay Area will be remembered by many of us for a long time to come. The word of the day–the most common descriptor being used–was "apocalyptic". And many of us sci-fi nerds were comparing it to the classic film Blade Runner 2049.

We've seen plenty of smoky days up here, with a mid-day sun just a glowing orange orb in the sky. But this day was legit DARK! It varied by degrees during the day, but even during the brightest parts of the day, vehicles were driving with lights on, street lights were illuminated, and the windows of homes and businesses were glowing from within. It was like a long, orange dusk. It was surreal.

Now, while some photographers were out there trying to capture the (hopefully) once-in-a-lifetime weirdness of it all, it was going to be my job to make everything look perfectly normal. I was in the middle of a slammed-busy week, with three shoots booked and no good opportunities for short-term postponements, so I was telling all my clients that everything was gonna be just FIIINE. In the end, it was actually easier than I expected it would be. This really proved to be dramatic proof of the awesome power of a good modern RAW file and their completely fluid color temperature.

Some heavy-handed adjustments needed to be made, as color temp settings were going to be much different than on a normal day, but otherwise I just I wound up using familiar compositing techniques, but slightly differently than usual. Some shots actually became easier than they would have been under normal conditions. At mid-day, I was shooting a shooting a living room in a typical suburban home. I hadn't yet dialed in my best practices for dealing with the dim, warm light outside, and was trying to light an interior with speedlights in my usual fashion. I don't carry gels; I don't find that I need them or use them and I'm trying to be efficient here, but this day, relative to everything else, my strobes were WAY too blue. No good.

So I set them aside, scrutinized my ambient shots, and found that the warm toned practical lights inside were pretty well balanced, both in color temperature and intensity, with the dim, warm light outside. With some highlight recovery and pretty minimal fuss, I was able to deliver a serviceable interior, single exposure, with no supplemental lighting at all–at a color temp setting of 2200K.

These two photos are pretty evident–I've included a bad strobe shot showing the mismatch in color temp between speedlight and all the rest, and then the final, single, all-ambient shot.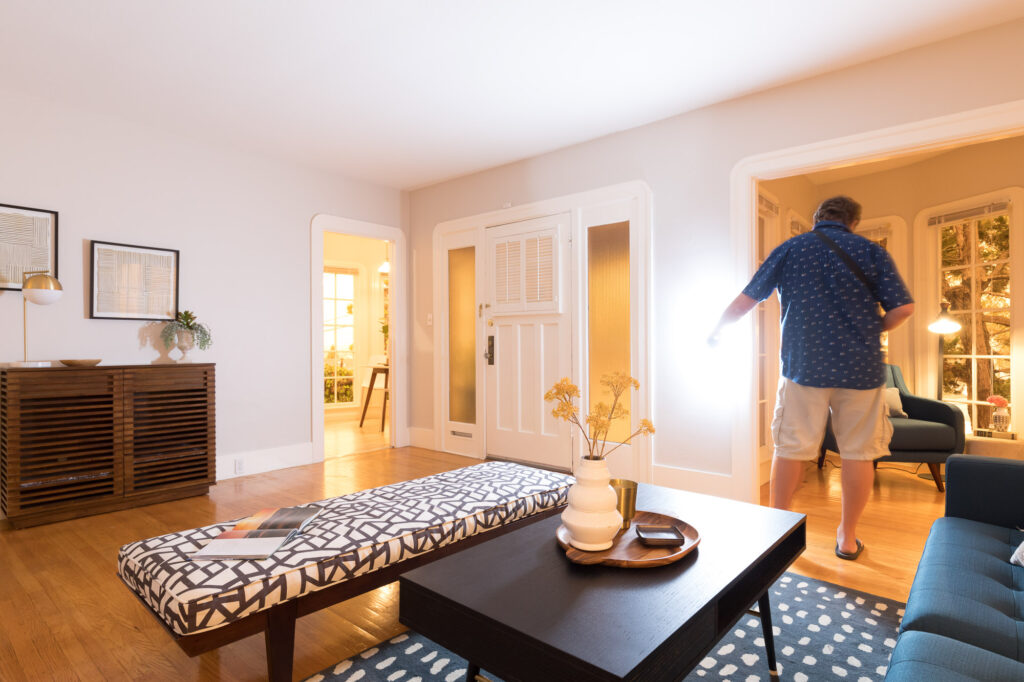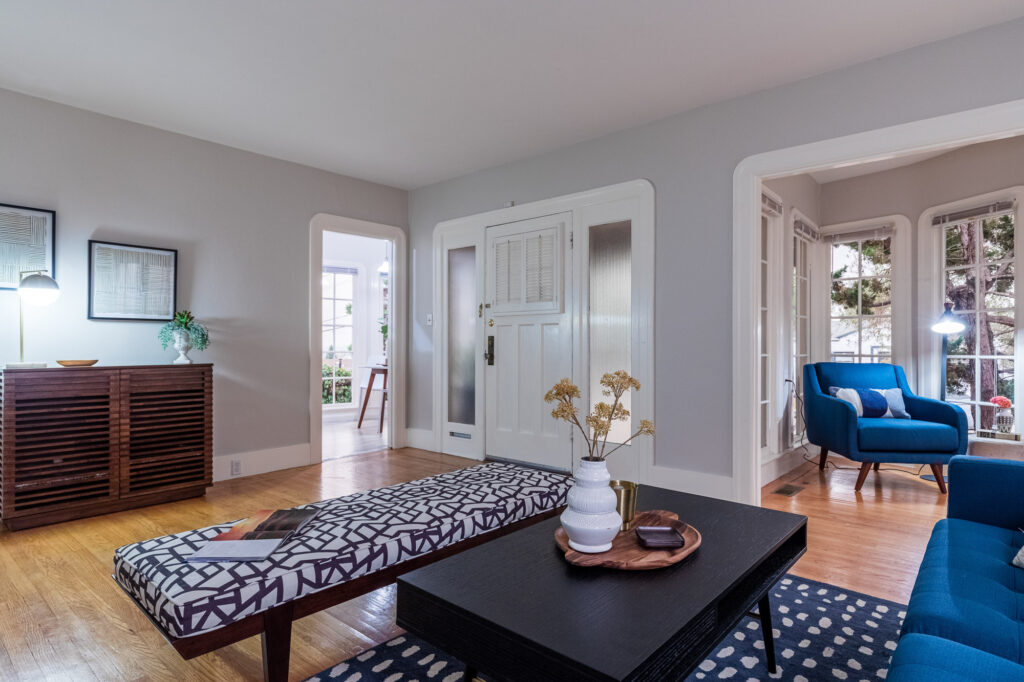 By my third shoot of the day, I'd had a chance to make my mistakes, figure out what was not working and what was working, and dial in my approach to the conditions. It was getting even darker, too. This last house of the day had updated interior lighting—warm LED can lights throughout the main living areas. So I'd make a first exposure for the interior, with the windows dark. Then I'd turn off all interior lights, and make another,longer exposure for the windows, and adjust color temperature to look normal. Stack these two frames in Photoshop, mask the windows in using blend mode lighten, and done. Piece o' cake.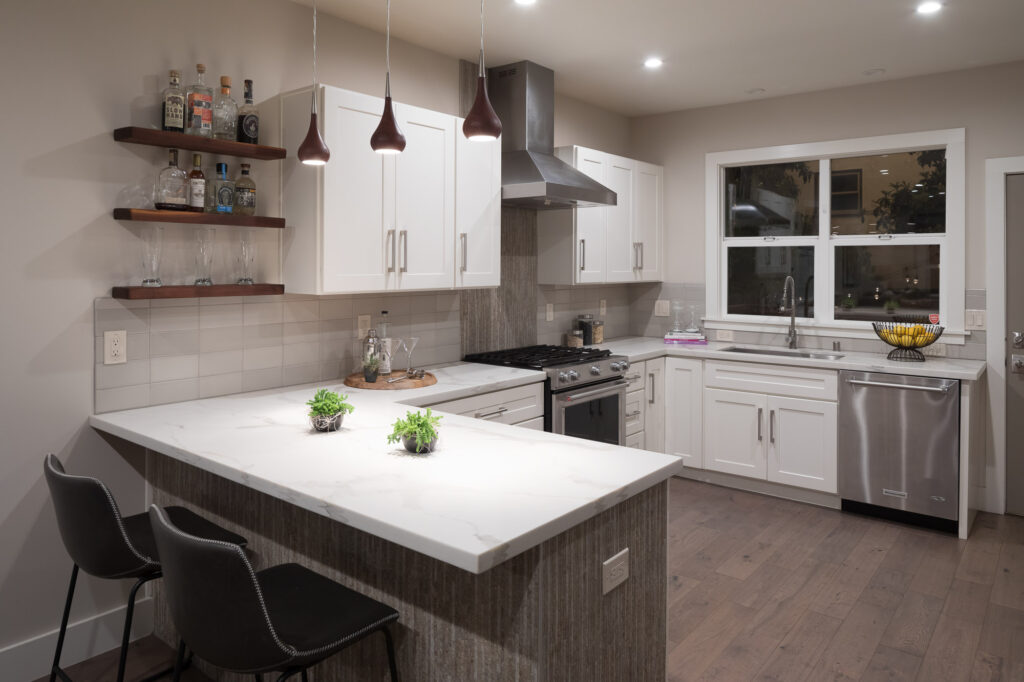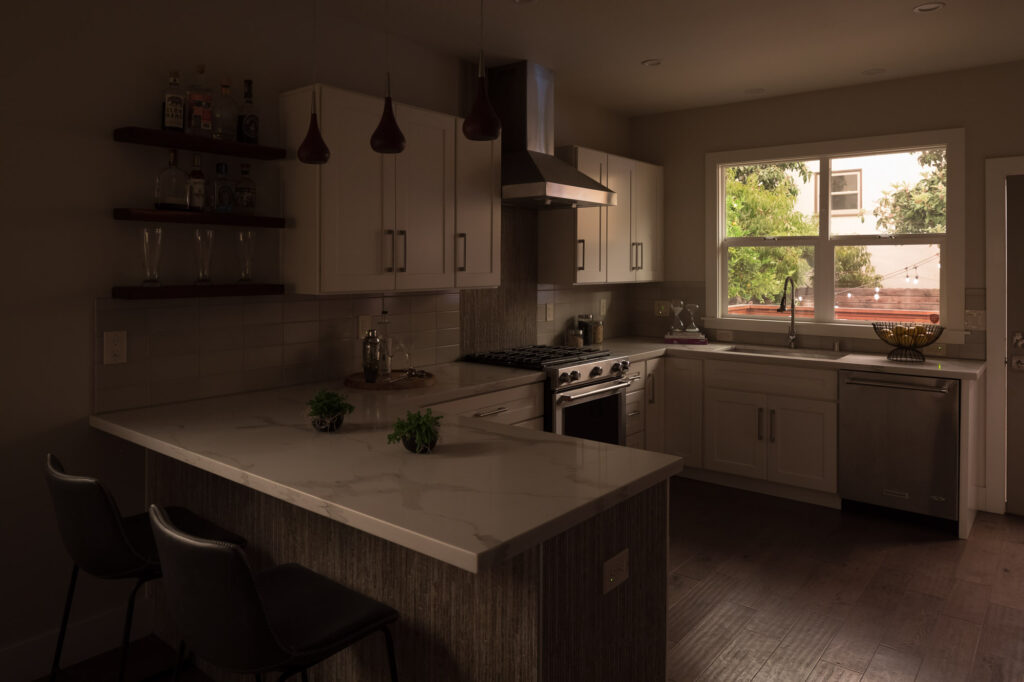 Finally, exteriors. It's 4:30pm now, about three hours before sunset. Everything around me looks not only like the apocalypse, but also like twilight because it's 2020 and everything is wild, so let's roll with that. I turn on the interior lights, head outside and shoot it. If I expose for the exterior, the windows are too bright. So I make a darker exposure so the windows look right, turn off all the lights, and make a brighter exposure for the exterior.

Then in post, adjust the interior color temp (I like it around 3450 for some warmth), and then separately adjust the exterior shot color temp (looks right around 2100K, nearly bottoming out the range of color temp adjustment in Lightroom) and again, stack these in Photoshop, with the dark windows layer on the bottom. I notice the absence of blues (if only yellow light is present, blues read as black), so in an attempt to bring some back,I apply a solid blue layer in color blend mode at 5% opacity, just to give it a little bit. Not sure this was super effective, and not sure anyone else notices, but I'm giving myself a gold star for effort.

Then apply the glowing windows layer in blend mode lighten, add a glowing gradient to the dark attic windows, slap in a sky replacement, and done. Needing a daylight exterior too, I just shot another angle with interior lights off, made similar adjustment to color temp, and dropped in a blue sky instead of a dusk sky.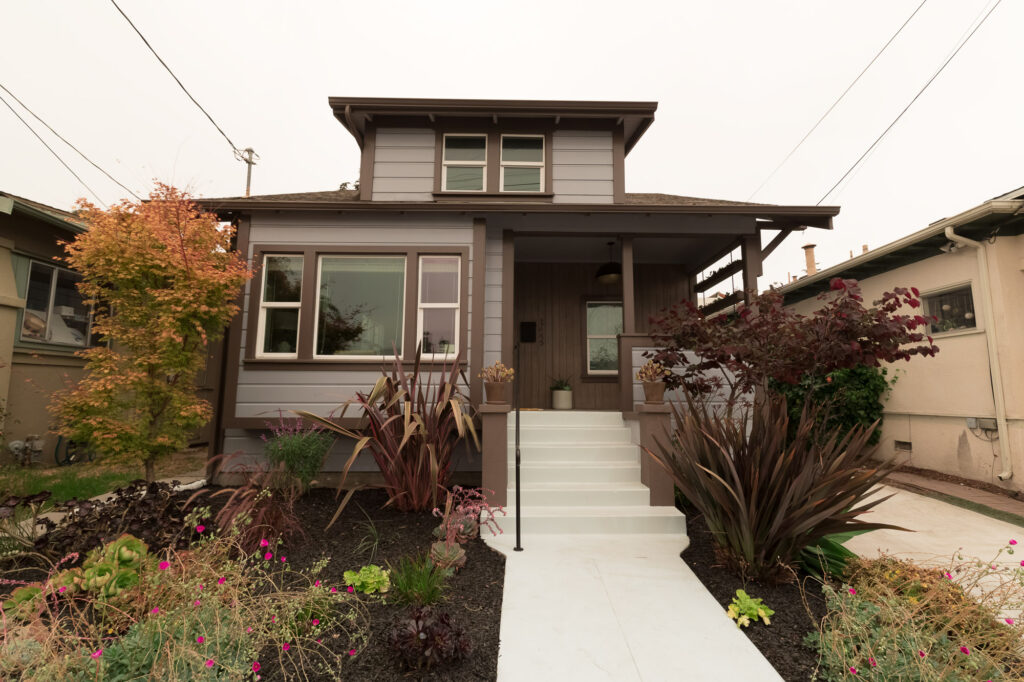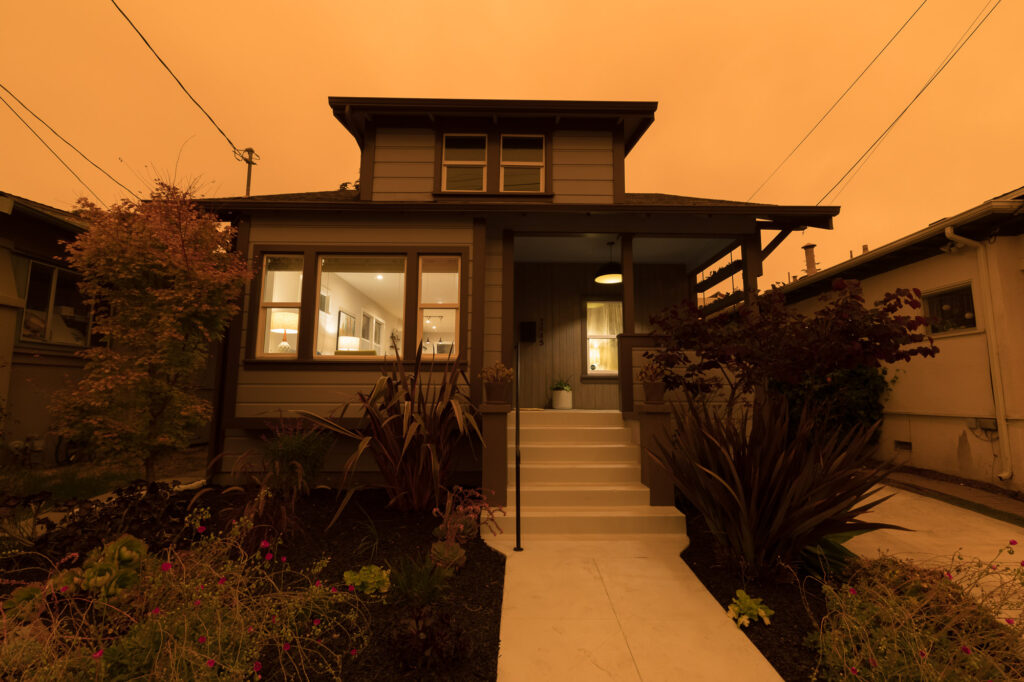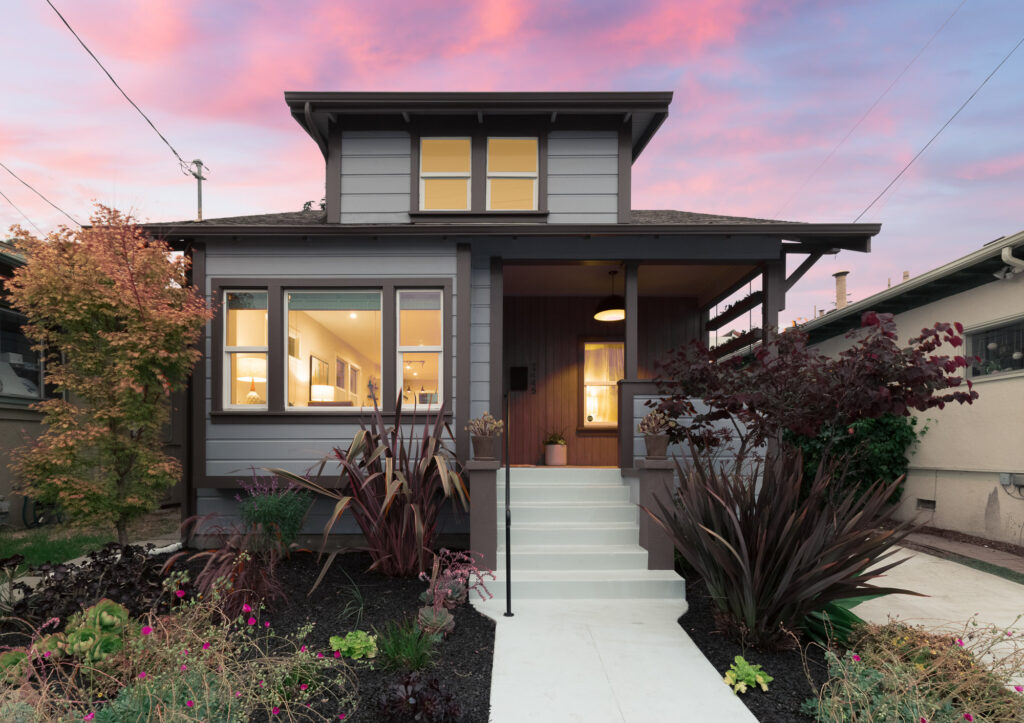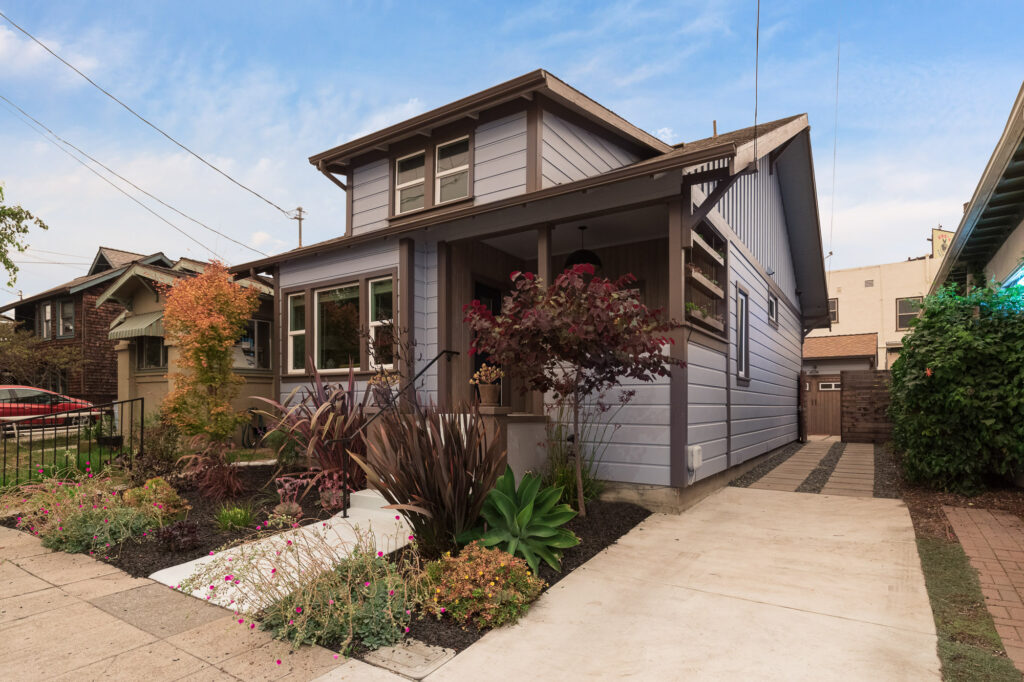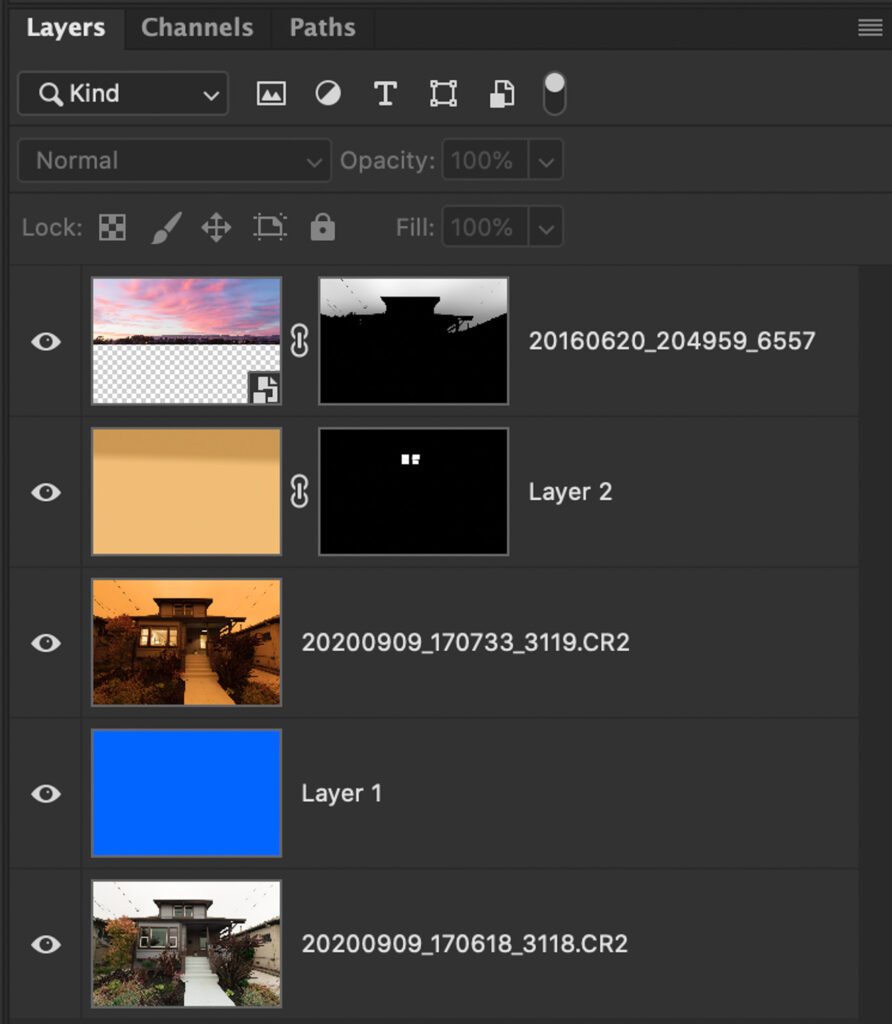 Holy. That is some seriously impressive work if I say so myself, because honestly I'd be looking for the eject handle to get myself out of these shoots before I even showed up if the skies in LA looked anything like what Peter had to deal with. Tipping my hat to Peter for sticking it out and delivering some killer images, and a huge thank you to him for breaking down his approach!
As a sidenote – this is my 100th APAlmanac article and I'm so happy with how this blog has turned out over the past year and a half! Looking forward to sharing many more stories like Peter's and countless other wonderful stories, interviews, news pieces, and reviews in the future. Thanks for coming along for the ride this far.