Photographer and Filmmaker George Kroustallis Documents Casa da Volta From All Angles
Project of the Week
George Kroustallis of Minorstep is an architectural and hotel photographer and filmmaker based in London. Today on Project of the Week, we are taking a dive into his lovely photos and video of Casa da Volta, a high-end villa resort at the heart of Comporta, Portugal.
George has been kind enough to tell us a bit about his shoot day and filmmaking experience. Shall we?
He starts by placing us on location, telling "[This project is] the story of a marvelous architectural take on rural living, designed by Promontorio and Silva Cravo architects that combines contemporary minimalism with nostalgic timelessness. The house is located in the Southwest of Alentejo, deep in the Grandola hills. The wavey topography contrasts with the harsh dryness of the landscape and its bare vegetation of cork and holm oaks with bushes creeping from the calcareous soil. It's a bit tricky to get there but once you do you are immediately rewarded.
The house is devised as a walled court, onto which a series of inner volumes are set, but an exception is made to the East elevation, as it opens up to a large terrace overlooking the vastness of the landscape and a small creek below."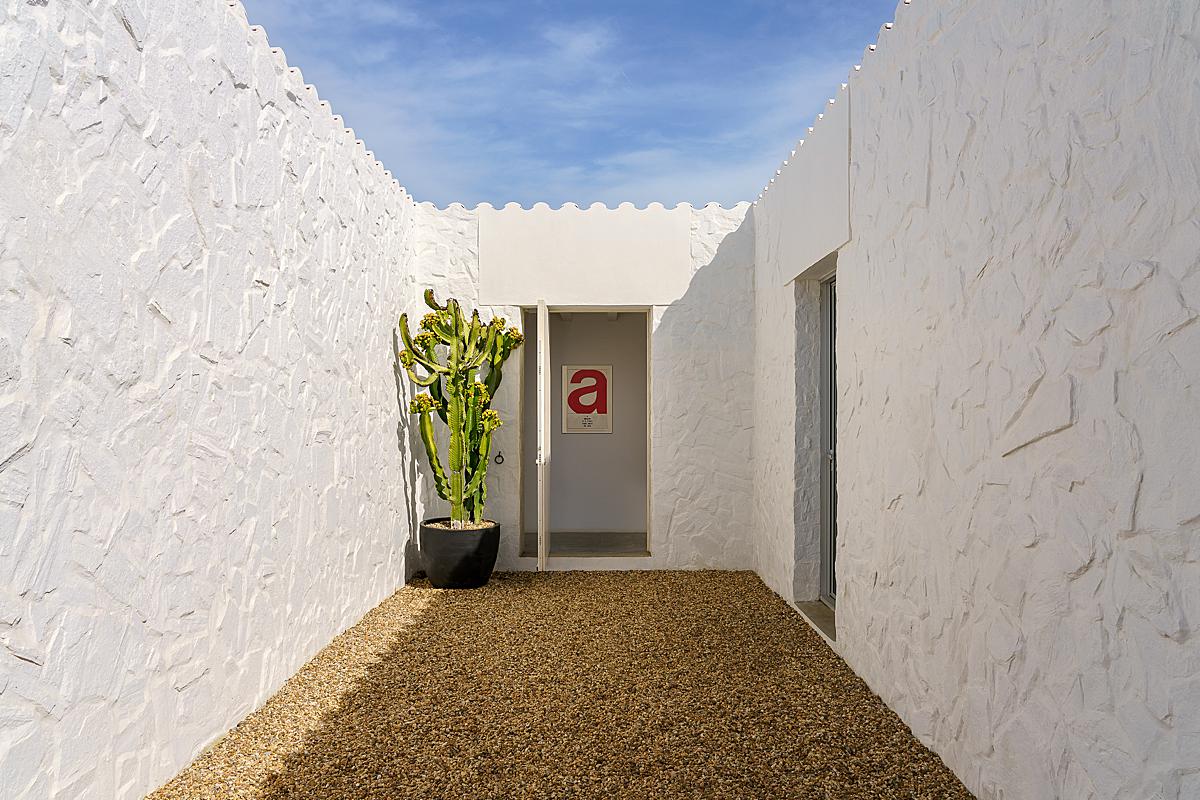 He continues "The contrast between the rural-inspired design of the house and the brutalist, sculptural pool is my favorite part of the house and I knew I wanted to capture that in all its glory and at different times of the day."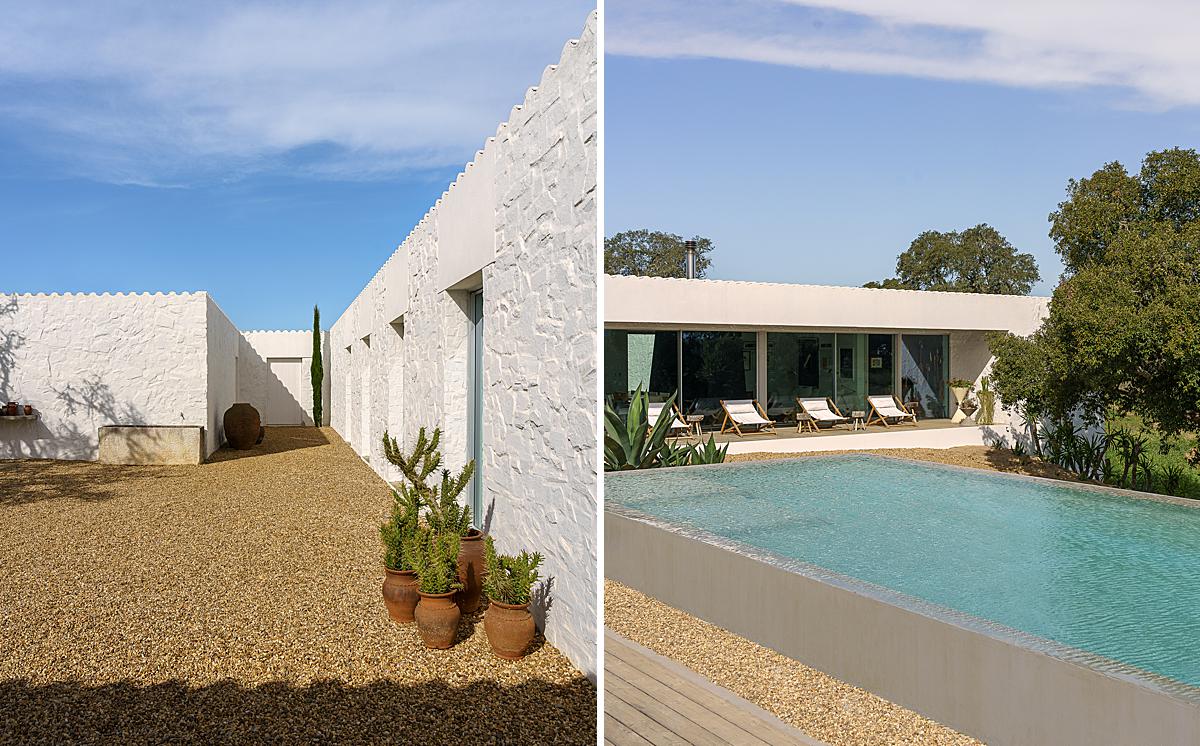 I love the graphic nature of George's photographs, and the way the linear forms of the structure and pool contrast with the landscape and vegetation.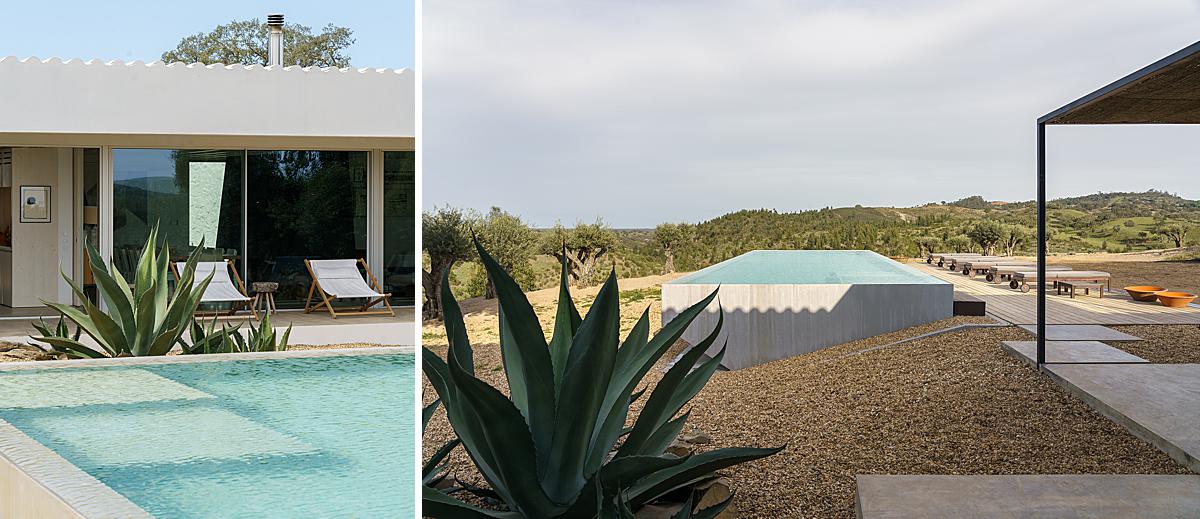 George says, "The client, the owner of the property, was very comfortable with providing me full creative freedom. My work is focused on architecture and design, with a clear minimalist point of view, whether it's in my home country Greece, or Portugal, or London where I reside, so the house was a perfect fit.
Stripping things down to the essentials, and elevating these as much as possible, allows me to ask the right questions and cut to the chase.
But perhaps most importantly, I've always thought there's a feeling of completeness, and satisfying tranquility found in the work of architects such as Alvaro Siza, or the traditional architecture in my beloved Greek islands, or legends like Tadao Ando. It's inspirations such as these that I trace my visual philosophy back to. This is the visual space within which I am interested in making my work. My focus was on capturing the beautiful light, the interesting textures, the undeniable sense of calm found in the property, the clean lines of the architecture, and the connection of it with nature and the landscape."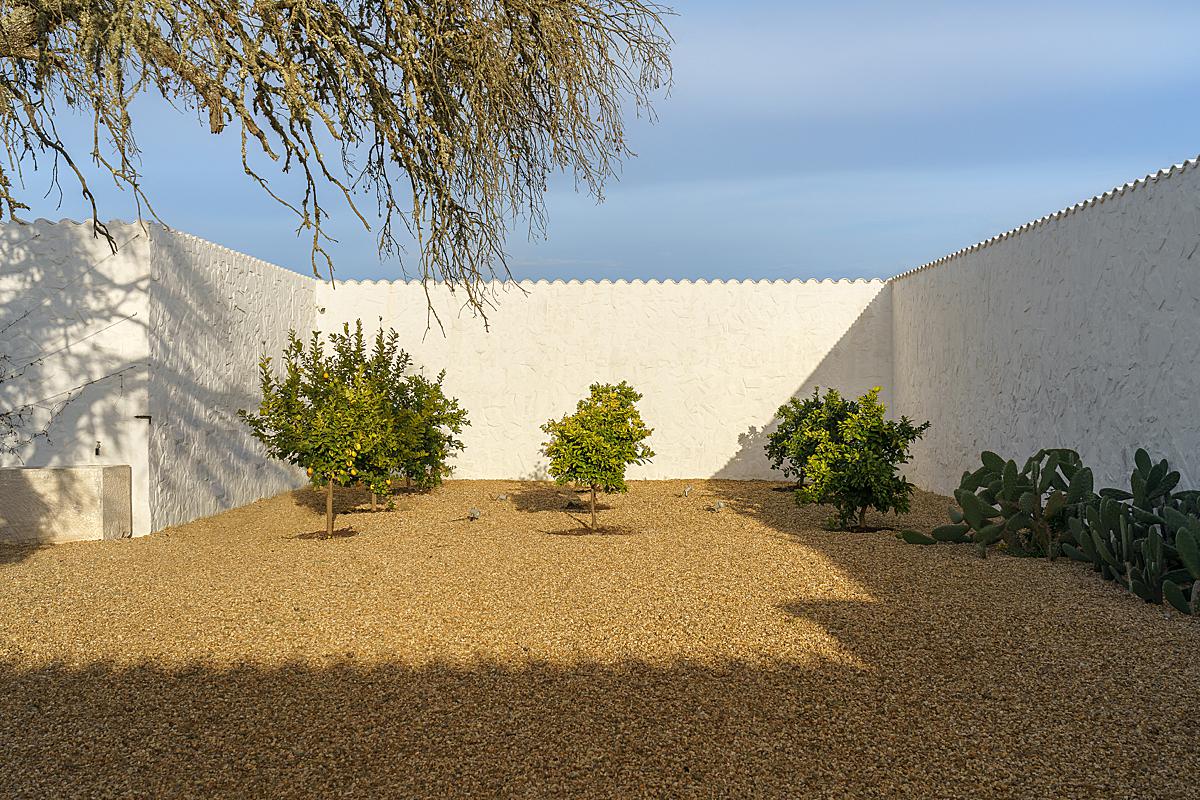 This next shot is my very favorite. I love the bold, long lines and the way the frame is perfectly split. It creates a sense of drama, and juxtaposes the man-made forms and nature.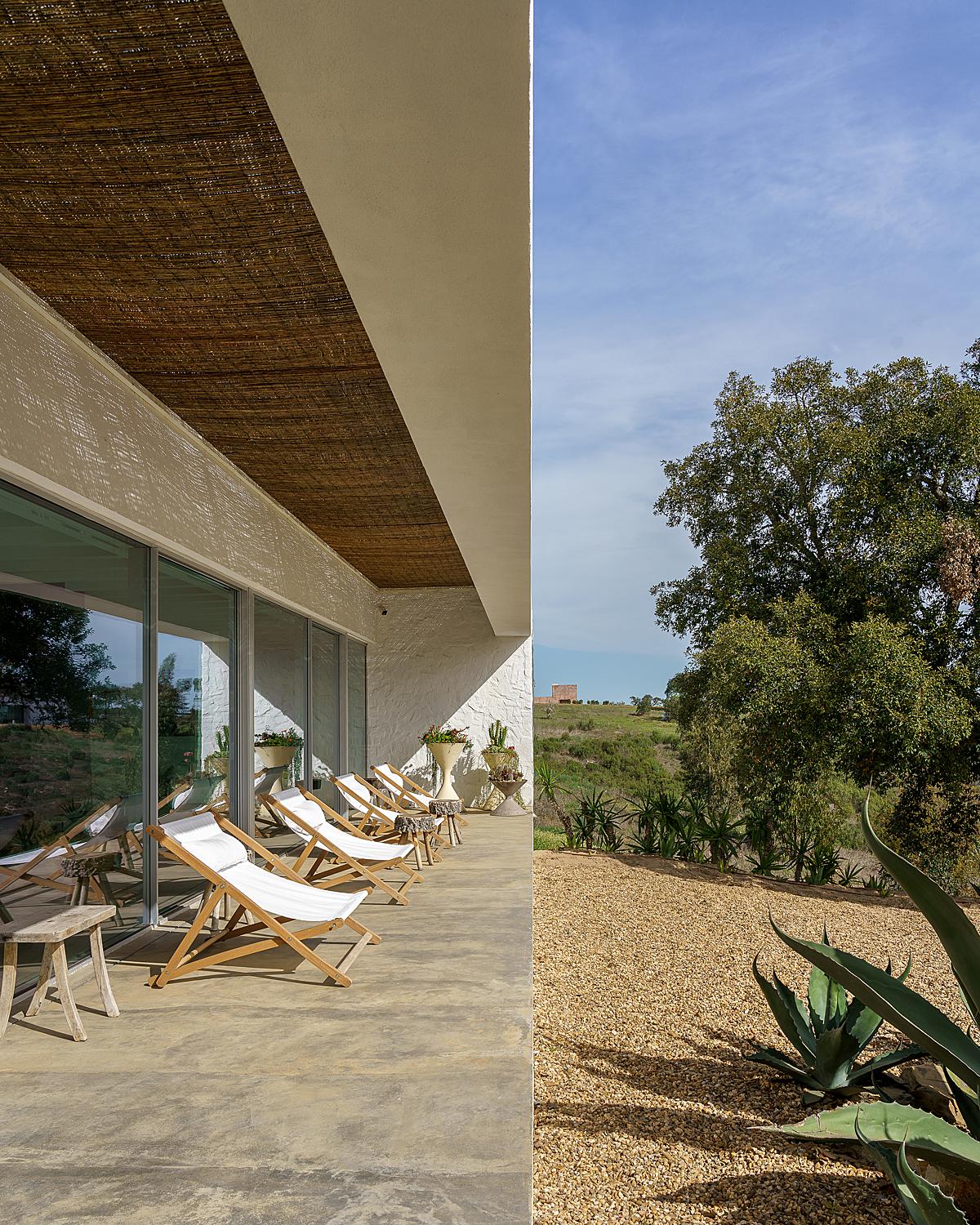 Because he was hired to shoot both photo and video of this project, George allotted 4 days on location. He explains "Upon arriving, we realized that we got really unlucky with the weather. It was initially hellish, with a proper Saharan dust wave and deep clouds. Would have been great if I was trying to shoot the sequel to Blade Runner 2049, instead of a wonderfully summery retreat house in Portugal.
The first day was wasted, there was no point in even attempting to shoot. That means doing the most of the following days and being overworked, by shooting everything in basically half of the time. If you can't cancel, it's part of our job to make the impossible happen.
Upon day 2 the weather started improving and hope returned, and it was only day 3 when it got sunny again. After long hours and literally shooting until the last minute between video and photos, it all worked out beautifully and I think I did the property justice, hopefully capturing some of the poetry of the location and the architecture."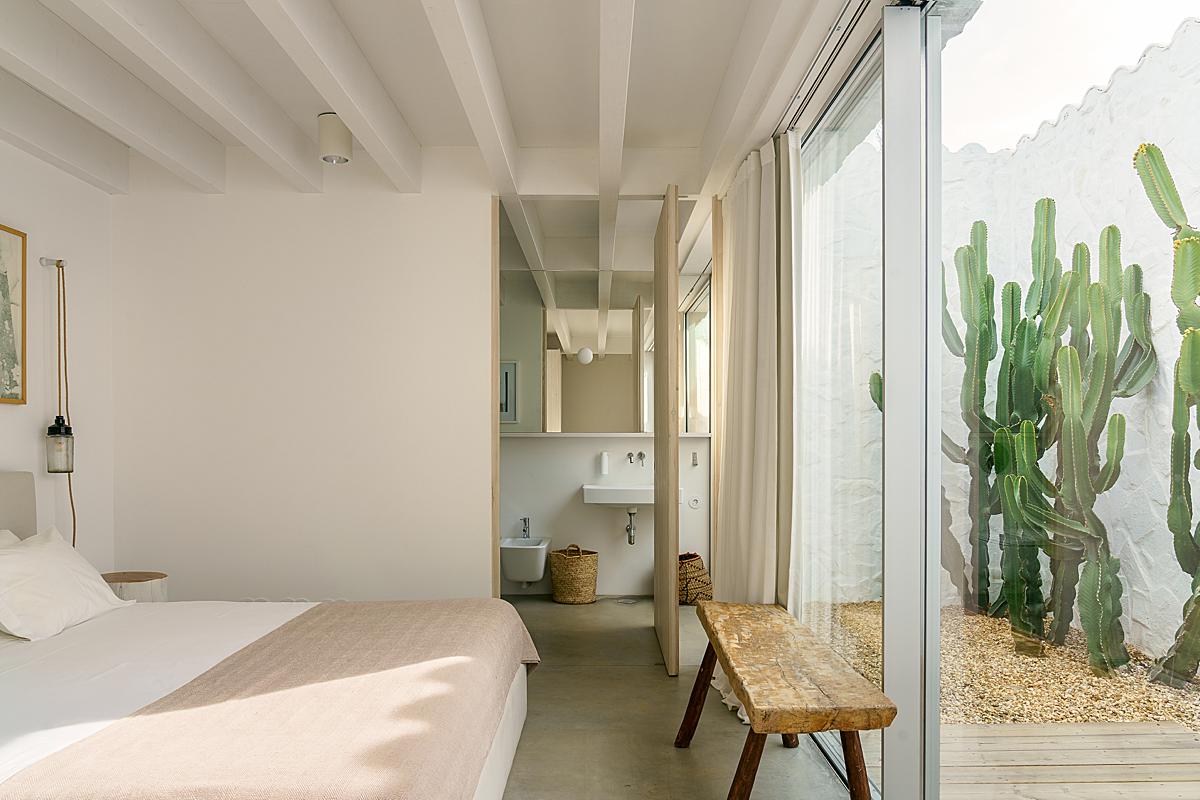 His patience paid off – there's no trace of bad weather here in these idyllic courtyard shots. With the gentle sunset color palette, we can feel the warmth and dry air. These scenes feel so inviting, making us want to pull up a chair around the table.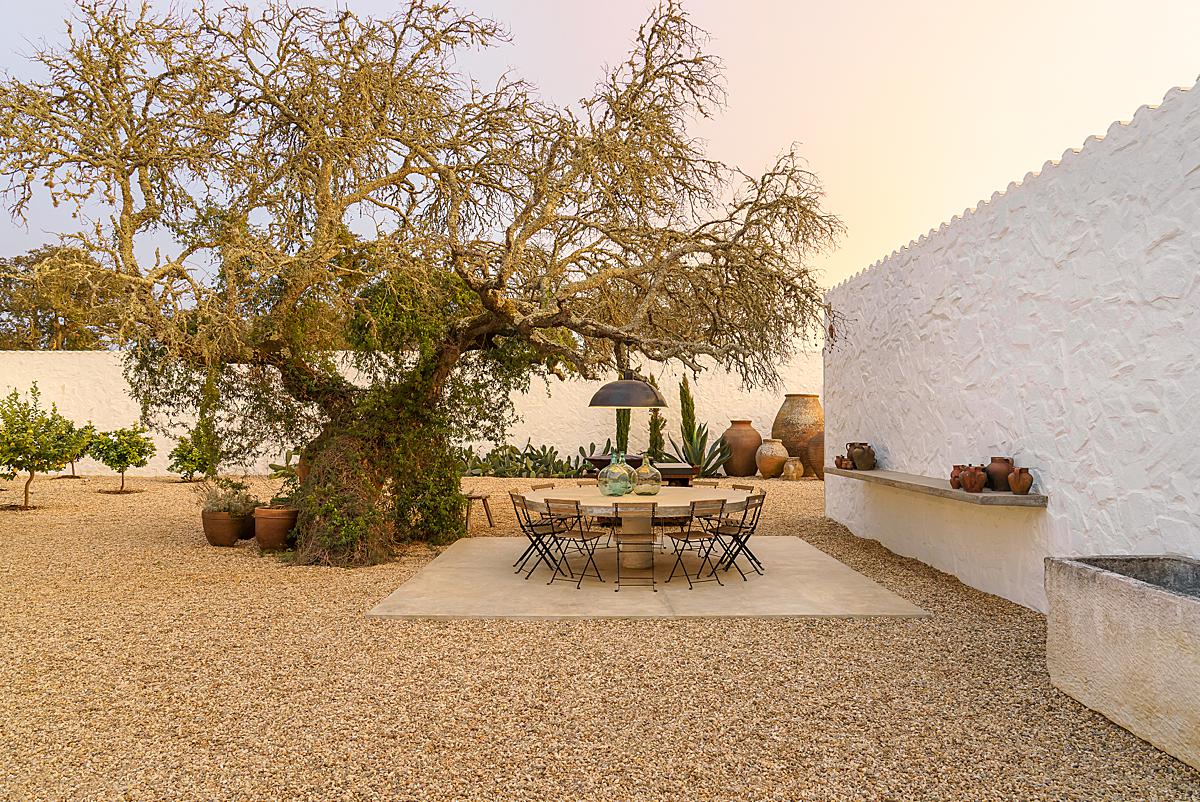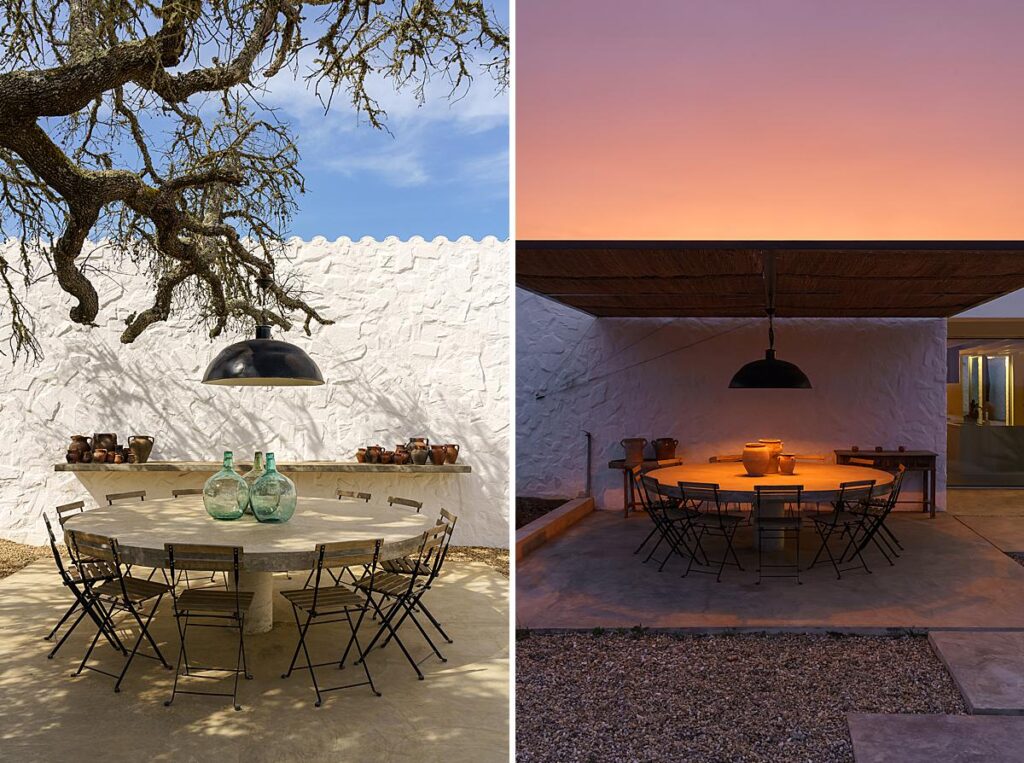 Grab your popcorn, it's movie time!
George shares "Combining photography and video is interesting and has its challenges. I notice that my film function, and my photography function, are two different modes in my brain. I don't enjoy doing both simultaneously.
With video, the emphasis is on movement and planning to tell a complete story, with a sequence of shots that make sense when put together. I plan a lot of my shots beforehand, and I know and try to mentally prepare for the fact that real retouching is not possible. We're spoiled because in photography we can fine-tune so much in post-production. In moving images, not so much, you have to focus on the bigger picture, and the flow of the film, and its emotional impact.
With photography, which is where most of my career has been based on, there's more freedom in moving around with less equipment, and you can shoot a lot and focus on constructing each frame as perfectly as possible, and worry about your final selection of the images way later in the process. It's easier to experiment and it's faster to shoot and at times more forgiving. It's one single frame after all, often with multiple exposures.
So unless it's not possible, I try to separate the film shooting and the photo shooting days. I traveled with my assistant, and relatively light, with a tripod, two Sony cameras, a few lenses including my trusted TSE-24mm, and a portable motorized slider."
He continues, "Coming from an architectural photography background, I wanted this short film to be a poetic take on the architecture, the location, and the stunning Portuguese nature. I hope it represents a fresh perspective on cinematic architectural and hospitality videography. I also wrote the original music for the film."
Beautiful job, and perfect meditative score George! Thanks for sharing this with us here on APA!
Head over to minorstep.com or visit @minorstep on Instagram to check out more of George's work.
If you have a project you'd like to be considered for Project of the Week, you can submit it here.