Kendall McCaugherty From Hall + Merrick Walks Us Through Her Process Shooting Corporate Interiors
Project of the Week
This Project of the Week brings something a bit different to the table, so put your learning caps on and get ready for a wealth of knowledge! This week, the lovely Kendall McCaugherty from Hall+Merrick Photographers spoke with me in-depth on how she photographed the Chicago Euromonitor Office by Eastlake Studio.

Corporate and commercial spaces are a beast of their own, that require a great deal of coordination and planning on top of your prowess as a photographer. Kendall notes:

"The biggest challenge of photographing any office has to be juggling your needs and the employee's comfort. Frankly, being in the way is inherent to corporate interiors and knowing how to schedule a shoot based on photographic needs — like shooting with the best light and best camera placement — and when to shoot high traffic areas — like cafeterias or board rooms — without inhibiting use of those spaces can be logistically challenging.
Before every shoot, I complete a walkthrough with my client where we discuss the design and shot list. This helps us create a schedule so we can communicate, to the best of our knowledge, where we will be and for how long. Inevitably, things can and do change. The time it takes time to clean desks, move furniture, set lights, wait for meetings to adjourn, etc. is another challenge, but it's necessary to be flexible and mindful of where you are while doing everything possible to keep the shoot moving. You're on the clock too after all!"
What stood out to me greatly in Kendall's photos of Euromonitor is how she showcases the space's unique features in such a tactful and almost understated sort of way, letting the architecture and design speak, while implying the details. Here, I love how Kendall relays the frosted glass of the confrence room by having a figure walk by. This also adds some motion to the bottom of the frame, which plays nicely with the movement created by the zig zagging line in the ceiling.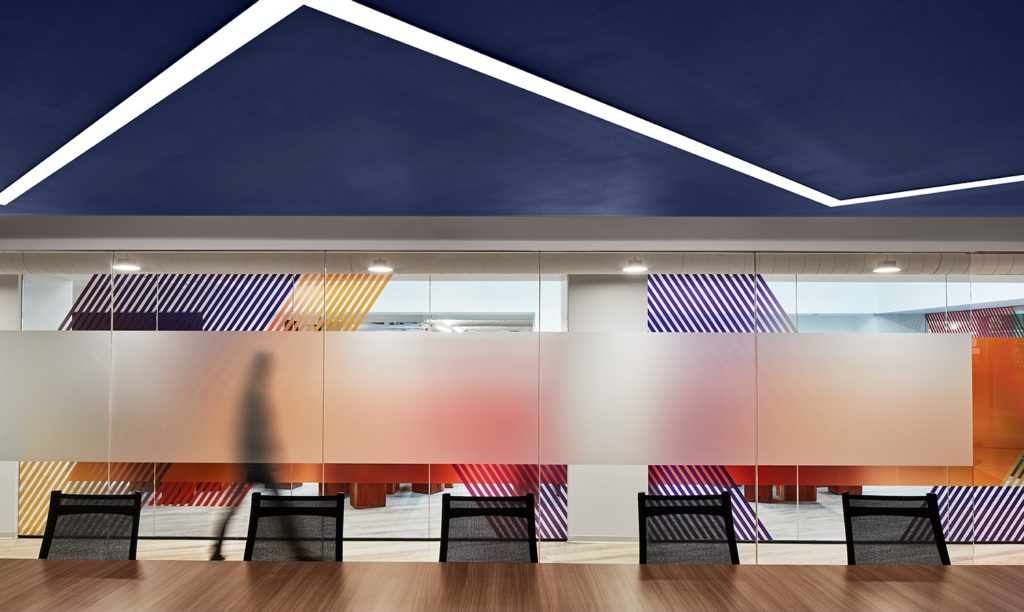 In a space with so much glass and color to wrangle, I was curious to know a bit more about Kendall's process.

"I want my images to appear as natural as possible, but clean. To accomplish this, I use yards of black cloth, clamped to pole extenders and held up by my assistant to block as much reflection as possible. This is tedious and may take multiple captures to complete. Understanding where the reflections are coming from dictates how close to the glass and what angle the cloth should be held. Sometimes you're also blocking reflections of reflections…needless to say, it can get complicated and takes a lot of elbow grease. Once I've shot all the pieces I need, I then blend out the most egregious reflections in post-production but leave the good stuff. The reflective quality of glass is beautiful and if you take that all away, you're left with a flat, unnatural looking photograph."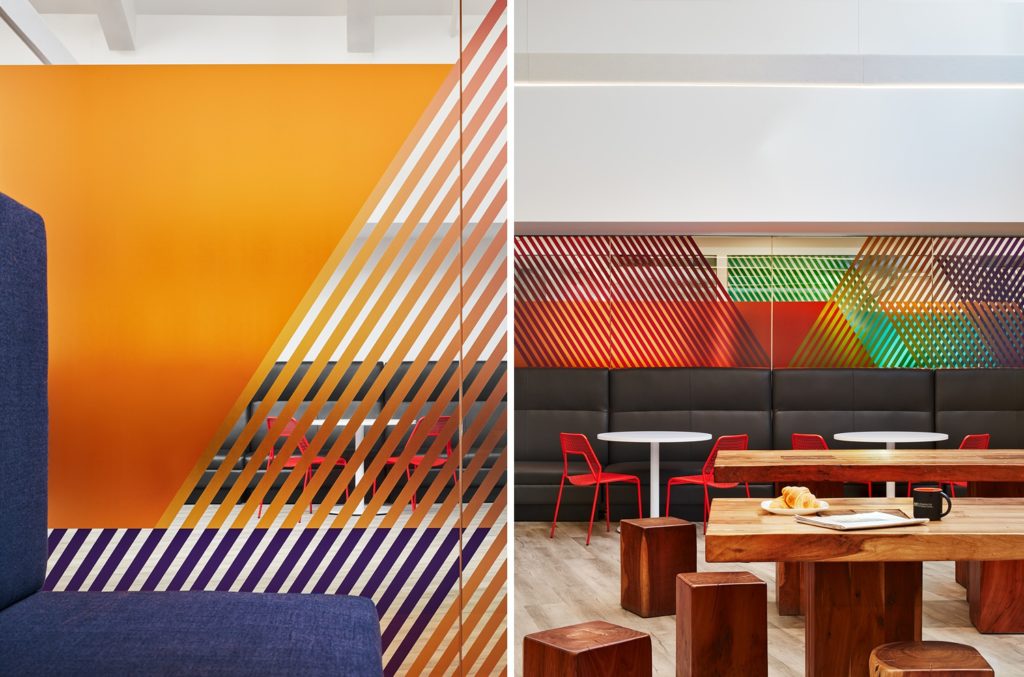 Kendall's camera height and composition here works beautifully. The leading lines in this space mesh perfectly with the overhead lights and tables, creating a nice rhythm that carries our eyes to through the frame.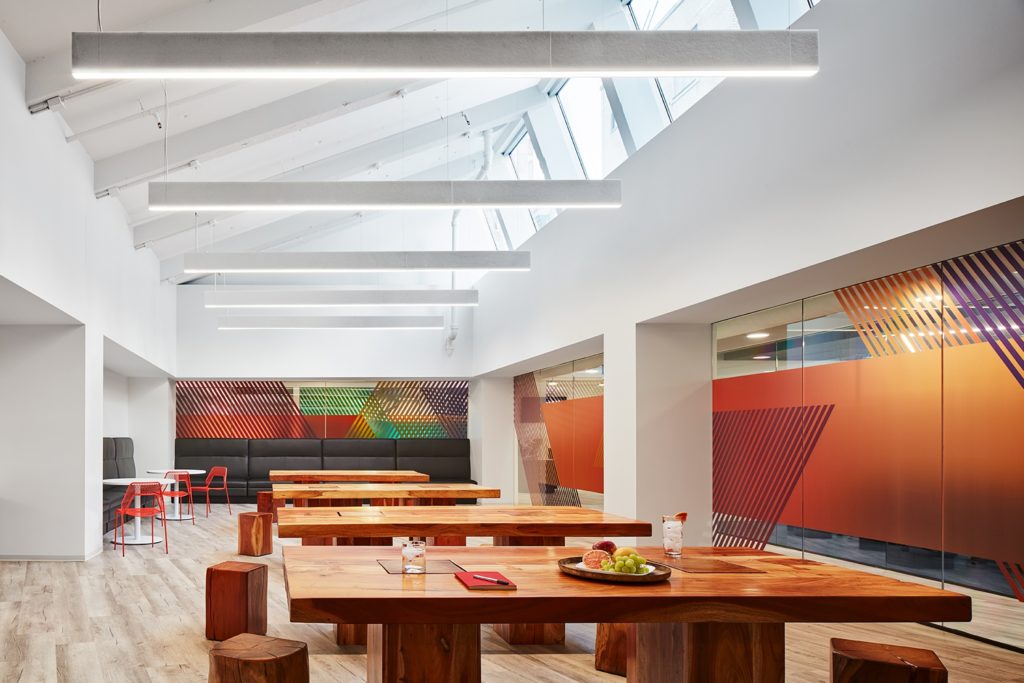 My favorite part of Kendall's Euromonitor shoot are hands down the articulating colored glass pannels. With such bold hues at play, I really admire the way she accentuated these integral design pieces.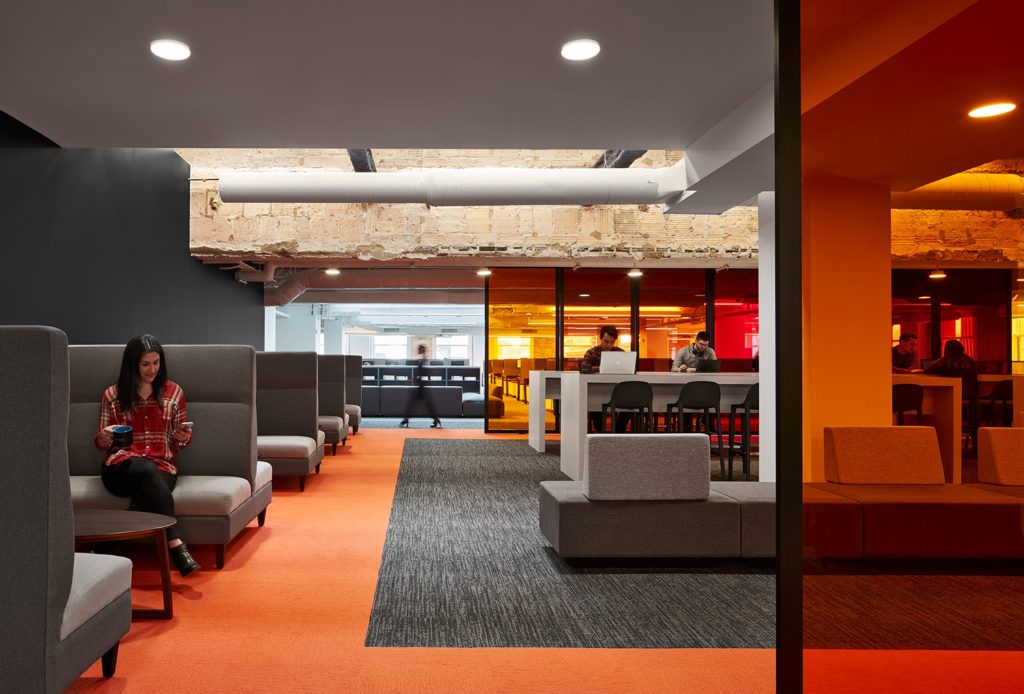 "The concept of a summer sunset was so integral in Eastlake's design that I made an effort to actually accentuate color whenever possible. I allowed light to subtly bleed from the panels in the Refectory but also chose models who wore specific tones and added pops of color through styling with fruit and graphic magazines."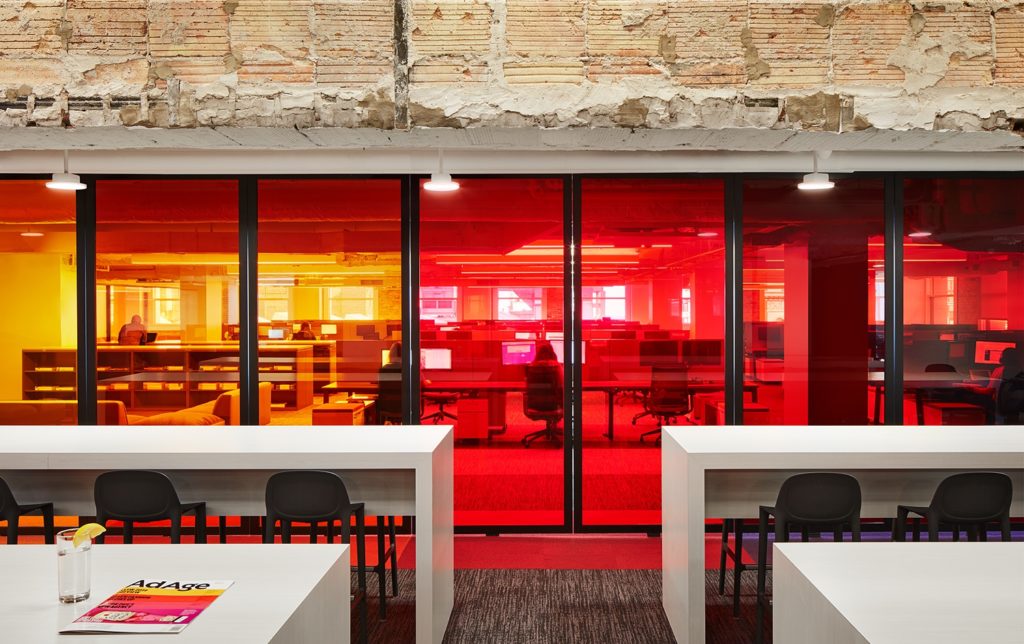 "We also shot multiple versions of images with the lights on and off to play with mood. When the lights were on the panels had a cleaner, color blocking effect, which is closer to how the space is typically experienced, but when the lights were off, the natural light bounced through the closed panels and recreated the glow of a sunset. It was imperative to capture both because understanding what it feels like to sit in a space is just as important as understanding the architect's design. If I can capture that sensation at the end of a shoot, then I've successfully done my job. This is also why I push for tighter compositions that exclude extraneous information. You have to know what is appropriate to show and what's a distraction."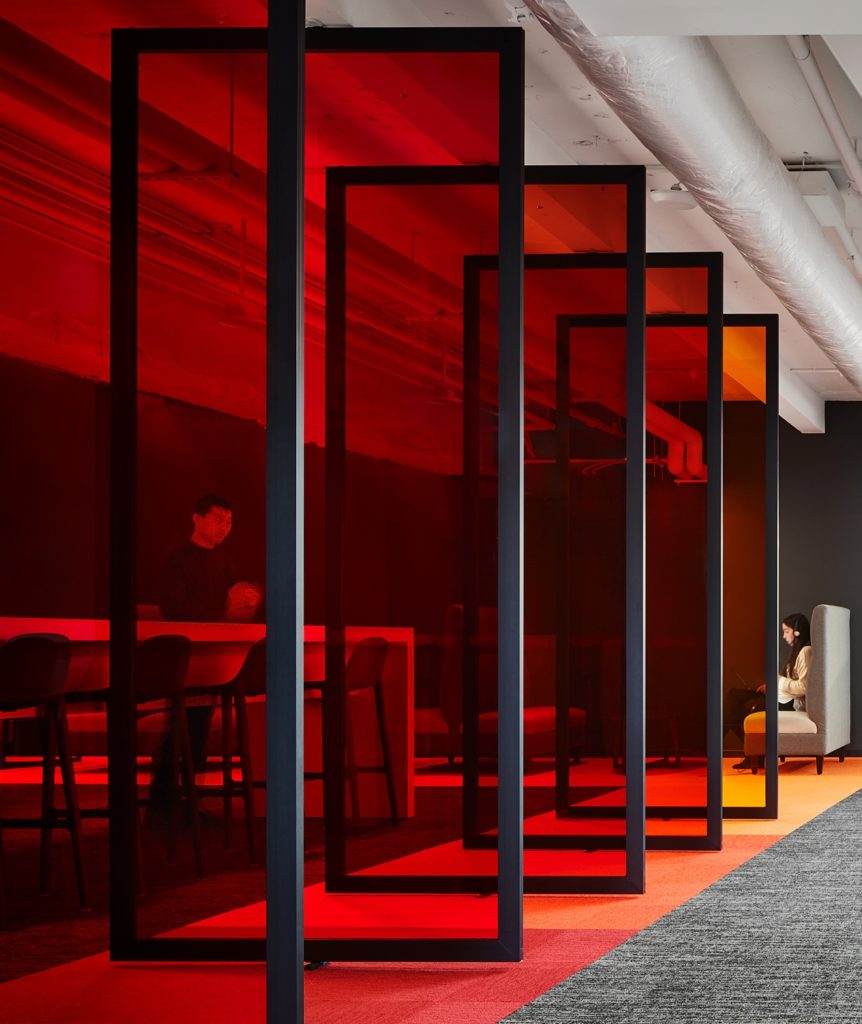 "I try to do as much as I can on site so the image is close to finished before entering post-production, but I make 'alternative views' (or alts) to drop in pieces where necessary. I shoot at 100 iso, on a tripod, with long exposures. This creates the highest quality file but can also make it nearly impossible to perfectly expose for both the shadows and highlights, unless you have a studio light for every surface. This is where the alts are handy.
I'll shoot a five-stop bracket to give me the best range of exposures possible as well as making alts with the lights on and off, shades open and closed, etc. I also experiment a lot with additive and subtractive light on site so I can blend the two in post and get the most balanced image possible. Highlights and shadows create shape and you want to accurately represent a three-dimensional space in a two-dimensional format. There's an awful trend in architectural photography to drop in overly saturated, dark, exterior views, but you'll see reflections on the floor that are brighter than the view…that would never happen in nature. I want to stay as far away from that look as possible."

Kendall's careful artistic discernment is the secret sauce to what make's her images so great. The tidy realism she brings to the spaces she photographs — especially the Euromonitor project — is what we all hope to achieve when making photographs!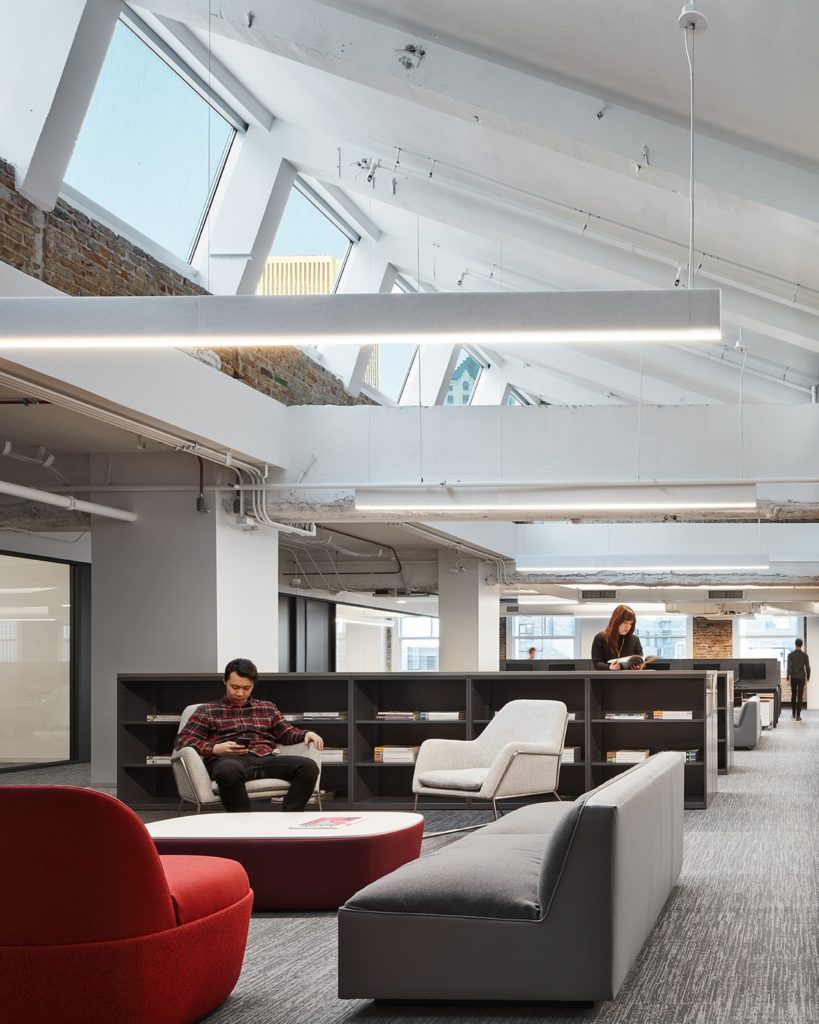 Many many thanks to Kendall McCaugherty and Hall+Merrick for sharing the Euromonitor project with us here at APALMANAC and taking the time to answer my boatload of questions!

You can check out more of Kendall's amazing work — as well as the work of legends Steve Hall and Nick Merrick — on hallmerrick.com and follow them @hallmerrickphoto on Instagram.
If you have a project you'd like to be considered for Project of the Week, you can submit it here.