Are you ready for an absolutely awesome Project of the Week? Today, we're taking a look at the work of architectural photographer Justin Nicholas. Justin shoots for Marriott International, Hilton Worldwide, IHG, and various other hospitality companies, together with an array of architects and designers. He is based in Australia with an office in South East Asia, where he does much of his work. All of Justin's work is gorgeous, but there is one particular project that is impossible to ignore – his photographs of the first ever undersea villa in the Maldives called The Muraka.
He perfectly captures this project, showcasing the expansive sweeping views of The Muraka that give us context into its beautiful and private location, as well as its fantastic underwater bedroom. Justin has a lot of insight to share into the shooting process, so I'll let him take it away!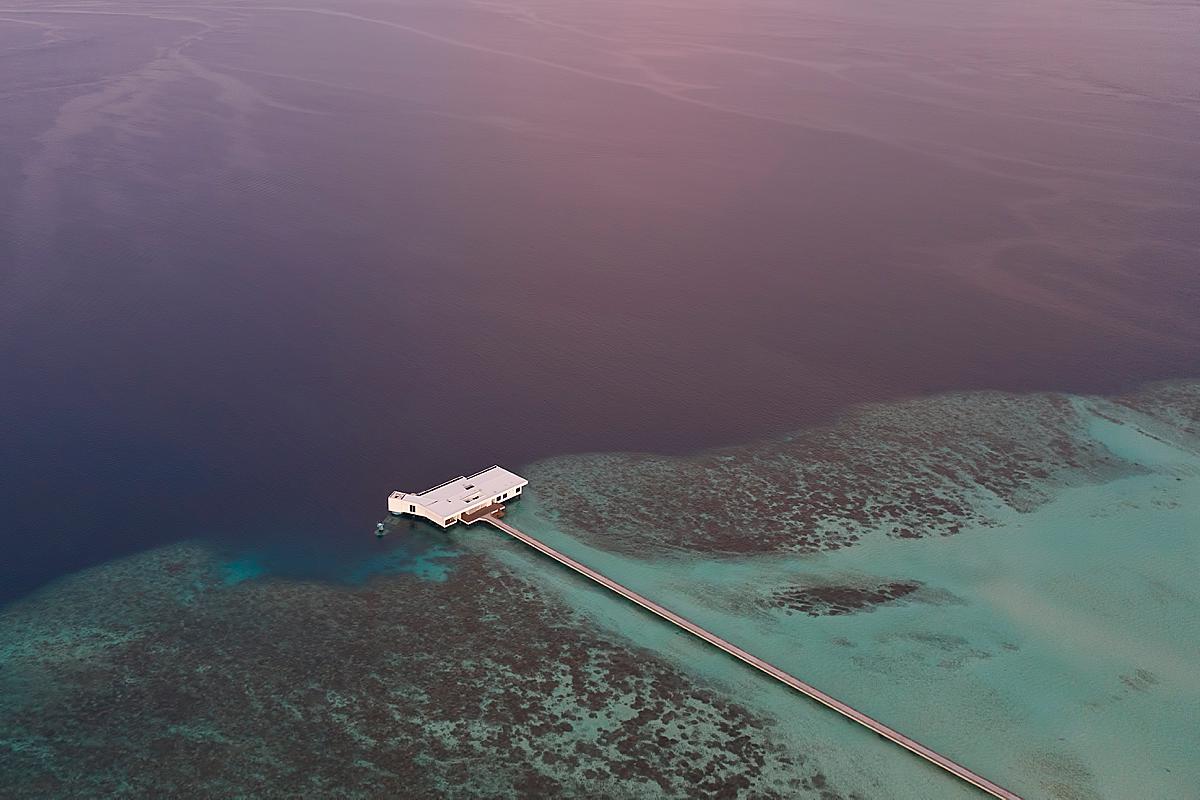 "This was my first time working with all three design leads, Ahmed Saleem the resort owner at the time and lead architect, Mike Murphy the lead engineer, and Yuji Yamazaki the interior architect. I am primarily a hotel and resort photographer so I deal with many varying firms and principles, this was brought to me by Hilton International which operates Conrad Maldives and The Muraka via their Marketing Director at the time, Kimberley Roberts," Justin explains.
"One of the greatest aspects of my profession is meeting the people who create these incredible spaces and watching their process from our first involvement during construction, through to the finished product. Hearing about the creative concept behind the world's first underwater villa was a wonderful conversation to have with Ahmed Saleem. As a whole, shooting this incredible location was an absolute career highlight. The Muraka is breathtakingly beautiful. The building appears to float in the Indian Ocean, 250m from the access boardwalk to the main resort, with living, entertaining, and guest bedrooms on the surface floor and the main bedroom located five meters underwater, accessible by a stunning spiral staircase or lift."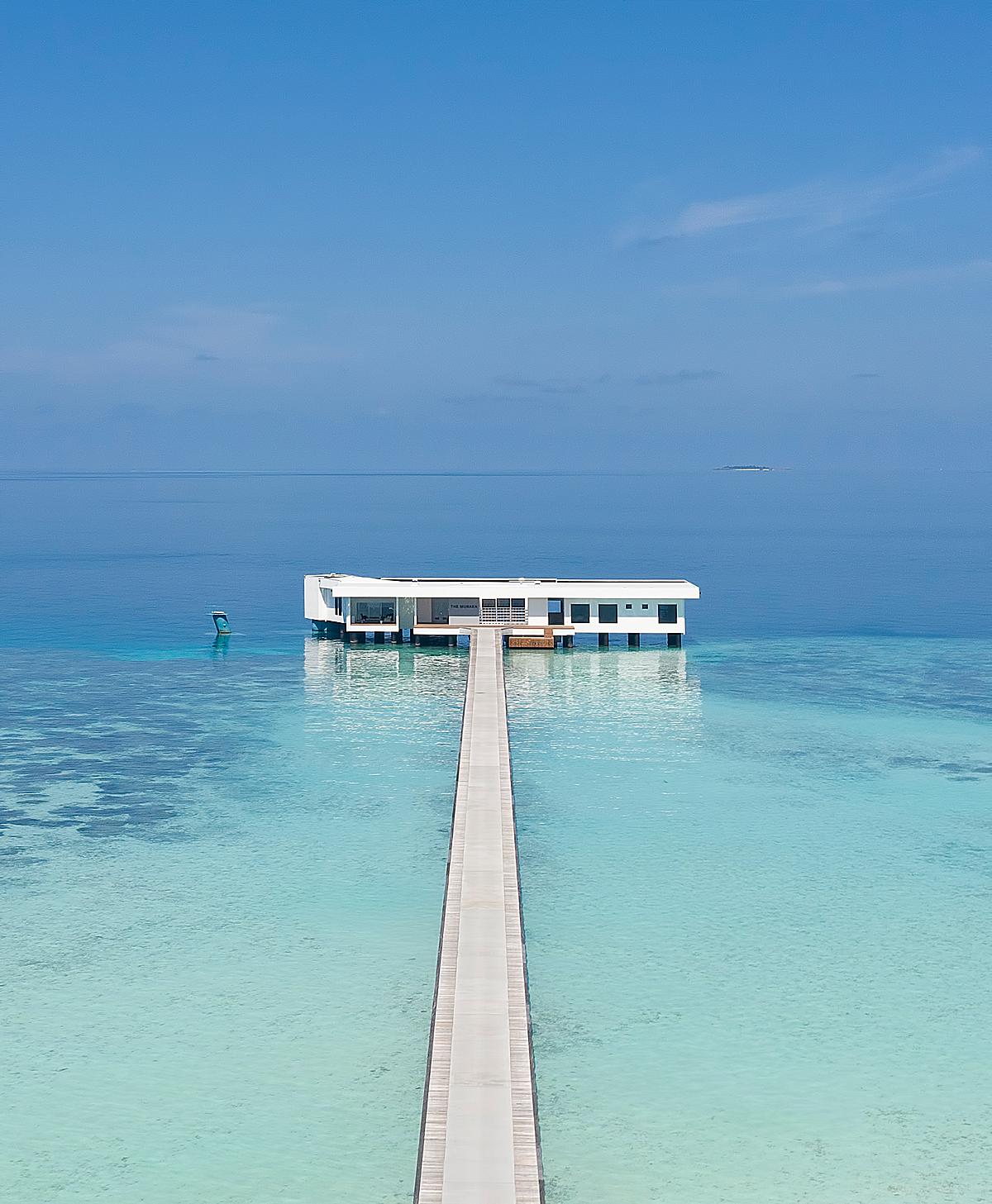 He continues, "Our days on site, particularly Maldivian and other resort locations, are always the same, very early starts and late finishes. The light over the Indian Ocean is so different at sunrise and sunset, so we ensure we are ready for both every day, starting and ending in the dark. Our first day or two are always spent as recce time. My team and I scope the light, architectural features, shot angles and terrain and work backward from there on our schedule. The one thing you can't perfectly plan for is the weather! We usually are on site for one to three weeks for a large resort, so each day evolves from the weather it presents, we have to remain very agile to ensure we get the best outcomes for the client on our available site time."
In the case of Conrad Maldives and The Muraka, we were on location for just over two weeks. Our first shoot day for The Muraka was shrouded in dark clouds and showers, not ideal, even for an underwater project. Our first planned location was the external ocean deck of The Muraka, with a surface of fresh, light coloured timber, on which every drop of rain was evident, so we adjusted and started with bathrooms and corridors to avoid external limitations."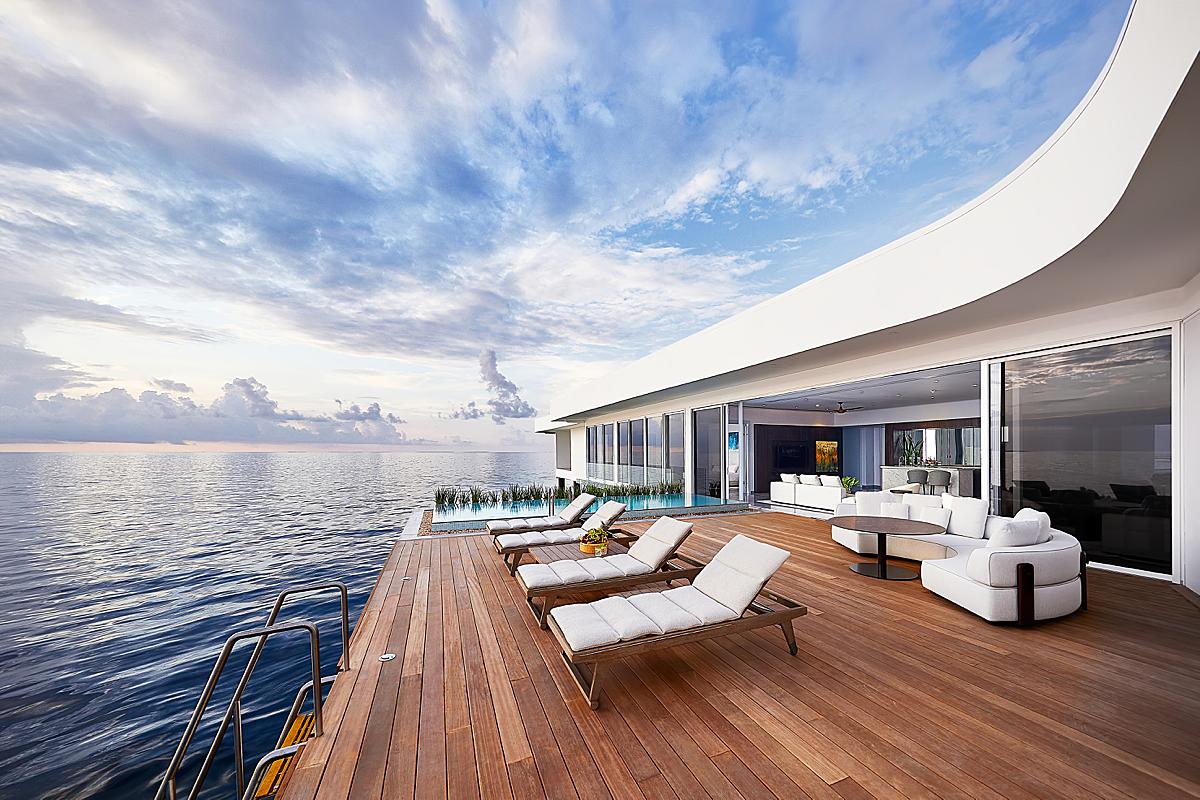 "Shooting at The Muraka was an extraordinary process, and one of the most complex environments I have worked in throughout my two-decade-plus career," Justin tells. "We ship our entire production gear kit with us globally, so prior to departure from Australia, the technical considerations were revisited over and over to ensure we had the correct equipment to shoot underwater, internally and externally, with aerials also playing a major role in demonstrating the environment."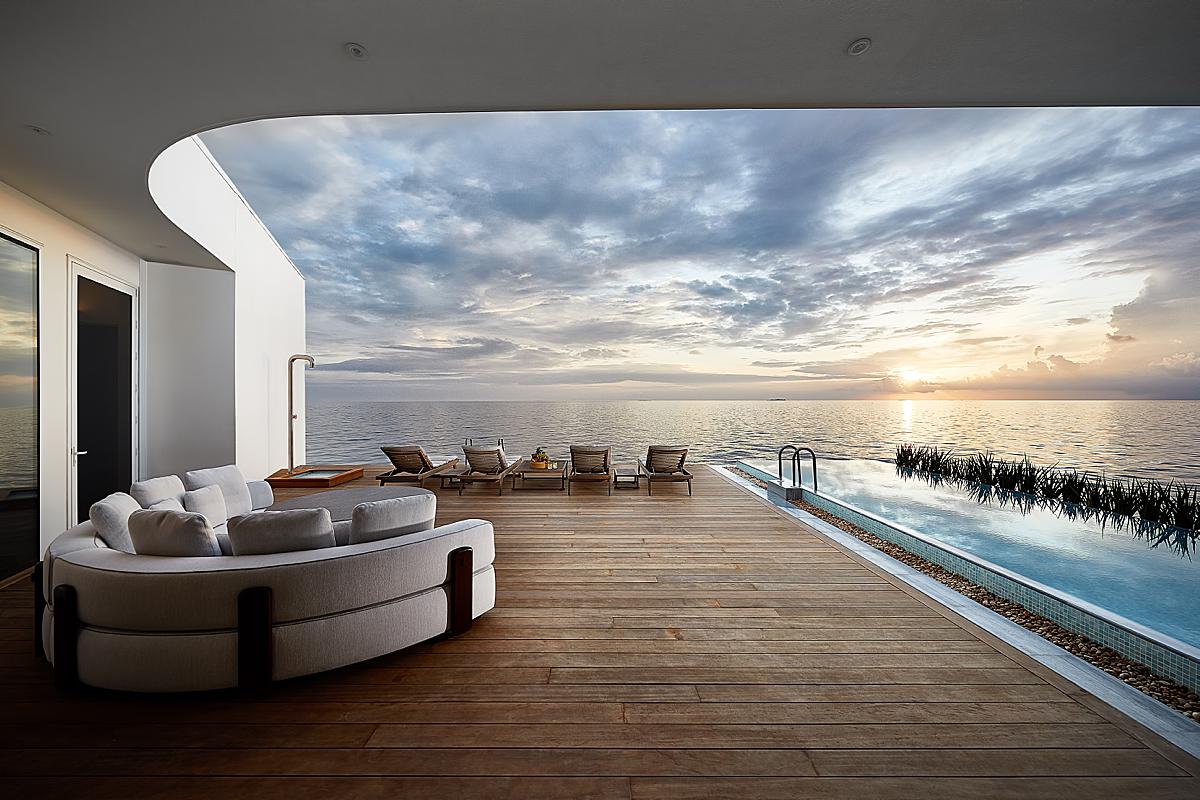 One particular thing I am stricken by with Justin's work (aside from the outrageous photos of this underwater bedroom that are to come) is his ability to communicate what it feels like to be in a space. I shared this with Justin and asked to know a bit more about his process – particularly here at The Muraka.
Justin said, "Thank you so much, that is a wonderful compliment as my entire process is informed by my response to the spaces, to tell the story of being present within it and the emotion it reveals. When I first arrive at a location, I spend a lot of time in and around the structure, watching light fall on surfaces, monitoring reflections, and feeling the space evolve through the day. Once I understand the location, I consolidate a shot list and schedule derived from the wish list of the client, adding any additional imagery I feel can be garnered.
Hospitality photography is a niche quite different from general architectural practice, you need to document the architecture, demonstrate the amenity, and sell a lifestyle, illustrating the precise technical aspects while making it market saleable at the same time. This leads us to often shoot two sets of images, one architectural and one marketing driven, with quite different treatments and outcomes. As shown in the suite of imagery, we often introduce talent to demonstrate scale and mood. With the shot list in place, I work with my assistants to manage my lighting plan and my producer/stylist/partner Joshua Jones who ensures the spaces are dressed to brand standards to entice viewers."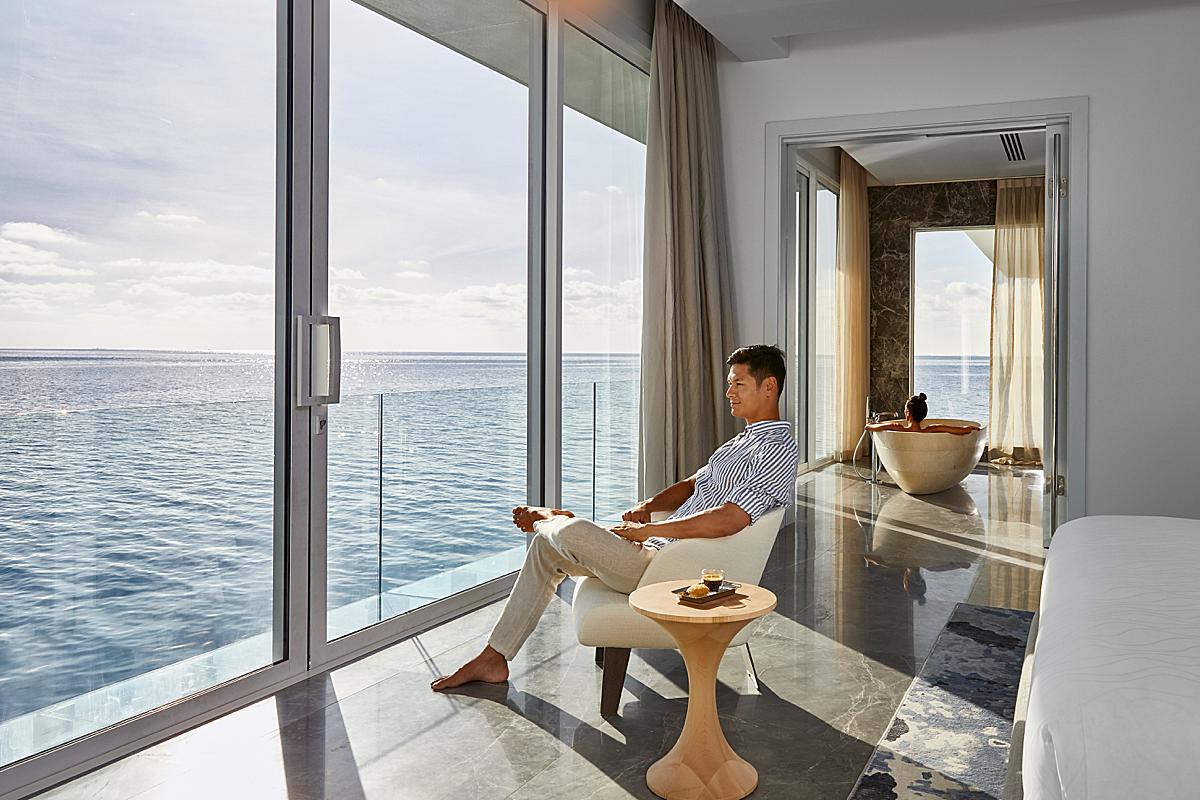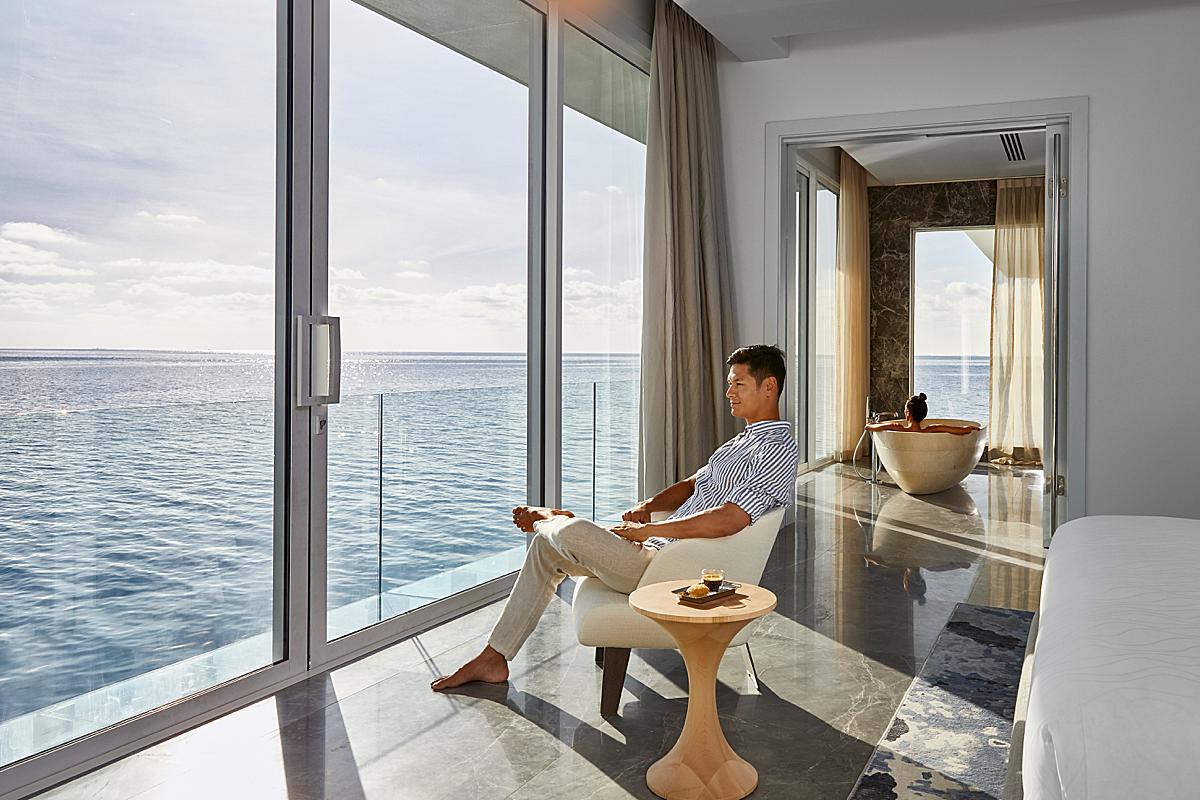 "We work very closely with the property team, having meetings with heads of departments to prepare for each location, and we always have a dedicated team at each property who are the best bed-makers you'll ever find! The housekeeping team within a hotel or resort are often the unsung heroes of your guest experience, and we value them greatly for their contribution to what we do," Justin shares.
"We shoot each space in bracketed exposures and often return to the same space multiple times for optimum lighting outcomes. My digital operator and I rate images as we go and export for client approval each day. Once we have approval, the treatment is formulated to suit the brand, location and finishes, and we retouch. I shoot Phase medium format and Canon SLR tethered in Capture One, where we manage initial structure settings, colour correction etc, then we export for retouch in Photoshop."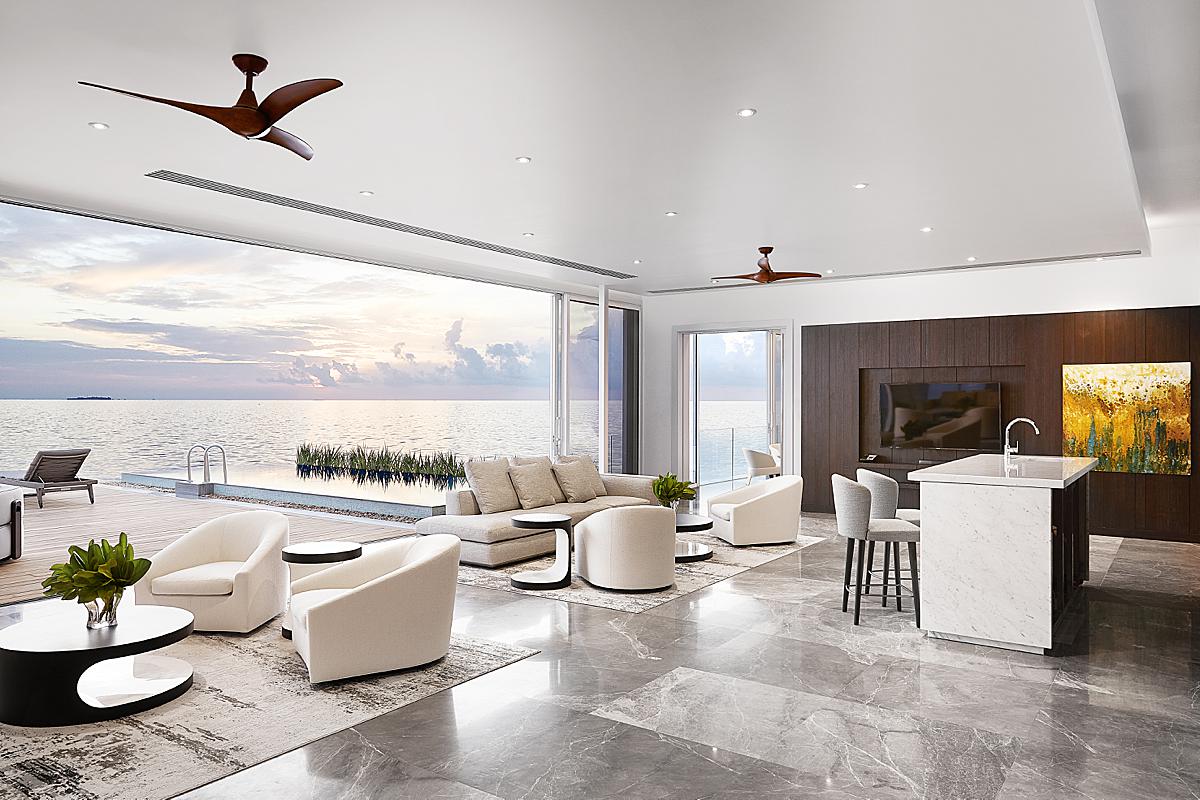 Time to make our descent into The Muraka's underwater area. With this first image, Justin piques our interest, using the dark hallway to draw our eye into the room beyond.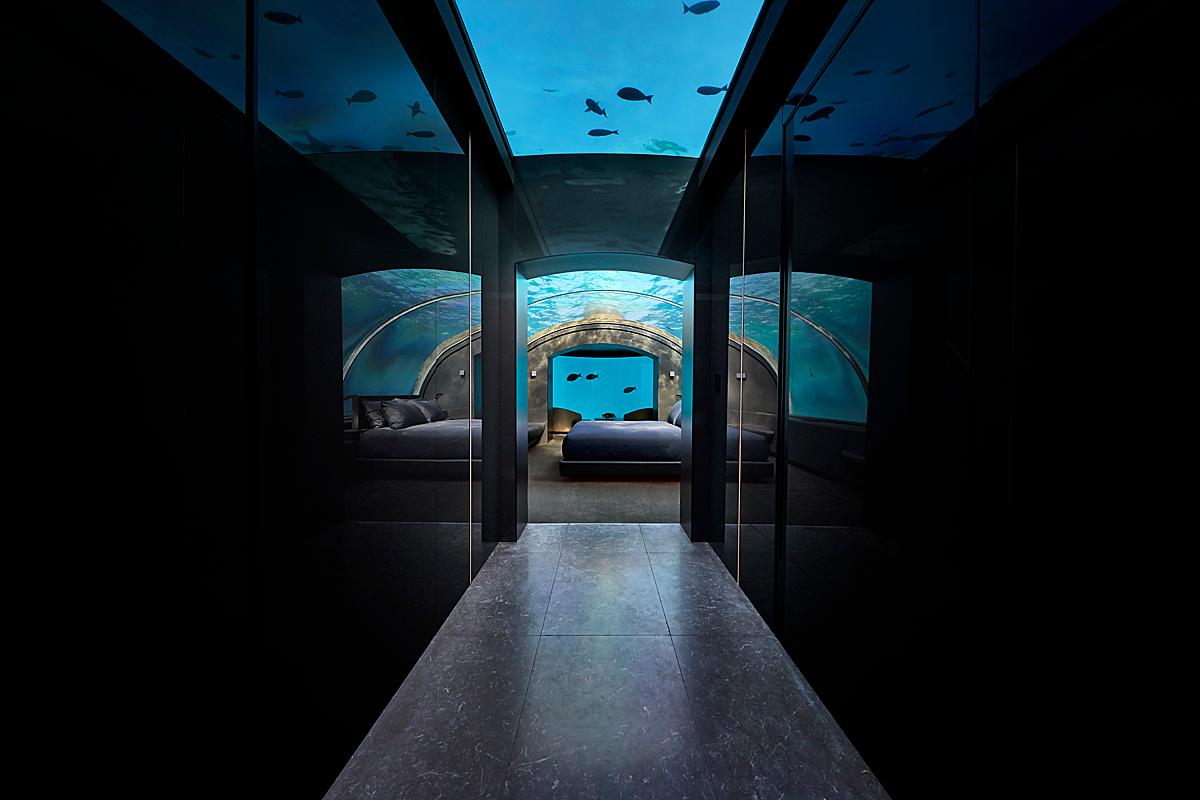 What a cool space! The fish, the colors, the patterns of light streaming through the water – it is all mesmerizing.
Justin agrees, saying "To this day, many of my favourite images I have worked on are from this project, due to so many factors. I love to be challenged and I love complexity, so being faced with an underwater glass tube was incredibly exciting. Teamed with one of the world's most beautiful destinations, architecture and engineering never before seen, materials and treatments that most people would strike due to cost and a trusting client with an open brief, what more could I have asked for."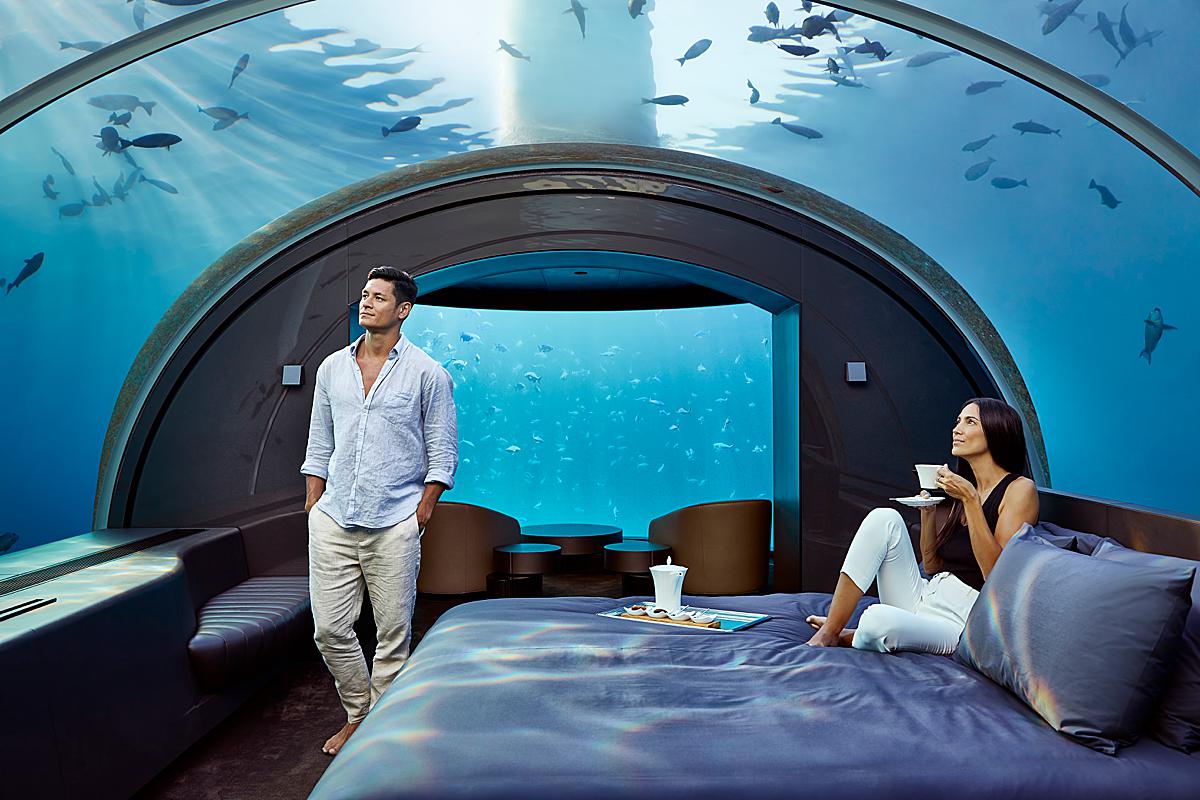 Let's get into the details of photographing a space like this, as we know it doesn't come without challenges. Justin shares "Naturally, the principal problem is lighting the underwater spaces, during daylight and nighttime periods. We used strobes from above the master bedroom to light the space, combined with internal heads that were placed to avoid reflection and flare.
The most complex shots required six to eight Profoto heads to illuminate a single frame. Considering and taming the ambient light to achieve a soft balance required a considerable amount of testing and perfecting during the recce days. It was fortunate that the structure above the water gave us access for positioning lighting, together with the escape hatch at the far end of the underwater master bedroom! My assistant spent considerable time perched on the hatch to direct light into the space."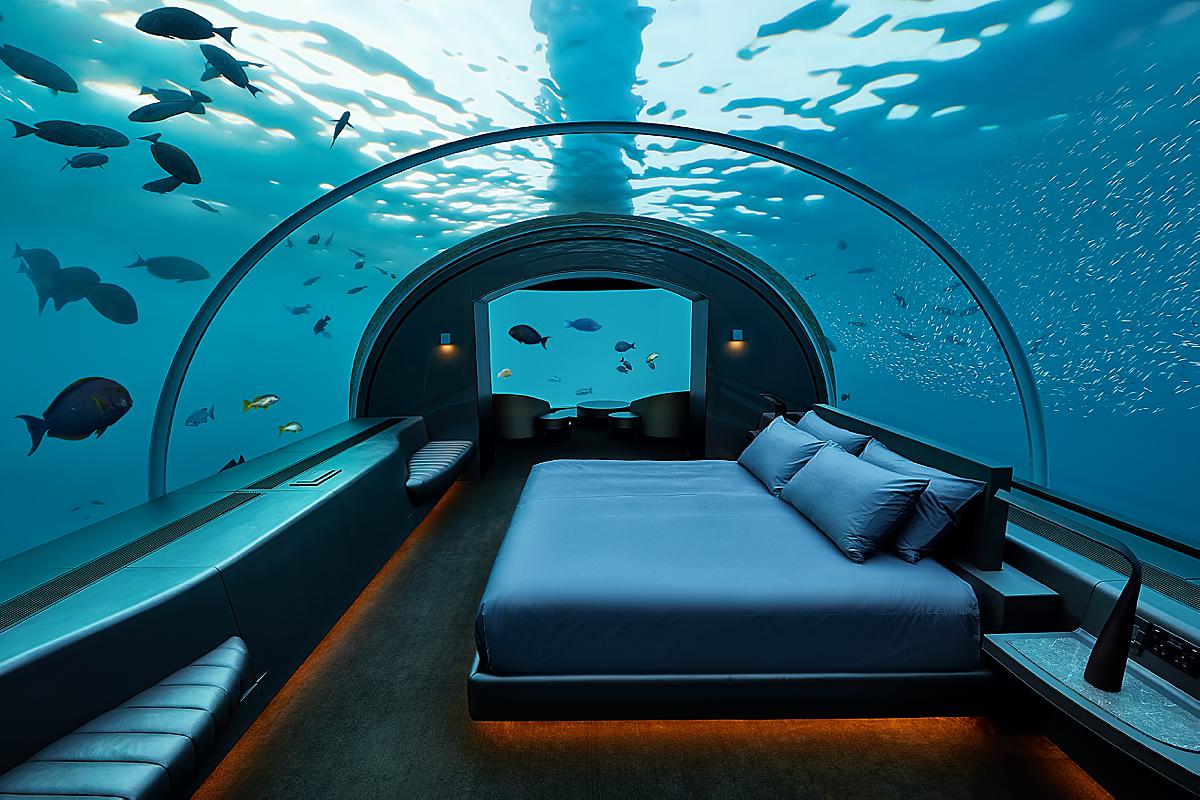 He goes on, "We shot this property pre-opening, as many of our projects are, so there was a substantial amount of unfinished build to factor and avoid, which is quite complex in tight spaces. Another of the strangest complexities was using the resort's fish feeding divers to entice eels, rays, fish and sharks to the outside environment, and keep them there whilst also cleaning the outside surface of the glass twice a day!"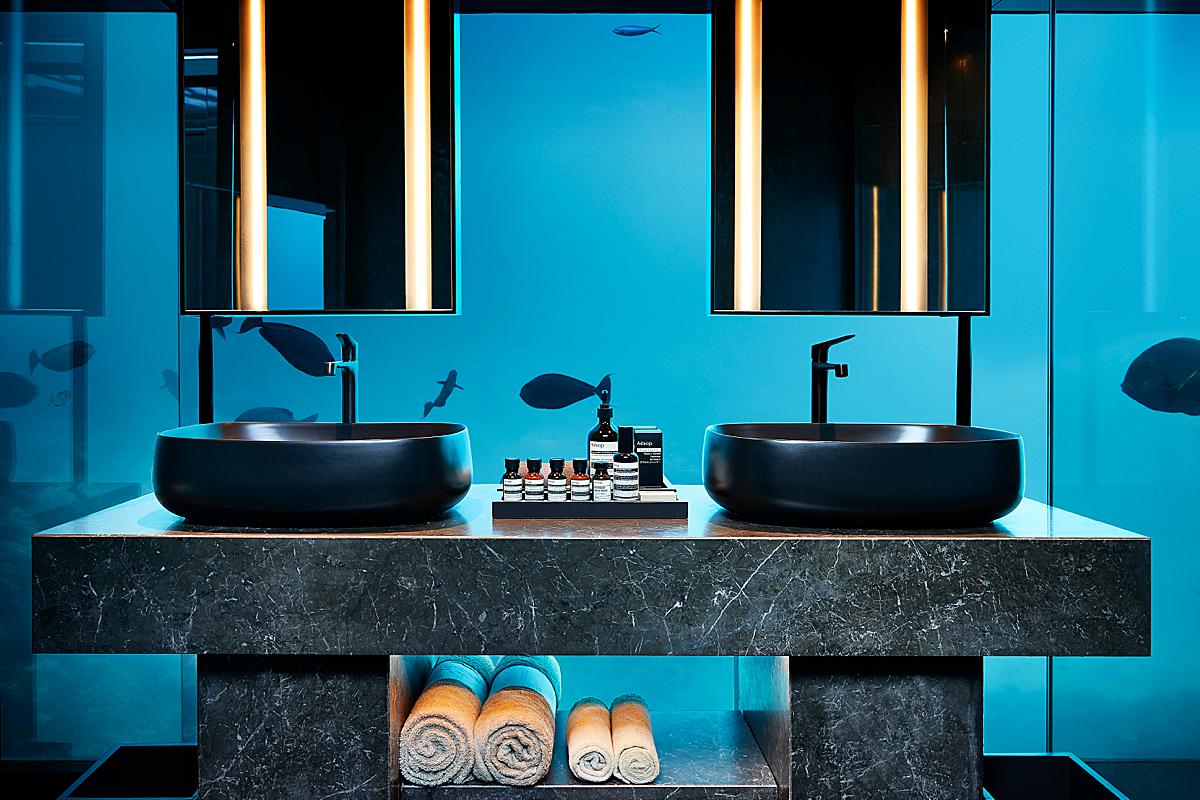 All of the effort and teamwork that went into this incredible project are absolutely worth it. Justin's images are stunning. They give off a strong sense of place and are ripe with mood and drama.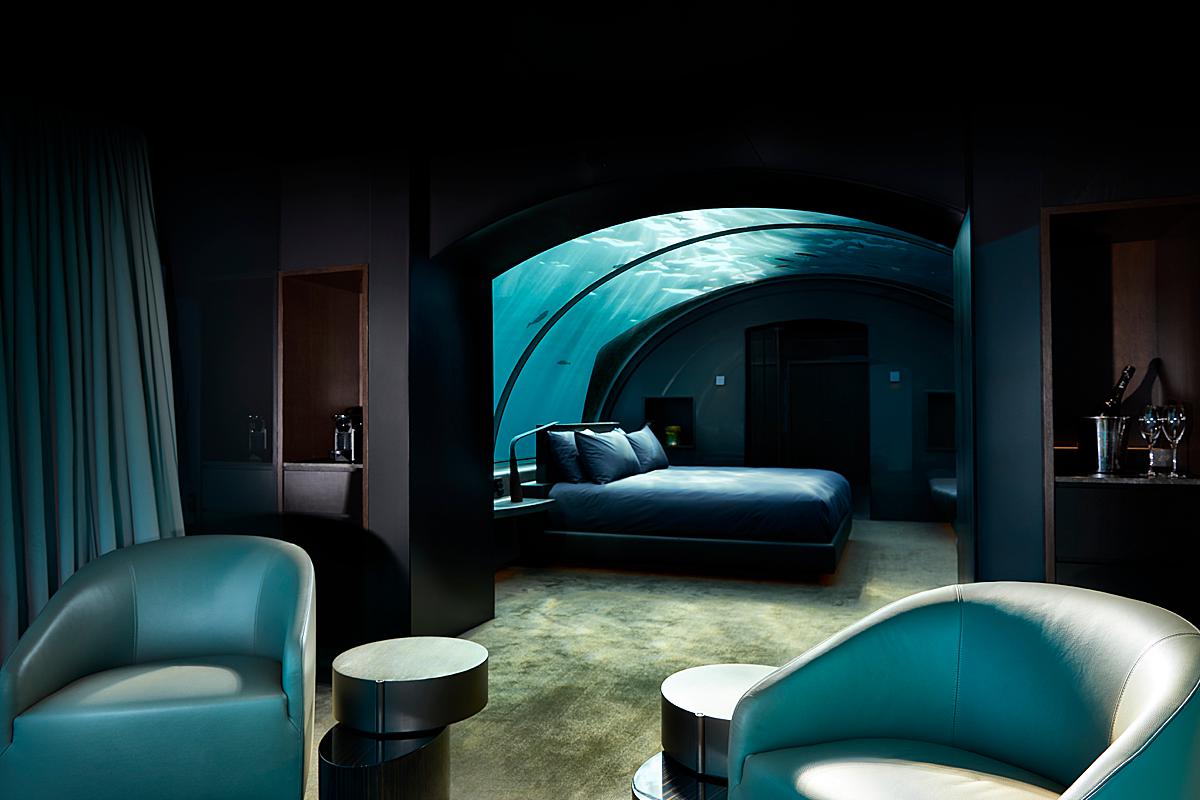 Many thanks to Justin Nicholas for sharing his photographs and his experience with us photographing such a complex and beautiful project!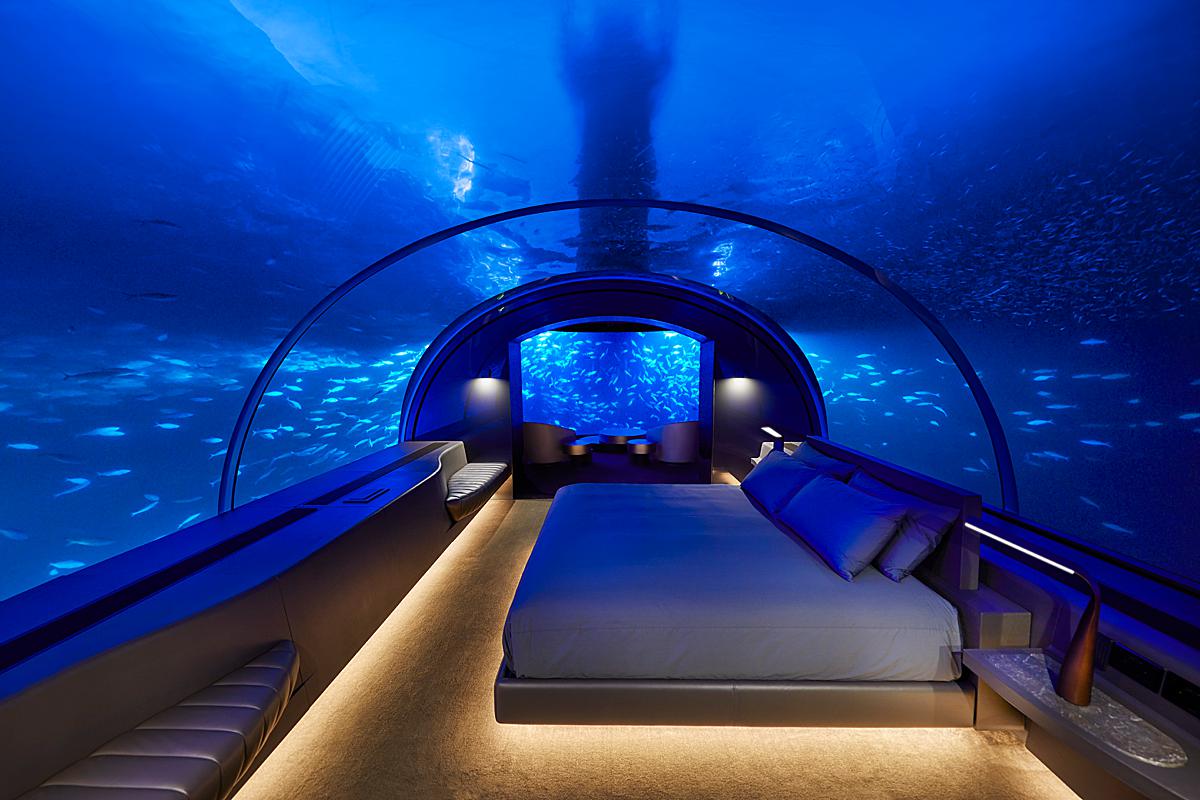 See more of Justin's work on his site justinnicholas.com.au or on Instagram @justinnicholasphotography.
If you have a project you'd like to be considered for Project of the Week, you can submit it here.