Meet Swedish Architectural Photographer Anders Bobert
Interviews
Kyrre: Hi Anders! How are you? 
Anders: Hi Kyrre. I'm just fine thank you. How are you?
Kyrre: I'm good, thank you! I've been following your work for some time now, and I'm impressed by it! What's your background and how did you get into architectural photography?
Anders: Thank you Kyrre! I studied to be an architect here in Stockholm, in the 90's. I have never actually worked as an architect, but I have worked in the architecture field since then. During my time at KTH (Royal Institute of technology) me and a few other students found the computer room at school (we designed everything by hand back then). As we were the first students to learn Autocad, 3ds Max, Lightwave and Lightscape we started teaching the other students and also started a company helping other architects with architectural visualisation. I was employed by Sweco to start their visualisation department here in Stockholm in the year 2000. The market was young and the competition was mostly watercolor artists. The market grew and more people got into the visualisation game. I switched to White Arkitekter in 2007 and worked in their visualisation group for almost 12 years. During this time architectural photography took more and more of my time. 
My interest in photography started in the mid 80's when I got hold of my grandfather's old camera. It was, of course analogue and completely manual – but I immediately found it very interesting to play around with the aperture, different shutter speeds, etc.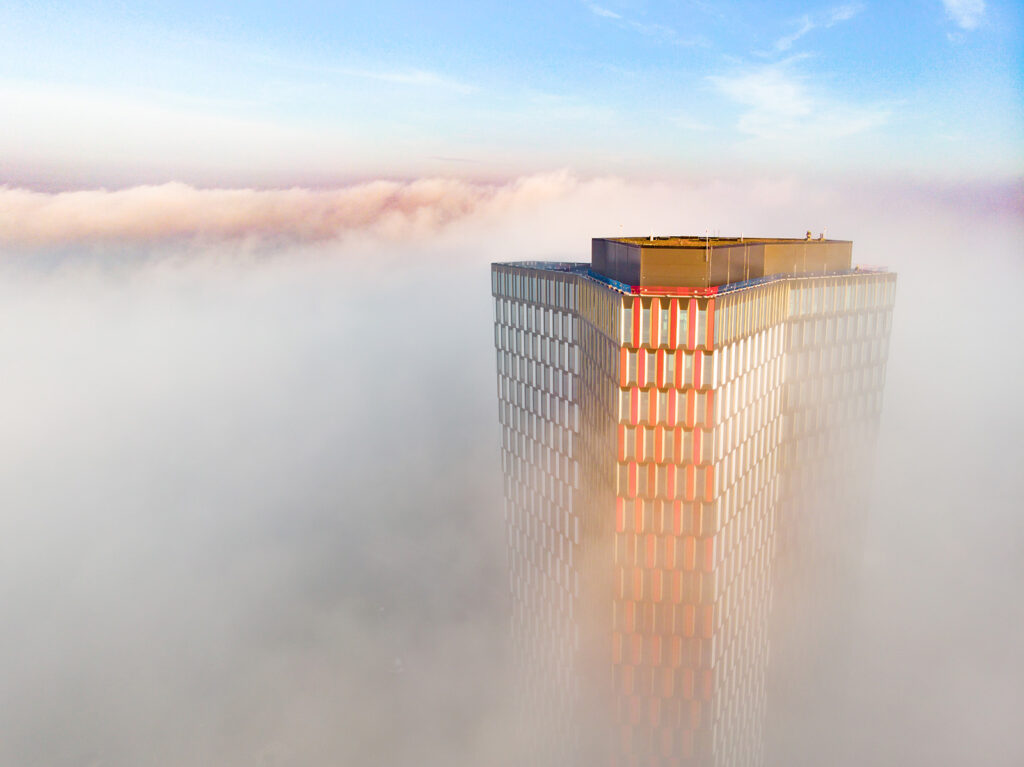 Kyrre: As a trained architect from KTH, and later a 3d-artist, how do you see being an architect and having worked with 3D images has helped you be a photographer? 
Anders: Many of my clients really appreciate me being a trained architect. I understand blueprints and I know "their language". My long experience with 3D-composition really helps me. The advantage of 3D-images is that you can move a tree or set the sun wherever you want, and add as many people as you want. But that is also the charm of photography. To plan a shoot and be at the right place at the right time is very fascinating.
Kyrre: Indeed! So how did you get your first clients? How has it evolved over the years, and how do you approach new clients now that you're an established photographer? How do you see the market in your area?
Anders: My first client saw some of my photos of their project on Instagram and wanted to buy them. I have made some other marketing efforts during the years except social media. I have made a book/portfolio that I have sent to maybe 200 architectural companies and I have sent out newsletters occasionally. And of course, as an architect, I know a lot of architects. I think the market for architectural photography has evolved a lot, the need for high-quality photos of the built environment is much bigger now than, let's say, 20 years ago. Then maybe you hired a photographer when you were making a book or knew you were going to be published. Now my clients are all publishers themselves on social media and you need fresh photos to be able to publish more projects more often. 
Kyrre: So true. As an architect working in Norway, I can relate to what you describe.
What kind of projects do you photograph? Are you specializing in one kind of photography, or do you do all kinds of architecture, or somewhere in between?
Anders: I can't say I specialize in some kind of photography. I have photographed hospitals, schools, residential buildings, villas, churches, conference halls, concert halls etc. interior and exterior, and even landscape. I even do some portrait jobs. So no specialization. But architecture is quite a niche in itself, compared to other photographic genres, isn't it?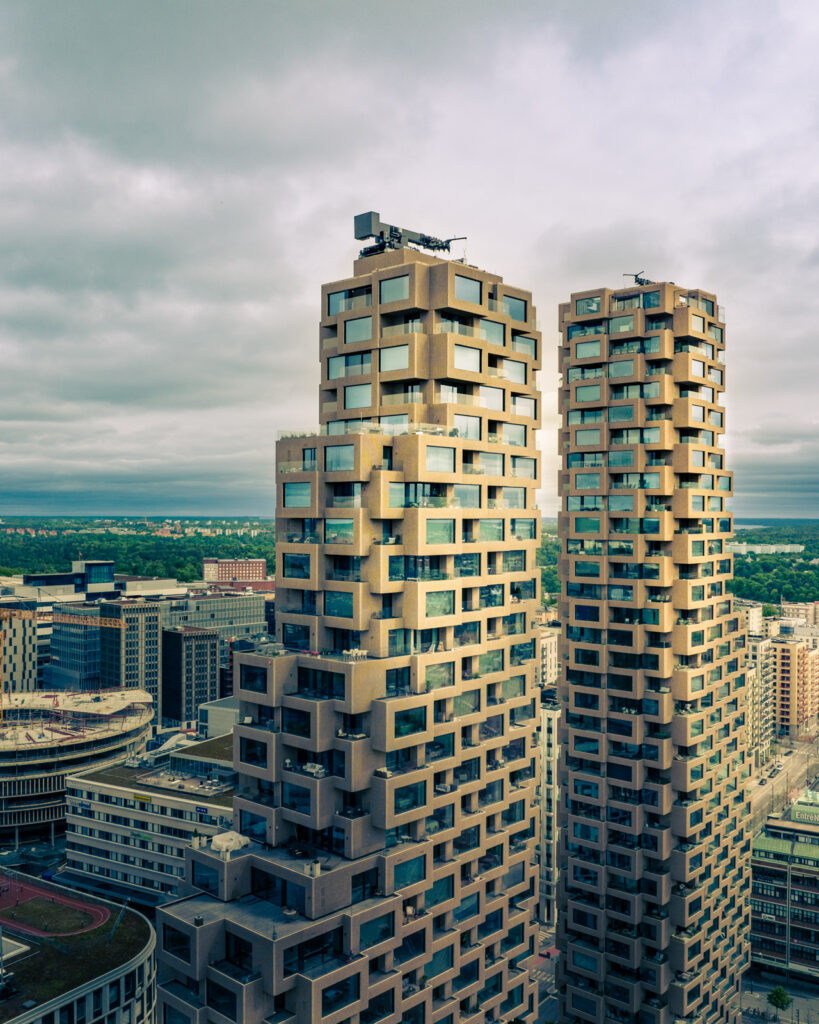 Kyrre: What is your process when arriving at a project? Could you share some insights into your methodology?
Anders: I always discuss the project with the client first. It is important to hear their story and what they were thinking when they designed the building. What are the main features and qualities? And I ask for visualisations if they have any because that composition has sometimes lived with the project for several years. I check how the sun moves around the project on Suncalc or the PhotoPills app and I look at Google Maps to scout around a bit. When I arrive, I am prepared and I know what to do. I also find my own interpretations of the building on location. When I walked around the building I find new qualities that I want to capture. As the light changes things happen and I want to take the same composition again. So I have to let it take time, the movement of the sun can be really important.
Kyrre: You have some amazing drone shots and videos of STHLM01. How do you see drone photography has influenced how you shoot and plan your shoot? And what is your process when you do a drone shoot? 
Anders: The regulation when it comes to drone shots has made it much more difficult. But when you are aware of the rules and the time it takes to get the photos/videos approved by the authorities it is ok. I think drone shots are a good compliment to the "real" photos. It helps my clients tell their story of the project and they are very much appreciated. In the case with SHTLM 01, I woke up way too early one morning and when I looked out the window I saw there was something special going on with the fog. And I was really thrilled when the drone ascended over the fog and the top of the building caught the morning sun. I love my job!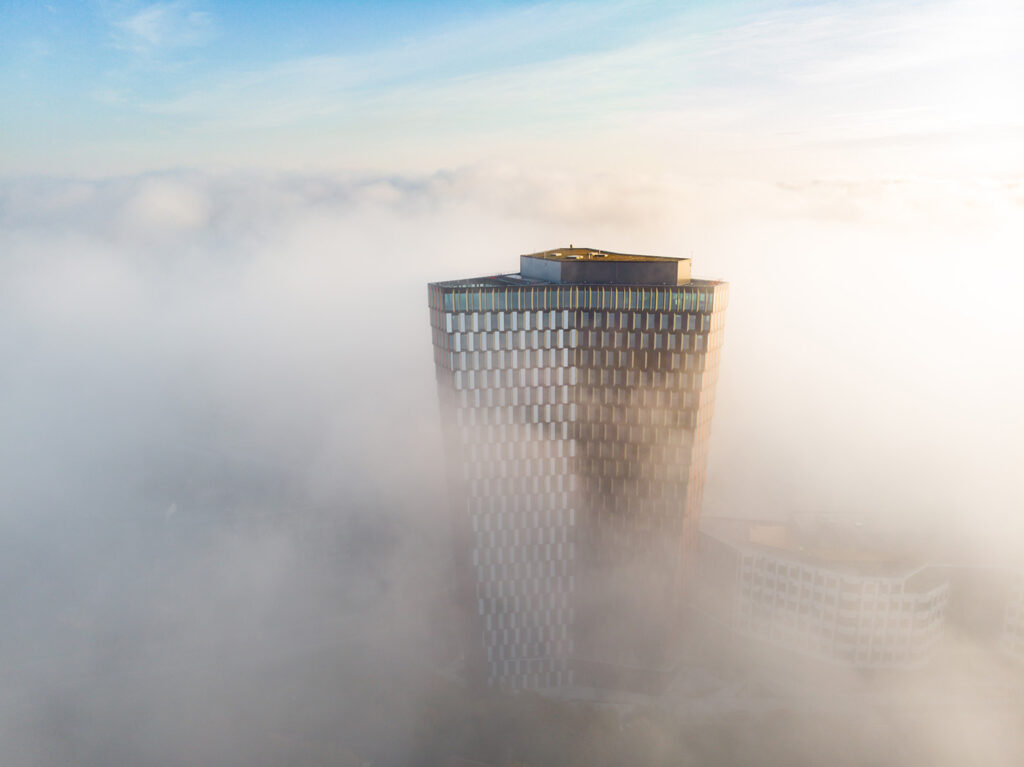 Kyrre: Your pictures have been published in almost all the major architecture sites on the net. Do you also publish personal (non-commercial) projects as well?
Anders: Since I am passionate about architecture I always bring my camera. I try to keep an eye on what is happening in my area to see if there are any new exciting projects. And I publish those on my Instagram or my Linkedin. 
Kyrre: What kind of equipment do you use, and what's your favorite lens for your work? 
Anders: I have been using Nikon since day one. My father had a Nikon F-301 back in the 80's that I took over. So I now have the Nikon D850 and a D810. I have the Nikon 24, 45 and 85mm Tilt/Shift lenses and a Laowa 15mm shift lens for those extreme occasions. And a lot of other lenses for other types of jobs. I rarely shoot architecture with anything else than the shift lenses. My go-to-lens is the 24mm. If I only bring one lens, that's the one. 
Kyrre: You write on your website that you participated in a workshop with Åke E:son Lindman in Barcelona. How has he influenced your work? Where do you get inspiration for your work? Is it solely from other photographers, or other art forms as well?
Anders: Yes, it was a very good start. It was a really interesting week where the participants took photos of buildings during the day and we had critique sessions the next day. Åke gave me the basic technique. 
It is a really tricky question where I get my inspiration. I scroll through Instagram and other social media from time to time and see many talented photographers.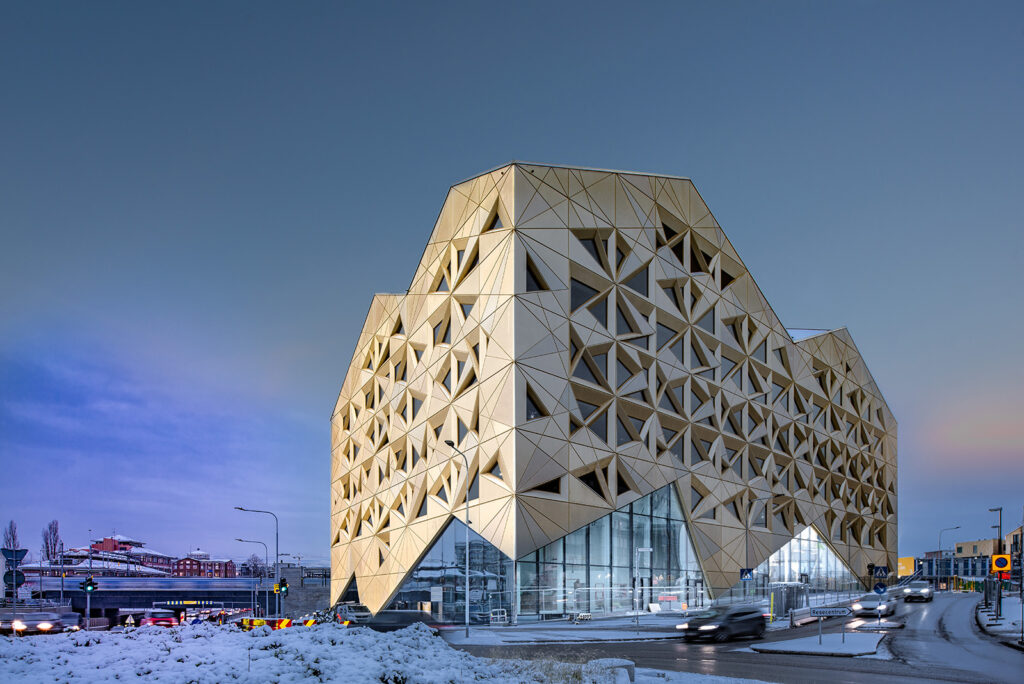 Kyrre: What is your approach to interior photography? Do you use artificial lighting? Please elaborate on your process. 
Anders: I have tried to work with flashes on interior shoots after seeing some of Mike Kelley's work. But I think my experimentation with flashes look a bit flat and unnatural. But more importantly, I think architecture is so much about the handling of light. So bringing in an artificial light source contradicts the architecture if you know what I mean.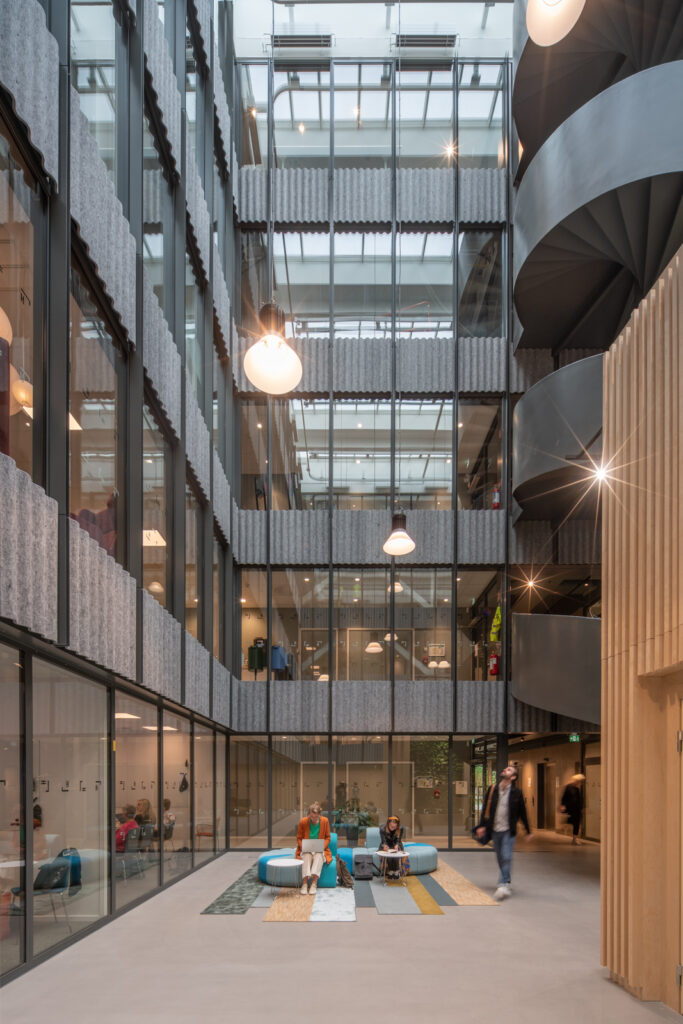 Kyrre: I understand what you mean. I have also tried working with flashes for interiors, but don't have the skills yet to make it look natural.
What is your process when you get back to the office and start your post-processing? Do you have some post-processing secrets you could share with our readers? 
Anders: I don't think I have any secrets. I work in Lightroom and Photoshop and I think I work like most people. I try to be honest most of the time and think of how I experienced the room or the building on site. I mean the eye can see so much more than the camera and I have to bring up shadows, bring down highlights etc. I always make quick edits of all photos using a Loupedeck+ in Lightroom to see which ones to work on more. I then flag the ones I like the most and work some more on those. The final photos are taken in to Photoshop to take away unwanted things, maybe replace the sky and make sure everything is straight and free from distortion etc.
Kyrre: Going back to how you work on site; What is your thought process when finding the best composition? 
Anders: I try to make things simple and unambiguous. I love symmetry and straight lines. I also try to include the surroundings because the architect often thinks of the context when they design the building. And I try to think of it as a piece in a Magazine: you need the wide shots and the details to tell the whole story.
It is very common these days that the clients want to have people in the photos. Sometimes there are very few people around the building and I have to take multiple exposures and people-blend them in Photoshop. And I often find myself under a tree to get some greenery, like the "foreground tree" in there somehow.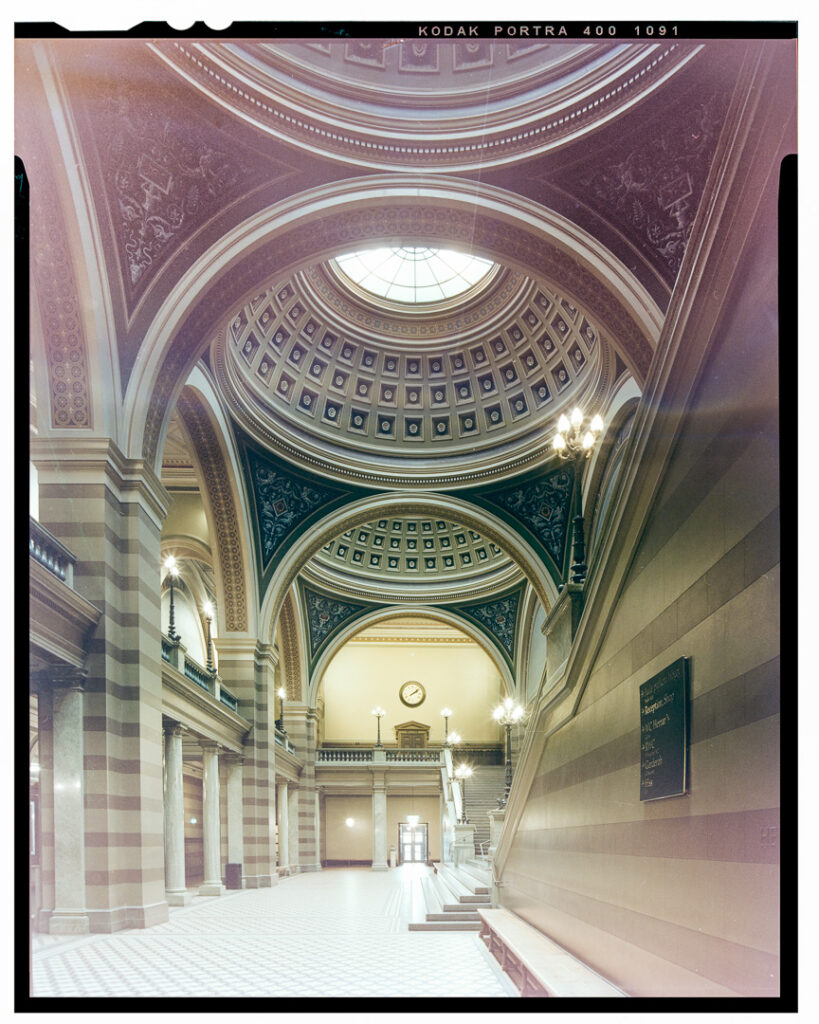 Kyrre: Do you take a lot of pictures, or do you concentrate on just a few compositions when you are on the site? 
Anders: I usually take too many photos. But I find my favorite places/compositions and come back to them in different light situations.
Kyrre: Let's talk about the business side of things. There are quite a few articles here on APA that dig into fee structures. Could you share some insight into how you set your fees, and how do you see this evolve over time?
Anders: My fee depends on how many photos they want and how they are planning to use them. For their web-page and social media there is one fee and if they want to use them for an advertisement in a magazine it's another, depending on which magazine etc. The usage is the biggest factor when deciding on the fee. Most architects use my photos the same way, so my fee is mostly the same. Developers have other needs and therefore the fee can be very different.
Very nice chatting with you Kyrre. I have followed you on Instagram too and I really like your work!
Kyrre: Thank you for taking the time to talk to us. We look forward to following your work going forward! I recommend everyone follow Anders on Instagram to see his current work.