It's my favourite and most indispensable piece of gear.
Now granted, I probably spend a lot more time editing than out shooting than most but still, if I had to judge the most worthwhile investment by the amount of time I've used any piece of gear, this would be it by far.
This mouse is so good it's kept me from switching to a tablet setup, despite numerous tries. I have a Wacom tablet and stylus that sits sadly on my desk gathering dust. I've had it for years. Occasionally I try to give it another go, usually after I hear someone raving about how much better they are for everything and I think I must be missing something, only for me to switch back to the mouse since it takes me 3 times as long to get anything done.
The main thing I find myself working so much faster on with the mouse is any kind of selection in photoshop, be it with the pen or lasso tools. The mouse feels so much more quick and more precise than the tablet to me, which I'm sure I would improve at over time, but it's not that easy making the time investment to get to a level I'm already at with the mouse.
Cloning & healing also feel very natural and precise, to the point I almost never feel it's holding me back. I have occasionally brought out the tablet when very fine brushing is needed, especially when I need to adjust the flow & opacity often, which can be a hassle with the mouse.
One thing I also appreciate is how ergonomic it is. I've rarely had any sort of ill effects from using it, even after marathon editing sessions.
Scrolling is also so good. It sounds silly but the scroll wheel has a clutch that can be switched on and off which turns the wheel into an infinite scrolling wheel when turned off which is so smooth.
The mouse comes with different programmable buttons and scroll wheels that you can use in conjunction with the included Logitech Options software to create shortcuts and hotkeys.
The MX Master mouse runs on Bluetooth, keeping your desk cord-free, and with the massive Darkfield optical sensor, you don't have to sweat using a mousepad. It's the little things!
Mac or Windows? It doesn't matter. The mouse is compatible with both, AND a full charge lasts what feels like a lifetime – up to 70 days depending on how strenuously you use it.
It's not cheap for a mouse, I bought mine back in 2016 for 130 euro-monies but the return on investment has been immense. As you can see mine is nearing retirement age, after years of use it has quite a bit of "patina" let's say…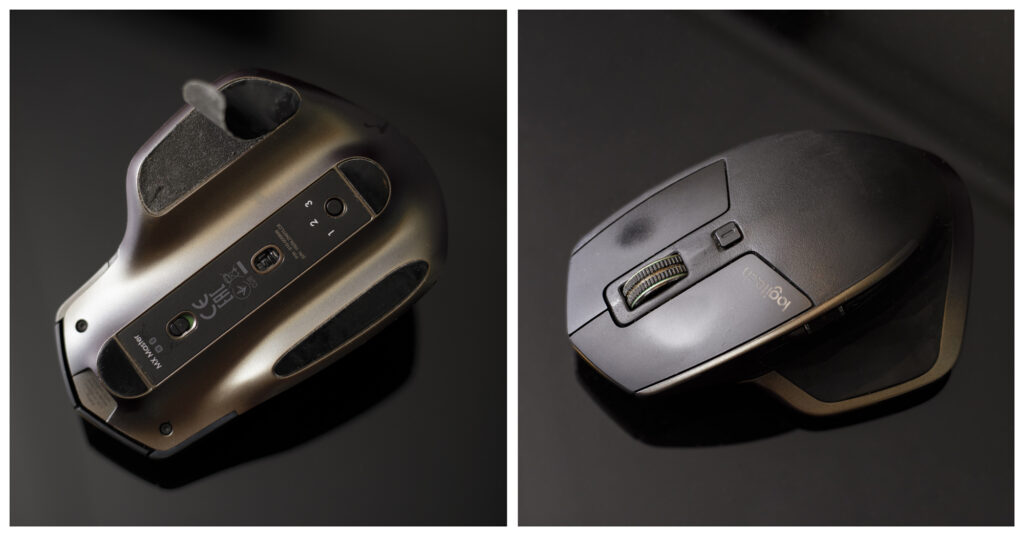 The one issue I had with it was the thumb button which kept sticking, it's a known issue which can be fixed by opening up the mouse and loosening a couple of screws. The screws are found under the pads on the bottom, which is why one of them is peeling off since I could never really get it stuck back on properly.
I've just bought the newly released version, the MX Master 3S which I'm sure will serve me well for years to come. You can grab it from B&H for $99 and it now comes in all black and a pale gray.
and If you're looking to add a small piece of gear to your kit to improve your workflow, I can't recommend the Logitech MX Master mouse enough!