The first DJI Mavic Pro was announced in September 2016 and released in late 2016. The small size and the foldable design made me absolutely love it. I used the Mavic Pro for 2 years, and I was very pleased by its capabilities. I even won an architectural photography contest here in Hungary with an image created using that drone.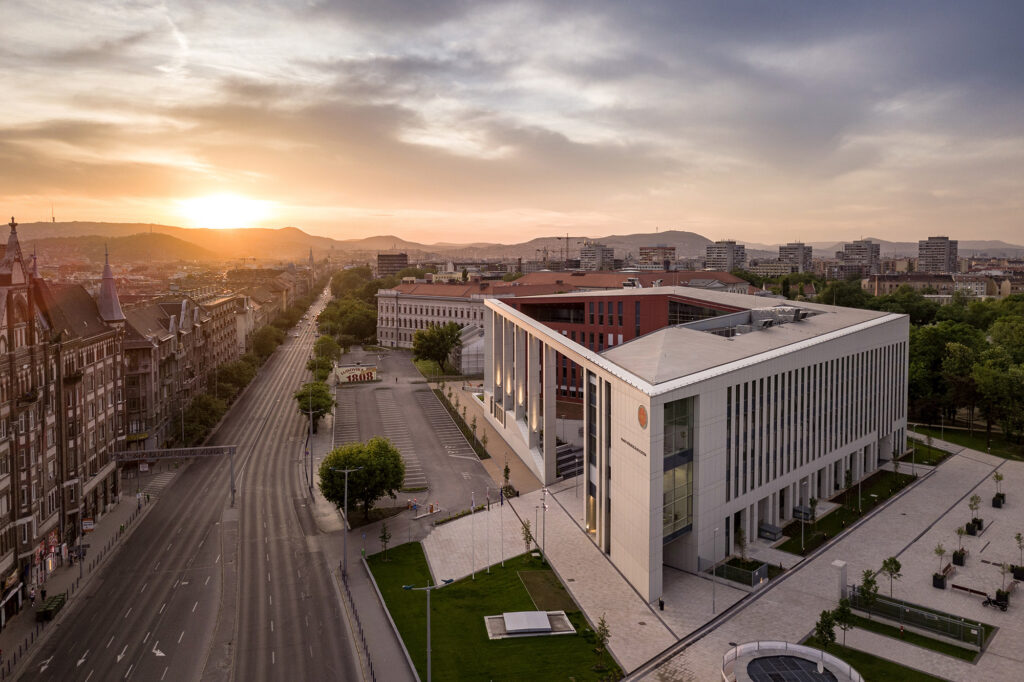 When the Mavic 2 Pro was released, it was such a large upgrade that I couldn't resist. I bought it right away! More sensors, longer flight time, and a 1" CMOS sensor made it the perfect addition to my gear bag. I flew with that for over 100 hours and created some of my favorite aerial images. I never had any complaints from my clients. If the light is good you can create amazing images and video footage with this thing, as many of you are doing.
Mavic 3 specs and first impressions
There are three main upgrades that made me curious about DJI's newest drone for photography – the Mavic 3:
1. larger sensor
2. secondary, telephoto lens
3. larger battery with more flight time
1. A larger sensor should provide better ISO capabilities. With the Mavic 2 Pro for photos, I would stay at ISO100 almost all the time. I used ISO400 only in late blue hour.
With the Mavic 3, I am able to bump up to ISO800 with very usable results.
There is one downside I saw during the first twilight photoshoot with my Mavic 3: the larger sensor produces blurry images sooner with longer exposures. The Mavic 2 Pro had no issues handling 2-second exposures, while the Mavic 3 has to stay around 1-second to get sharp images. Even so, I felt comfortable using the Mavic 3 about 10-15 minutes later in the evening than I did with the Mavic 2 Pro.
So you can judge the Mavic 3's sensor for yourself, here are some ISO Performance examples 100 to 6400, unedited – download RAW images:
2. I found the telephoto lens during the first couple of flights was unusable – it simply was not sharp enough. After DJI's software update early this year (FIRMWARE v01.00.0500), the Mavic 3's telephoto lens became drastically sharper. This lens was one of the main reasons why I got excited about the new drone. The perspective of what a 162mm lens could give in the air is something we could have achieved only with much more expensive setups before. I absolutely love the images when I look at them on a small screen, and in my opinion if you only add 2-3 images to your series of a building. Sadly if you look at them individually on a big screen they look like your phone images. Why? The Mavic 3 only shoots images made with the telephoto lens in JPEG. This is something that I hope DJI will change in the future.
3. The battery upgrade is huge! I think I would buy this drone to replace my Mavic 2 for the battery alone. The flight time has increased, but it gives you a lot more freedom in the air than you might think at first. Suppose you need 3 minutes to get to the right position to take the first pictures, and you need to bring the drone back in the end. The Mavic 2 can spend about 20 minutes in the air, but I usually fly around with a battery around 18 minutes, so calculate with that, from which, if we subtract the 6 minutes of positioning and return time, there are 12 minutes left for the actual work. With the Mavic 3, I've spent between 27 and 30 minutes in the air with a battery so far (it could hold more, but I've always run the Mavic 2's batteries empty, which swell after 70-80 cycles, so I'll try to avoid this with the new drone). This means that although we only have 1.5 times as much flight time, we get almost 2x more time for creative work, which is very noticeable. When it comes to hobby use, I especially like to take topdown panoramic pictures (Mavic 2 samples below), in which case it often takes 5 minutes for me to get into a position and at least that much before I bring the drone home. This reduces the actual shooting time to 8-10 minutes. With this 30-minute flight time, we get 20 minutes of creative time, which I haven't been able to try yet, but I'm looking forward to it.
Besides the battery upgrade, we have more sensors, and the side sensors stay active in normal flight mode, not only in tripod mode as before in the Mavic 2. The drone feels more stable in the air, handles wind also better, and it ascends way faster.
Mavic 3 photo specs compared to Mavic 2 Pro

So we have a 24mm equivalent lens with a 4:3 aspect ratio (Mavic 3) compared to a 28mm lens and 3:2 aspect ratio (Mavic 2 pro), and there is a telephoto lens on the Mavic 3 with these parameters:

Sample images of House of Music (Budapest, Hungary) designed by Sou Fujimoto Architects.
Mavic 3 video
My team and I have been creating a lot of short films lately, so the video capabilities of the Mavic 3 are just as important to me as the photographic performance. I think the Mavic 2 Pro made amazing quality videos, aside from the late blue hour footage in most cases. With Mavic 3, this is no longer a problem. You can use it as long as it is really necessary, and if it gets completely dark we don't create video anyway.
One of the most important upgrades in the video specs is the framerates. If I flew slowly before, I was still way too fast sometimes to have a smooth end result. Now I can shoot in 50fps, and in post we can slow it down by 50% and we still have the 25fps we need. That is not a gamechanger, but a useful tool to have. You can also shoot slow-motion stuff, but I think that is not so important for us.
The only negative I found was that the Mavic 3 only has digital zoom. The Mavic 2 Pro had an option called "HQ", which allowed us to get 4k video just by reading the center of the sensor 1:1, which resulted in a 38-40mm equivalent focal length, and we used it a lot of times. With this solution, we got even nicer and better image quality than the wide-angle image. With the Mavic 3, if we need a narrower viewing angle we only have digital zoom until we switch cameras. The telephoto lens is equivalent to 7x zoom and we can play with the parallel effect amazingly. However, the video of this camera can only be used in 4k 30fps and a fully automatic mode, which further limits its usability, but the viewing angle is still so unique that even this sacrifice is worth it when used in the right light and for the right "task".
Here is a sample video from my first couple of flights with the Mavic 3:
Conclusion
With this test, I don't want to persuade anyone to run out and buy a new Mavic 3. My goal was just to give a little bit of information to help you decide if you need it or not. There are many unique benefits we get with this new drone, but there are still flaws. I hope that the Mavic 3's issues can be resolved with software updates down the road, as they have done so far.
Since my Mavic 2 Pro had been in the air for over 120 hours, it was time for a replacement. For me, the DJI Mavic 3 was a no-brainer instant purchase. Since I have added it to my kit, the Mavic 2 Pro has retired to my cabinet. With all that said, you have to know your own personal preferences. I think if you have a Mavic 2 Pro or the new DJI Air 2S and you use it to get general overall views, you may not need to upgrade. But for me, the Mavic 3 was worth the price!
If you have a Mavic 3, let me know what you think about it!