Where, Who, Wow: Lessons Learned in 7 Years of Marketing and Growing My Client Base
Business
Every market is different. Architectural photographers in the USA will operate differently than those in Asia, and again differently than those based in Europe. That being said, there will also be many similarities. That is why it might be useful for you if I share my experiences in recruiting clients, from my first year in business up until now (my 7th year). I share this experience in all modesty, as my method is not the end-all-be-all for photographers, and many may attest to finding success differently. Nevertheless, when I started out, I did so after a career as an economist in a completely different environment. I had a large network, but I really didn't know anyone who ever commissioned a shoot. Year 1 was a quest to find the right target audience and the tools I needed to reach them. Now I have my marketing toolkit in order, a stable base of clients, and happily, new ones are added all the time. Let's dive in!
Where are your clients?
Suppose you have built a portfolio of images that you can use to market your talents. You did that, for example, by following the great tips from my colleague Justin Szeremeta on this website. You have been busy with it, you have made contact with people who you think can be a potential client later on, and you have built a website where everything looks great and for which you get compliments from all your friends and family. Why would clients ever go to anyone but you!?
After all these efforts, you can work on your fitness, binge Netflix series — well — you have all the time in the world while you are waiting for the phone calls from new clients. And waiting. And waiting.
The best lessons I learned at this stage came from Joel Grimes, a commercial photographer who has nothing to do with architectural photography. On his website, you can buy a full series on his way of building a client base. If you want to watch his top ten tips first, you can go to YouTube.
My favorite lesson from Joel: "Persistence will win over more clients than a great portfolio". Clients do not come running to you, you will have to bring your work to their attention. Not just once, but again and again, and take rejections into account. The hard law in marketing is that you only really have a chance to win an assignment if someone has heard from you eight times. That requires perseverance!
You are going to make lists of companies where you think your services would add value (see How to increase the value of your work). You are going to do cold calling (a lot). You compose beautiful emails with stunning photos and a to-the-point explanation to send. You call the people who were interested in your email again after a week. You start a mailing list for an email newsletter. You build a CRM system. A what? Right — a Customer Relations Management System. That's necessary. Gradually you have gotten a lot of contacts from all that emailing and calling. Keep a record of this in a system, so that you know exactly what you have agreed with whom and when the next action must take place. This can be done in a good spreadsheet, but it is much easier to do it in an online system. I myself have been using Pipedrive for years, as it is not too expensive and very effective and efficient. This is what my main page in Pipedrive looks like:

So during the early years of my business, I spent a lot of time building a client base. It took effort and of course, was not always fun. The number of times you hear "no" is really much greater than the number of "yes". In the meantime you keep searching for new prospects, calling, and emailing. When ready, start again. That is the bad news. The good news is the architectural photographer's use of time changes over the years. I put a very rough comparison of my time spend in year 1 and year 7 in the graph below. Here you see that in year 1 (actually, the first few years) a lot of time is spent on direct marketing. Later that will become much less if the position of your website on Google is better (see also My No 1 business secret: My Website), you make smart use of the online marketing tools (eg Google Ads) and of course because your customer base grows.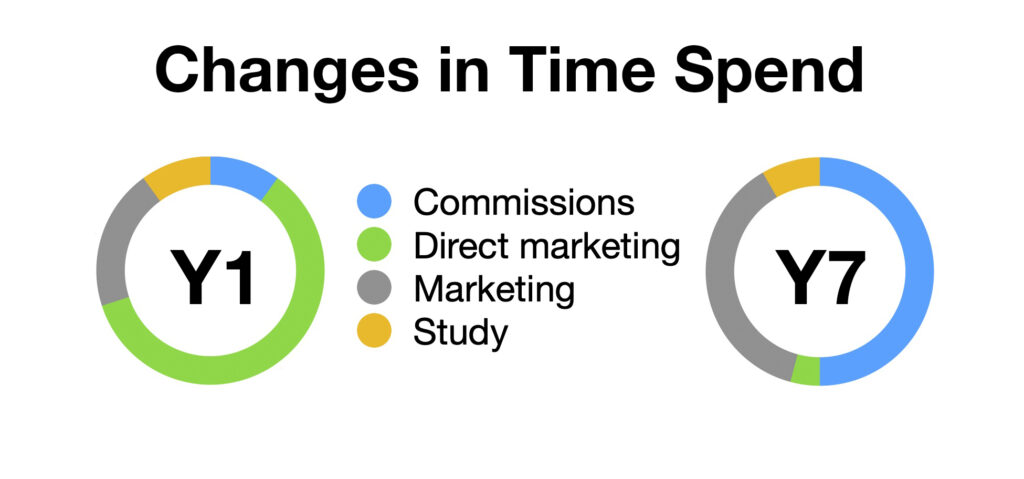 Now that we have taken the first steps towards a customer base that we can start living on (because that is the intention of a professional life as an architecture photographer), we go to the next question:
Who are my clients?
In my own practice, I see a clear development answering that question. When you market yourself as an architectural photographer, you initially think of architects as clients. Approaching them takes all your effort in the first years. So very naturally, in the first few years, your customer base consists of almost 100% architects. Over the years that however started to change for me:
Business partners of the architects see the photos you have taken and show an interest in them. Then you automatically enter a new market: the provision of licenses to have your photos used for a specific purpose by parties who were not clients. This immediately generates new income, but also new opportunities for the future: cost-sharing. If there could be multiple clients interested in a shoot you can create a win-win situation where the photographer charges a licensing fee for each additional client, and whereby the clients receive all photos (including the rights you normally provide) but can share the costs. Everybody is happy: you receive more money, and your clients pay less.
Google's potential is increasingly being exploited. Here I refer to my previous article about my website (My No 1 business secret). The higher your site ranks in the search engines, the more often you will be approached by completely unexpected could-be clients for information and quotes. Sometimes that could be owners of holiday resorts who are attracted to the style that you have developed as an architecture photographer. Or it could be companies that provide large buildings with a good climate system and who want to show in their marketing channels in which beautiful buildings they have worked. Or perhaps real estate companies that want to run a campaign and want more beautiful photos than they normally use. And so on.
I still am an architectural photographer; accurate, focused on light, and investing a lot of time in post-production — but I also do the same for many of my clients who are not architects. I am no longer surprised if less than half of my turnover comes from architects (my original target group) in a specific year. All of this leads to a broader and more stable customer base, a customer base that fits you as an architecture photographer. A customer base with which you can earn a living every year. WOW!