Israeli-Canadian architect, Moshe Safdie, first visited China in 1973.  Little did he know then, that nearly five decades later, he would realize one of the largest, most audacious architectural projects not only in China but on the entire planet. 
Raffles City Chongqing is the latest city-defining mega-project designed by Safdie, one that has been beautifully captured by Chinese-American filmmaker Jia Li.  Organized, produced, and hosted by Julia Zhu, this is the fourth installment of her 'A Meeting With Architects' series.  'Moshe Safdie:  Another Dimension of Architecture' is a short, documentary-style film that tells the story of Safdie's vision for the project, its place and impact on the city it now anchors and in many ways symbolizes, as well as gives the viewers a glimpse into everyday life in Chongqing – a colossal city of over 30 million residents and a place that those not familiar with China may know very little about.
The film, which combines interviews taking place both on site during different stages of construction, as well as in Safdie's Boston studio, with documentary-style footage taken throughout Chongqing, highlights the rhythms of everyday life in a city that is rugged, with rolling topography and a perpetually gray and sky.
I like that the focus of the video doesn't linger any longer than necessary on the project's most striking feature, that of the Crystal, a 300 meter long 'horizontal skyscraper' that connects the tops of four of the project's eight towers – clearly a nod to Safdie's previous project in Singapore – Marina Bay Sands project.  Instead, Li, Zhu, and their team choose to contextualize the building by immersing the viewer into the southwestern Chinese megacity.  Local television news snippets, fishermen along the river, subways that run through tunnels burrowed within existing buildings, workers carrying heavy loads, trekking up and down the city's quintessentially mountainous terrain – all layer together to help put this massive project into context.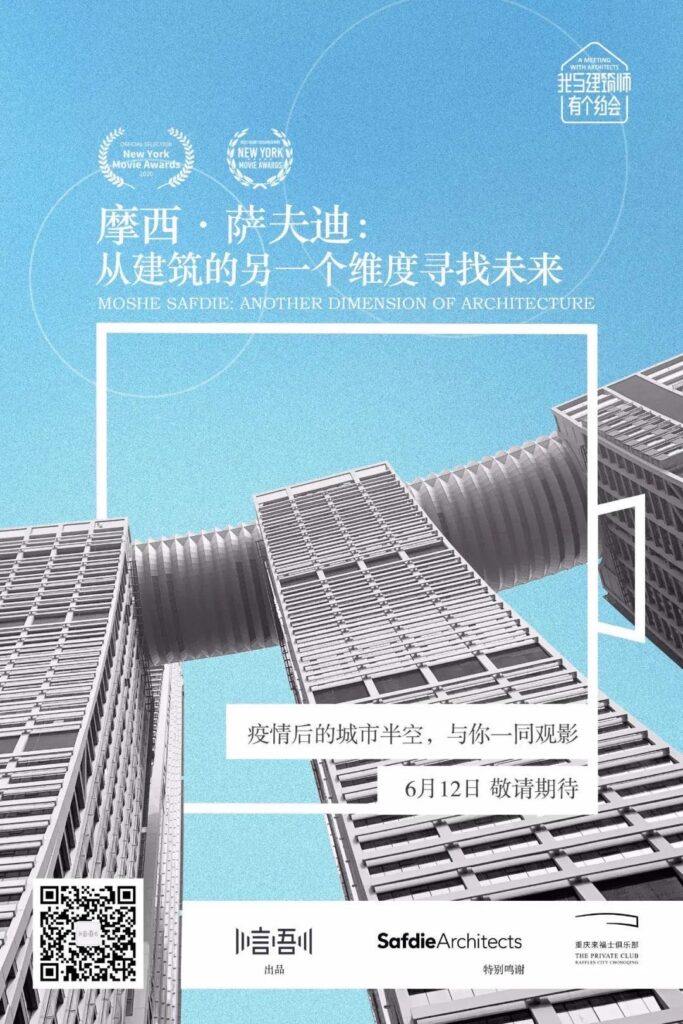 The film, which recently won Best Short Documentary at the New York Movie Awards, is a wonderful insight into how Safdie approaches working internationally as well as how he goes about infusing a sense of humanity and intimacy into a project of one million square meters (yes, meters!).
Additional volumes of the 'A Meeting With Architects' series include ones with Ma Yansong of MAD Architects, Yung Ho Chang, as well as with Pritzker Prize winners Alvaro Siza, and most recently Christian de Portzamparc. The global pandemic has delayed some of Zhu and her production team's upcoming films in this series, but more interviews with big-time architects are on the horizon. We'll be looking forward to their future release!