Sergio Lopez Walks Us Through Photographing a Student Residence in Pamplona, From Client Outreach to Image Licensing
Project of the Week
Today we're taking a little trip to Pamplona, Spain with Barcelona-based architectural photographer Sergio Lopez to check out his photographs of Residencia BCOME Pamplona. Sergio walks us through the making of this project, from relationship-building with his clients, to licensing the photos and protecting his work, so be sure to read through his insightful story here!
Sergio introduces us to this series by sharing a bit about how he came to know his clients and take on the shoot. He says "Photographing this student housing in Pamplona (Spain) was one of the most fun projects of my career. It was designed by MORPH Architecture, although my main clients were the furniture manufacturing company, ROJAS Contract, and the developer, Urbania. It all started with the furniture company, which initially contacted me to shoot their office and their factory in Barcelona (Spain). Most of my new clients find me on Google Search through my website and this one was no different.

I guess they liked something about those first photos, since they later called me to photograph their 'real projects.' This was the third shoot we did together. As it was a large building, I proposed to do cost sharing among other participants, so I was hired by the two mentioned above. Once the photos were taken, I was able to sell the license to other contractors such as the architects or builders."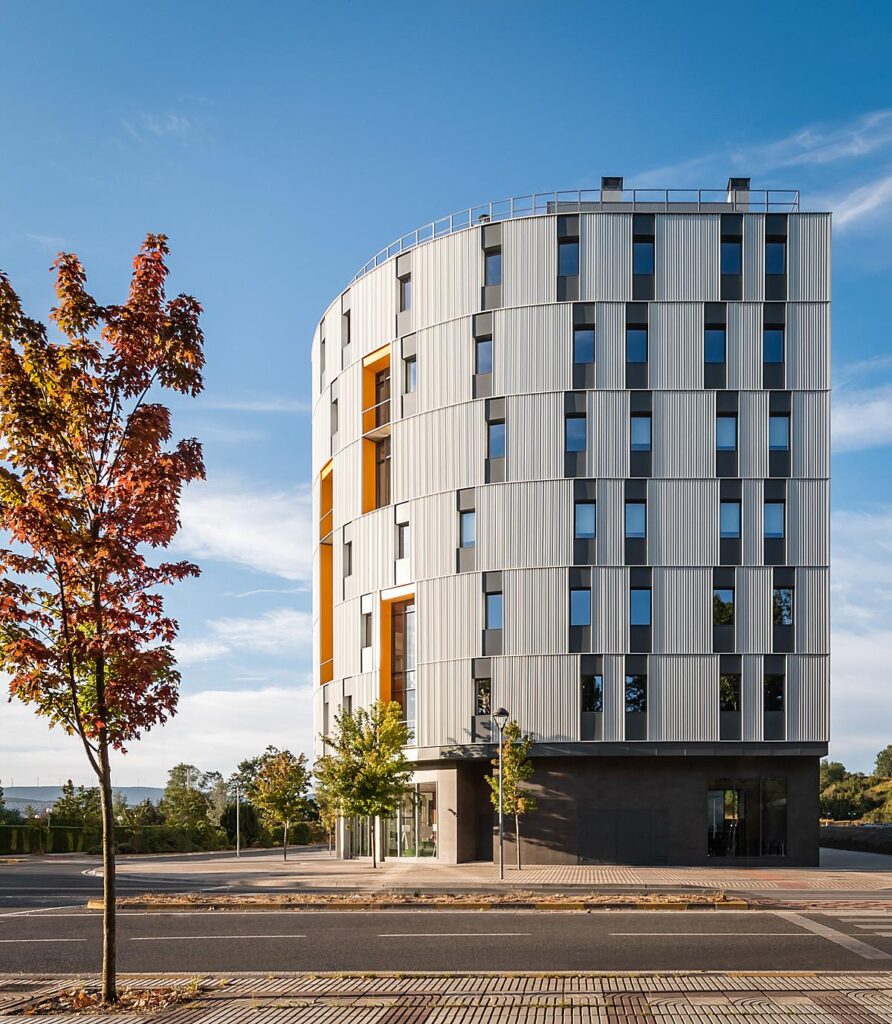 He continues "It was a two-day shoot, just before opening the place to students. Almost everything was ready, but some areas had to be finished and cleaned while I was photographing others. I guess we're all used to dealing with that situation. Actually, it was the best time to create the photos because right the next day the building would be a chaos of people.
It was a pleasure working with these clients. Upon arrival, we took a tour of the building and I was able to tell them which areas I would photograph based on the time and the building orientation. This is how they prioritized which ones to finish and clean on time. All the people were very involved. Thus, in many photos we were able to count on the sunlight, which bathes the building from sunrise to sunset. Although I'm very happy with the final result, in some areas it wasn't possible to capture them under direct sunlight because they couldn't get them ready and clean on time. Surely one more day would have been ideal but, as I said, it would already be crowded and it's not what they were looking for.

For the exteriors, I had more freedom and most of the photos were taken around the golden hour. Luckily, the building is in a clear area, so it could be easily photographed from almost any angle although not every of them had the same interest. Of course, some construction elements had to be removed in post."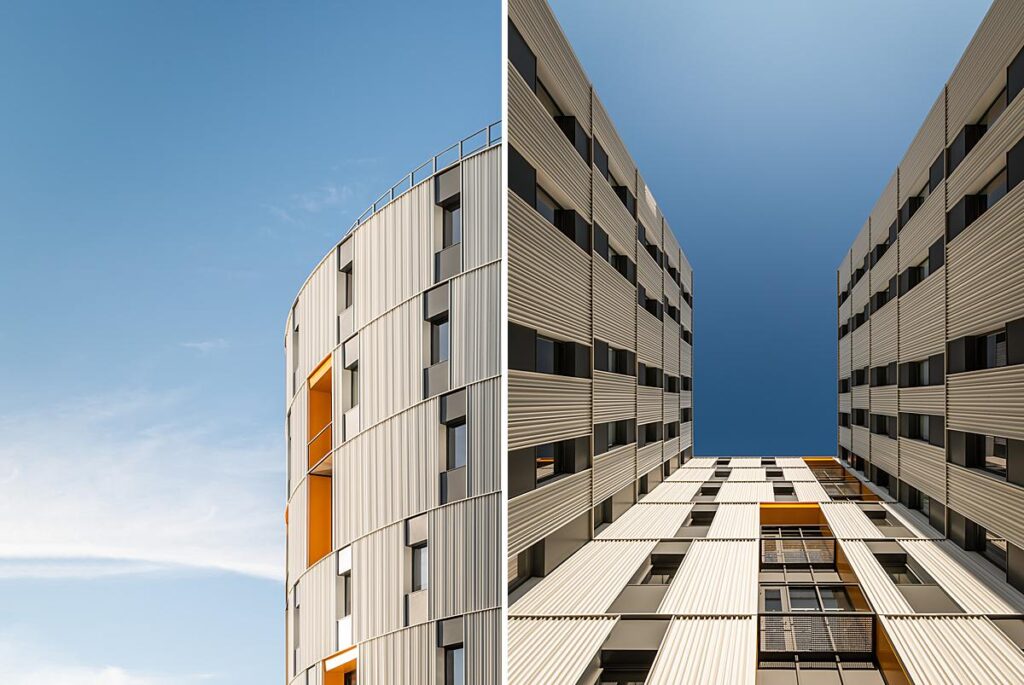 I asked Sergio what he thought made this project particularly special, and he told me "The exterior is inspired by a classic optical effect in which the horizontal parallel lines look curved, which I personally find very original, while maintaining a sober style integrated into the architecture of the area. The minimalist and industrial style of the interior, with straight lines and exposed concrete, is broken by the bright colors of the furniture and the paint, applied in certain areas in a creative way. I find that playful touch perfect for a young students housing.

I think that what makes it stand out in my portfolio is the fact of having been able to photograph a building with such aesthetic and functional coherence under that freedom and the best lighting conditions that we could achieve."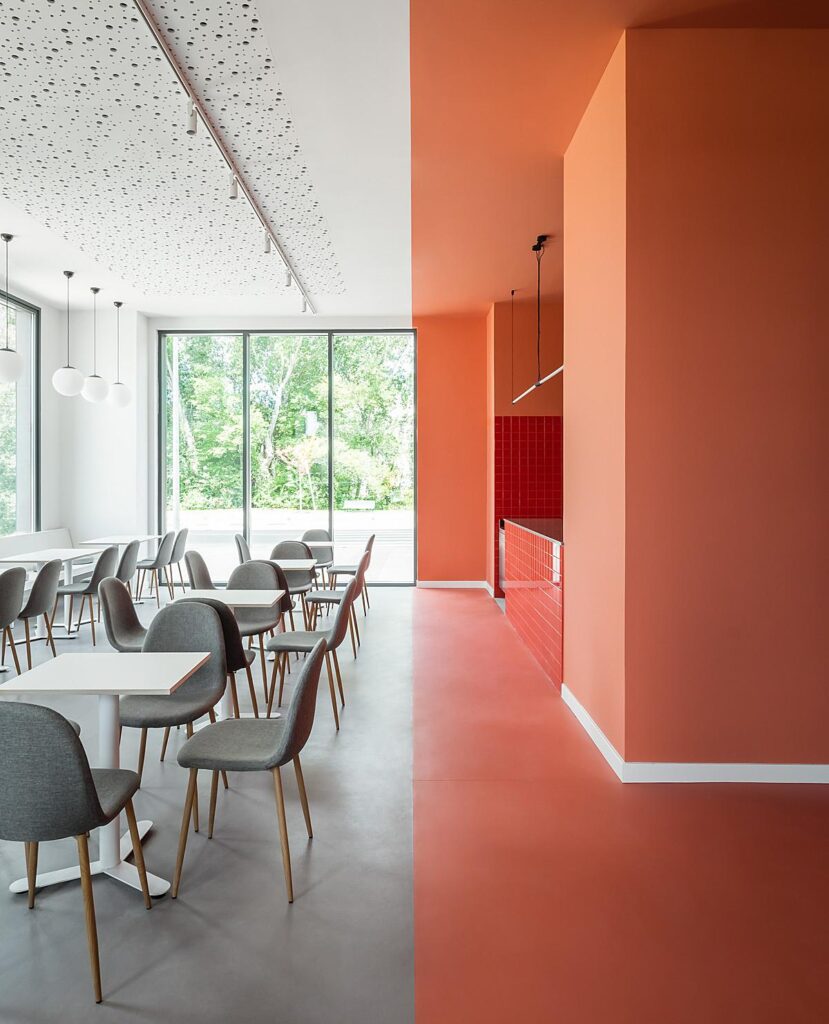 I too was drawn in by the bright colors used throughout the project. Sergio did a wonderful job of portraying these design elements with well-composed, and well-lit shots. Above, he positions himself so that the red-orange paint line splits the middle of the frame, really showcasing the design and its intended effect.
Below, an almost completely monochromatic room feels playful and modern. Sergio notes that this shot was one of his favorites from the series, and I wholeheartedly agree that it's mine!
He breaks down how he made the photo, saying "I think it's a very special space. I understand that many colleagues may not like it because of the artificiality of the light. That clean, saturated and sharp aesthetic, almost unreal, was exactly what I was looking for. There's a lot of post-production on that photo. The light was quite ugly, coming from behind the camera. Also, the wall and mirrors were full of distractions… I was very aware of what I was doing and my clients liked it. I even removed some lamps from the ceiling without consulting, but I was not asked to put them back, since that Photoshop work resulted in a minimalist and colorful image, whose simplicity is more striking than a more visually complex image."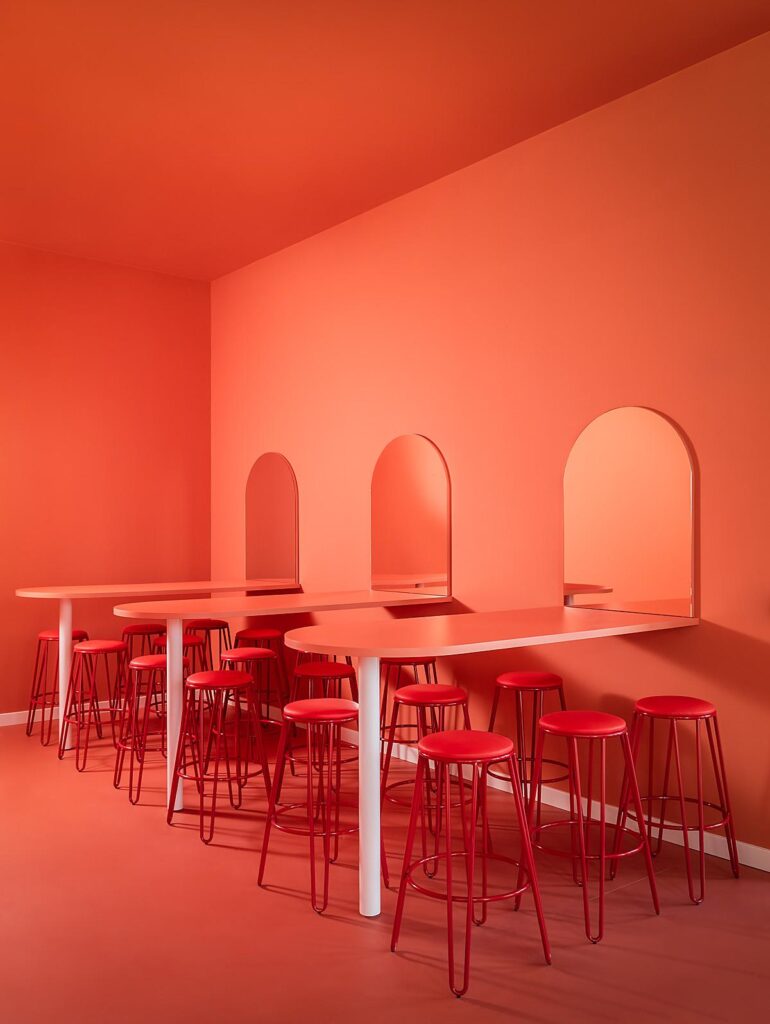 Here we see the rooms bathed in sunlight like Sergio mentioned earlier. The long shadows and directional sweeping light creates a sense of playfulness and depth that make these scenes stand out.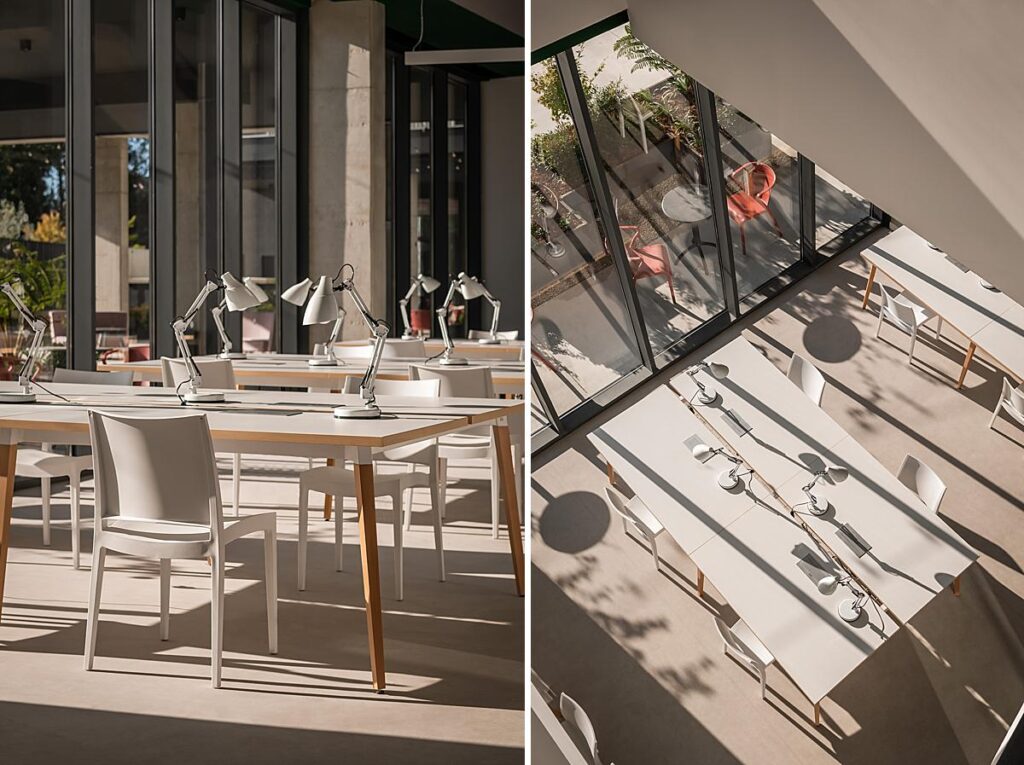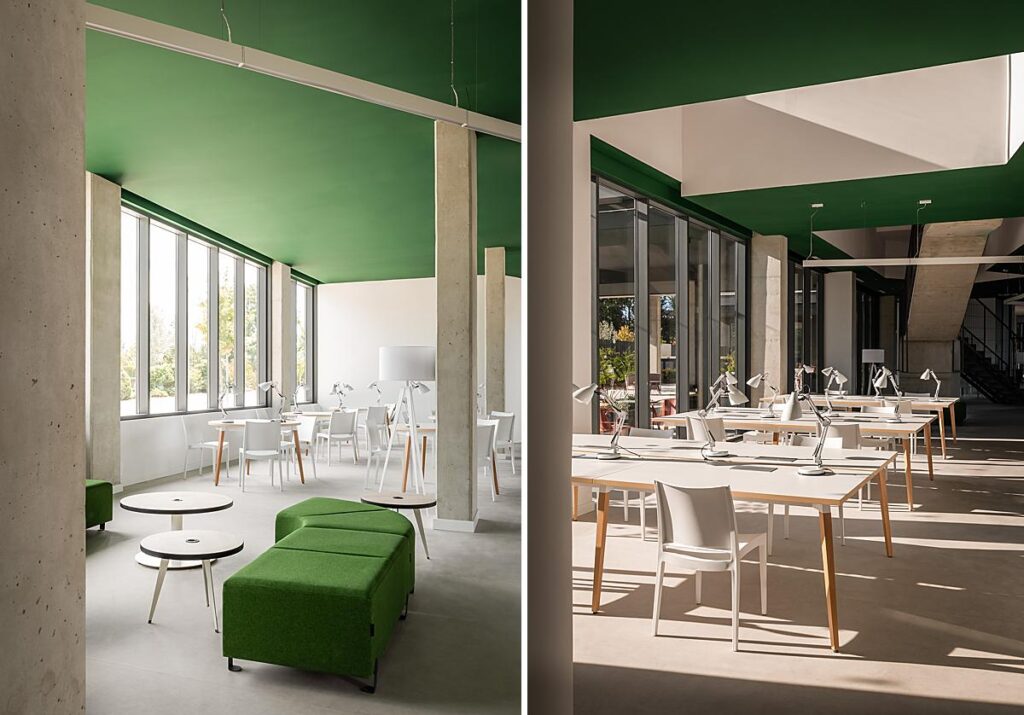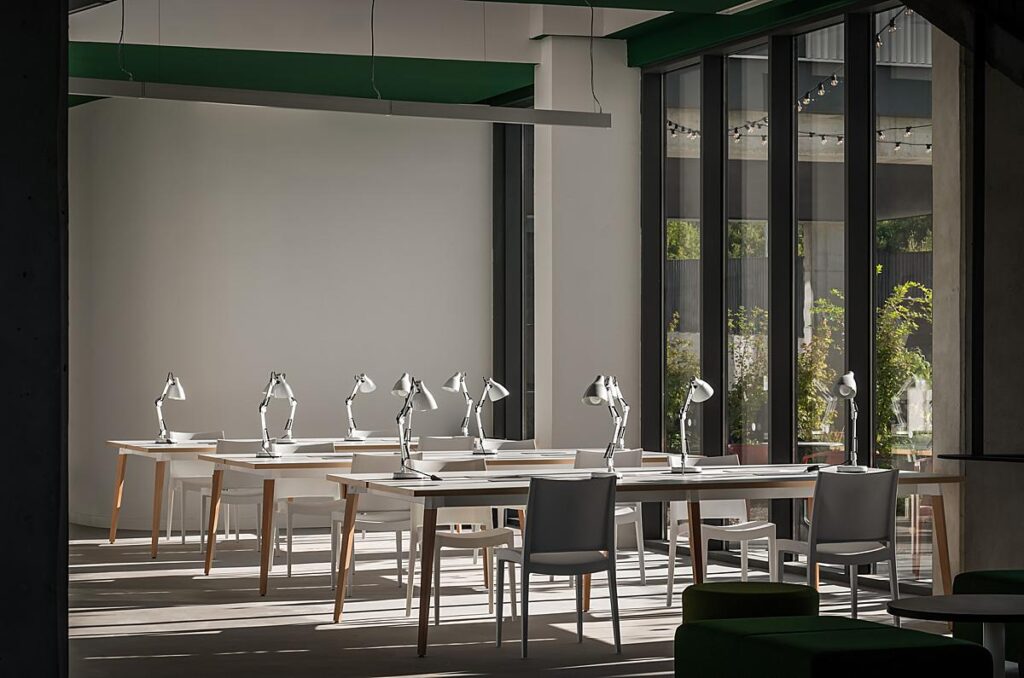 I appreciate Sergio's tidy post-processing and careful color work. It is perfectly suited to each space that he photographs throughout this project. Below, bold green furniture pops against the crisp white walls, echoing the foliage outside. He keeps the color casts on the white walls tamed down so that they aren't distracting or muddy, yet leaves enough to preserve the realism that makes these photographs so great.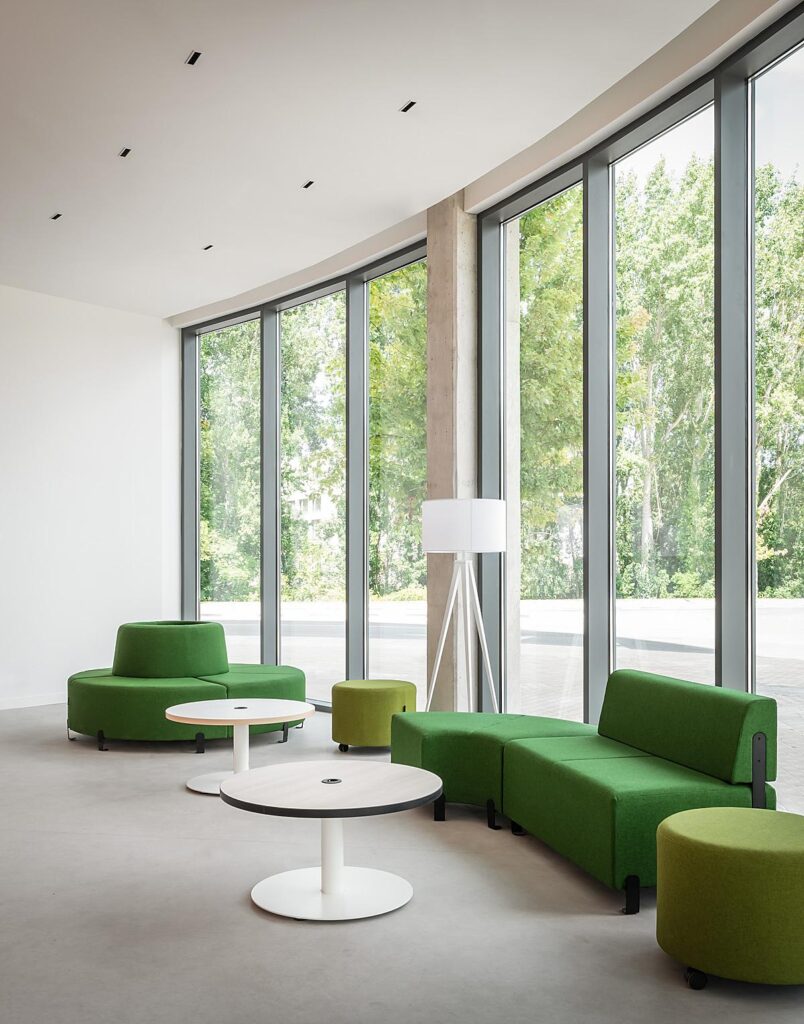 Well-timed photographs like these allow the lighting that is present to add visual interest and make the frames feel alive and inviting as opposed to flat and uninteresting.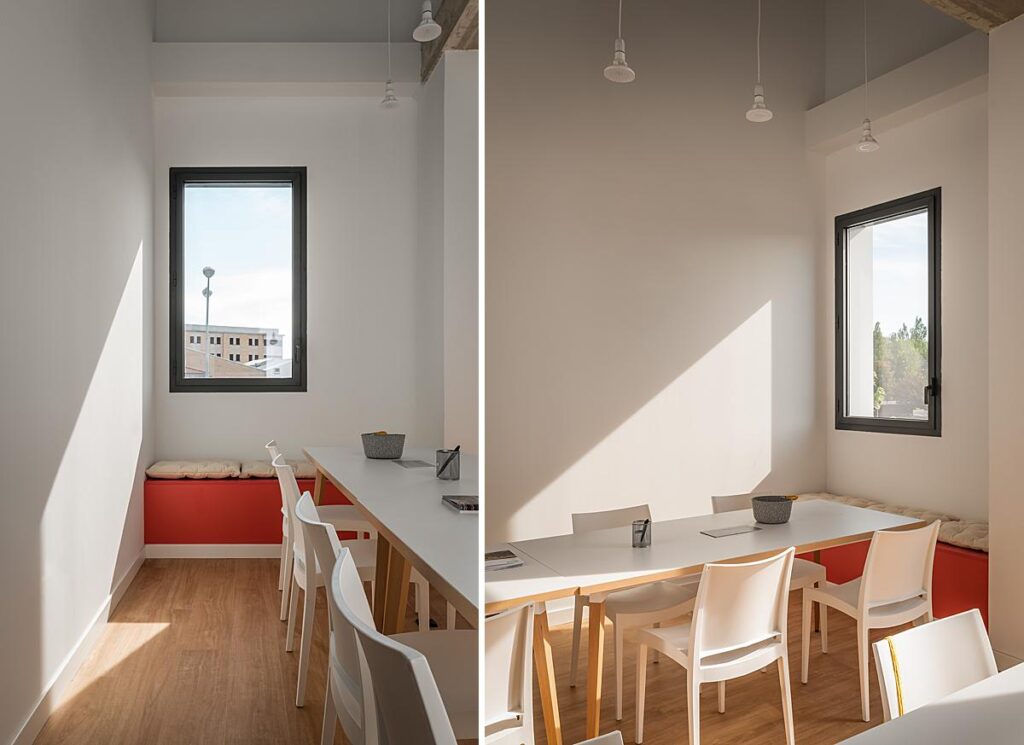 I love the warmth present in this next shot. While it appears a little different mood-wise than the rest of the shoot, it still fits nicely with the entire collection and shows off the linear designs and colorful elements.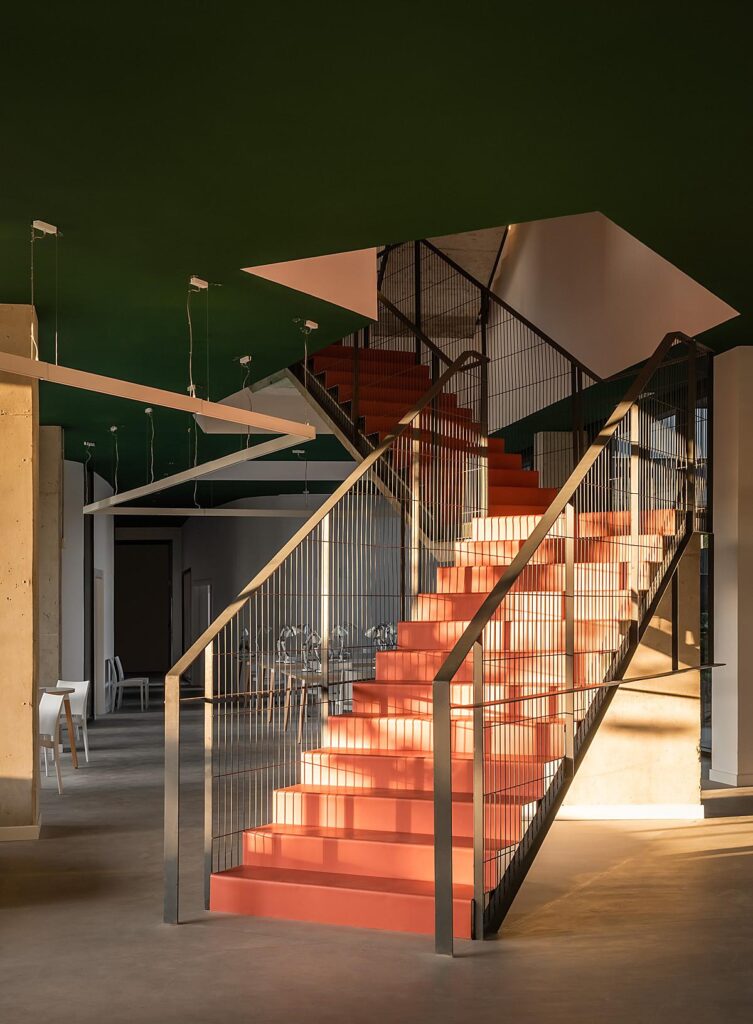 Sergio winds things down by sharing some perspective on really great business advice.
He tells, "We did this shoot in 2021 and in 2023 I'm still selling photos. It's the project from which I've obtained the greatest financial return in my career. For all those who are starting out in this world, I can't stop insisting on understanding the copyright laws of your country and to not give away your photographs. There are services like Pixsy which is free and tells you where your photos are being used on the internet. The last ones I sold from this project were licensed thanks to this service. They alerted me that a company was using 4 photos without my permission. I kindly contacted them, and they ended up buying more than they were already using from me. This is an important part of our business and a way to add value to our profession."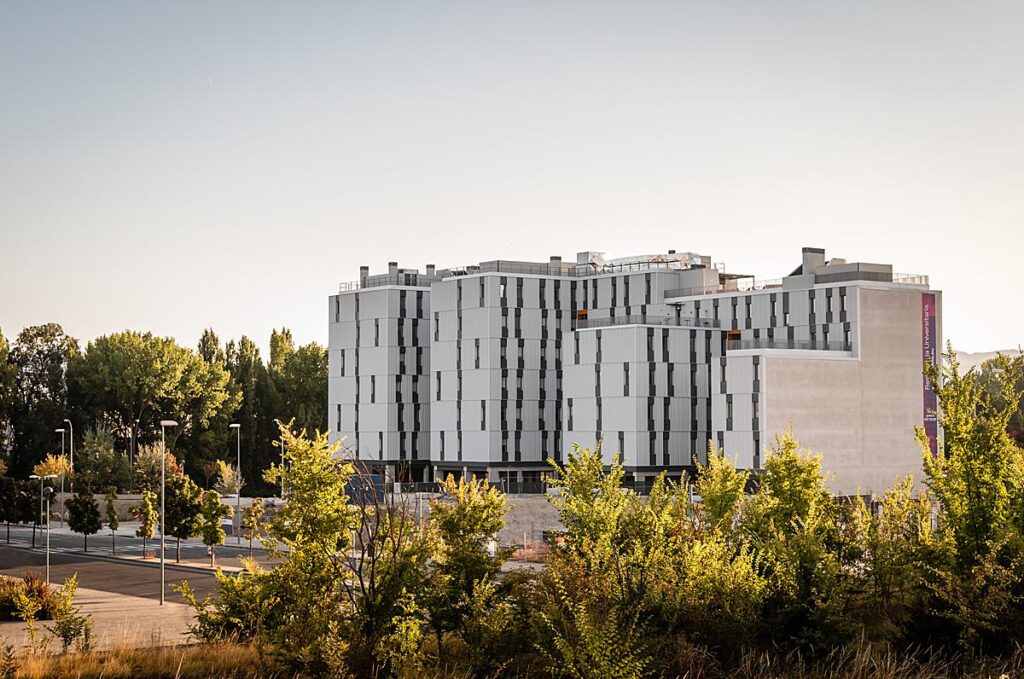 A huge thank you to Sergio Lopez for sharing this project, his experience, and touching on the importance of copyrighting and licensing images with us!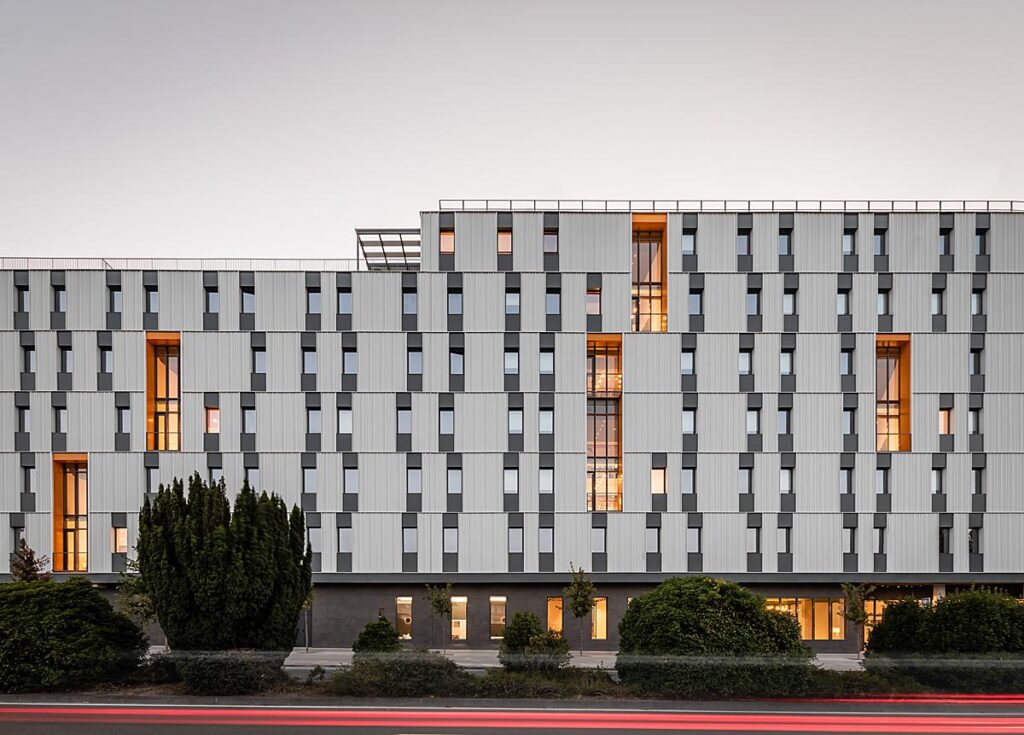 Visit sergiolopezphoto.com and follow @sergio.lopez.photo on Instagram to keep up with Sergio and his wonderful work.
If you have a project you'd like to be considered for Project of the Week, you can submit it here.