Lindsay Reid Shows Off the Many Uses of This Thoughtfully Designed Forest Pavilion
Project of the Week
Lindsay Reid is a Métis photographer, based in Canada. She specializes in architecture, interiors, and landscapes. Today we'll be taking a look at her photographs of the award-winning Forest Pavilion in Winnipeg by Public City Architecture.
Lindsay's photographs of this project are a perfect and all-encompassing look at the Pavilion – complete with dogs, gifs showing usage, cyclist, playing children, and bonfires. Lindsay shows us the whole scope of this structure while breathing a great deal of life into it.
Lindsay kicks things off by telling us a bit about the structure:
"Forest Pavilion is located in a park that is tucked into a loop of the Red River in Winnipeg, Canada, a city situated on a floodplain at the confluence of the Red and Assiniboine rivers, one of the flattest areas in North America. Forest Pavilion is constructed on the park's high point, and is designed and built to meet FEMA guidelines for floodable structures. It is built on a concrete base with Douglas Fir wood slats which are highly resistant to rot, where flood water could flow through the structure and its minimal right angles. 
Forest Pavilion is designed as a four-season structure and provides the park with a gathering point that houses the park's public washrooms, 3 interior/outdoor rooms and then surrounding outside space with bicycle stands and repair station. The Shade Room has a path that runs through the structure and provides a roofed hallway to escape the sun on hot days. The insulated room acts as a space to warm up in winter months but can also be a place to escape from inclement summer weather. The open-sky gathering room has 5m tall screen walls and houses a central steel fire pit with a 20′ chimney."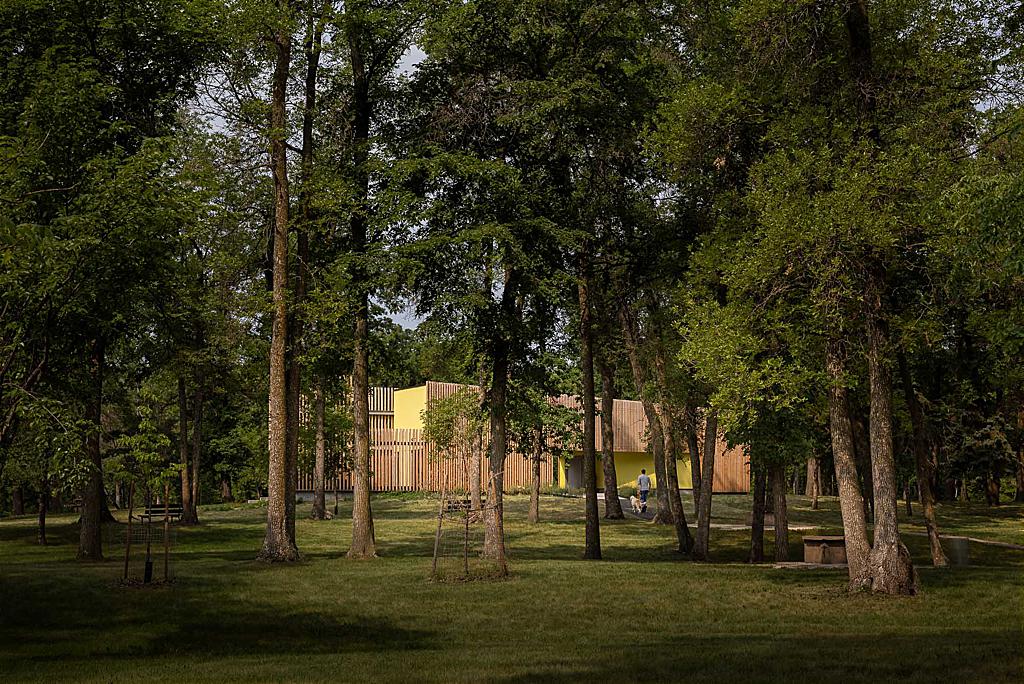 She continues to explain "Public City Architecture was the designer of this project which took 6 years to bring it to completion for varying reasons and delays. I was brought into the project about a year before the eventual shoot date, when I toured the construction site with the architect where I was briefed on the project.
Although I had known them for many years, this meeting was my first working one with this architect. However, prior to the eventual shoot date a year later, I was brought on to capture images of a few of their other projects. We toured the site in the summer of 2020 with the intent to capture finished images that fall, but this was amidst a pandemic along with a multitude of construction delays which pushed the eventual shoot date to the following summer in 2021."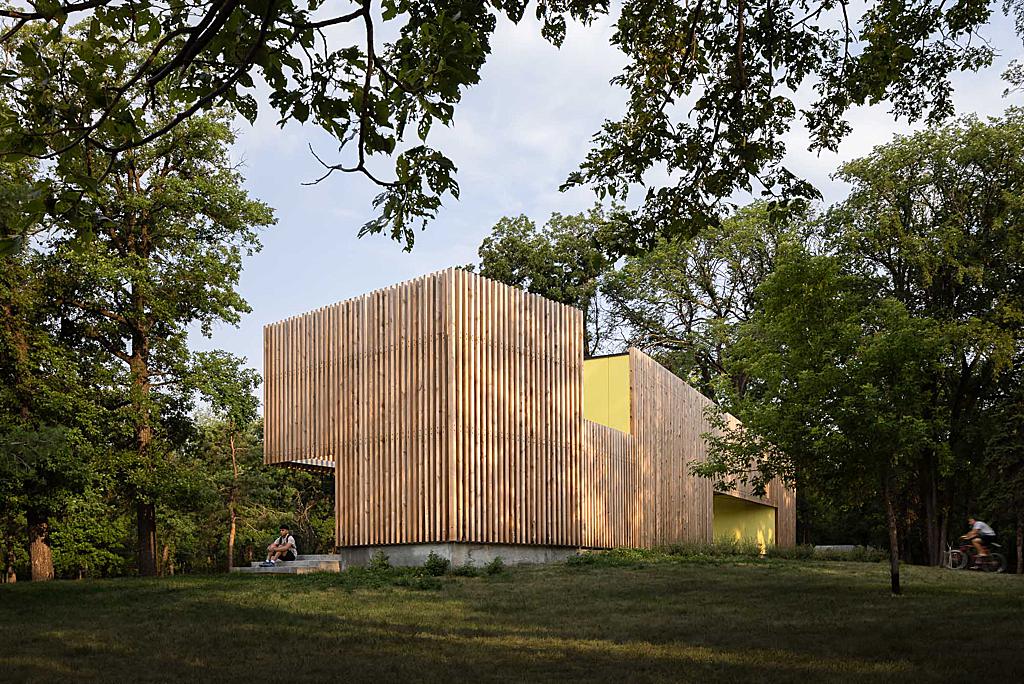 Throughout this project, Lindsay does a beautiful job of using figures to demonstrate the functionality of the pavilion and in turn, gives life to each scene. Despite the restrictions from the pandemic, Lindsay explains "I had asked my cousin if she wanted to come and model in a few images. They appear in this image along with the south road-side elevation where she's walking in on the right with her son and her daughter is running into the gathering room in the centre of the composition."
This next shot is one of my personal favorites. I love the way the yellow pops from under the slats and against the greenery. Lindsay's cousin's daughter is perfectly poised and helps communicate scale.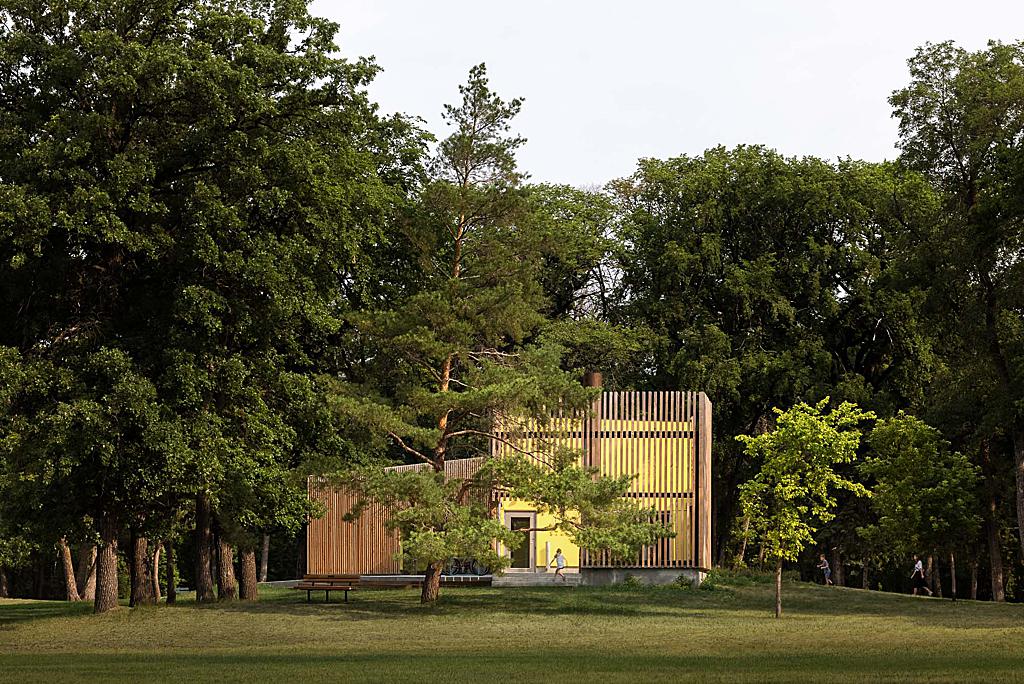 "The image with the dog sitting by himself by the firepit has been widely shared," Lindsay says. "This is the architect's dog 'Poe' who was such a good boy and sat so nicely for the image. We joked about the 'Poe-tential' of the space as a gathering spot once pandemic restrictions were lifted and him sitting there, I felt represented this well."
I love a good dog in frame, and I love a good pun, so this image knocks it out of the park for me!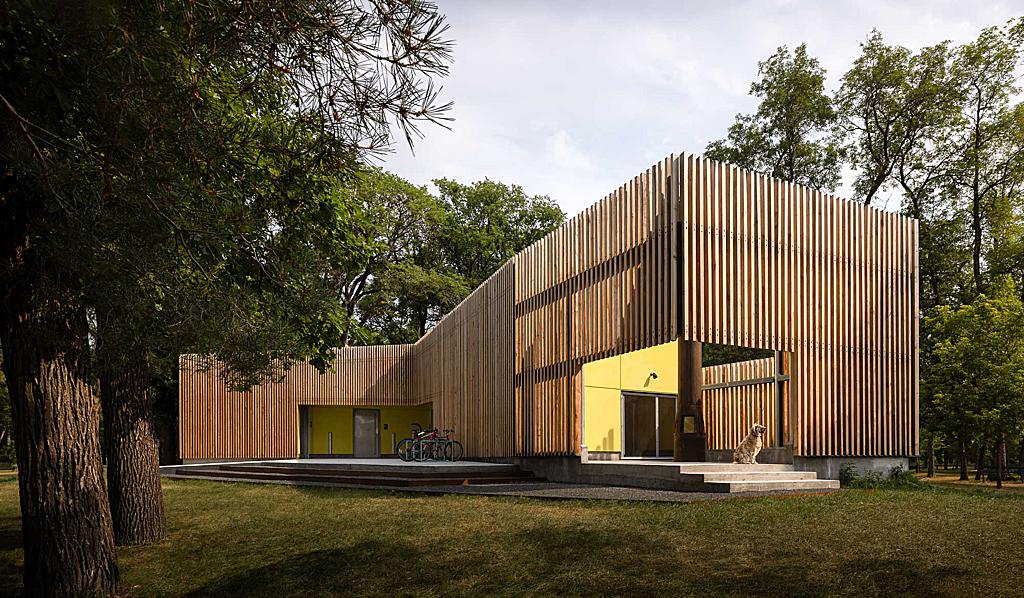 In addition to her static scenes, Lindsay has included two sets of Gifs in this project that really drive home the functionality of the pavilion and shows it in use.
As the evening approaches, Lindsay gives us a view of the pavilion with the firepit aglow, radiating warm light out from the timber slats against the blue sky.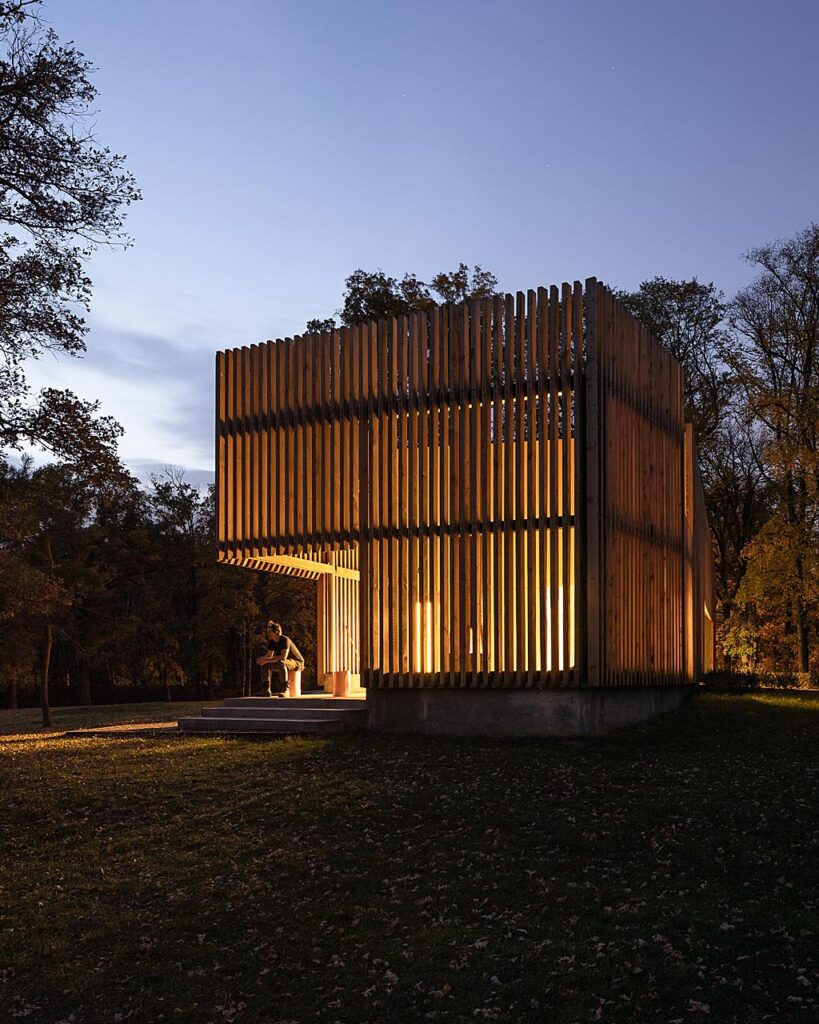 Her perspective draws our eyes right up to that warm light coming from the pavilion. Lindsay does a beautiful job portraying the Forest Pavilion as an inviting shelter for folks to use while relaxing in nature.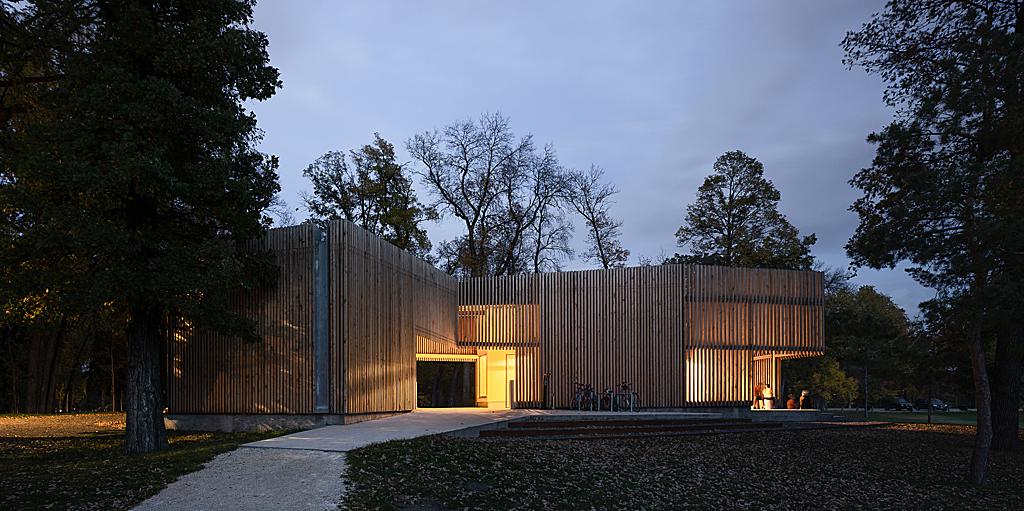 A huge thanks to Lindsay for sharing this project with us! Visit lindsayreid.photo to see more of Lindsay's beautiful work, or give her a follow on Instagram @lindsayreid.photo.
If you have a project you'd like to be considered for Project of the Week, you can submit it here.