Assisting Mike Kelley Around the World | Colleen O'Brien Shares How She Facilitates a Better Photoshoot
Interviews
Colleen O'Brien is a fashion photographer, mom to the cutest dog I've ever seen, and Mike Kelley's secret weapon. Colleen's list of duties is pretty extensive, from styling and propping shots, to making sure Mike and his tripod don't fall off of whatever precipice they're on. She's the girl that makes everything on location run smooth so that Mike can focus on making the photographs.
If you're wondering what to look for in a great photography assistant, how to be a better assistant, or are just here in hopes of getting some dirt on Mike, behold; I gift you this interview!
Lexi: Hey Colleen! First of all, it's so awesome getting to talk with you. I know you're spinning a lot of plates, so I appreciate you taking the time to give us some insight into the world of assisting on location and how that ups the ante of each shoot!
Can you kick things off by telling us a bit about how you and Mike crossed paths and how you started assisting?
Colleen: Craigslist! I've actually had a lot of luck getting gigs and even long term photo jobs from Craigslist.  Mike had put out an ad looking for an assistant, and I was lucky enough to stand out amongst the stacks of replies he got. The key to standing out is having a concise reply with all the appropriate info needed as well as shamelessly selling yourself by listing off all the great things you've accomplished and the experience you have. I've even started including my headshot so people can put a face to the name. And follow up is so important. Sometimes it's the second or third follow up that gets me the job.
He selected maybe ten candidates to meet in person, and I was the first person he interviewed. I told him I have zero experience in architectural photography. I think I even googled "basics of architectural photography" the night before so I at least had something to work from if he asked me any technical questions. But he more so asked me what kind of food I like to eat and what I do for fun — because really he was looking for someone he gets along with that can work well with him on long shoot days or traveling internationally for weeks at a time. I have a corporate background of managing clients and it's, of course, helpful that I have a photographer's eye.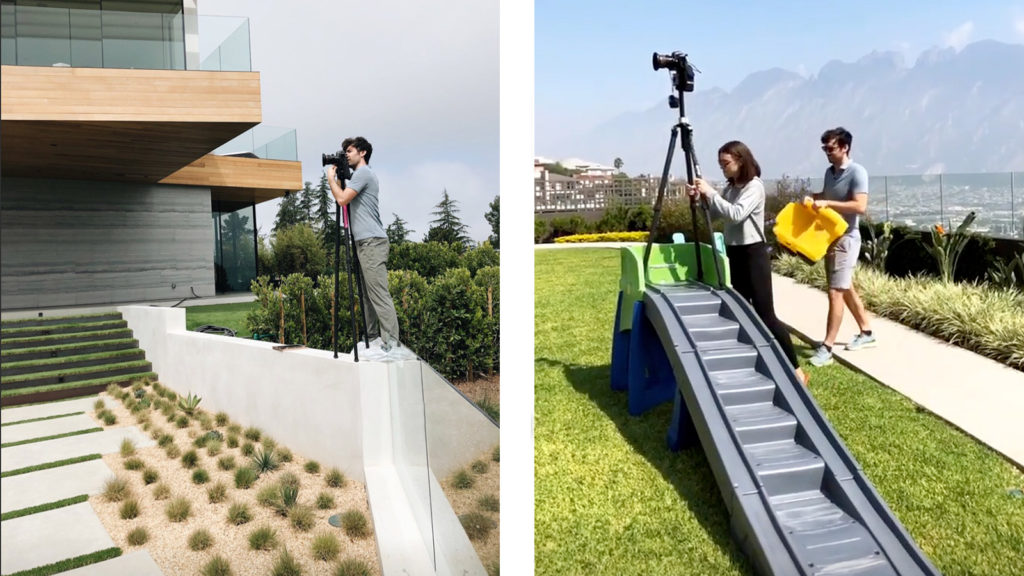 I have a feeling that there might be some folks who are under the misconception that an assistant just holds lights or carries bags. I assist another photographer on the regular too, and I know we can both attest that it's SO much more than that. Can you give us a day in the life of Colleen? What are all of your duties on location?
Mike likes to joke that I do so much for him that I'm essentially pushing him around in a wheelchair. 
The Muscle: Yes, it's certainly heavy lifting, loading and unloading, keeping track of all the equipment, building and breaking down the camera and tripod, connecting the Camranger to the Ipad, changing out lenses. And moving furniture around. 
Set Stylist: To minimize what I do, you could say I fluff pillows and drape throws over a couch, but it definitely takes talent in placing things to achieve the best balance and composition for what the camera sees. Through working with Mike, I realize I have the eye for interiors which inspired me to freelance as a set stylist for interior designers. It's a new talent that I didn't know I had until my experience assisting Mike, and it's something I really love and want to expand in. 
Manager: When Mike initially hired me, he asked me to manage the client while on set if they're distracting him while he's behind the camera. So I've had to do that as well as stepping up and having Mike's back when the client is overstepping boundaries. I've had to give a firm "no" on a few occasions when the client was asking for things well above our scope. 
Problem Solver: I also do a lot of problem-solving while on set because of course things don't run smoothly all the time.
Model: Sometimes Mike likes to put people in his photos for scale and to add interest, so he'll have me pose on a balcony or walk across the frame for some movement. 
Hangry Police: Oh yeah, food is a big thing because we're sometimes working 12 hour days! So I order us lunch and make sure Mike is caffeinated, watered, and fed. We've experienced each other's hanger on set, so Kind bars are always stashed in the camera bag, and I hand him one if I see he's getting grumpy, or vice versa, and then all is right in the world again.
Acting Therapist: Mike loves the deep conversations on just about every topic under the sun, so I listen and give advice. I kind of love it. We've become great friends.
Wow. That's amazing. YOU are amazing! Speaking of that, I was scrolling through your fashion photography work and noticed two things:   

It's really freaking great
There's a gorgeous and effortless way you style it, and I think that you bring that to how you do the styling of Mike's photos. Can you tell us a little bit about your approach to styling and how being primarily a fashion photographer helps you in that regard?
Thank you so much! I'm most passionate about fashion photography and the whole process of coming up with a creative concept, gathering a team of talented people, the fast pace of the shoot to the final stage of retouching. I love using props in my fashion editorials to help tell the story, which relates to the prop styling I do in architectural photography. It's all about telling the story of the space and pulling the viewer in to imagine themselves in it.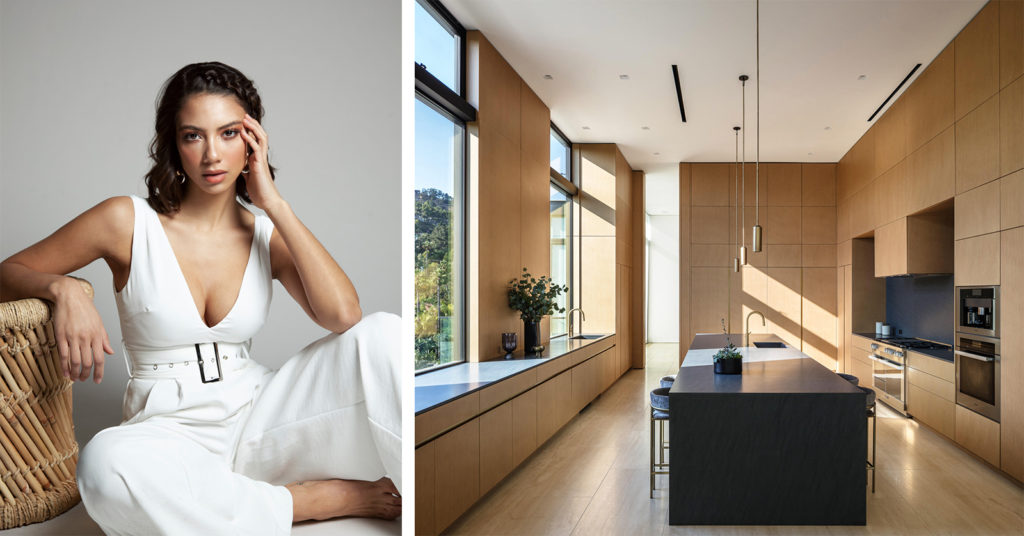 On that note, got any quick styling tips or hacks you can share? What's the best way to fluff a pillow or just keep a scene looking great in general?
A lot of the time, we are simplifying and taking things away. Mike and I share an aesthetic of minimalistic and clean, so a simple flower in a vase goes a long way on a bathroom counter. We want to achieve warmth and like the space is lived in but with the least amount of distracting elements. 
To get seriously technical (ha), I lay the pillow flat, hit it a few times for balanced fluff, and then prop it up in its right place. Throws are always tricky and I end up tossing it on the bed several times before it's right. I grab it from one corner and drape it over the edge of the bed in a casual way. Throws add color, texture, and a cozy, inviting feeling.
Perfect! Thanks for that wisdom! On to the next mystery; You travel with Mike a ton. You've been on shoots in crazy far-off places like Bangladesh and China, and were recently in Mexico shooting for two whole weeks. What are some of the biggest struggles when you guys are going abroad to work and how do you keep everything running smoothly?
Early on, Mike asked me where I would travel with him, but really meaning where would I not be willing to travel with him, and I said I would go anywhere in the world! I am always craving adventure and new experiences so I kept bugging him, asking when are we going to do some international work? Never did I expect our travels to take us to somewhere like Dhaka, Bangladesh. As soon as that trip was planned, a project in Shanghai, China came through with only 2 weeks notice. I had to get both of our Chinese Visas on a rush order in about 48 hours while Mike was out of town, which was quite an adventure.
The language barrier can make life a little challenging at times. And keeping our energies up when we're on Day 10 working long days with only one day off that we use to explore and see all the sites rather than rest! But of course, looking back at these trips, I remember the best free days like when we went kayaking at sunset in Hilton Head, and hiked in beautiful Glacier National Park in the fall, and rode in an open jeep through the mountains in Mexico, making our hard work so worth it.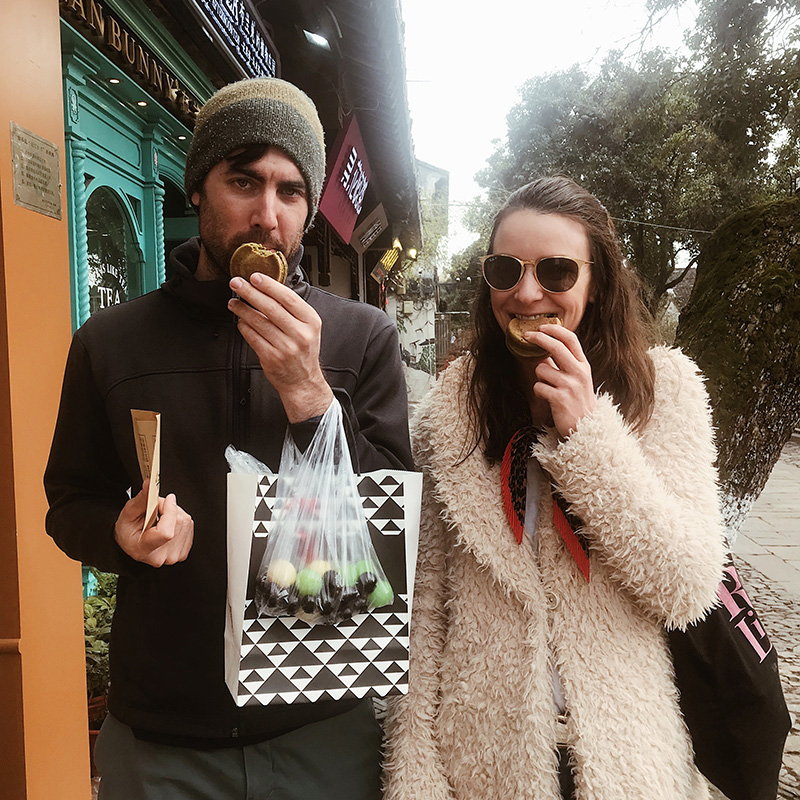 Very very cool. So what would you say is the biggest benefit a photographer gets from hiring an assistant?
The biggest benefit for the photographer is the ease in which they can focus on the work they're creating. It takes a whole lot of mental energy to shoot, so it's a massive help to have a great assistant that knows what you need without having to ask. Mike and I are such a well-oiled machine at this point that sometimes we don't even have to communicate, and I anticipate what he may need next. He's able to focus on doing his best work and conserve his energy because he's not wasting time changing a lens or staging the interiors.

So on the flip side, I know that being an assistant has made me a better photographer. Would you say the same? How has it helped out your personal work / what are some things you've learned along the way?
Assisting has been so beneficial for me. I love seeing other photographers' processes and professionalism, and observing first hand how they got to be so successful. Working with an architectural photographer taught me that I actually have the eye for it and could execute a successful shoot myself if I wanted to, but my interest lies in photographing fashion and most of all people. It also showed me that I have a talent in styling interiors, which I have run with and now do as a freelance business on the side. 
It's been cool to see what Mike sees when he is creating a shot in the ideal natural light, as well as how he paints with light. The way he captures light is what makes him so great at what he does. 
Mike is also one of the most resourceful people I've ever met and is always coming up with ideas to make things work on the fly, so I think I've learned to be more resourceful too as a problem-solving tactic.
It's also helped me grow personally by taking me to places I never would have gone to – just this year I've spent more time on a plane than I ever thought humanly possible.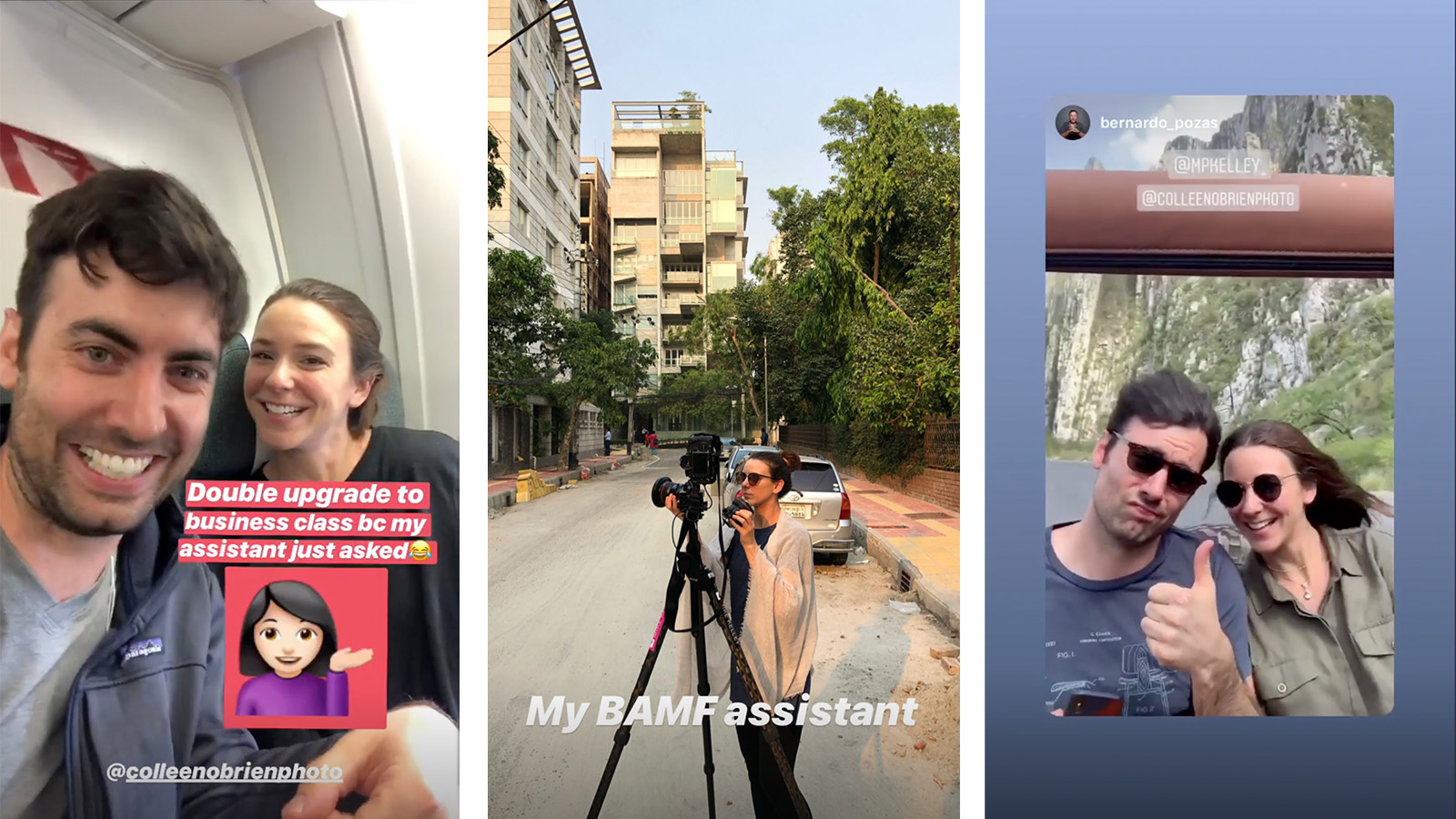 Shew! Now for the question I've been waiting to ask this whole time! What's the most insane shoot you've been on with Mike and/or any other tales you can regale. 
Almost every shoot I've done with Mike, he manages to stand on the edge of a cliff or walk the edge of an infinity pool and decides that right on the edge will be the best place to put the tripod down. So I hold my breath while he is one step away from a visit to the ER. And I'm definitely ready to Instagram the whole thing.
I have so many anecdotes to share, but I'll just name a few:
The time when the automatic sprinklers turned on as the camera sits on a tripod in the grass just about to capture the twilight hero shot for an ad campaign
The time we waited out a rainstorm and then I had to squeegee the windows of the house from a ladder with a car's windshield wiper that Mike took off the rental car.
The time I threw a heavy, probably very expensive, wooden table into a pool so that Mike (in his swim trunks) and his tripod could stand on while he got the shot.
But the most insane shoot by far was the work we did in Dhaka. It was pretty intense working long summer days in 100 degree heat with mosquitoes swarming us, no AC, and getting lots of attention from curious on-lookers. There was one day that the food did not agree with either of us – the effects of which lingered for the rest of the trip!
One day, we photographed a mosque where there were lots of cultural rules to follow, and of course, we tried to be as respectful as possible. There were things as a woman that I was not allowed to touch or even be present for at certain times like during prayer hour. Lastly, Mike was recognized like a celebrity by a fan of his within hours of landing in Dhaka walking around a food court to get our first meal, and then a few more times while we were on the ground in Bangladesh. I would say that's pretty insane.
Thank you so much for sharing your insight on the benefits of a great assistant as well as your top-notch stories with us Colleen. You are truly Wonder Woman. As if you needed any more convincing that Colleen is incredible and that having an assistant on set is worth every penny, you can keep up with Colleen's on set adventures that usually make it to Instagram Stories. Find her on The 'Gram @colleenobrienphoto