Searching for a Tough and Well Thought Out Mobile Workstation? Look No Further Than the Inovativ DigiSystem Pro Ultra Kit
Gear
Review
For my latest shoot in my ongoing photo series Modern Alpine Architecture, I had the chance to test out a new piece of equipment. Data transfer and protection have always been an essential part of my shoots. Usually, I had my laptop on top of a backpack at the trunk of my car or in the passenger seat. These times are over now with Inovativ's DigiSystem Pro Ultra Kit: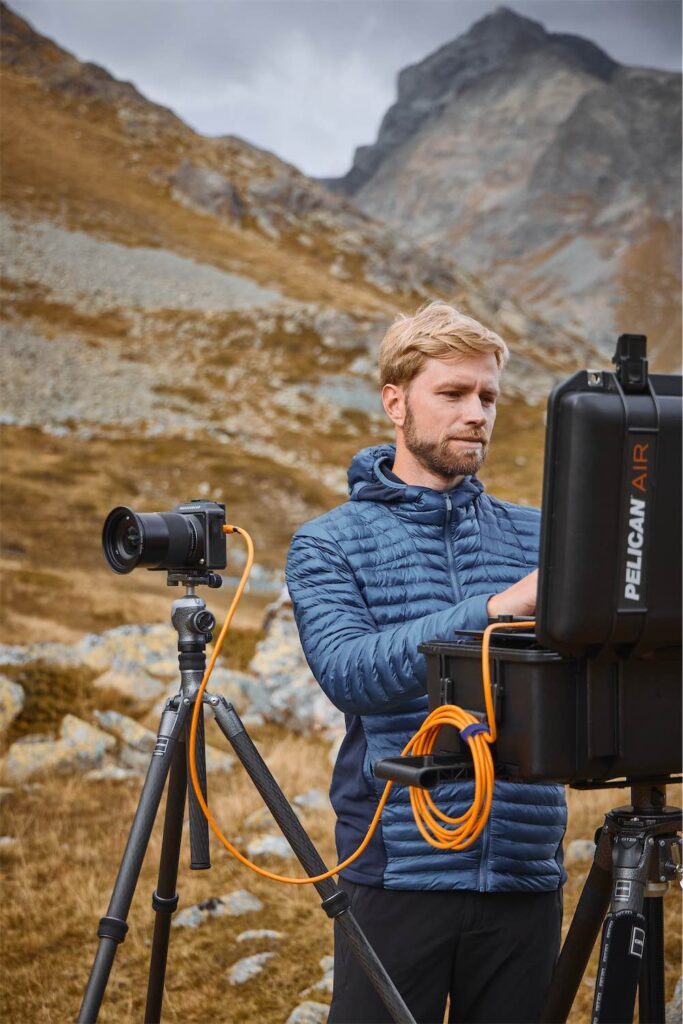 Creating a photo series at the mercy of mother nature in the middle of the mountains is an ongoing challenge. I always have a tight schedule with only one night at each location. I shoot in fog, rain, wind, and freezing temperatures. But I think this is also what makes being in the mountains – The harsh conditions give character to the images.
The DigiPlate Pro
These conditions are demanding on me, my team, and my equipment. The data that I produce is the most valuable asset in my production, which is why I decided to give the DigiSystem Pro Ultra Kit a try. The system evolves around the DigiPlate Pro, a cheese plate with near-endless mounting options. The plate holds my 2021 16″ MacBook Pro. On the bottom of the plate, I attach a backup SSD drive and a battery charging box that allows me to be completely independent of electricity for two weeks.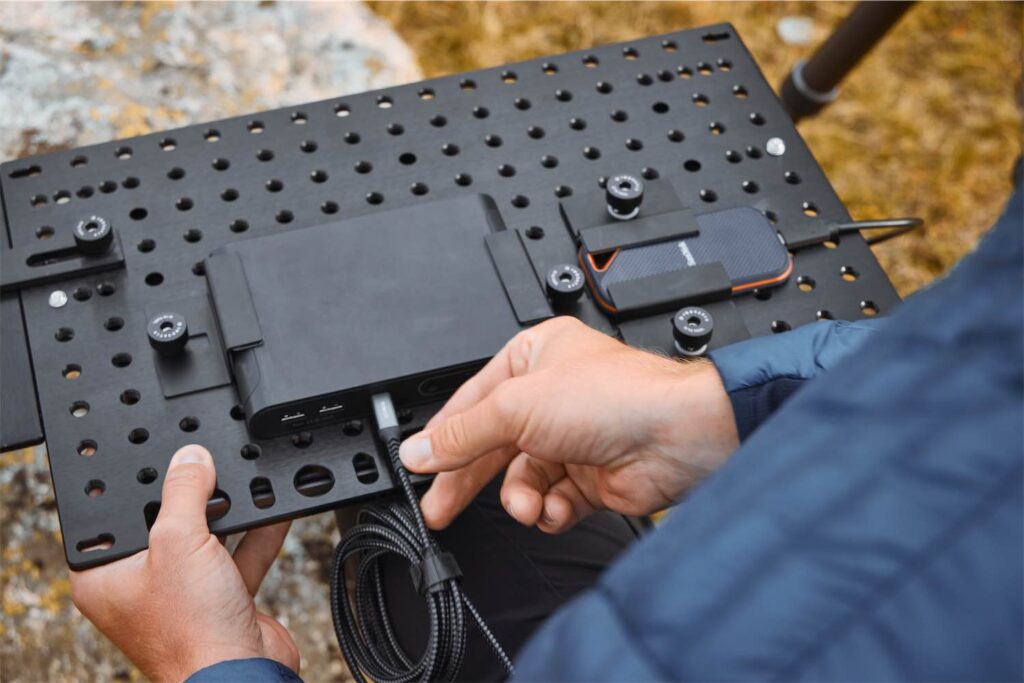 Setting up the DigiSystem Pro
This setup is securely nested in a Pelican Case specially converted from Inovativ to work as a mobile office. The case has inner dimensions of 0.39″ L x 11.20″ W x 7.21″ D with a very versatile set of dividers that you can cut to your liking. This holds a sunshade, cables and accessories, and even my basic camera setup including my Hasselblad X2D with two lenses and a Profoto B10.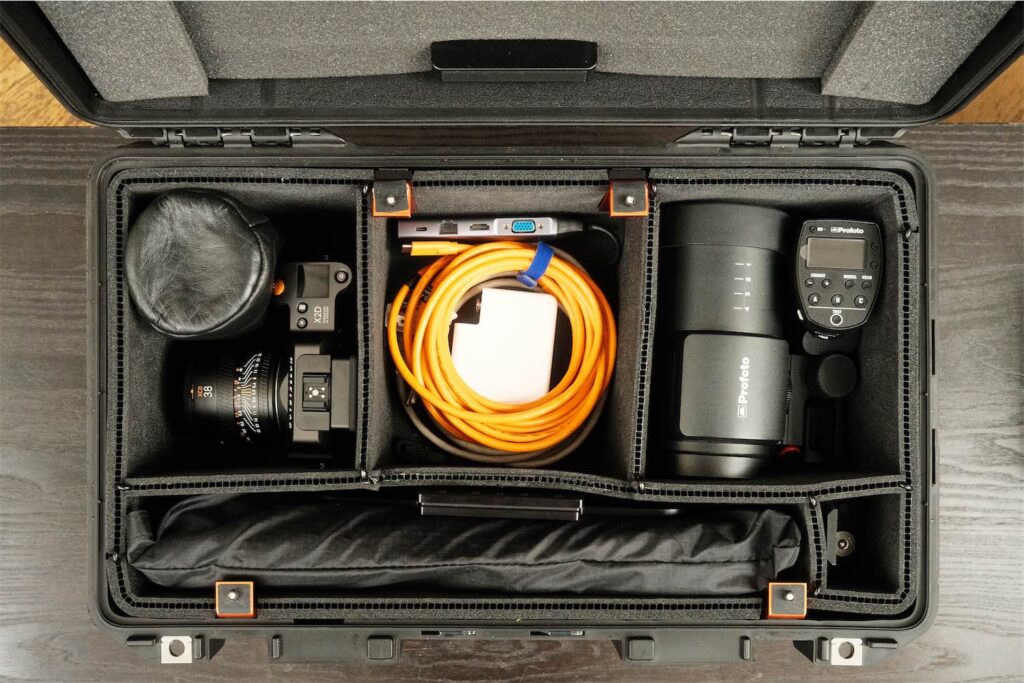 To back up my camera I only have to open this water and impact resistant case, and my laptop is ready to download the images. At locations that are more accessible, I took the DigiSystem with me during the shoots. Inovativ has some adapters to mount the case on a separate tripod via baby-pin, 1/4 inch 3/8 and even with a arca swiss plate. This leaves nothing to be desired. I can also go lighter and mount only the DigiPlate Pro to my camera's tripod with the help of the DigiBracket.
For our shoots in the alps, my assistant took care of the DigiSystem on a tripod, while I was concentrating on the camera setup. For on-location editing, I put my Loupedeck CT console on the DigiMouse Pad to be more efficient. This came very close to my office setup with all the controls, backup, and energy all from one case in the middle of the mountains. What more can I say? This really feels awesome. I know that my data is secure and I can also work fast and easily. This really gives me peace of mind on my productions. I remember when we were shooting the Julier Tower, which you can see here in the images – we only had two hours before heavy rain came up the valley. We spent the night in a camper van, cooking some food and editing images and videos from the DigiSystem during a real downpour. But with the whole case being waterproof we had no concerns about passing the case between cars during these conditions. That was definitely a first for me.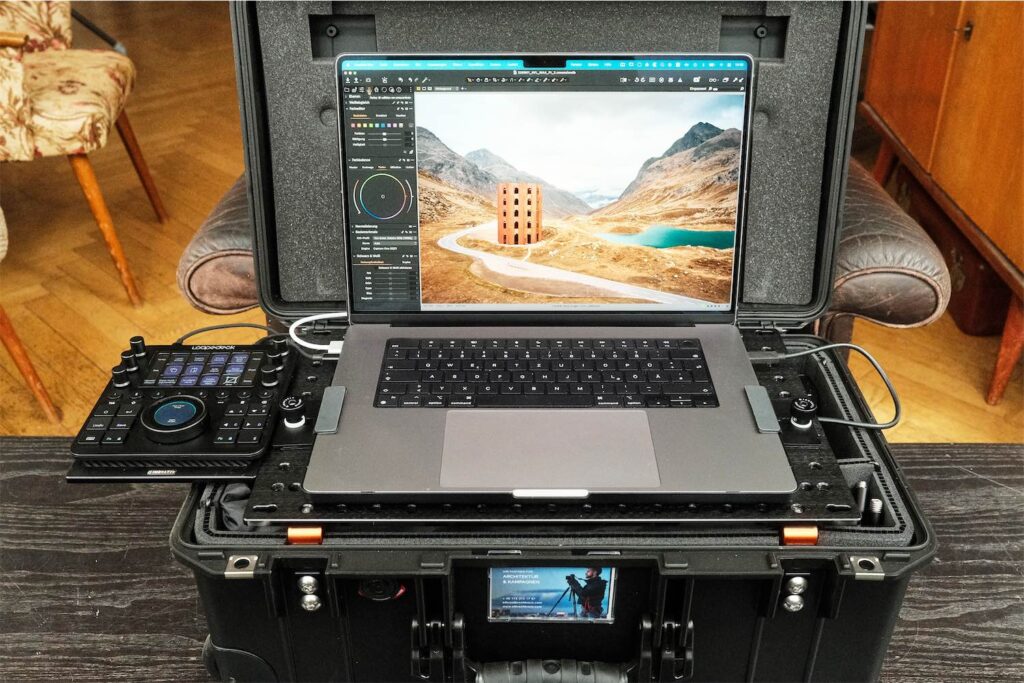 The Verdict
What I enjoy the most about the DigiSystem Pro Ultra Kit is its versatility. I was able to cut and attach all the pieces exactly how I need them for my specific workflow. This is very different from my last systems that work with a "what you see is what you get" mentality.
As always this system is not perfect. With all the security comes a considerable amount of weight. Coming in at around 10 lbs empty and exterior dimensions of 21.96″ L x 13.97″ x 8.98″ D this case adds up some weight pretty quickly. When I have to travel on even ground this issue can be solved by the very smooth wheels that are part of the case. In all other circumstances, my assistant always looks pretty strained when carrying it.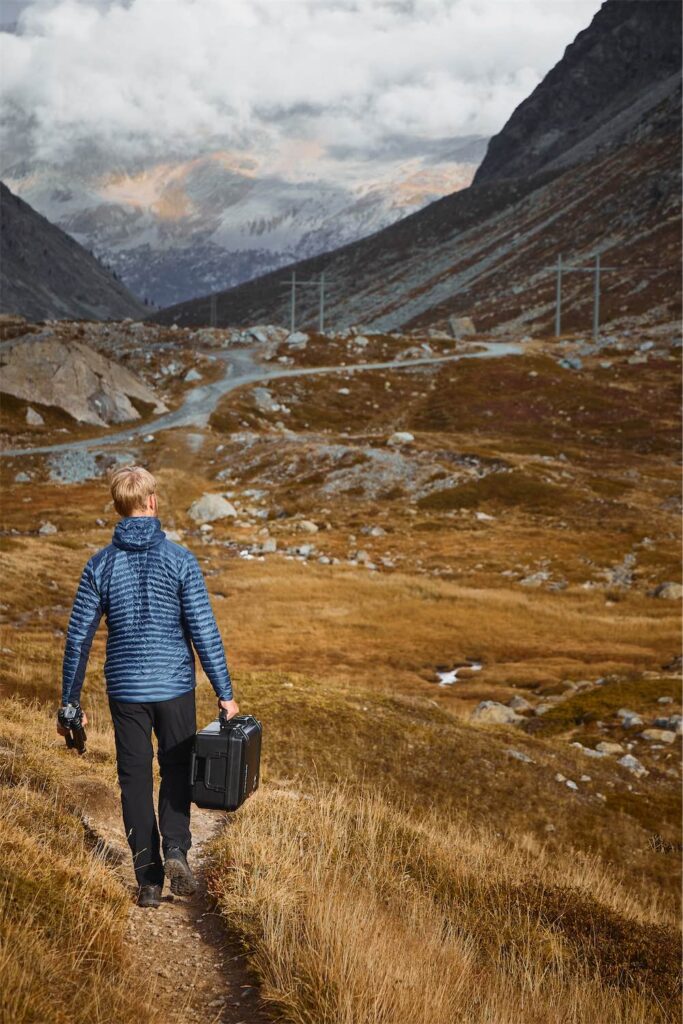 I'd like to thank Inovativ a lot for providing me with this case for my production. I always wanted to try their equipment, but it is not so easy to get in Germany. That said, Inovativ had no influence on this article and these are my honest opinions.
For my urban commercial shoots, I am definitely interested in Inovativ's cart workstations. I have been using production carts for years on my bigger shoots to transport gear and to show my clients instant results from the shoots, but all systems that I tried got wobbly after some time and didn't feel reassuring. After my first experiences with Inovativ equipment, I have high hopes to finally have found a real quality brand whose products can support my shoots for years to come.
A big thank you to Mathias Pfützner for creating the beautiful images and for carrying all my equipment. 😂