How to Get Credit For Your Images When Credit Has Not Been Supplied or is Incorrect
Business
I photograph a lot of homes for a lot of different clients with a lot of different end uses for those photographs. While in a perfect world I'd get a photo credit every time my work was submitted, sometimes that doesn't happen and it's up to me to get it fixed. Whether or not you think photo credit is important (it is, don't @ me), you should always have any errors or omissions in credit resolved as soon as you can.
There are two common situations that I run into a few times a year where a credit is incorrect. Those issues are:
A credit to the firm instead of the photographer
A common error is the addition of the architect or interior design firm's name listed as the photographer. This is usually the fault of the publication, sometimes firms have multiple photographers create images of one project and rather than take the extra 4 minutes to individually label each image, the publication will just credit the architecture firm. It's worth writing in to correct this and while you're at it, do the other photographers involved a solid as well and name drop them to the editor!
In this case, its usually not done maliciously, just out of expedience and a lack of good archiving on the behalf of whoever is submitting photos.
A credit to the brokerage or developer instead of the photographer
Another issue that rears its head more and more often with the co-mingling of real estate and architectural photography is the brokerage or developer that is using the images for PR replaces your name with their own name (e.g. Scaldwell Barker instead of Mike Kelley). There are many advertorial placements made these days; many shelter magazines have promoted posts co-mingled with editorial post (example: https://www.dwell.com/real-estate). Just a cursory glance will reveal how often this happens. Why is a brokerage getting credit for your images? Yes, you should still be credited here in addition to editorial features.
Unless you are relinquishing your copyright, and you have lost the ability to get a credit. In which case: stop doing that.
How to get it fixed
Though annoying, it's not worth getting incensed about, as I've never had an issue getting it fixed. Here's the email that I send (feel free to copy and paste, and replace names as necessary). It should be addressed to the editor of the publication or the author of the piece, information which is usually easily found in the 'about' or 'contact' pages. You can also feel free to dig around the internet, I've found plenty of email addresses by poking around LinkedIn and putting two-and-two together (e.g. a Laura Jones might be ljones@publication.com). I've also just DM'd people on their personal instagram account to get a hold of them if that fails. As Miley Cyrus said: "I came in like a wreeeecking baaaaaaallllllll!"
Hi Ellen

I am not sure if you are the right person to contact for this; but if you are not, may I request that you forward it on to the appropriate person?

My name is Mike Kelley and I was the photographer who created the images in this article by Jessica K_____:

(Link to content)

The photo credit currently reads "Architect Name" but should read "Mike Kelley" and if you'd be able to include a link, my website is www.mpkelley.com. Let me know if this is possible to change.

If you have any questions I'd be happy to answer. Thanks for your help!

Best,
Mike
Here is an example of this working in the wild: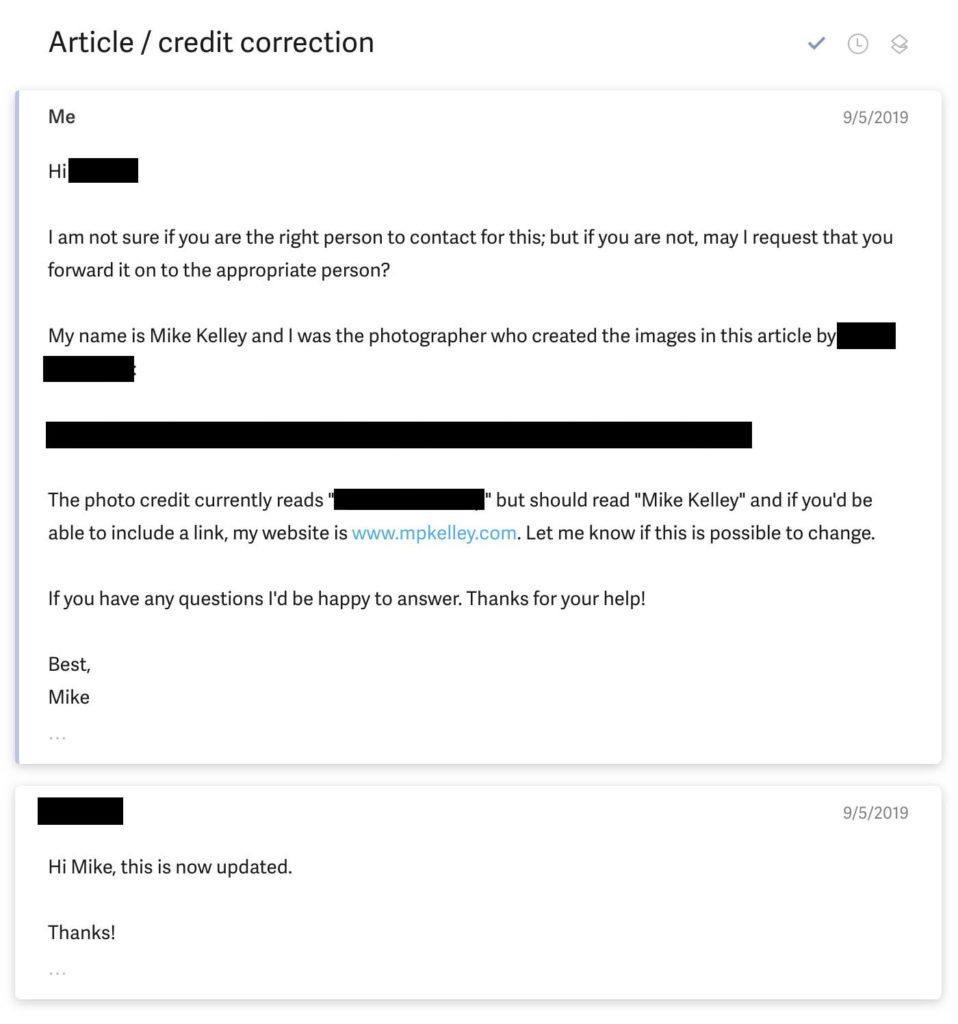 I also suggest that since we've all got a lot of COVID-19 related downtime, we update our contracts to make sure we are appropriately credited. No matter the end usage of the images I'm creating, I make sure that everyone involved knows that a credit is applied when the photos are used editorially. And yes: credit is absolutely still worth something, especially in magazines and blogs where notable projects get press. It's one of the best ways to get work in our genre, as our clients still heavily pursue publication and a photographer that can get a credit on a major project and prove that their work is publishable will get the nod over a photographer who doesn't have the editor's nod of approval.