Montréal Based Photographer Florian Carbonara of Studio CRBN Shows Off A Reimagined Duplex in Rosemont-la-petite-Patrie
Project of the Week
This week's featured project is full of quiet, beautiful, scenes by Montréal-based architectural photographer Florian Carbonara of Studio CRBN.
Florian starts off, explaining "This project was the first collaboration between my client Julie Asselin Architecte and me. Julie started her own practice 2 years ago and she loved my work as much as I loved hers, so we were both really excited to work together for the first time.
Regarding the house, it's a typical duplex of Montréal, situated in Rosemont-la-petite-Patrie neighbourhood. The building had 1 apartment on each floor and Julie's project was to turn it into a single house. It's one of those hidden gems that Montréal has to offer. You have absolutely no idea what is inside when you walk past it."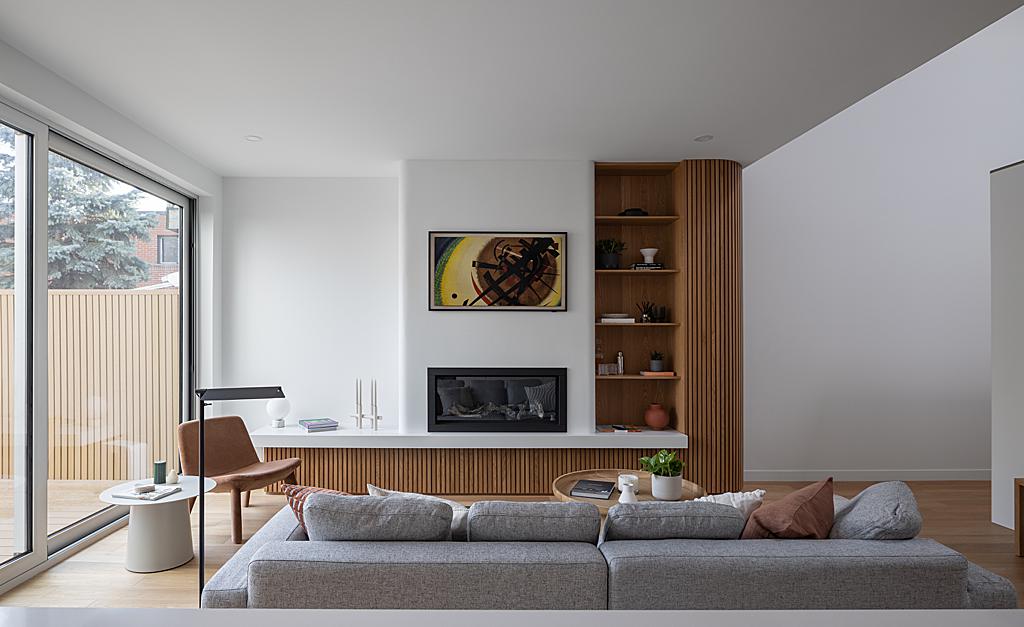 He continues, "I had the chance to scout the place a month before so I knew what I was getting myself into. In general, I scout only with my phone so I don't have to worry about the settings and I can focus on the composition. When it works with an iPhone, it will only look better on camera! The day of the shoot was grey and the light was so soft that it was hard to get some contrast in this white interior. But I knew I could take care of that in post."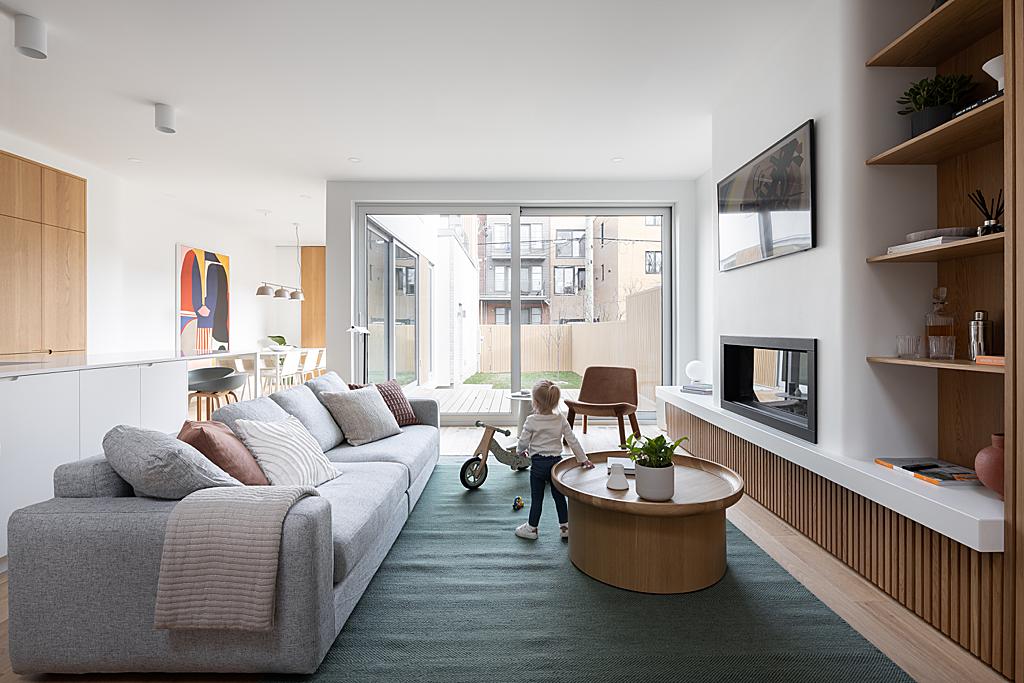 That soft diffused light works perfectly throughout this project. The white and wood-clad interior appears delicate and sculptural throughout Florian's photographs. The sweeping gradients of light pick up the texture in the wood, and highlight the shapeliness of each room – especially the kitchen here.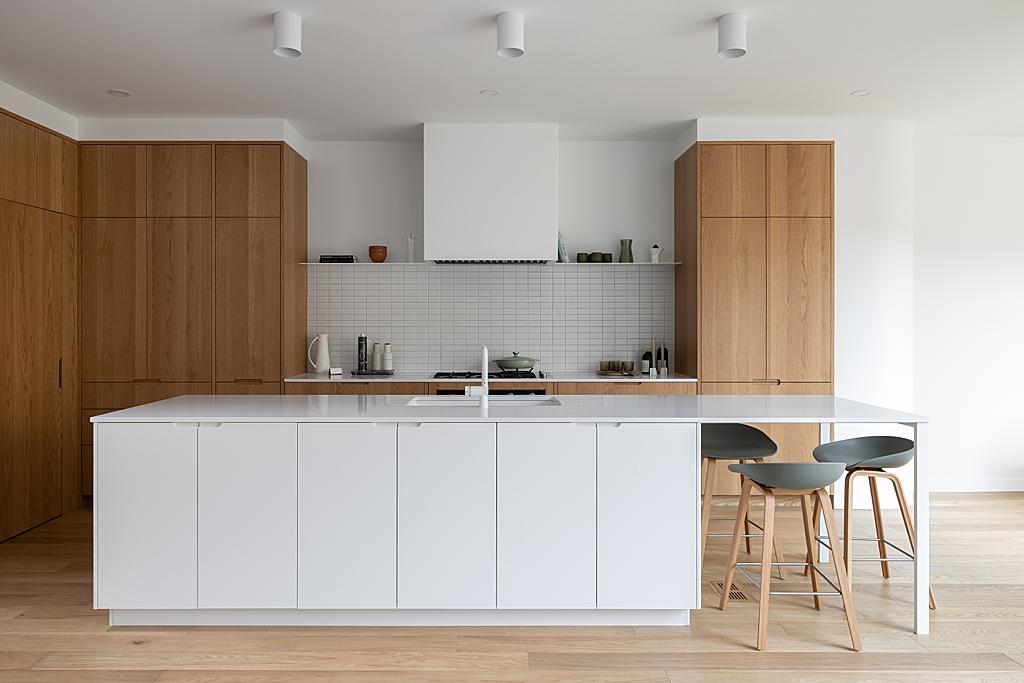 I really enjoy this next shot. Florian shared a bit about its conception with me, explaining "I always try to think about the composition in a picture and here all the lines were leading towards that wooden door, so when I took the picture without anyone I felt like something was missing. I asked my client to enter through the hidden door and it brings life to the image."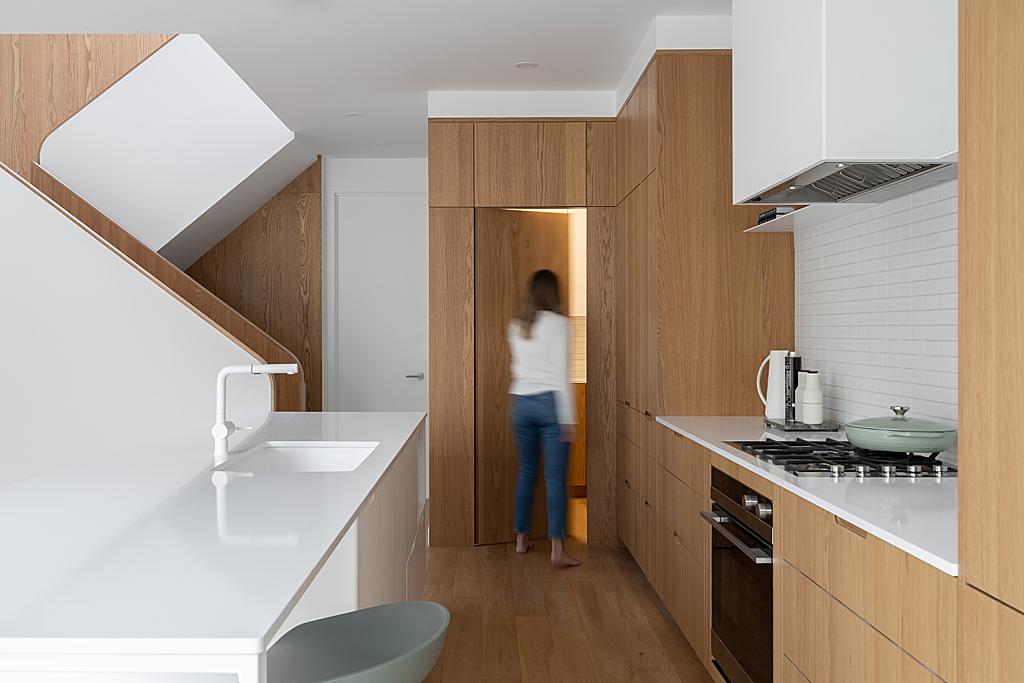 To me, the focal point of this home is the grand staircase connecting the two floors. Not only is it gorgeous with its mix of sharp angles and rolling curves, but it is important to show since Florian had mentioned that the architect worked hard to turn the separate one-story apartments into one continuous home.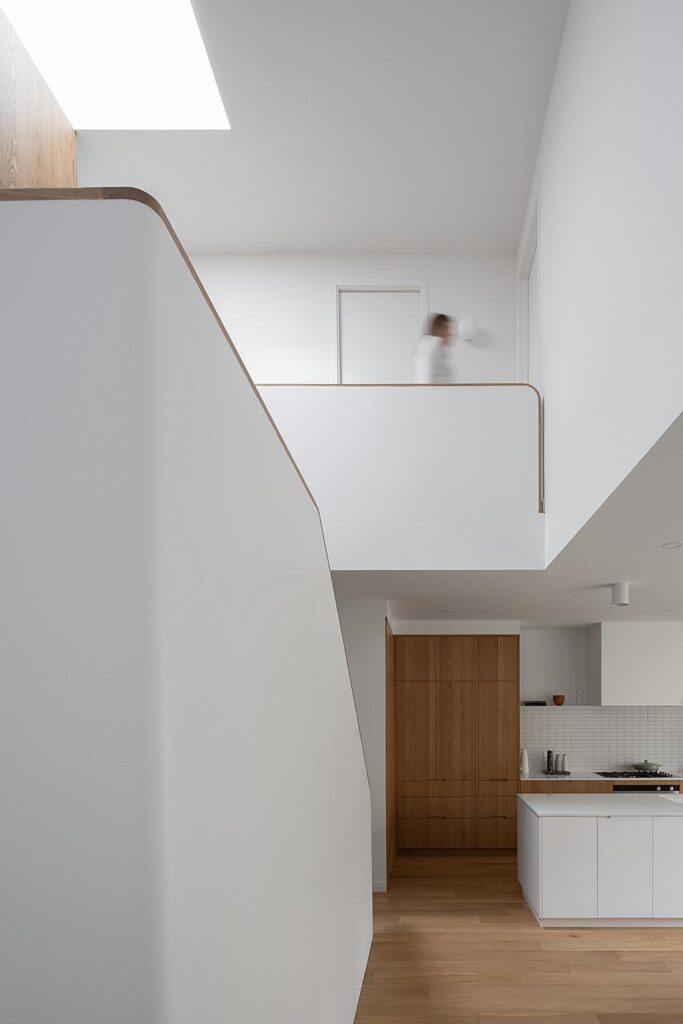 Florian's photographs of the staircase appear deeply geometric, sculptural, and graphic.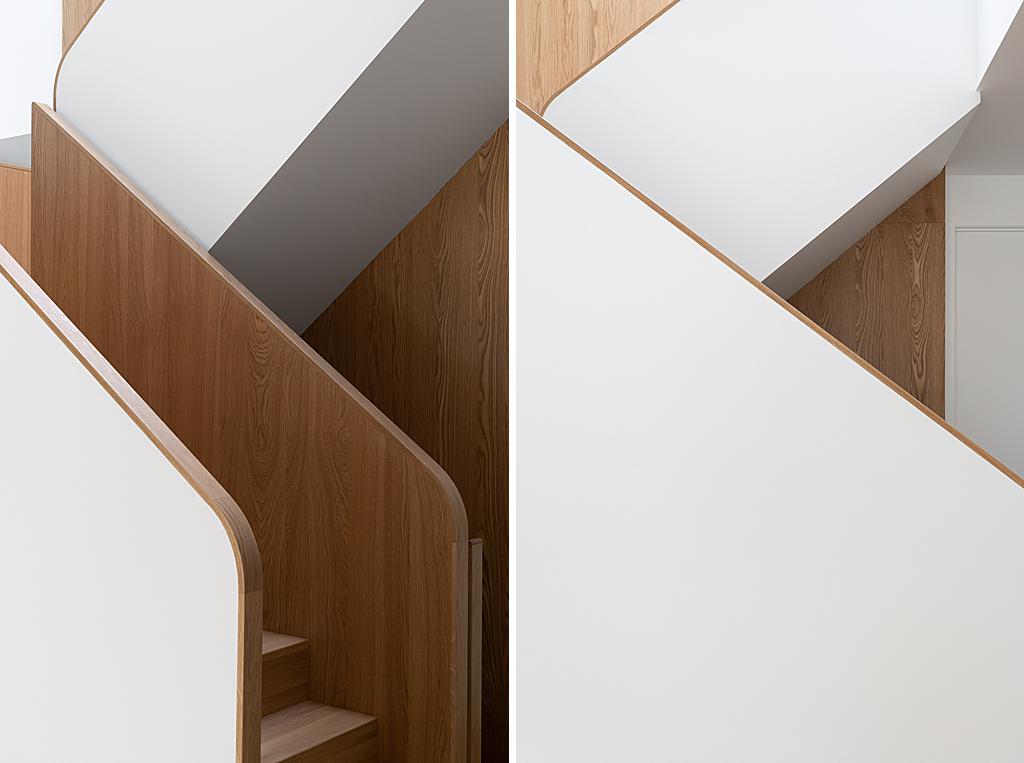 He shares " I have a hard time taking pictures in a top-down angle, the lines always look wrong to my eyes, so this one was a struggle. The image appeared to me after 10 min of trial and error and it made sense instantly. I tried to respect the classic rule of thirds. I aligned the darker spot of the staircase at the intersection point of the grid. The rest of the image is brighter. One of the simplest rules of composition but I think it works perfectly."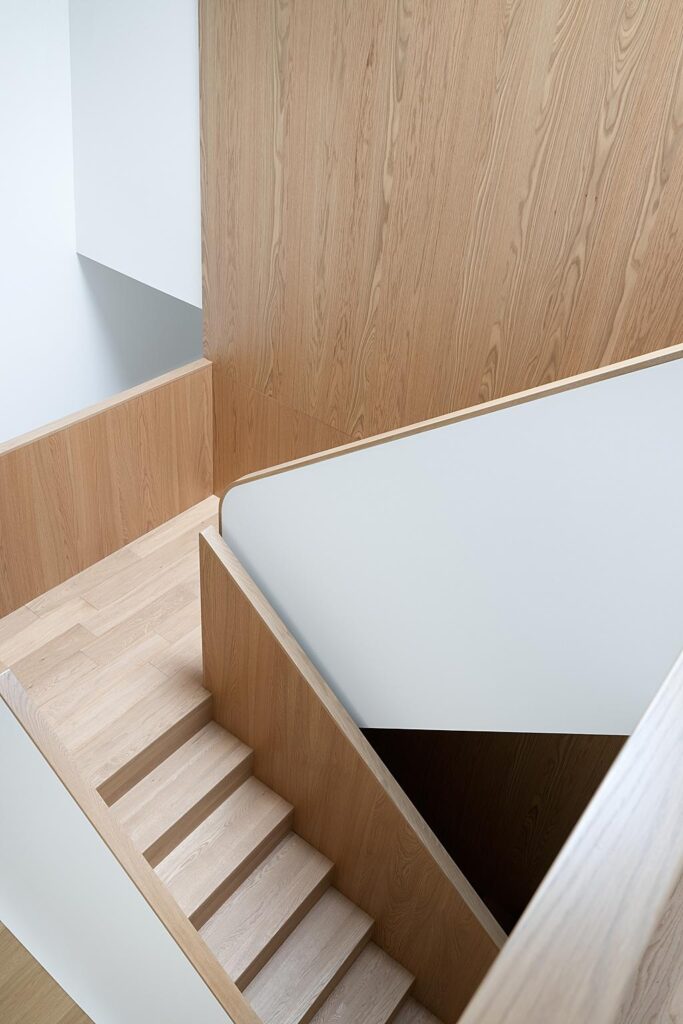 Another graphic, shapely photograph here showcases all of the important design elements of this home. The calming white interior, the beautiful wood elements that tie together each room of the house, and the rectilinear elements contribute to strong leading lines in these photographs. Adding a figure in motion adds life and a little splash of color to the scene.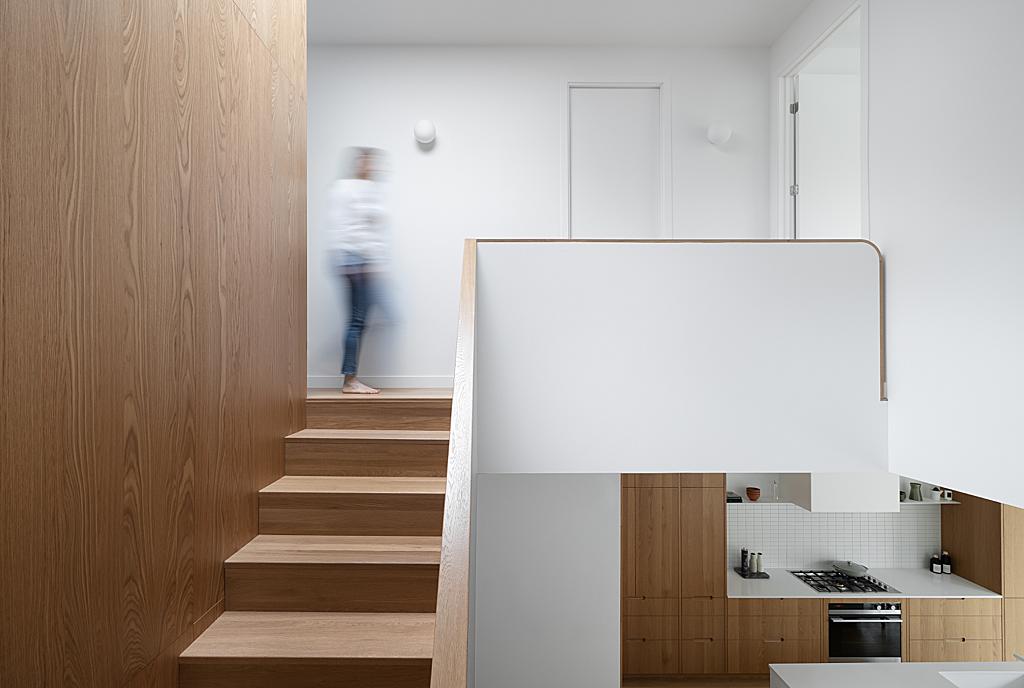 Florian gives us a look into his gear bag and process. He says "I do work with supplemental light but only 40% of the time and only when I need to enhance the way natural light is already interacting with the space. So my lighting equipment is very compact with a small 300w strobe and a softbox. For the rest of my equipment, I am a Canon shooter so the usual tilt-shift lens —17mm, 24mm and a 50mm for some details shots, and my laptop. It all fits in a Nanuk 935 case that I can travel with."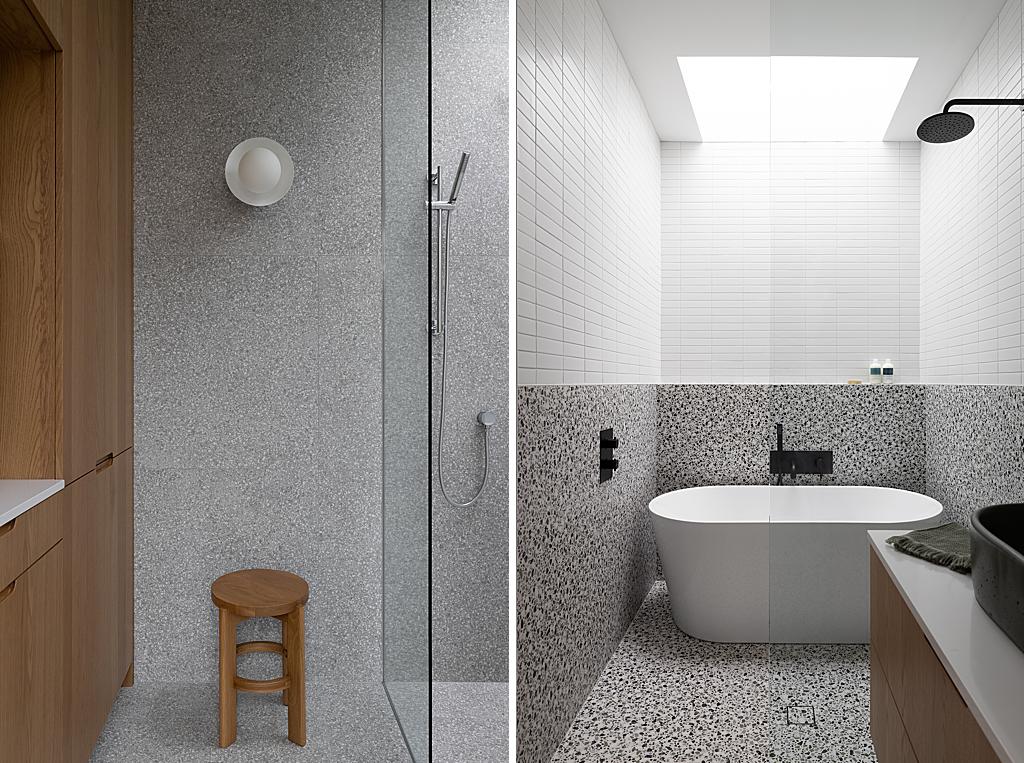 One thing, in particular, I enjoy about Florian's work is his very clean but natural editing style. I was curious how in a project like this, where there is so much white, how Florian delt with color casts and arrived at these clean edits without them appearing overcooked or too processed.
Florian shared, "I am glad to hear you like them. I had an Italian teacher in art school and during our drawing lessons, studying artists like Caravaggio she would repeat: «  the line does not exist ! There is only light and shadow, light and SHADOW » so I try to remember that when I am in front of Photoshop.
I take around 5 different exposures of ambient light and I try to emphasize, in the most natural way, some of the shadows and bright parts of the image together. Regarding the colour cast, there was no other colour inside the house than white and wood texture so the colour correction process was mainly to reduce the blue and green colour cast coming from outside and some of the yellow on the walls. I typically remove all the colour cast and then I take a step back before I put some colour back in."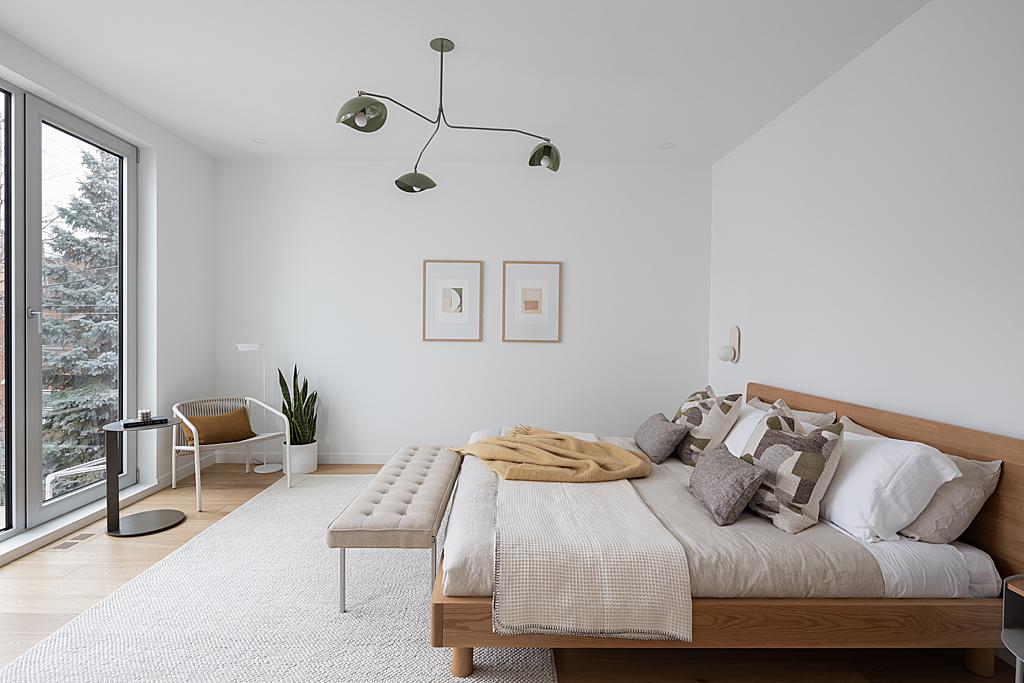 A big thank you to Florian for submitting this series in for Project of the Week!
Check out more of Florian's work at studiocrbn.com and on Instagram @studio.crbn.
If you have a project you'd like to be considered for Project of the Week, you can submit it here.