Álex Fernández-Llamazares is a draftsman turned architectural photographer based in Vigo, Spain. For this week's featured project, Álex takes us to an absolutely massive sports complex in Spain.
Supera is a brand comprised of over 32 sports centers in Spain. This particular Supera location is in Rivas Vaciamadrid, which is 15km southeast of Madrid. Sports architecture specialist Antonio Desmonts hired Álex to photograph his project, and Álex noted that it was a win-win for everyone since he was able to sell licenses to both the architect and Supera themselves.
Álex kicks things off by sharing the magnitude of this project, saying "The sports center is made up of a main square for access to the site, a parking lot for more than 200 vehicles, an outdoor recreational sports area with 3 glass-enclosed paddle tennis courts, a children's play area, a 50m athletics track, outdoor changing rooms made up of group, common and individual changing rooms, adapted toilets and showers plus storage for sports equipment, as well as a field soccer 11, another soccer 7, a basketball court, a beach soccer field with a sandpit divisible into two beach volleyball courts, an outdoor solarium with a pool of 8 lanes by 25m and another 12x6m paddling pool, in addition to a picnic area with tables. The main building of the sports center, with more than 9,000m2, is made up of the access and sports shop together with the cafeteria, women's, men's and family changing rooms, offices, first-aid kit, 4 rooms for directed activities, 8 streets and another for learning, a thermal area with a spa, jacuzzi and hydromassage and on the first floor 1500m2 of fitness rooms, cardio, etc… The total area is just over 41,000 m2."
AKA, this place is huge! Alex sent me over the project photographs in their entirety, but I decided to whittle this POTW to my favorites that explain the site pretty well.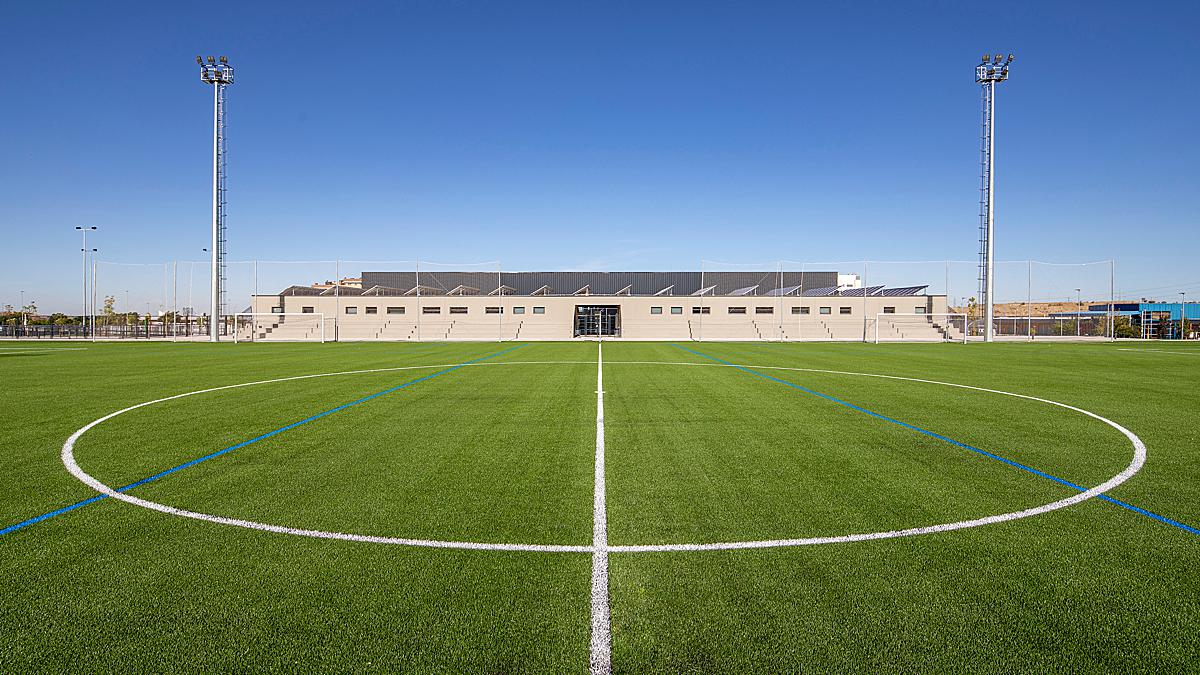 "I've worked for several years in construction so the architectural language is quite familiar to me, although I've always been linked to photography, it's around 2017 when I start dedicating myself to architectural photography, I am currently doing a Master in Image and Communication of Architecture that I will finish in February of next year," says Álex.
I love the rhythm here, with strong lines and the playful feeling of the light streaming in through the windows.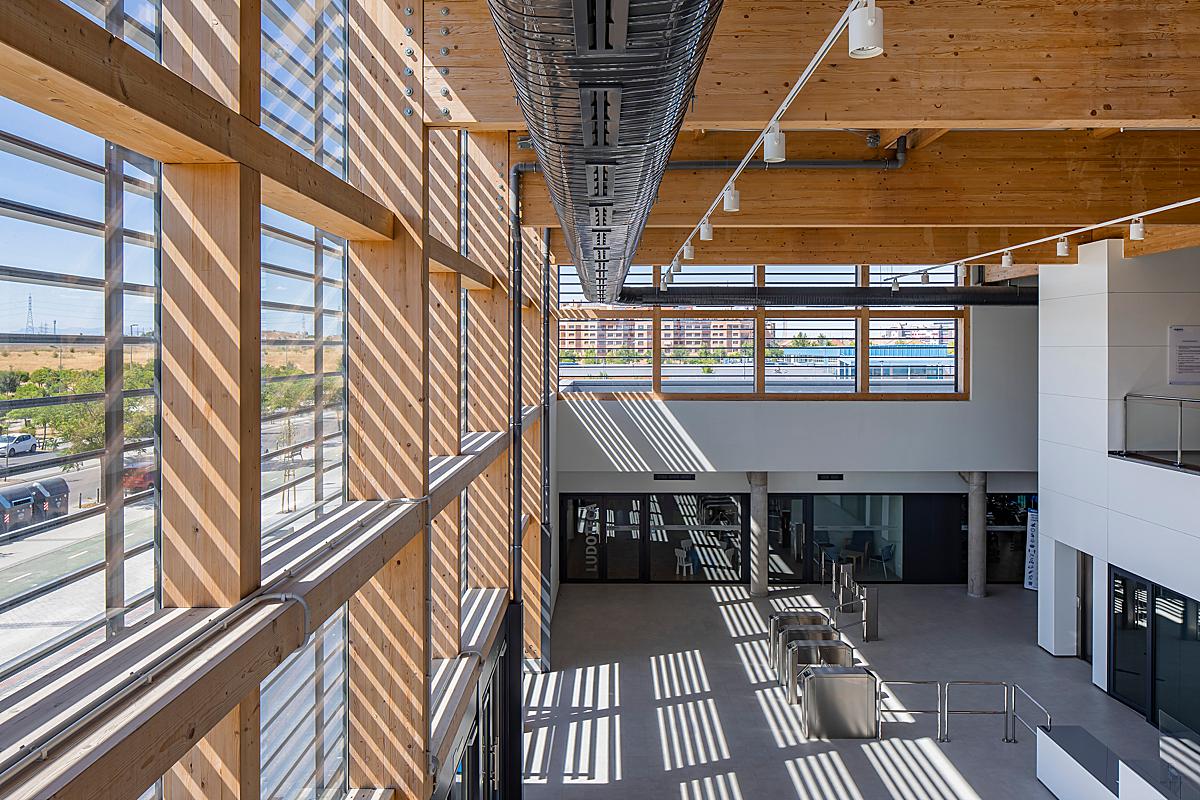 He continues "Luckily it was the month of August, so I wasn't going to have any problems with rain, clear skies and a scorching sun, minimum temperatures of 19ºC and maximum of 34ºC and a range of light between sunrise at 7:14 and sunset at 9:26 p.m., with a blue hour range of 6:43 a.m. to 7:14 a.m. in the morning and 9:26 p.m. to 9:56 p.m. at night. Working without an assistant, I calculated that I would need at least two nights on site, I scheduled the arrival for noon along with a visit to the facilities with the architect, there he told me about the project and the parts that interested him the most.
The first afternoon I spent getting to know the building and taking some shots, the center has just opened, although there were some people I was able to get around it well when taking the photos. Look for the places to shoot from at different times according to the position of the sun that I was calculating with Photopills. The biggest challenge was documenting such a large place without having the possibility of lifting a drone, so after visiting the entire center I discovered a couple of places where I could climb with a good perspective. The idea was to take advantage of the afternoon and morning blue hours of the first night and, if I missed a shot, to be able to count on the afternoon and morning blue hours of the next. He would take advantage of the central hours of the day to take photos inside the building. The most exhausting thing was how little I could rest since I went to bed after midnight and got up before 6:00 to be there before the blue hour in the morning, also the heat during the day was quite intense.
The photographs were taken with a TS-E 24 and a TS-E 17, some of them combined in panorama to capture the entire frame. I shoot from a 5D Mark IV and use the camera's Live View to see the framing. As I am 2m tall I just replaced my old tripod with a carbon Benro TMA48CXL because it extends to a height of 2.10m and the head I use is a Manfrotto MHXPRO 3 which will be the next thing I replace."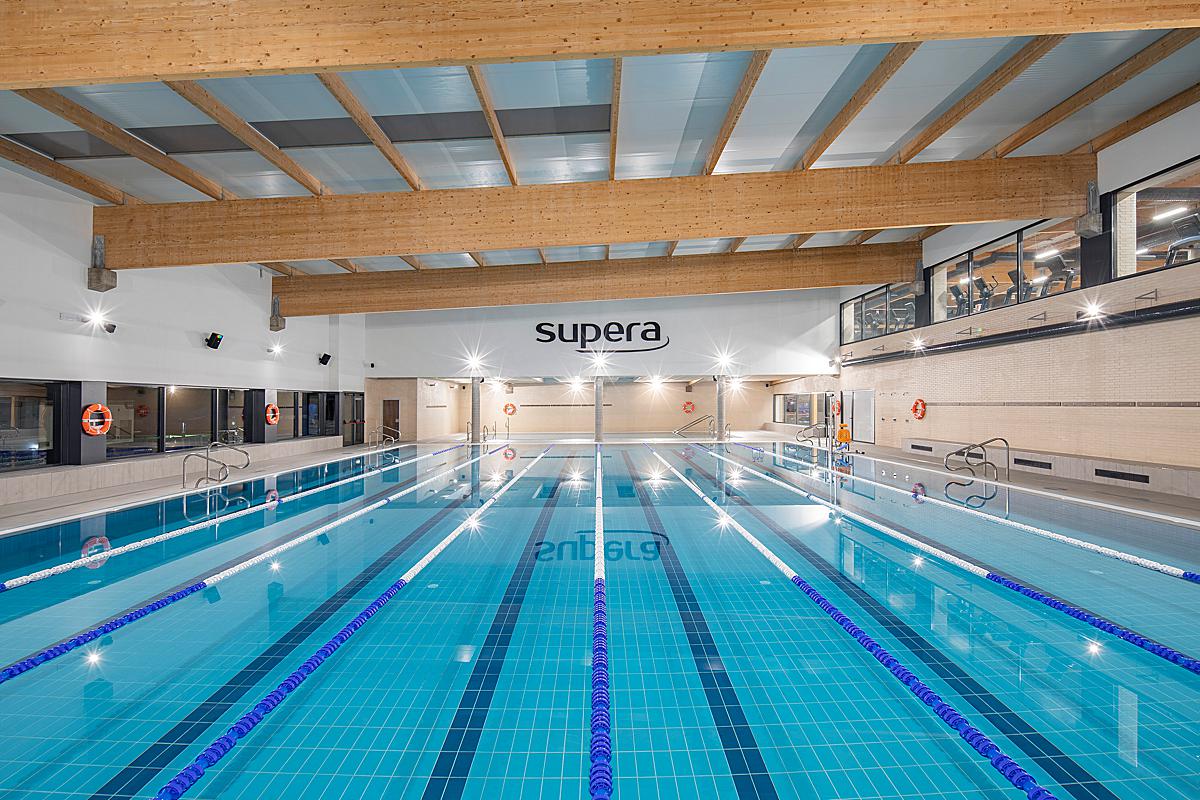 I absolutely love the sweeping view in this next shot. We are able to understand just how gigantic this athletics compound is. The time of day Álex chose to shoot creates a soft mood and lets us see the beautiful lighting and landscape design, which helps communicate how far the complex stretches. Álex says "Going up to the exterior locker rooms I got a visual of part of the exterior installations of the sports center, basketball court, beach soccer field with sandpit, exterior solarium with 8-lane pool and splash pool. This was taken during the evening blue hour."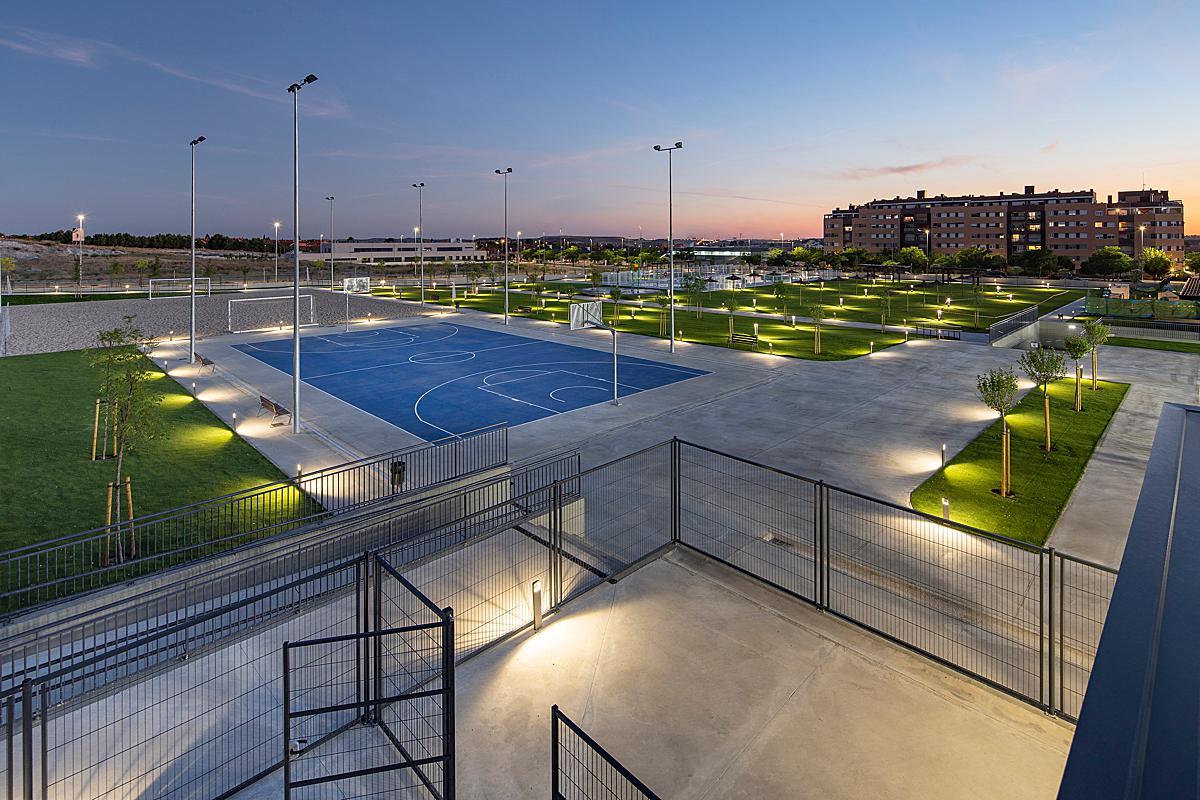 His willingness to climb around on rooftops and even on light poles create interesting perspectives in his photographs. His height in this photo allows us to see the 50m athletics track and paddle tennis courts in the background. The sense of scale here is really great, and by shooting at blue hour, he gives a bit more mood and pizzazz.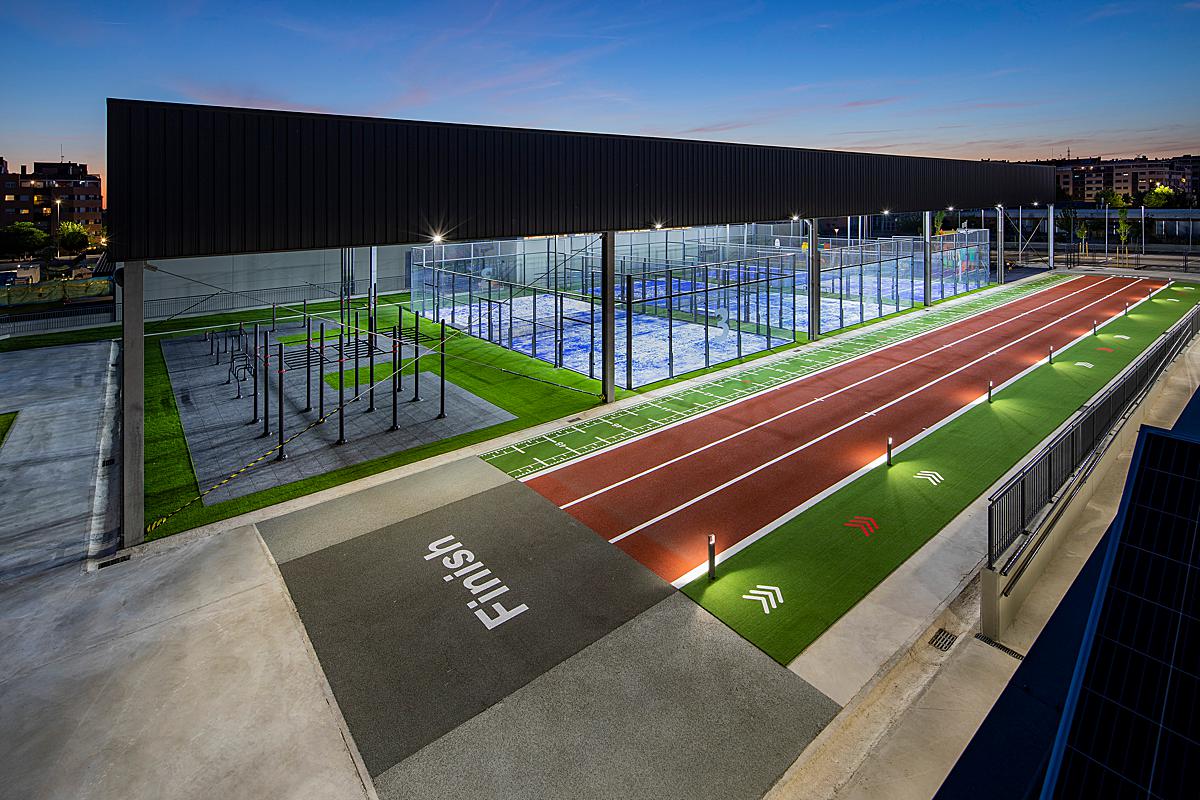 Álex says "By off-centering to the left and right I created a panorama that manages to capture the entire building. I use the color change of the tile so that the gaze takes you to the building."
Many thanks to Álex Fernandez for sharing this project and a bit of intel with us!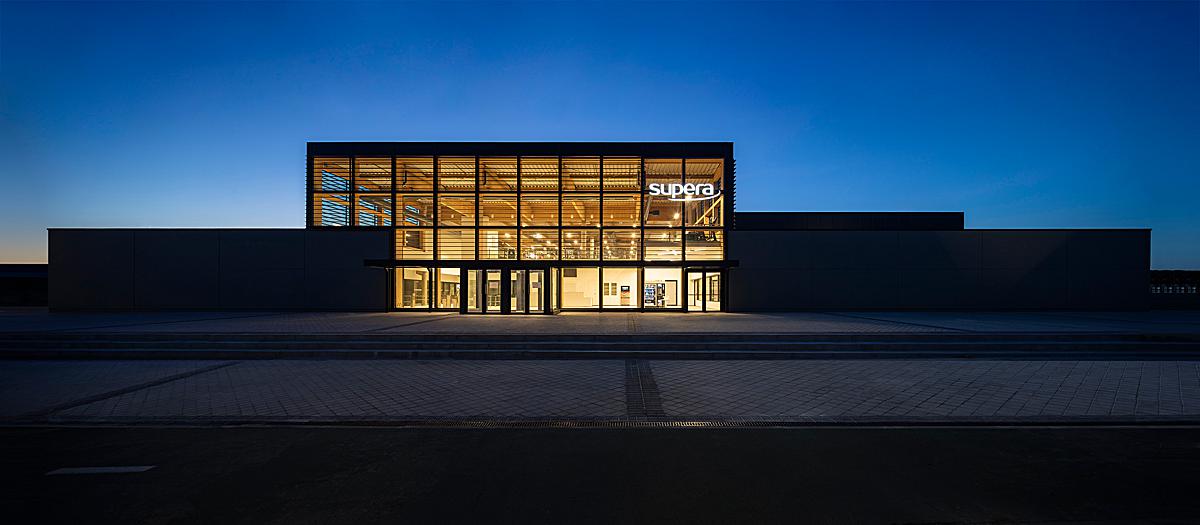 See more of Álex's work at alexfernandezphotography.com and on Instagram @alexfernandezphotography.
If you have a project you'd like to be considered for Project of the Week, you can submit it here.