Jennifer Hughes is a hometown hero of mine. A MICA graduate with a portfolio of rich and thoughtful images steeped in powerful lines and beautiful light, her style is undeniably recognizable. In fact, a few months ago I was looking through Traditional Home in the waiting room of a doctors office and stopped on a page for Bria Hammel Interiors. There was something about the photograph that felt so familiar and beautiful to me. A few days later on Instagram, I discovered it was – of course – the work of Jennifer Hughes.
Jennifer's work spans across different genres, from hospitality to interior design, food, and the occasional bout of portraiture. No matter what she's shooting, it all carries the same beautiful painterly qualities that make her work iconic. It's no surprise then, that she has been published in Architectural Digest, Dwell, Traditional Home, House Beautiful, Modern Luxury, HGTV Magazine, Coastal Living, Sous Vide Magazine, and countless other publications.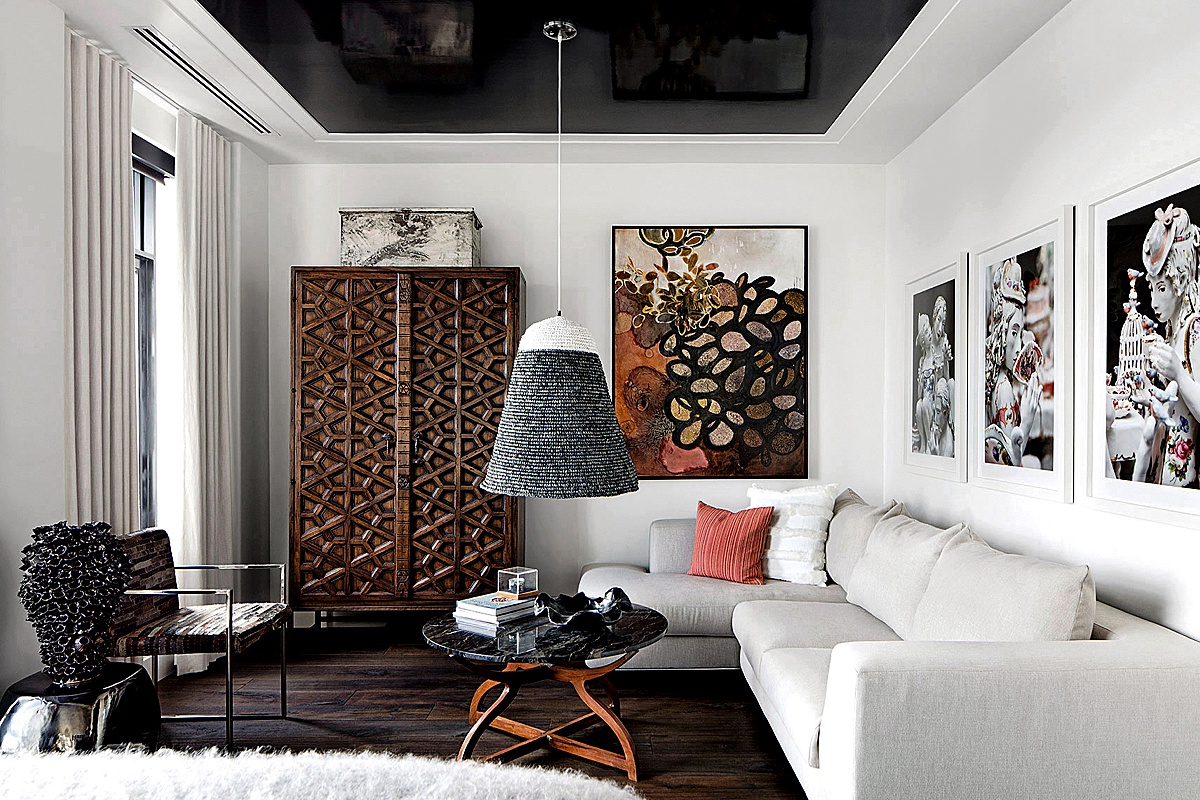 Lexi: Hey Jennifer! First thing's first, can you tell us a little bit about how you got started in your career as an architectural photographer?
Jennifer: I got into photography in high school. My senior year I actually had a double period of photography where I had 2 straight hours in the darkroom. I fell in love with the process.
From there I went on to MICA and got my BFA in photography. Again, this was during the film era, I graduated in 1993, so most of my time was spent either in the color or b&w darkroom. I miss that aspect a lot, the more tactile approach…it felt more like "fine art" to me…printing on archival papers, watching the images come up, and yes…the smell of fixer. I even miss that.
From college, I went on to assist commercial photographers mostly in the MD/DC/VA area and settled into a studio in Alexandria where I worked my way up to an associate photographer. We did a lot of catalog work there, using 4×5 cameras – shooting chrome and A LOT of polaroids. Then I met my husband…and not soon after got pregnant. This was a game changer, as I couldn't exactly be in the studio from sunup to sundown and building heavy sets. So, I was let go when I was 6 months along and had to come up with "Plan B." What I thought would be a temporary solution, actually derailed me for the next 20 years.
I got into shooting high-end weddings, thinking that I would be home during the week with my daughter and just shoot on the weekends when my husband could be home. However, it turned into a demanding 60-80 hour a week job. The pay was great, but I was miserable and burned out. Six years ago I decided I was either going to get out of photography all together or find a niche that made me happy. Architecture does that for me…in a BIG way. I've always been drawn to images that involve lines, forms, and shapes. So I slowly started over, rebuilding my business and client base and investing in some additional gear.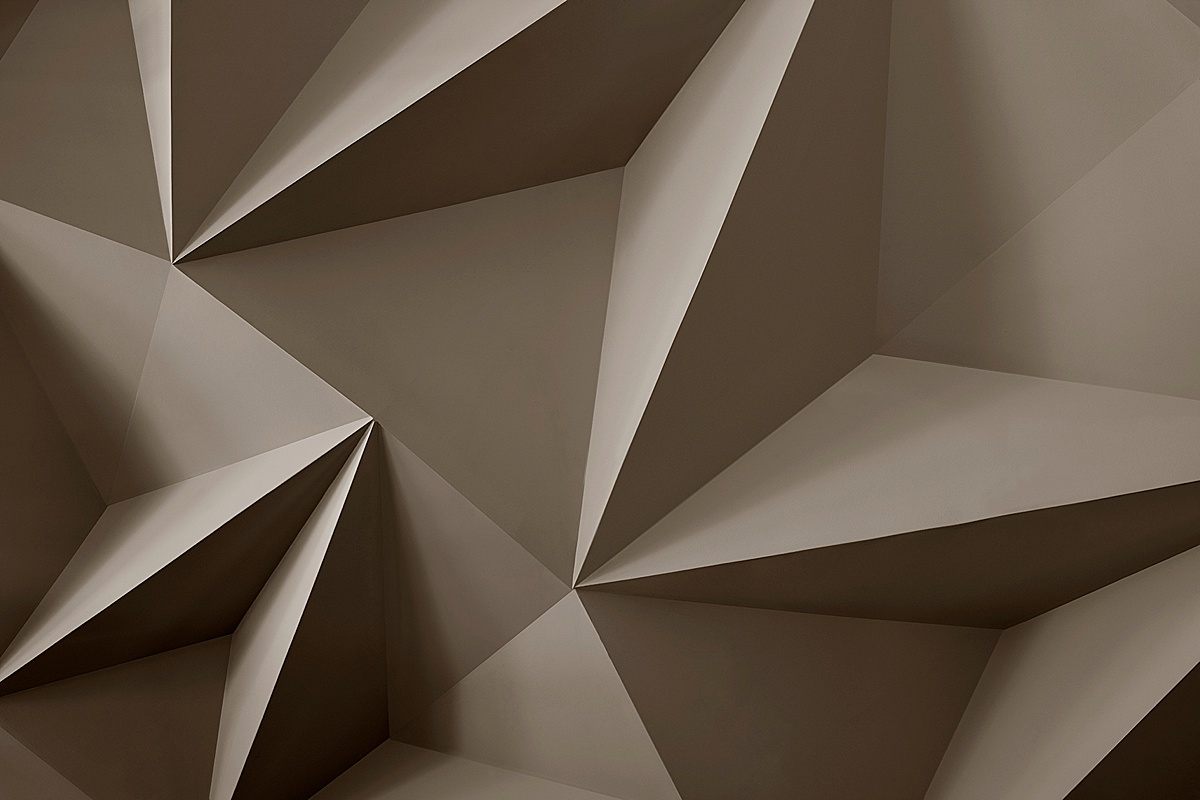 I had the same experience in the world of wedding photography. Burn out is a real thing! That being said, you're a mom, wife, & do quite a bit of travel. How do you juggle family and meeting the demands of the industry?

So the life balance thing is always a struggle. It has become a little easier since my daughters are older now. They are 19 and 15 yrs old, so that helps. I also have a husband with a somewhat flexible schedule and he has my back… all. the. time. I honestly couldn't do what I do without him. We tag team every day. I have learned how to space my shoots out too, knowing how long I will need to process each one. That helps a lot. Although, I still have weeks that I overbook because I don't want to pass up a good job. I just try not to make that the norm anymore. As soon as I start to feel too stressed, I back off a bit on booking. That's the beauty of being self-employed, but I'm still learning where my limits are and where the "sweet spot" exists.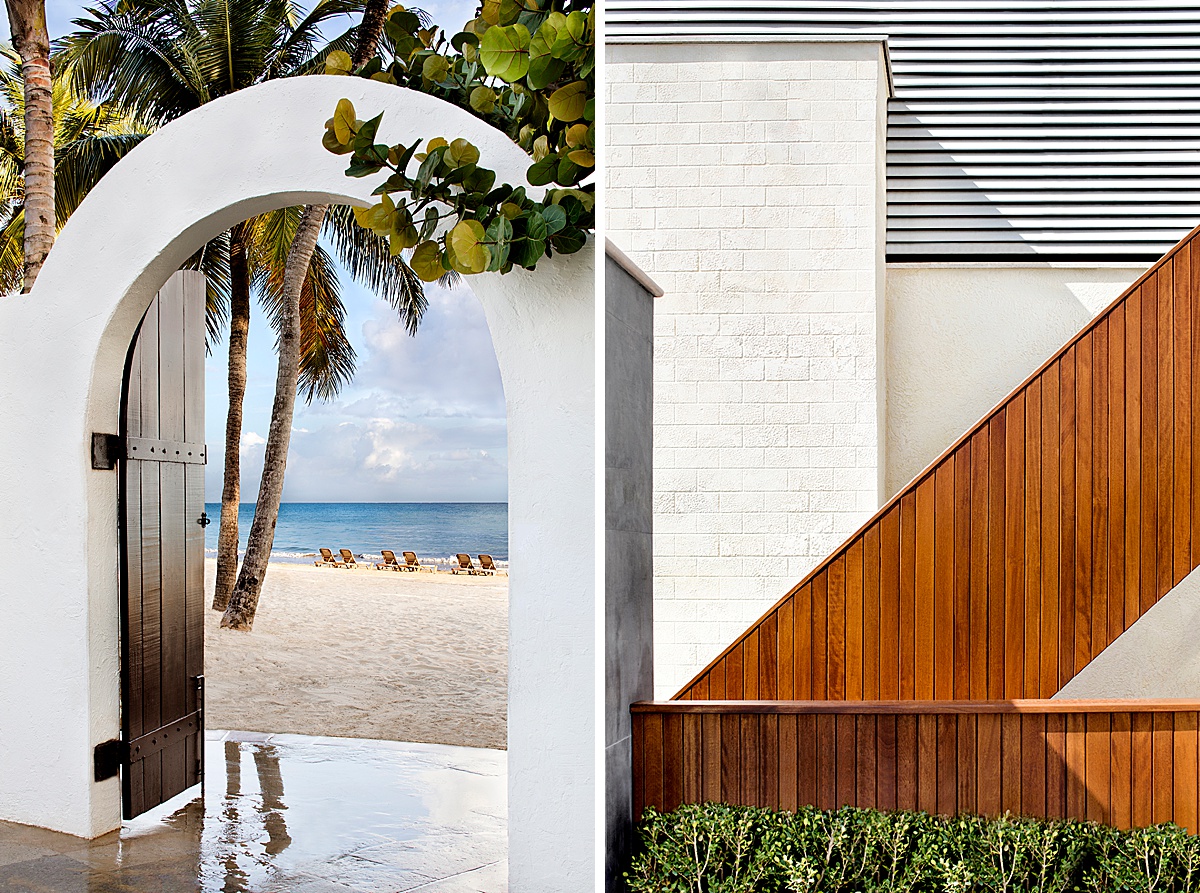 I love your project "HOME" where you've been exploring light. Can you tell us a bit about the project? How necessary do you think personal projects are to your growth as a photographer?
Ahhhh….during the period that I was shooting weddings I never had time for personal work. I didn't even want to do my own work because I was so sick of photography and the toll it was taking on my personal and family life. So once I started shooting architecture I fell in love with creating images again – I couldn't get enough!
Personal projects are ESSENTIAL I feel to keeping your eyes open as an artist and a creator. HOME embodies so much of where I'm at in life right now. It's therapy for me. I'm forcing myself to be limited to one location, one that I'm very familiar with, but seeing it differently every day. And it does change every day…when I'm looking. The walls may not move, but the light changes. This is what I focus on, the light. There is no pressure. It's slow and methodical and quiet. Some days I end up with multiple images that I love and others, not so much, but it's all ok. It's a process, like exercise, with no determined end in sight.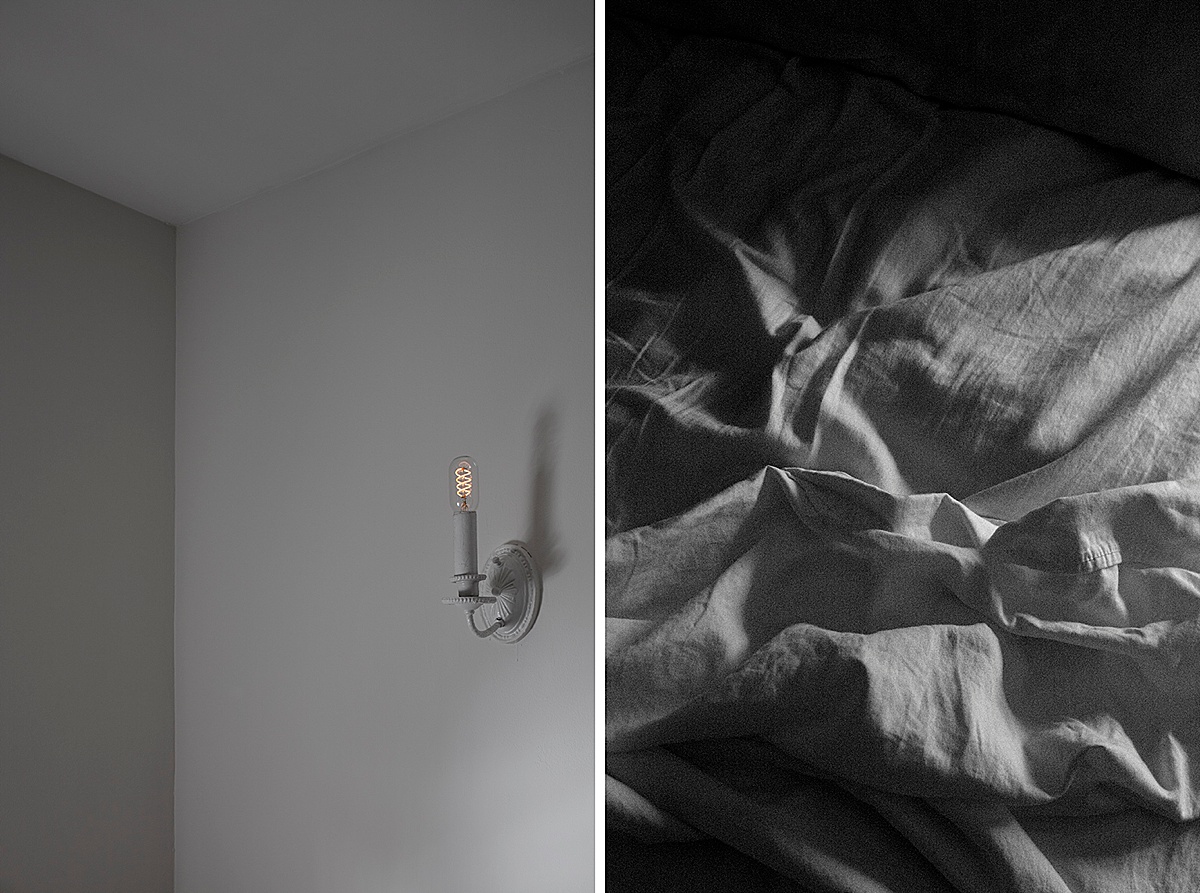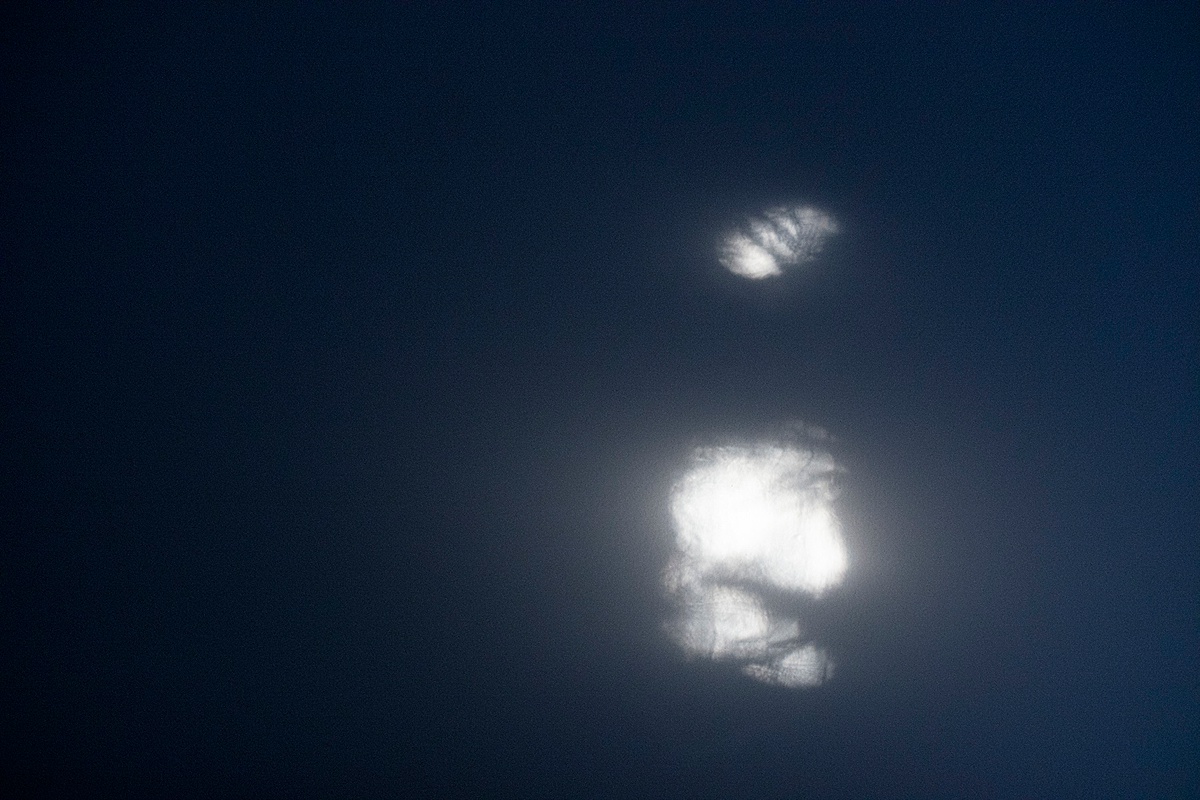 Working primarily in the Mid-Atlantic, the style of architecture here is typically very different than that of a place like LA or the mod Scandinavian buildings we typically see in magazines and ads. How – if at all – do you think this has shaped your shooting style and body of work?
That is a good question! I am drawn to very minimal imagery, so every shoot I do I'm always seeking out what I call "the B sides"…the images that I do for myself. If I could, every shoot would be an ultra-modern residence, but those don't pop up too much here in Maryland :). So I try to create images that are simplified and edited down, no matter what the style of architecture or furnishings. I've found that this is a great way to "minimalize" any home or building – and I follow the light. I'm always looking for those hard light drama moments!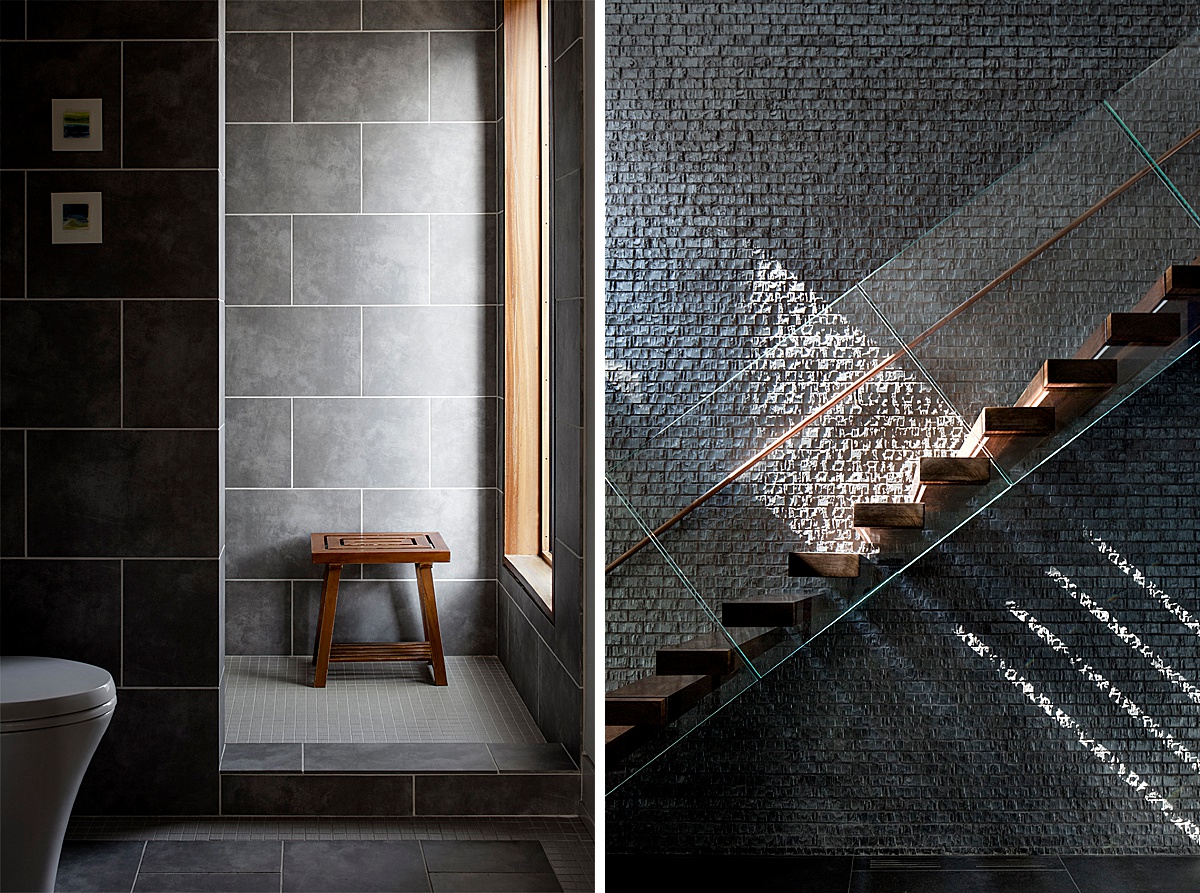 Your work has such a rich & expressive quality to it. Can you walk me through how you plan to light a scene whether that be from scouting natural light to determining if artificial light is necessary?
For most of my work I use and manipulate natural light. I do supplement with strobes when needed, but I really love working with the light that's present. I use silks and black cloths on almost every shoot, blocking and filtering light where needed. I also do A LOT of post work to achieve the look I want. I have a deep love for contrast…in fact, I find that I have to dial myself back a lot when working for clients. I think sometimes my own personal taste can be a little over the top for most. Everything would be super dark and moody if I was left to my own devices.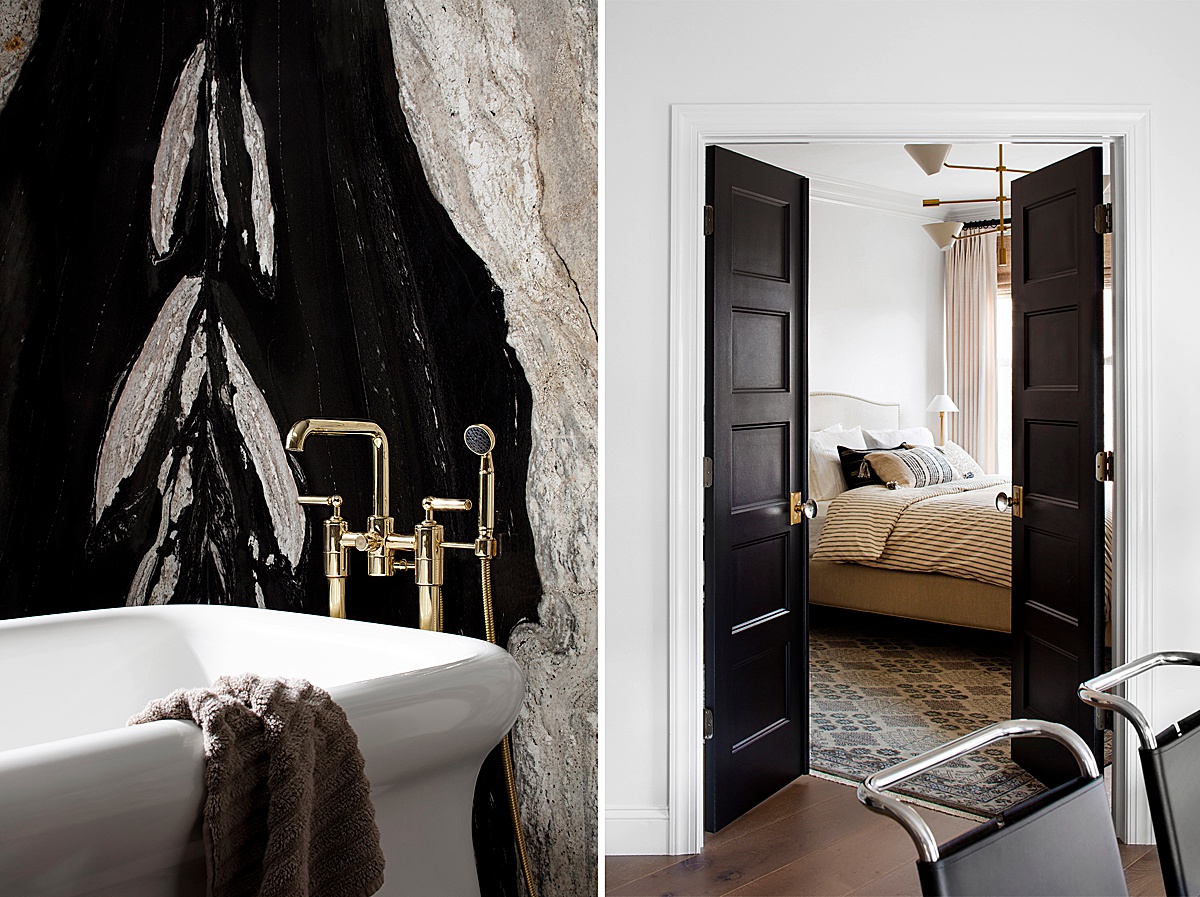 Talk to me a bit about post-processing. Your images have a unique stylized feel while staying natural and not overdone looking. Are there any techniques you feel you're using on the majority of your images?

I kind of touched on this during the last question, but I work a lot with layers, building final images from 4 – 5 separate exposures. I add contrast by playing with curves in all of my images. I also dehaze and clarify
some, as well. If I could, I would convert everything to a rich, inky, black and white. Someday, that will be the only way I shoot. I just need to get more clients on board first!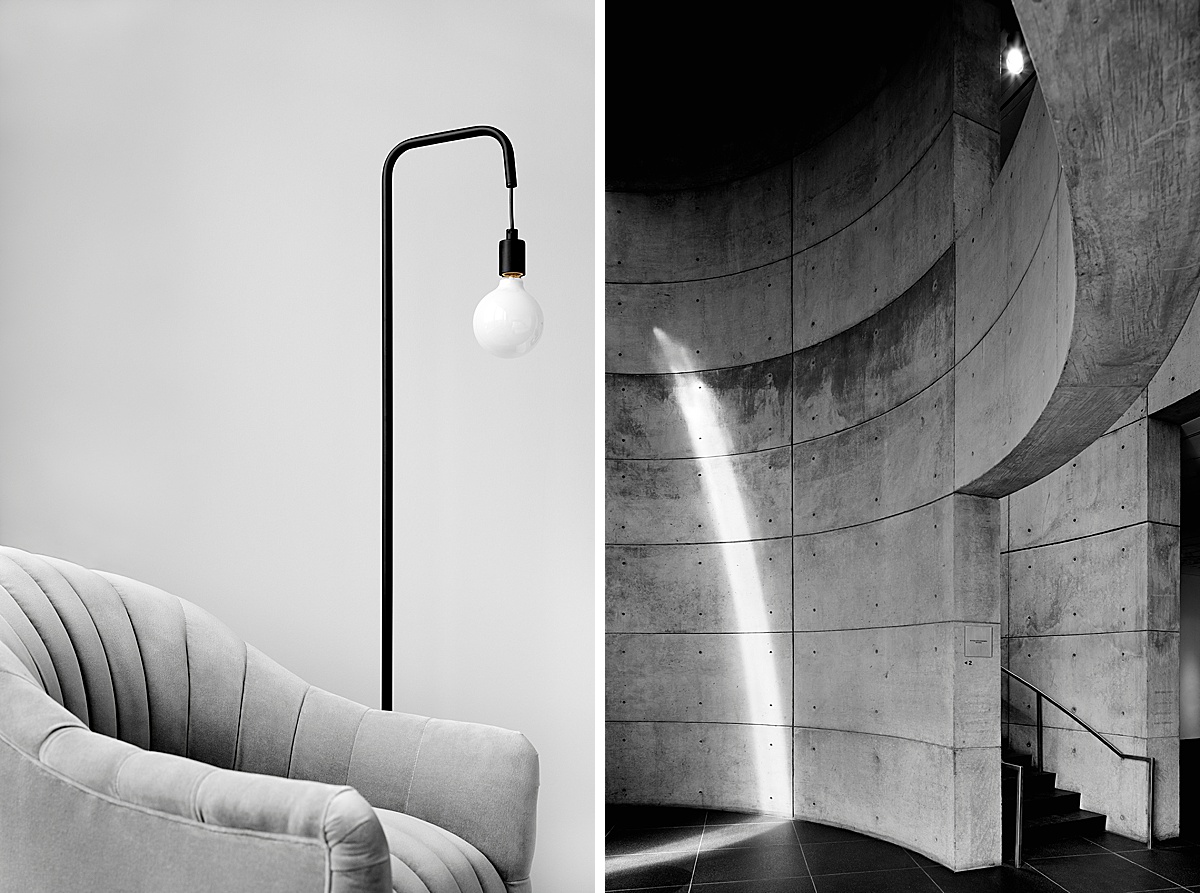 You also have an awesome stable of editorial & food images. How does your architectural and interior work lend itself to your editorial work and vice versa?

I really have the same approach no matter what I'm shooting. I'm still drawn to the same angles, the same style, the same light (or lack of light), the same amount of contrast – regardless of whether it's food or a building. However, it's nice to change gears once in a while and put the macro lens on. I mostly shoot food now when I'm photographing a hotel or resort.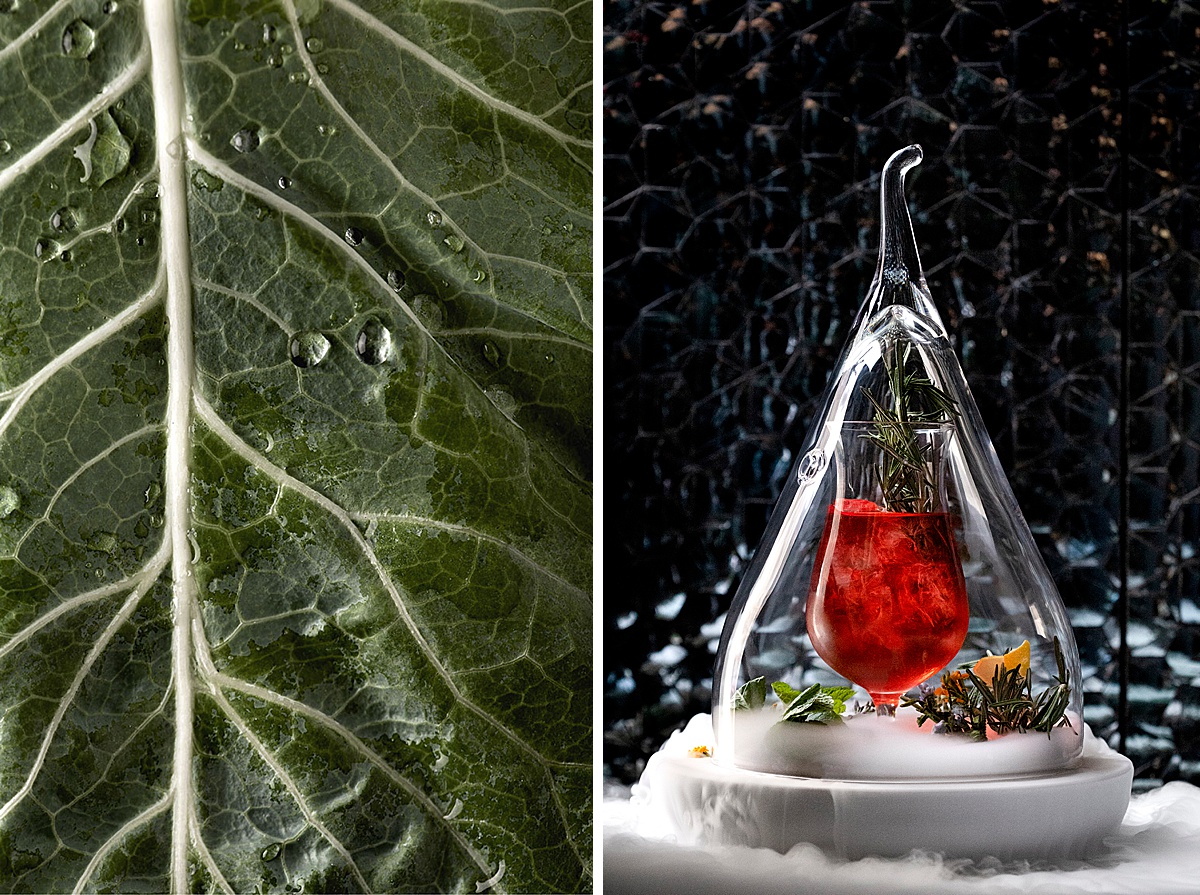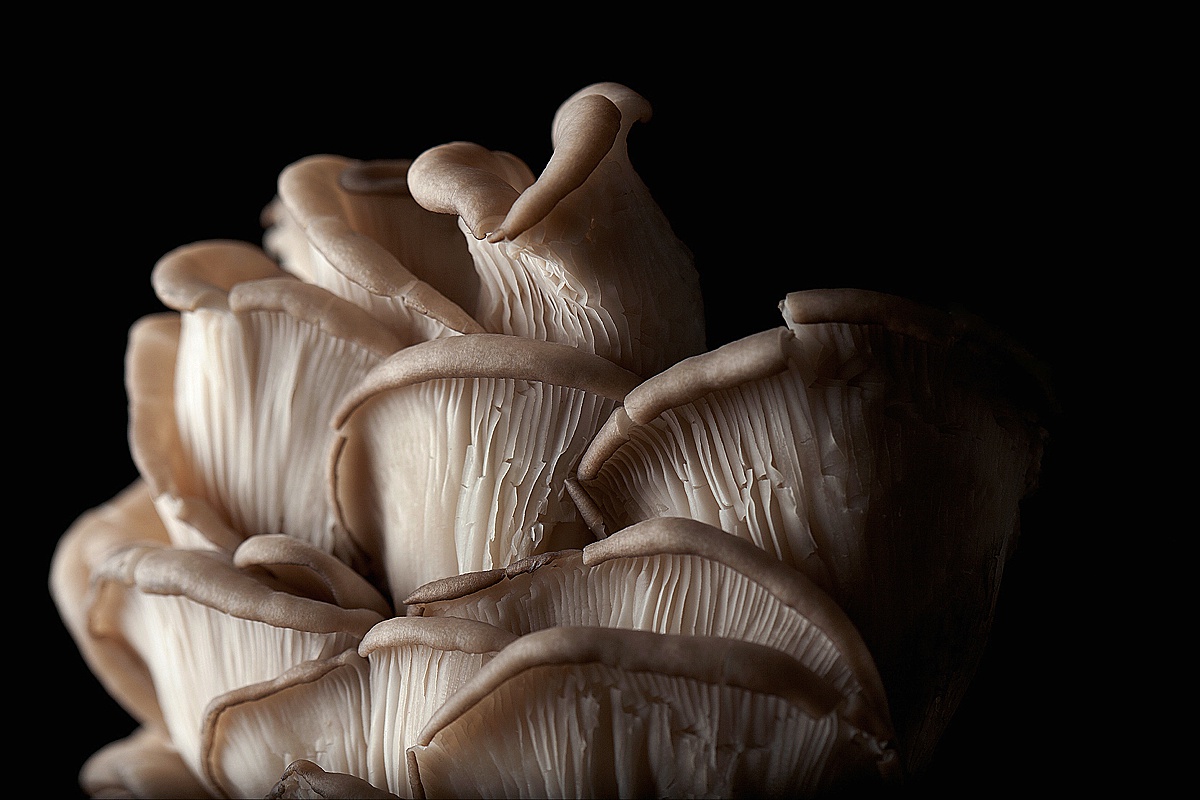 I'm always bummed by how little resources there are for Architectural Photographers. Have there been any key educational tools that have made an impact on your career?

This is so true. I really taught myself, through trial and error, how to shoot architecturally. I studied the work of photographers that inspired me and still continue to study and observe and learn from other photographers work. You are correct, there aren't that many resources to "learn" the craft unless you want to spend endless hours on YouTube.
I miss the days of being able to assist and learning the trade from photographers who are already working in the field, but those days were well behind me by the time I got into shooting interiors/architecture. I have found a few photographer friends on Instagram that are also doing the same type of work, in different states. I've found they are more willing to "talk shop" than other local photographers that I'm competing with,
which is understandable. It's been great to compare notes and share our visions of what makes a great photograph. So I guess the work of photographers that I admire has been my biggest
"tool" for developing my own style/vision.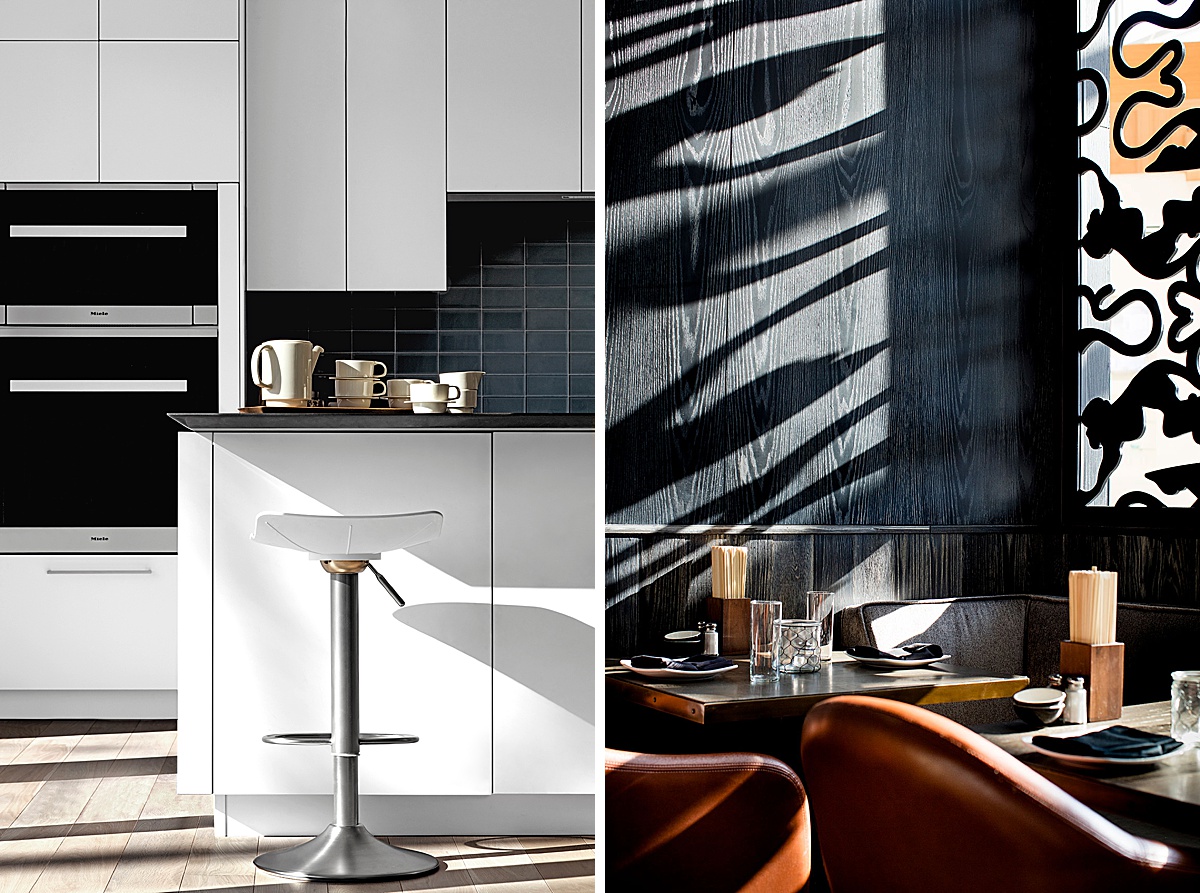 For folks who are just starting to gain traction in their careers, can you share the biggest "a-ha" moment or advice you've discovered on your journey? What's the secret sauce?

I'm not sure I've found the "secret sauce" yet myself! If you find out what it is, please let me know!
No, my career has taken a lot of turns over the last 25 years. If there was a straight path, I sure didn't find it. I've just always tried to stay true to my own idea of what makes a good photograph, regardless of how many "likes" it gets or how popular it is. I'm definitely one of those people who's always felt somewhat like a black sheep. I usually hate what's popular or hot at the moment and love the obscure image that doesn't attract a lot of attention.
I'm big on "b sides," those photos that I would probably not give to the client, the ones I take at weird random moments on a shoot that are solely for myself. I always try to take a few for myself. It's what keeps me motivated.
A million thank you's to Jennifer Hughes for taking a moment to chat with us despite being in the midst of many projects and traveling jobs! be sure to check out her portfolio and Instagram for an endless amount of great work!