The Best Gloves For Architectural Photographers
Gear
Review
I think compared to many other people, I get cold hands quickly. As soon as the temperatures outside get into the single digits (°C), my hands quickly freeze when I'm taking photos or flying a drone. Over the past few years, I have therefore tested a variety of different types of gloves to counteract this problem. In the process, I came across the manufacturer Vallerret, which for me makes the best gloves for photographers. In 2020, I bought the Vallerret Markhof Pro V 2.0 and tested them over the last three years in the city and in the mountains, in wind, rain and snow, while photographing and during snowball fights with my children. Vallerret was kind enough to send me their latest version, the Markhof Pro V3, as well as the Urbex glove and the Inlay Power Stretch Pro liner for this field report. So let's take a closer look at these three gloves:
Vallerret Markhof Pro V3
The Vallerret Markhof Pro V3 glove is an absolute all-rounder that I can rely on as a photographer in any situation. The glove especially shines in a harsh environment. It has survived my architectural photo series in the Alps as well as long sledding trips with my kids. After three years of intensive use, my version 2 of the glove only has some cosmetic wear on the thumbs. Otherwise, it keeps wind, water, and cold out like it did on day one. The Markhof Pro is lined with 100% merino wool, which keeps it well warm down to about -10°C/ 14°F. The outer material is a blend of DWR goatskin and a synthetic material. This combination keeps body heat well inside the glove while preventing me from sweating in it. Vallerret offers its gloves in an unusual number of size variations, from XS Slim to XXL. When I've usually bought size 10 gloves, Vallerret's size L fits me just right.
The Markhof Pro V3 has a comfortable feel, though I lose some sensitivity in my hand due to the sturdy material. I especially notice this when trying to operate the dials on my tilt-shift lens. Constricted by my camera cage, the glove is a bit too thick to reach the cogs or the lens change button. For this very reason, Vallerret has built a flap into the fingertips of the glove for the left and right index finger and thumb respectively, allowing you to expose the foremost joint of the finger. The fabric flap is held to the glove by a sewn-in magnet and doesn't interfere with your view when you're using your fingers to operate your phone or drone controller. Compared to many cycling gloves with the fingers cut off, Vallerret keeps all other fingers protected from the elements. When flying drones, I usually just expose my thumbs to operate the touch display on my controller and to have more sensitivity in the joysticks. This way, I can fly for half an hour in sub-zero temperatures without having frostbitten fingers. This is a huge gain for my shooting efficiency and comfort. 
In addition to the ingenious finger caps, each side of the glove has a small zippered pocket on the top. On one side, Vallerret has attached a metal plate with a string about 50cm long that serves as a slotted screwdriver. On the other side, there's room for a cleaning cloth or SD card. I would not store thicker items, such as batteries, in the pockets, as this would affect the feel too much. 
On the inside, the glove has a non-slip coating that lives up to its name. Without being sticky, you have a firm grip on smooth surfaces. Even with my camera in hand, I never had an unsteady feeling, as with some outdoor gloves. Only when driving a car, do I have a disadvantage due to the coating that I can not slide my steering wheel through my hands when steering. This works much better with the Urbex line: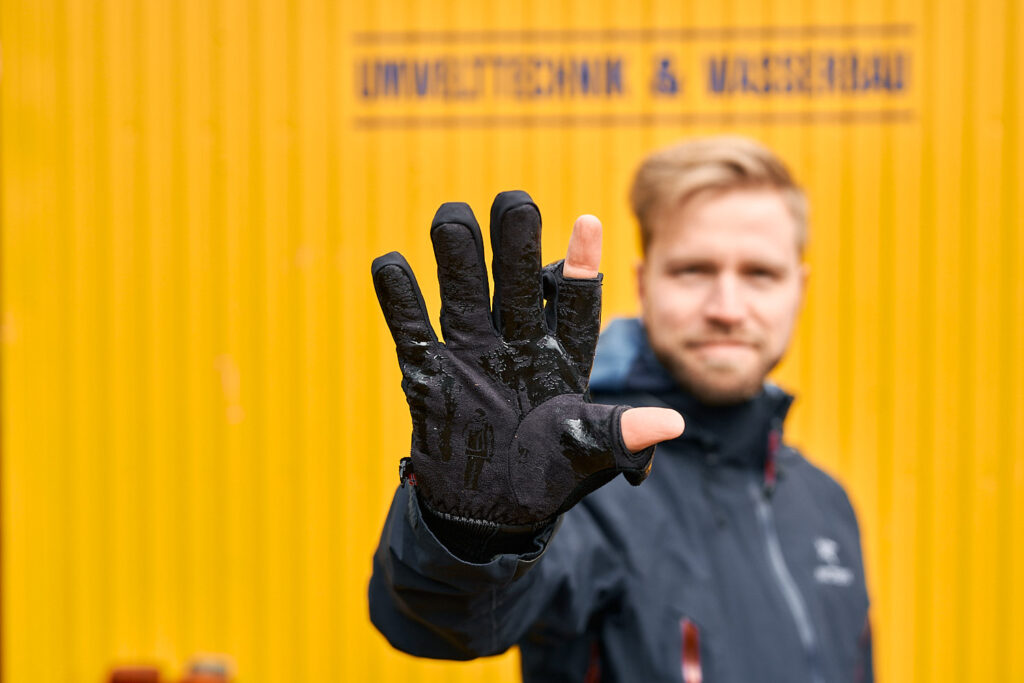 Vallerret Urbex
I was very excited about the Urbex photo glove. A professional, stylish appearance in front of my clients is important to me. I often show up to shoots in the winter in a coat, with suit pants, shirt and jacket. In combination with brown leather shoes, the Urbex glove is the perfect complement. The Urbex is a thinner glove that keeps my hands well warm at 10°C-0°C or 50°F-32°F. Despite the lack of anti-slip coating, I don't have an unsteady feeling with my camera in my hand. The thinner material allows more feeling in the hand, so I can operate dials and buttons well even with the glove fully closed. Of course, the Urbex also has the hinged finger caps with magnets that make Vallerret's gloves so special. The design of the finger caps in the Urbex photo glove has two advantages over the Markhof. First, the material is compatible with touchscreens , so I can also operate many displays directly through the glove (accuracy when tapping is limited here, however, and only practical for larger buttons). Secondly, the stretch material on the inside of the glove goes a little over the folding edge. This protects the hand even better from moisture. In the Markhof V2 I got snow through the finger opening in the glove. But in version 3, the opening was made even narrower to counteract this issue. 
In the two months that I tested this glove, I felt that the stretch material on the fingers and wrist could wear out over time. However, Vallerret has assured me that they have never received any feedback on this from their customers. All in all, the Urbex is a very comfortable and stylish photography glove for fall and mild winter. I have been asked several times by my fellow photographers where I got such a stylish glove.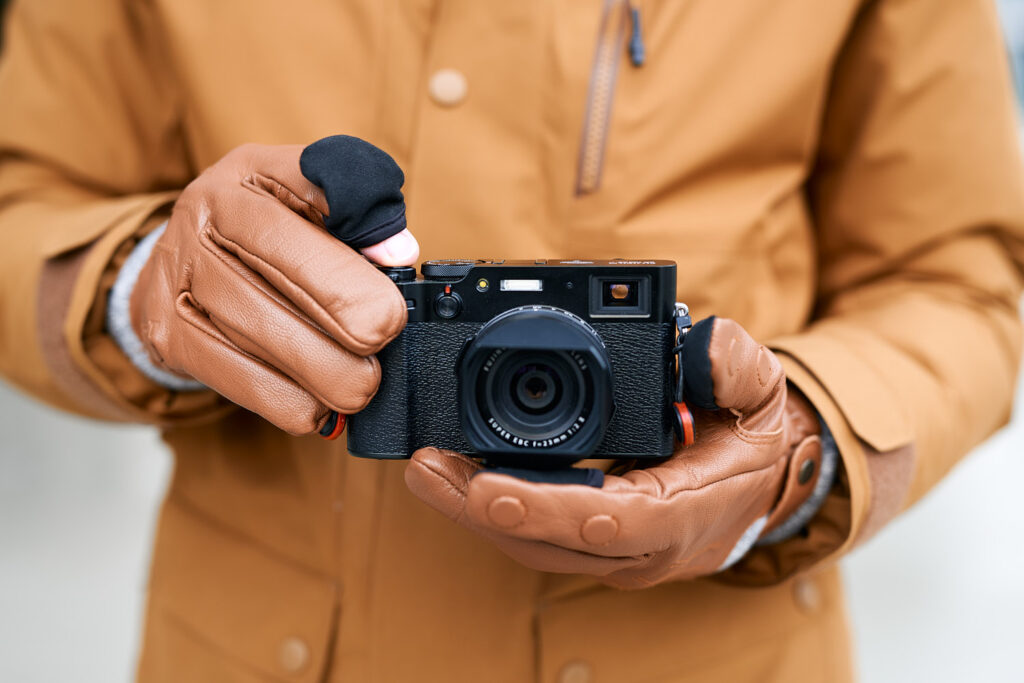 Vallerret Power Stretch Pro Liner
The "always with you" glove. The Power Stretch Pro Liner is a base layer that you can combine with other gloves. Without having done exact tests, I have the feeling that you gain about 5°C/°F of warmth with the thin glove. The glove has a permanent place in my tech pouch in the winter and is always with me in case I need it. Due to the touch-sensitive material, I can operate my cell phone well with my index finger and thumb. 
As a base layer with other gloves, the extra material of the Power Stretch is more noticeable than I thought. If the Markhof and Urbex fit me perfectly in size L, it becomes quite tight in combination with the Power Stretch. I can still hold my camera and tripods securely, but the sensitivity is lost in my hands.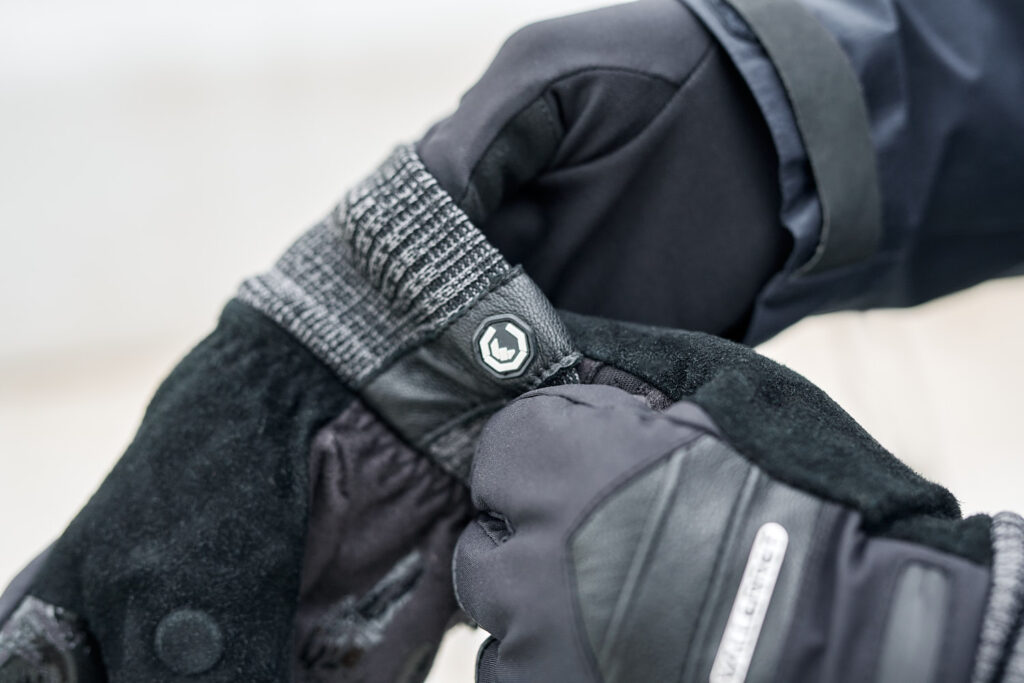 Conclusion
All in all, I wouldn't want to go outside in the winter without my Vallerret gloves. They really are a constant companion for me. For everyday use, I love my new Urbex. It fits my style and has a good mix of sensitivity and comfort. When I need absolute protection from water, wind, and cold, I reach for the Markhof Pro V3 with full confidence that it will stand up to any photo trip. This is my overall winner for the best glove for photographers.
For the deepest winter temperatures or photo shoots in the high mountains, Vallerret still offers the Alta series. However, I could not test these sensibly in the mild temperatures in Germany. 
PS: When it gets really cold and I photograph for a long time without moving, I like to use hand warmers in my gloves and shoes. This allows me to be pleasantly warm even when a photo shoot becomes many hours long.
Thank you Martin Neuhof for taking the time to photograph these beautiful glove images. Please check out his awesome IG account!