Smallrig Wants Your Feedback As They Design Their New Production Cart
Gear
News
Many architectural photographers use "video camera" carts. These small production carts with wheels allow you to comfortably transport a lot of equipment, especially when working with flashes and grip equipment. It is also a very good option for working with a computer in tethering mode. SmallRig has announced the creation of its own cart and encourages our participation in designing it.
SmallRig is a manufacturer of accessories designed specifically for use in the video industry. Their products significantly increase the functionality of gimbals and rigs. Produced for years, the solutions are distinguished by the durability of components, modern design, and high quality, which are sure to meet the expectations of both amateur filmmakers and video professionals. However, SmallRig accessories will work well not only in video applications but also in architectural photography. It is worth noting the dedicated cages for specific camera models or magic arms.
Recently, SmallRig announced the creation of its own dolly!
Discover the remarkable CinePortaFold Camera Cart, expertly crafted by Ian Roche (DreamRigger), with your convenience in mind. Our primary goal was to create a camera cart that offers quick disassembly, ensuring maximum convenience for filmmakers on the go.

We recognize that filmmakers have diverse requirements. For some, a full-sized cart may be ideal for narrative work or larger shoots, providing ample space for equipment and accessories. Others may prefer a smaller cart that can navigate tighter spaces, like homes or outdoor environments such as forests or cityscapes. We'd love to hear your thoughts.

https://smallrig.com/CinePortaFold-Camera-Cart.html
Key features for the producer:
Tool-Free Assembly: You can enjoy tool-free assembly, making the entire process a breeze. Save time and effort, and focus on what matters most—your creative work.
Flight-Ready Transformation: Need to travel with your gear? No problem! Lock two trays together, and effortlessly transforms into a flight-ready case. It's suitable for checked luggage, ensuring your equipment remains secure and protected during transit.
Customizable Accessories: We understand that different shooting scenarios demand flexibility. That's why the Camera Cart allows you to attach various accessories, including a steadicam/gimbal dock, monitor mount, wireless receiver extension, and more. Adapt to your unique needs and unleash your creativity.
We value your opinion and strive to continuously improve our products. We welcome any feedback on how we can further enhance the CinePortaFold Camera Cart to better meet your needs. Whether it's suggestions for additional features, improvements in materials, or any other ideas, we're eager to hear from you. Your input will help shape the future of our product line!

https://smallrig.com/CinePortaFold-Camera-Cart.html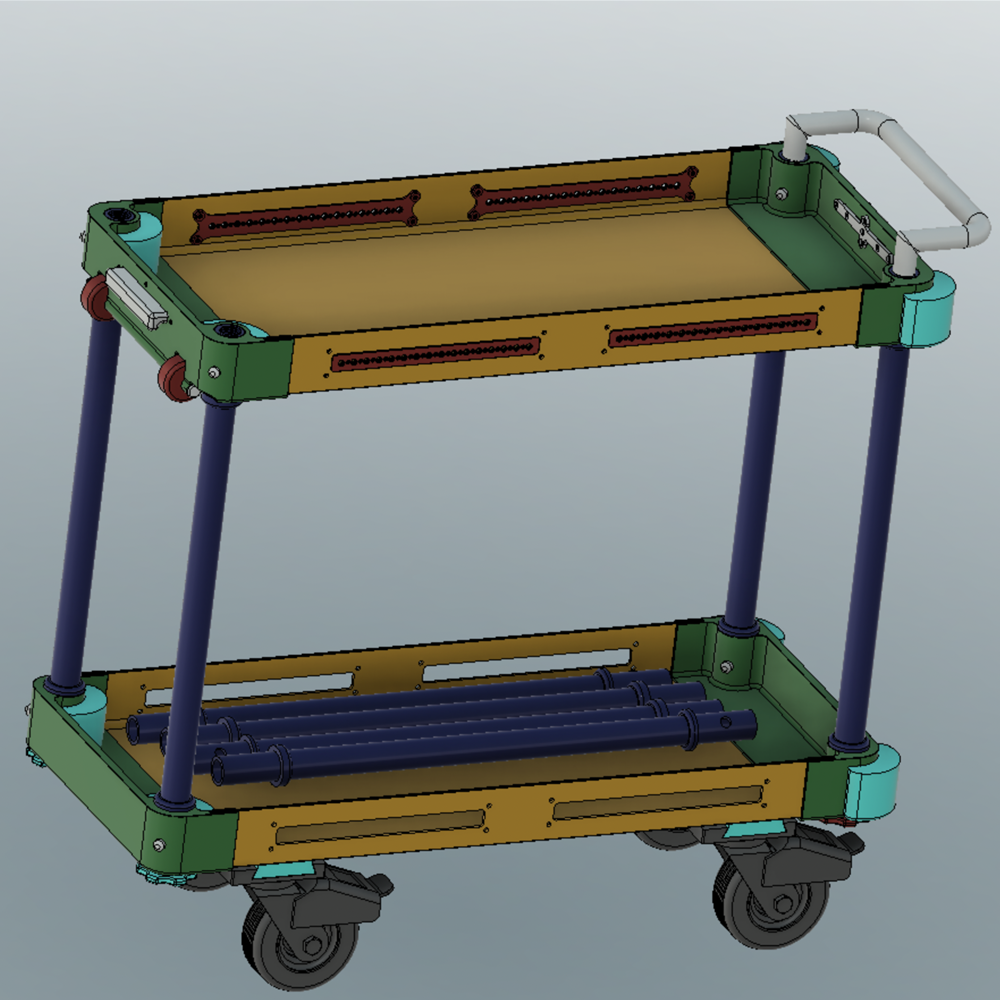 This item is still in the design stage. We are brainstorming with our valued customers – that is you! Please share with us if you have any ideas or suggestions via smallrig@smallrig.com and Facebook SmallRig Product Community Group. If your idea is adopted as a core concept, you will be a CO-DESIGNER of this brand-new product and get one FOR FREE once it is officially released. Product details, subordinate functions, materials are subject to change without notice.

https://smallrig.com/CinePortaFold-Camera-Cart.html
You can find more information on the manufacturer's website. Do you have any comments? Are you looking forward to this kind of product?
By the way, it is worth mentioning that existing well-known and recommended models such as the RocknRoller Multi-Cart and Inovativ Voyager are currently available.