Leofoto LH-40GR Geared Head vs Sunwayfoto GH-PRO II
Gear
Review
I know for an architectural photographer, the use of a tripod is assumed to be mandatory. It seems like we have our cameras firmly glued to our tripod heads. However, I have to confess that, especially for outdoor shots of buildings, I find the freedom of shooting handheld really liberating. For all other architectural photography, I was on the lookout last year for a new tripod head that would also give me that sense of freedom. My research led me to the LH-40GR from Leofoto. 
My first source for research was, of course, APALMANAC. Here I read all the articles on the subject of geared heads and found, in addition to the Arca Swiss heads praised by Mike Kelley, a short article about the Leofoto G2. After some more research, I was able to break my choice down into two alternatives, the Sunwayfoto GH-PRO II for about 280€ and the Leofoto LH-40GR for about 400€. To be honest, I was very unsure about both companies as I had no experience at all with the quality of their products. So I just ordered both tripod heads for a direct comparison. 
I had used both tripod heads for 14 days in comparison and am really impressed with the build quality. The tripod heads are made entirely of metal and all gear components move extremely precisely.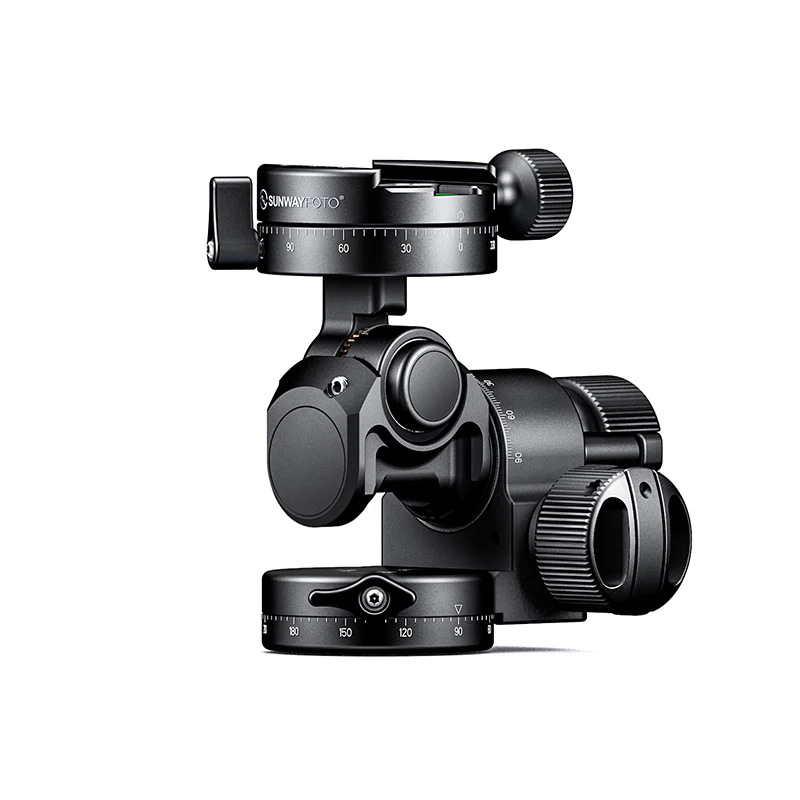 Sunwayfoto
The Sunwayfoto GH-PRO II has a very good range of motion for a gear head of +/- 40° lateral adjustment, more than 90° forward, and about 80° rearward adjustment. The 3-way tilt can accommodate all standard full-frame cameras with a payload of 4kg. It features 2 panoramic plates on the baseplate, as well as directly on the Arca-Swiss clamp. An exciting feature of the 670g tripod head is also the fold-out handles, which make it easier to turn the adjustment knobs. After two weeks of use, however, there was one issue that made me go crazy about the head: precision. I know, I know, it sounds completely nonsensical, but every adjustment I make with the head takes time. The two panoramic plates in particular have intense resistance that is very consistent but to turn the camera 360° you have to allow 10 seconds. The tilt and tilt wheels also have very precise gearing and simply take time to make major adjustments. After a shoot with 50 subjects taken, my patience was then simply stretched, which brings me to my experience with the Leofoto tripod head.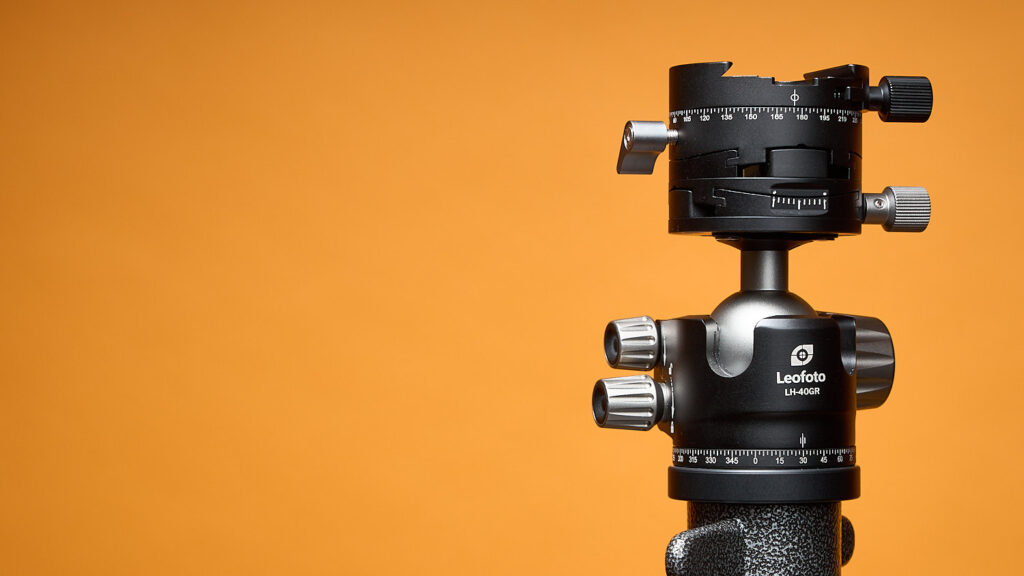 Leofoto
Even after a year of using the Leofoto LH-40GR, I'm still not quite sure what to make of the ball head and gearhead combination. I use the ball head on maybe 20% of my pictures. But in those situations, I would have real trouble with a regular gearhead. Shots straight up or down are set super fast. Forgot the L-bracket in the car again? No problem! The tripod hangs diagonally over a railing? The ball head straightens it. But with 750g and a height of 12.5cm, the head is also quite a bit bigger and heavier than its little brother without a ball head, the Leofoto G2. Compared to the Leofoto, the LH-40GR feels very similar. However, I noticed that the Leofoto is easier to pack in a camera bag due to its more uniform shape.  The LH-40GR is rated for a 20kg load capacity, which I wasn't able to max out with my camera setup. However, I wouldn't load a ball head with 20kg either. I have absolutely nothing to complain about the function of the gearhead after about 100 shoots with the tripod head. The 10° adjustment angle in both axes of the geared tilt head sounds like a big disadvantage at first compared to 40° with the Sunway. In practice, however, I never had a problem with a too small adjustment angle. When the situation gets too extreme I use the quick adjustment of the ball head. All settings are still very precise and perfectly adequate for all normal situations. The two panorama plates on the bottom and on the Arca-Swiss clamp are smooth-running, but can also be locked tight.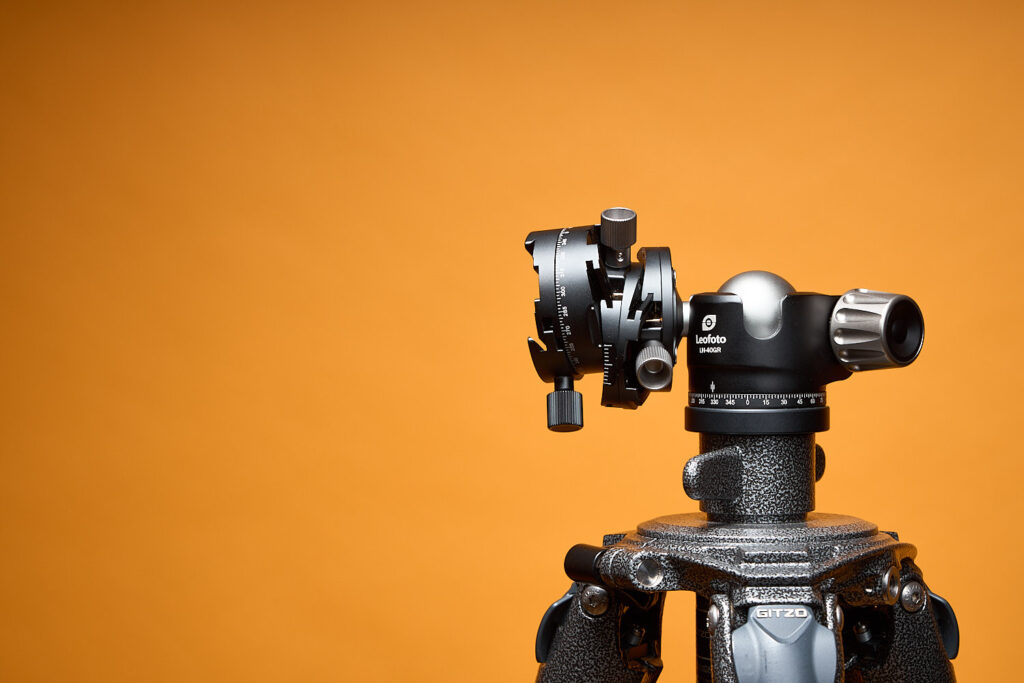 The head is well balanced, so theoretically I could put it directly on a table without a tripod and shoot with a camera on it. There is only one problem I have with this tripod head. The set screw that clamps the camera to the tripod head feels exactly the same as the screws used to adjust the tilt and tilt angles. Even after a year, when I look through the camera's viewfinder, I have to keep reminding myself that I'm using the 90° offset tilt lever to move the top panoramic plate. An Arca-Swiss clamp, like the one at Really Right Stuff, would be much more intuitive here.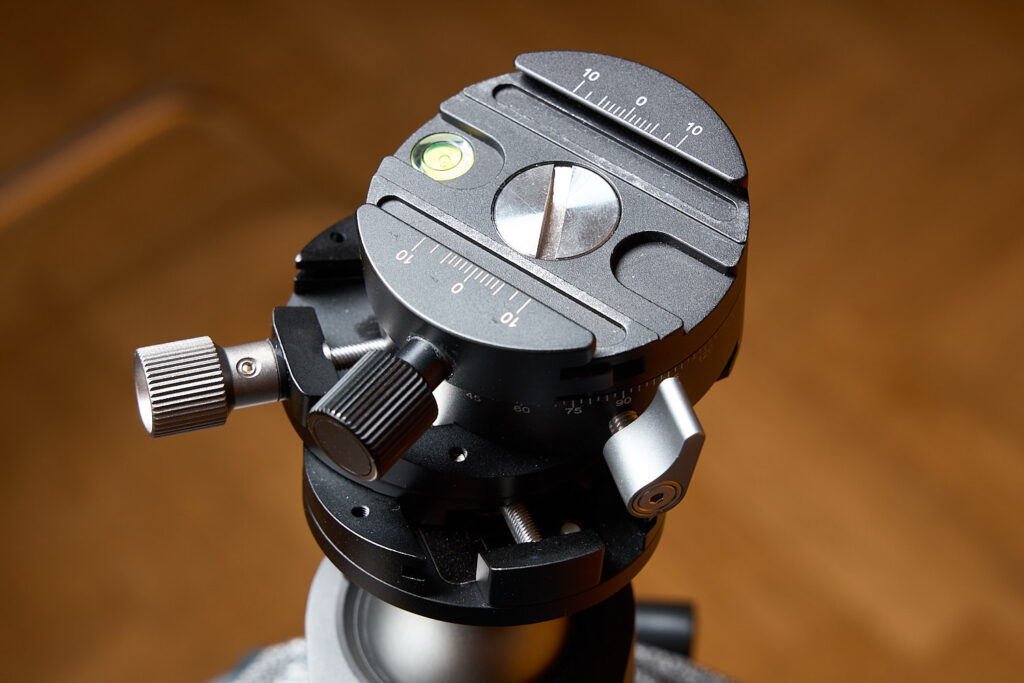 How the Leofoto LH-40GR compares to an Arca C1 or D4 I can't say. For me, however, I have found the tripod head a reliable companion with a high build quality and a good price-performance ratio, which supports me in my daily work. 
What are your experiences with gearheads and which one would you recommend for architectural photographers?