The Best Architecture Photography Instagram Accounts To Follow
Commentary
Most of us are loafing around on our phones more than ever due to COVID-19, myself included. I've always thought it would be fun to put together a list of the best architecture photography instagram accounts to follow, so today the inspiration struck and I've decided to put everything in one easy list for you to check out.
I've seen so many 'best instagram accounts to follow' posts on blogs and other websites that at this point they have worn a bit thin – these lists usually just share accounts with hundreds of thousands of followers and a plethora of amazing pictures, but often with little to no commentary, humor, or educational value. Since I'm absolutely completely totally sick of wasting time on instagram without getting anything out of it other than the feeling of existential dread that occurs when I realize I'll never be as talented as these people, I've made a point to include instagram accounts that I find humorous, educational, or some combination of the two. So if you are looking for highfalutin' accounts with nothing but perfect architecture pictures and verbose descriptions of the formal quality of the intersection of mass and light with the activation of space facilitated through the use of novel materials (concrete and wood…please) that create a connection to nature which is totally unique to this house, and no other, you see, you won't find them here.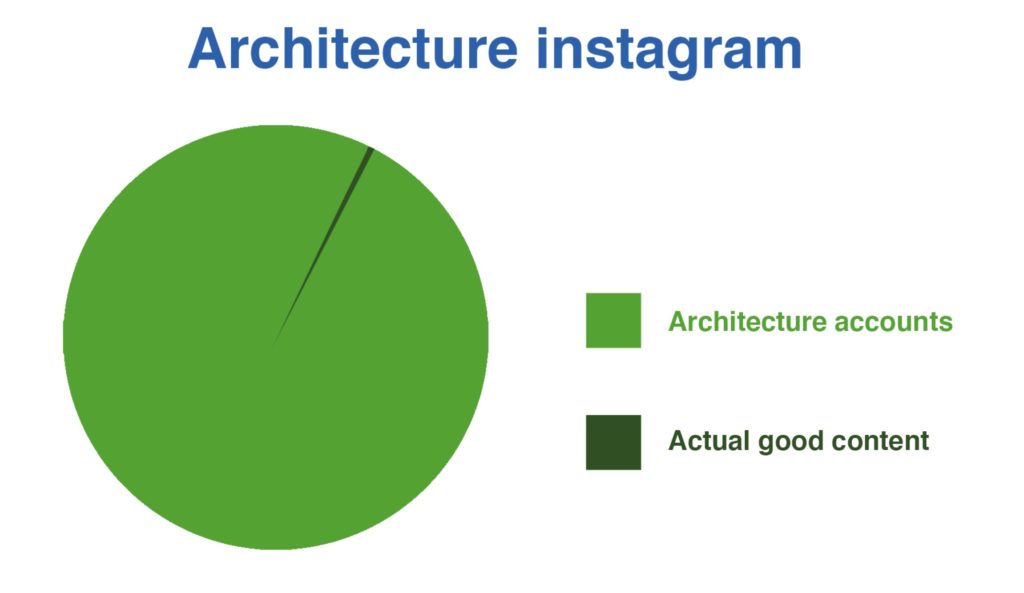 So when I look for good accounts to follow, I'm really looking for more than just a picture with a description that doesn't mean much. Some photographers are doing an incredible job of this, but many, not so much. Sometimes the best photographers just suck at instagram (and that's totally okay, considering it's not how they make their money) but they have absurd followings who don't release much more than a trickle of marginal content. In any case…
(I'd love to hear your favorite architectural photography-related follows in the comments, too!)
Photographers that I like to follow, in no particular order
Alastair Philip Wiper is a photographer based in Denmark who works to photograph the unintended beauty of our architectural and industrial worlds. He has photographed projects such as the Danish Crown Slaughterhouse and the largest cannabis plantations in the world. Quite a dichotomy, sometimes controversial, always beautiful. In addition you'll find plenty of technical and architectural subjects, all photographed in Wiper's unique bright and contrasty style. Every post is interesting and many have great explanations of his thought process.
Simon Devitt – The most famous architectural photographer in New Zealand (the prettiest girl in the whole wide room) provides a stream not only of amazing photography but a story that is constantly topped up with the headiest memes in cyberspace. Talented and wickedly funny.
Noah Kalina – Photographer behind two wildly successful 'Cabin Porn' books, the 'Everyday' series, and numerous viral projects as well as some heavyweight architecture photography (New MoMA, anyone?) Noah's photography spans multiple genres and his personality is unique and unapologetic. Funny, sombre, honest, with the cherry on top of constantly beautiful images. PS: Don't follow him if you like Donald Trump.
Albert Vecerka – A New York Based photographer photographing city-defining projects over the course of an illustrious career. Not only are his photographs amazing, but he regularly posts great contextual information and construction shots. If you engage with him he's also probably architecture photography's nicest person (just don't ruin instagram for him, I beg you)
Darren Bradley – Quite possibly instagram's most prolific and knowledgeable source of Modern (capital M) architecture, Darren travels the world constantly and shares plenty of information about the subjects he's photographing as well as his approach to photography and post production. I learn something new every time he posts and his work ethic is absolutely ridiculous. Keep up!
Barry MacKenzie and Andy Macpherson – The dynamic duo from Toronto and Melbourne, respectively, frequently host instagram live sessions and are the co-founders of the BAAM podcast which we've featured here on APA. For the best water cooler chats and gossip in the architectural photography industry, these two might as well be the Ant & Dec of our little seaside town.
HG Esch – One of Germany's most well-known architecture photographers, covering a wide range of landmark projects while providing great background information and context. Real, serious, meaty stuff here, as he trots around the world photographing incredible projects. This is one mega source of inspiration for me.
Mike Kelley – Me. I spent hours putting this together. It's the least you can do. I feel no shame. Also I think my stories are funny, so there's that.
These aren't photographers, but are helpful, funny, sad, or interesting (yet somehow relevant to architecture and photography)
Shittyrigs, a treasure trove of hilarious and, honestly, sometimes awful, things that we do to get the shot. From putting ourselves at risk to creating OSHA disasters, you'll find it here. You'll laugh, you'll cringe, you'll wonder how the hell some of these people ever got hired, but I'll be damned if this isn't worth a follow. And sometimes you'll actually find something useful!
The Architect's Newspaper: Sort of my one-stop shop for keeping up with great projects, great photography, and architecture industry insight. A bit more low-key than the MEGA HUBS that dominate the space, a bit more to the point, and with minimal fluff. More than just a picture with a credit, usually containing links to in-depth articles about each post.
Please Hate These Things is a treasure trove of things you want to hate. And nothing brings us closer together than hating on awful architecture and interior design. How often have you got together with work friends and laughed about that house you had to shoot that was just so bad, whether it was the Live, Laugh, Love pillows, the sex dungeon, or the investment beige paint on the walls? Trust me, whatever you've seen isn't nearly as bad as the stuff that gets posted here on a regular basis.
Luis Furushio Design – Easily digestible architectural drawings and explainers. Will help anyone understand what they are photographing, explains concepts at a simple level. If you don't have any grasp on architecture but want to be an architecture photographer (we've all gotta start somewhere), definitely worth a follow (among others, of course). A new account that I hope stays around for a long time.
Building Science Fight Club – Bad design, approached professionally. That's the best way I can describe this account by Christine Williamson who walks you through an endless stream of architectural nightmares and issues; Williamson goes into detail about what's wrong with them and how they can be fixed. A very interesting (and sometimes very in-depth) look at things that we may take for granted as we rush around a house at twilight. If nothing else, will absolutely improve your architectural vocabulary and make you a more informed student of architecture.
Conformi – You will, immediately, think this is awesome. A great way to use instagram's grid layout as well as an interesting juxtaposition between architecture and art. The concoctions here are usually surprising and sometimes humorous, but always clever.
Visual Pleasure Mag – Is much more than a steam of pretty pictures, thankfully. The images are beautiful and talent that is featured is world class, but not only that, they have enlightening interviews and are strongly committed to high quality editorial content. Their main goal is to support young designers and artists from all over the world; I'd say they are succeeding.
The 80s Interior – Needs no explainer. Amazing, terrible, grotesque, and so much more. Enjoy!
APALMANAC – We aren't big enough to allow for swipe-up content yet, but it's the best place on the internet to get notified that the best place on the internet has shared a new article or content. So help us get to 10k followers so we can finally do the fancy swipe up thing.