Marnie Hawson Challenges Architectural Photographers To Use Their Businesses For Good
Business
Commentary
As photographers, we spend a great deal of time thinking about how we can make money. In her latest journal article, photographer Marnie Hawson challenges us to think about how we can use our money.
Marnie Hawson is an environmental scientist turned architectural and interiors photographer. She is based just outside of Melbourne, Australia in the Macedon Ranges. Marnie's business is incredibly interesting. She operates her photography studio as a Certified B Corp and partners with firms whose projects are sustainable pieces of architecture.
I'm in business to bring back nature. I just happen to also be a photographer.

What gets me out of bed every morning is a drive to show that using business as a force for good is easy to do. You just need to know how.

Everything I do is about maximising my impact for the environment and inspiring others to be part of the climate solution.

Marnie Hawson
Marnie walks us through some of her efforts on her website's about page, sharing that she photographs projects for clients who work toward sustainable development goals, and brings attention to their work. Marnie donates about 25% of her time photographing projects for non-profits who are striving to help tackle the housing crisis and community conservation. She also mentions that she puts in the effort to "[guide] small for-profit businesses to use their business as a force for good, and demonstrate that it's easy to do with a bit of planning and strategy."
Simply put, Marnie has aligned her practice as an architectural photographer with her belief that businesses can and should do everything in their power to help the earth. Beautiful!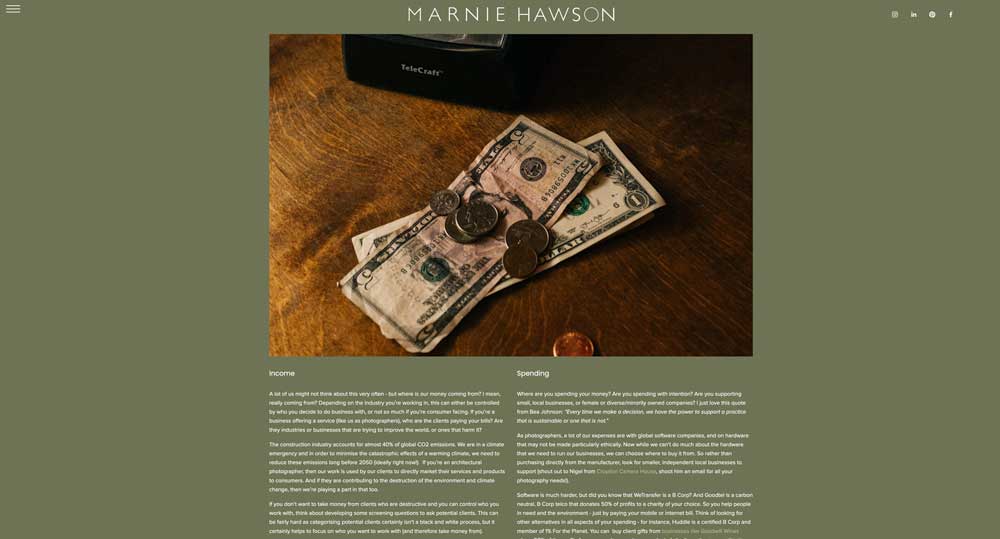 I touched on Marnie's blog briefly in a recent article about SEO and website design for architectural photographers, but today want to highlight a powerful and interesting article that Marnie sent my way.
One of Marnie's latest blog posts is called "How we can make an impact with money" and is a thought-provoking piece on how small photography businesses can use their skills and profits for good. She says:
As photographers, a lot of our impact comes from who we choose to work with and how we can promote what they are doing. But something else that we all use, in business and in our personal lives is MONEY. What a powerful statement it can make, with what we choose to do with whatever amount we have. How we generally use money can be broken into five main areas – income, spending, banking, super and giving.

Marnie Hawson
Among other things, Marnie's blog post touches on topics like:
Working with ethical clients who have business practices and goals that align with those of you and your business
Spending intentionally
Researching your bank and finding out what sorts of things they spend your money on
Investing in a way that aligns with your values
Donating funds – or time – to organizations you believe in
Using personal projects or pro-bono work to give back
You can read Marnie's thoughtful post here. She also has plenty of other articles of interest in her journal like "6 ways you can do good as a creative" and "10 steps to becoming carbon neutral certified."