Finally, a split cost invoicing and licensing software built just for architectural photographers from Shared Construction Content
Business
Disclosure: This is a sponsored post written in conjunction with Shared Construction Content. While we are affiliates, SCC has encouraged APALMANAC to be honest and open, and all opinions are our own.
---
Regarding invoicing systems for photographers, it has always seemed like there are two options – billing software designed for wedding and real estate photographers, or on the flip side, general business invoicing systems that have nothing to do with photography. Finally, there is a new invoicing and billing system created specifically with architectural photographers in mind. The best part? The system revolves around licensing and cost sharing!
Shared Construction Content has set its sights squarely on solving the pain points of architectural photographers, specifically when it comes to cost sharing projects. Cost sharing is a pricing practice where photographers allow multiple clients who worked on a building project together to "go in" on the cost of the photo shoot together. Cost sharing has always come with a certain set of rules to keep things from getting too messy on the planning and billing side. Typically, all parties must sign up for the cost share before the shoot, there are no a-la-cart photo editing requests, and if you're in on the cost share, you don't get to cherry-pick the images that you want to pay for. But that was the old way of doing things, and what SCC has aimed to solve with their software.
Founded with a purpose
Shared Construction Content's founder Michael Young has an immense love for architectural photography and a passion for bringing people together, especially in business. After a company he was working with lost out on hiring their dream architectural photographer because their rate was out of the company's budget, Michael began a deep dive into cost sharing as a solution. It led him to our articles about it here on APALMANAC. He spurred on conversations with architectural photographers, contractors, architects, designers, and filmmakers. The answer was clear – cost sharing is a win for all parties, and everyone wants to split project costs, but there were plenty of pain points that needed to be solved to make cost sharing easy and effective. And so, Shared Construction Content was born. This billing software emphasizes split cost sharing architectural photography and film projects. It allows for more sales, more money, and a better deal for your clients – all with less office work (and math, yay) for you!
A billing software on steroids
Shared Construction Content is a photography billing software on steroids. You can use it to generate estimates, invoices, process payments, and assign licensing based on company type at an image-by-image level. It makes every architectural photography project split cost ready. It can manage those licenses and assign licensing subscriptions that live far into the future, so you can set 'em and forget 'em for long-term recurring revenue. It automates the contract and legal document signing process. Use it to manage shot lists with multiple parties. You can share proofs with your clients and have them select which photos they'd like to cost share individual image editing fees with others. There is a universal link system that assures your clients are served the most up-to-date version of their invoice and legal documents. Then, there is its powerful cost sharing magic.
Set up for customization
As with any billing software, your first step with Shared Construction Content is set up and customization. This is where SCC blows your old billing software away. It's designed around "role routing" and setting qualifying questions that you can use to automate your sales and invoicing process, while also ascribing licensing terms to each image that your client buys. You can have clients answer questions like where they'll be using the images, on what platforms, how long they'd like to license them, etc. All of these qualifiers are customizable by you.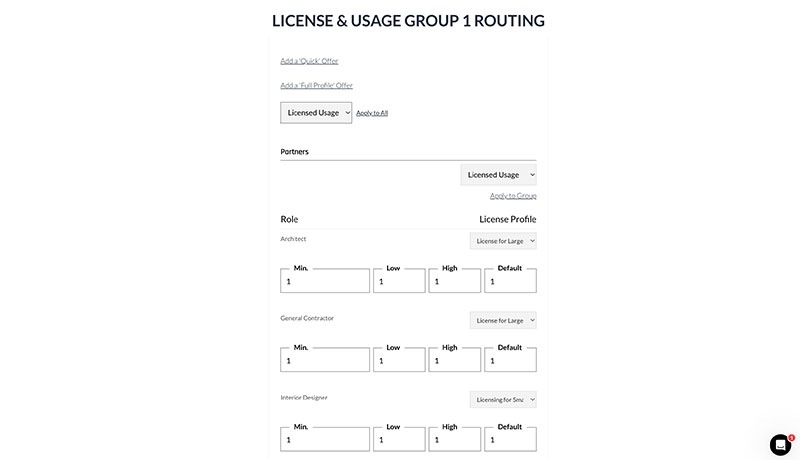 When it comes to setting up the split cost options for projects, you can choose between weighted splits or even splits between parties. You can assign line items in your invoice that are always shared – or never shared – between clients. After demoing the SCC software, I found that the process that takes the longest is the setup. It has features that we photographers aren't used to seeing from our old-fashioned invoicing systems. Fortunately, SCC can walk you through the setup and get you trained on its multitude of features.
A licensing dream
My favorite part of the SCC software is the thought that has been put into the licensing aspect of the software. This is where it really shines.
Based on the licensing terms you and your client(s) have chosen, strict terms are spelled out and auto-populated below each image they select in the legal documents that are generated. The specific terms of use and copyright info are under each individual image so that there is absolutely no question or contest about where and how clients can use each photograph. Most importantly, with SCC, you never have to keep track of when licenses expire! The system tracks all of your licenses and automatically issues new licensing terms and invoices to the client when a license expires. Plus, you can spell out any restrictions or penalties for terminating or breaking the licensing agreements!
Cost sharing
Most of us accustomed to cost sharing projects set the caveat that there is a "main" party who determines the majority of the shot list and everyone else gets those images. After the shoot, everyone gets all of the images we deliver, and there is no a-la-carte image picking or editing requests. Otherwise, it would be a massive pain to wrangle. SCC has created a shot list organization system that helps manage shot lists between multiple parties.
After the shoot, SCC has client portals and galleries that allow you to send proofs to all parties and allows them to pick which images they want to be edited. They can share the editing costs of these images with the other parties on board who select the same photos if you so choose.
Ok but what if a client wants to license images from the shoot after the project is over? If you want everybody to benefit from even more parties sharing in the shoot, you can have your clients' accounts credited for whatever the new savings are. If you want the new clients who are "non-onboarded users" (aka late to the party and not part of the original share) to have their own licensing options at different costs, you can totally set that up.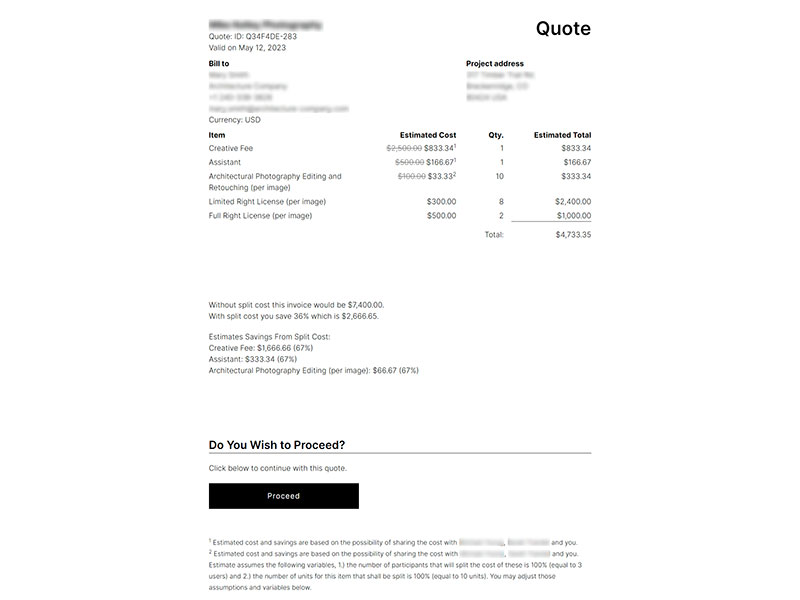 Assign work to SCC as your virtual assistant
Shared Construction Content also gives you the option to use them like a virtual assistant. You can assign them the tasks of prospecting, data entry, and onboarding clients. You can either send SCC the info of all the parties you know who have worked on a project, or they can hop on a call with the clients to try to collect the contact info of anyone who worked on a construction project – from the window manufacturers to the HVAC crew. You can assign SCC the job of reaching out to those companies to try to get them to cost share on the shoot or license images.
Is this the billing and invoicing solution for you?
Shared Construction Content believes that every architectural photography project can be cost shared. Their software is set up to engage every company that has a stake in a project that you're photographing. It then splits the cost between interested parties, plus your additional licensing fees. This results in more money and more clients for you, and more savings for them. SCC's goal is to simplify yet maximize the potential of cost sharing and licensing for your photography business, allowing you to focus on client relationships and making photographs.
SCC is currently available in 59 countries and 42 currencies. What about ease of use for your clients? SCC says it should only take your client less than a minute to go through a flow and get signed up, and paid up, for the shoot. SCC is set up to handle all aspects of your sales, billing, and licensing, and adjusts or credits your clients as new parties sign on to the cost shared project.
If you're interested in seeing SCC in use, keep an eye on Mike Kelley's Instagram @mpkelley_. Mike will be testing out the software over the course of 6 months and sharing what he thinks of its real world (and real job) application!
For now, SCC is free to use! They earn their revenue in two ways – when they make you more revenue (through licensing), and if you have them perform virtual assistant work for you. For now, there are no monthly subscription fees, credits-based systems, or setup fees. When SCC increases your revenue, there is a revenue share. Virtual assistant work is billed on a time and material basis with an estimate for services before work beings.
Think Shared Construction Content's software is the billing software for you? It launches publically today! You can find out more information by getting in touch with them for a discovery call and demo of the software. To get started, visit their website and sign up for a discovery call with our affiliate link here.