Architectural Photographer Dan Francis Explores the "Butterfly Effect" Within His Business
Business
Commentary
Rumor has it that there is one man holding a Master's degree in Photography way out in Fargo, North Dakota, and that man is Dan Francis. Dan was a photography instructor for 8 years, and works as an architectural and fine art photographer these days.
Recently on his blog, Dan wrote a thoughtful piece about The Butterfly Effect in Business, which he shared with us. The piece breaks down ways that "a small action or decision can have far-reaching and sometimes unexpected consequences." One example is how Dan notes that he did headshots for an architect a year ago, which brought them in as a client for architectural photography work when the firm's previous photographer moved away. Dan also shared with us that he made a quick one-minute-long video and had an architect hire him within one day of its release to document the project.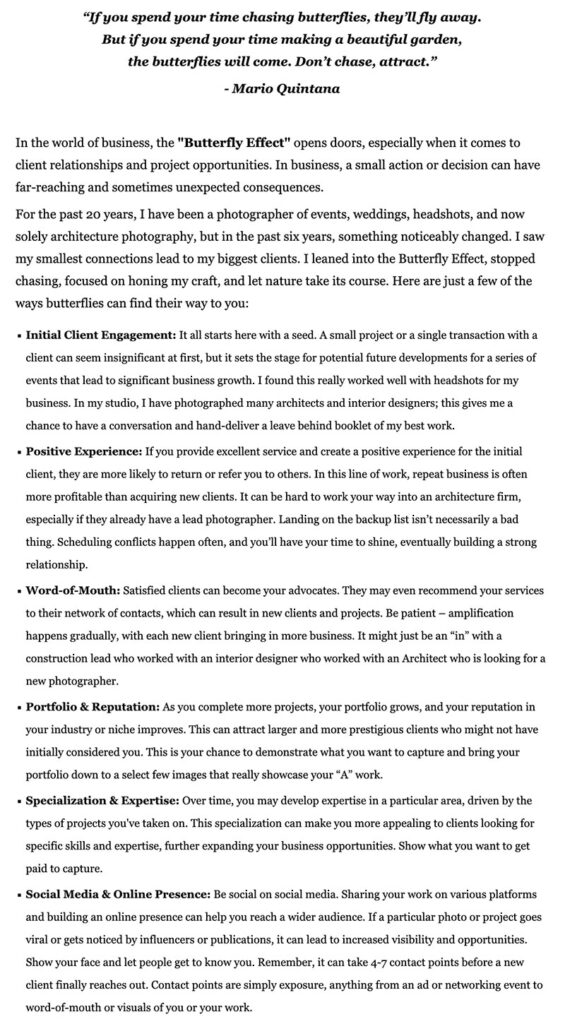 Dan's blog goes over 10 ways the butterfly effect can occur in your business. It's a pretty thought-provoking read, which you can check out in its entirety here.