An Eight Year Timelapse: Keith Loutit Documents Singapore's Urban Growth
Interviews
Over a decade ago I had come across Keith Loutit's work, the Bathtub Series. It was his videos that piqued my fascination with tilt-shift lenses as a way to make the world look miniature. His unique work has parlayed him into creating numerous direct commercial campaigns globally and recently, he released his latest film, Lion City Rising. We had a quick chat with Keith about his background and his newest endeavor.
Hey Keith, Thanks for taking the time for this interview. To start with, tell us a little about your background and how you started in the field of time-lapses?
Thanks Veeral, for asking about my work. I am an Australian filmmaker, now based in Singapore, known for my time-lapse projects.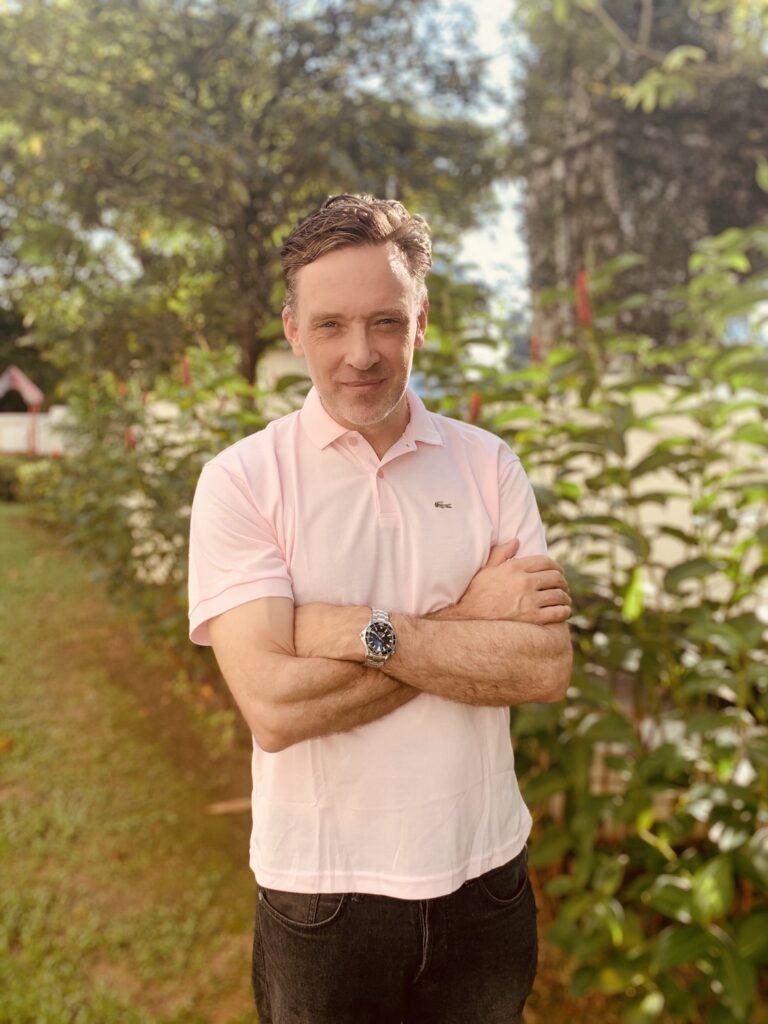 Before making films, I was a product executive in the mobile applications space. I was always interested in photography, but it took a breakout moment in 2008 for me to take the leap. I had released my "Bathtub" series of films that miniaturized Sydney's landscapes, and there was a wave of interest in my work. I was tracked down by TV1 to direct their summer campaign, and that was all I needed to realize there could be a life for me in film.
In the years that followed the interest in my work grew, as did opportunities to direct campaigns as I shot more outside of Australia. Over the years, this experience allowed me to develop my skills to the point where I was able to tackle a project as ambitious as 'Lion City Rising', documenting Singapore's changing skyline, which I am still working on after eight years.
Over 12 years ago, you made a few tilt-shift based time lapses around Sydney. What was the motivation in exploring the world as a miniature world through tilt-shift?
Starting in 2008, I released a handful of short films documenting life in Sydney, in miniature. My technique combined time-lapse and tilt-shift photography. The effect as to make real-life subjects look and move like their miniature counterparts: Ships bobbed up and down like toy boats, crowds became stop motion armies, and cars raced like slot cars. It was the first time that anyone had seen how time-lapse could create such a convincing illusion in film, and my edit style was fun and straightforward, so these films reached audiences around the world.
The initial motivation for the work was personal and based on curiosity. Having grown up in Melbourne, I saw Sydney's harbours and beaches with wonder, much like a tourist or a child would. And the great thing about the technique of miniaturization is that it transforms subjects, even for people who live in, and know the city well. Through experimentation, I learned that there was a recipe of time and focus for each subject, be it a boat, a car, or a train that would support the illusion of miniaturization by mimicking the movement of its miniature counterpart. A great example is how boats would bob up and down like toys in a bathtub hence the name 'Bathtub' series.
But after releasing my films, the motivation changed based on the response from the audience. It was clear that even Sydneysiders were seeing their city with the same sense of wonder. This became a mantra for all of my future films: Help people see their city with fresh eyes as if for the first time. This philosophy has driven me to change my techniques to keep my work feeling new.
The Sydney films were 100% eye candy, so the narratives were simple. But I also developed a bunch of rules and conditions for my film making that supported a convincing illusion of miniaturization, which helped me to build a consistent aesthetic. Everything from subject selection to light quality has to be just right. The aesthetic I was trying to achieve is the otherworldly perspective of an outsider looking in. When I scroll through the comments on my early films, it's fascinating to read how that feeling was expressed by people of different beliefs with comments such as "this is how God must see us", or "this is how aliens view us". To support this perspective, I used distant camera positions and focused on ordinary life so that the viewer could imagine themselves within this miniature world.
The equipment used was DSLR camera bodies, with a large format or enlarger lenses that could be tilted significantly using either ball mounts or bellows.
Eight years ago, you released "The Lion City". In terms of technique, what changed from Bathtub Series to The Lion City?
When making the first Lion City Film, I pushed the technique of miniaturization a little further through a technique of 'depth mapping'. These depth maps gave me complete creative control over the focal plane, similar to the level of control a 3D animator would have controlling which parts of a scene are in clear focus. This meant that the miniature scenes I filmed look more convincing because the defocus was accurate to the geography of the real-world landscapes.
Recently, you released Lion City Rising which was shot over eight years by combining works from "The Lion City", "The Lion City II" films and complementing it with newer footage. What was your motivation/inspiration behind creating the third film (Lion City Rising)?
Singapore is a small Island Nation without room for suburbs to sprawl, so when a new building is planned, it often means something else has to be demolished. But when we pass by these landscapes, we're unable to appreciate this change. It's a little like the elephant and the shrew who can share the same space but be oblivious to each other because they perceive time so differently.
The idea behind Lion City Rising is to compress time so much, that we can experience life on a completely different timescale. So even though the techniques and effects are so different between the Bathtub & Lion City films, the goal is similar – to help Singaporeans see their city with wonder, as if with fresh eyes.
Lion City Rising now spans eight years, including footage shot on over 988 days of site visits. The techniques used speed up time without introducing the flicker and strobing that is common for long-term footage. Many of the wide landscapes in this film play at around 10-20 million times the pace of real life, but my goal is to make the transitions smooth and flicker-free so that it appears as if the buildings grow in a single day.
People think that I must have a lot of patience to undertake such a long-term project. That's true to an extent, but I've spent a lot of time working out how I can minimize my time on a shoot and break it into small manageable tasks. This is essential for my sanity and to avoid working too long in Singapore's heat and humidity.
Of course, there were times of self-doubt, and times when I didn't feel like leaving the house and shooting. But, once you start something this big, there's an element of it becoming too big to fail, and the thought of losing shots you've spent months or years working on is a good motivation to get out shooting. 
To produce an extraordinary film requires a lot of planning. Can you talk about how you planned the demolition of the Pearl Bank Apartments footage?
The Pearl Bank Apartments were an icon of brutalist architecture in Singapore. When it was announced that the building would be demolished, it was a sad moment for many Singaporeans, so I made plans for it to be in my film. I used to live in the area, and over the years, I'd scouted locations for various shoots, so finding and accessing the necessary buildings was straightforward.
Initially, I started 11 daytime shots of the building, but by the time the shoot was over I'd abandoned 3 of them because I'd simply bitten off more than I could chew. These shots were time-consuming and physically demanding as I was shooting in Singapore's midday sun. Each daytime shot involved between 40 and 84 site visits over eight months. Shooting inconsistent sunlight was challenging and a little stressful because if I missed too many days in a row, the shot would be ruined. Singapore's wet & hazy seasons both impacted my ability to shoot for weeks on end, so it nearly ruined this section of the shoot.
The following Instagram post provides a more in depth explanation for the Pearl Bank Apartments falling shots:
Aligning images is done in 3 parts;
Filming the shots using shot matching equipment I have developed;
storing shoot information in the cloud, that guides me in the field on subsequent visits;
postproduction work to fine-tune the alignment.
The workload for this building was around 100 shoot days, and 30 shoot nights plus weeks of postproduction.
Your film had a number of day to night and night to day sequences. What were some of the planning behind these?
The editing style for Lion City rising is fast-paced, and the day to night shots was important because they allow me to keep the momentum up in the edit and retain the feeling of time passing. I also needed to shoot enough of these transitions so I could flip between daytime or nighttime whenever I felt like it in the edit.
There isn't a single solution for these shots, because their nature was so different. In some cases, I simply finished construction shots with a transition as a nice touch. For other shots, I gradually adjusted my shoot times over the years so that the transitions to night or day occurred slowly throughout the construction of the buildings.
You had some great vantage points to show the sheer volume of construction happening in Singapore. What was your process in mapping these locations?
The feeling I wanted to create for audiences was that of an entire city growing, not just a few sites. It was also important that I capture enough iconic landmarks that Singaporeans could identify their city when viewing the film. As I planned to capture all of these sites at a speed where a construction site may last only a few seconds in the edit, this means that I had to maintain something like 30 long-term construction shots going at any point in the filming.
In practice, this means scouting for locations to develop an active shot list, that is achievable given travel, weather, and workload. Each shot has its plan for shot matching as well as motion, or transitions for day to night over the years. I store all of this data in the cloud, so it's accessible to me in the field.
Can you share some of your postproduction workflow on creating Lion City Rising?
The postproduction workflow for this film is straightforward:
Following every shoot, I ingest the footage, apply a naming convention to the folders, then zip them and upload it to the cloud for safekeeping.
On bad weather days, I take the opportunity to align the shots, colour grade them for consistency, and back up the project files on the cloud for safekeeping.
Once I feel the long term sequence is ready for edit, I'll review the footage, then render it at various speeds to give me a choice in the edit.
If I've done all these steps above correctly, then the final edit is straightforward, and very much like editing any other film.
The other aspect of my postproduction workflow was the audio component. On all of the Lion City films, I have collaborated with Michael Adler Miltersen from Sepia Productions in Denmark. His involvement in the project is significant, as we collaborate over the years, not just during the edit. 
I will regularly share the footage with Michael, and he will, in turn, develop musical sketches. So, in this way, we influence each other's work, and it's great for me to have somebody deeply involved in the project to discuss and plan the final result. Without this working partnership, I would be operating in a vacuum which can lead to creative missteps along the way.
As we head into the final edit, our collaboration becomes more focused. We'll settle on a musical sketch that can be developed into the soundtrack and work full days in our time zones, doing 'end of day' handovers and virtual meetings until we're ready to release our film.
What is next for you beyond Lion City Rising?
I plan to continue Lion City Rising but in a way that allows me to pursue other opportunities. I will film fewer sites, but for more extended periods, so that the work continues as a record of Singapore's change.
This will allow me to devote my time to other work, and for me to explore my interests which are at the intersections of technology, film and photography.
You can view more of Keith's work on his website and follow him on Instagram.