For the past few years I've been focusing my energy on establishing myself as an interior design and architecture photographer and with that came a lot of very expensive purchases. The type of equipment we need to develop ourselves in this industry is very specialized and is often accompanied by a hefty price tag. We all know that the smallest piece of gear can cost thousands of dollars, and so it should be protected, right? 
On top of my work as a design photographer, I've also developed a passion for traveling and assembling collections for my print shop, often used by interior designers sourcing original art for their projects. I've traveled around the globe photographing landscapes, usually with a full kit. In July of this year, my travels brought me to Ibiza, Spain where I spent time photographing the island's intense and rugged landscape. Then, the unthinkable happened. All of my gear was stolen from right next to me. 
Herewith, is my personal account of what happened, and what I learned from it all. 
I decided near the end of my 10 days in Ibiza that I would take a ferry to the nearby island of Formentera to round off my collection of images. While I waited to board the ferry, I sat down at an outdoor cafe to have a coffee with my suitcase and camera bag next to me. I turned to the right to admire Ibiza Town, pulled out my phone to take a quick snap of the boats, and when I turned back, my camera bag was gone. It took me a few moments to realize what had happened before I quickly got up, asking everyone around me if they saw someone take my bag. Nobody seemed interested in helping me but one man said that moments earlier there was a man sitting next to me having a drink and now he was gone. It was him. He saw me drop my guard and he pounced, cut my bag straps, and ran off with $30k worth of camera gear and other personal items. The bag contained my Fujifilm GFX 100S, 32-64mm, 80mm, 120mm macro, Arca Swiss cube mount, 2 MacBooks, portable hard drive, iPad Pro, AirPods, wallet, passport, five hundred euros, and several accessories. 
I have to admit, I never thought something like this would happen to me, it never crossed my mind. I had no choice but to accept that the bag was gone and I would never get it back. After an intense burst of emotion shot through me, after learning the cafe had no security cameras, and when nobody at the cafe seemed to want to help me, I painfully made the decision to get myself to the police station to file a report. 
The first thing that I did was cancel all my credit and debit cards to make sure the thief couldn't use them. Too late. They used my credit card to pay for their getaway taxi, and guess what; the local taxis have no cameras either. I entered the police station, my emotions crashing through the whole spectrum from panic, to anger, to grief. I checked in and waited to see a detective to file the report. In the waiting room, everything hit me: this really happened, I'm not dreaming. It's all gone. This is where I started reviewing my insurance policy to see what was covered and to my surprise, I was not protected. The insurance I have on my gear in Canada is not the same as the insurance I have when I'm outside Canada. I learned that my policy only covered hotel/motel break-ins with proof of forced entry up to $2500. This came as a total shock. I called them and they confirmed that this type of theft was not covered. 
The police were very sympathetic to my situation and we slowly went through every piece of gear one by one to include in the report. They told me that this type of theft happens daily. The thieves work in groups. They look for tourists who appear to have expensive items, follow them and wait for them to drop their guard. They act fast. While I was filing the report, I remembered that my Apple products are traceable. I checked the Find My app but none of my items were appearing after I had last been near them at the ferry terminal. This is when the police told me that the thieves toss traceable items like laptops, iPads, and headphones. 
The silver lining in all of this was in a random Instagram message I received from a British tourist telling me he found my passport in his rental car 45 min away. I was elated since the police told me that in order for me to get a new passport, I would have had to take a 12-hour ferry to Barcelona, go to the Canadian consulate and then wait 48 hours minimum to get my replacement. All of this would have had to be done with no money, no credit card, and no ID. I called a friend who I'd met that week to see if she could drive me to get my passport all while booking a new flight to London (my next scheduled stop on this trip) for that evening. I got my passport. She drove me to the airport with some petty cash and I managed to get myself to my next destination… what a relief. To add to this terrible experience, I later learned I got Covid-19 on the airplane to London. The stress of the theft had likely weakened my immune system. 
The purpose of sharing this experience is not only to express that this can happen to anyone but also to explain what I learned from it in an attempt to help others be better prepared in the event it might happen to you. 
The first thing I did when I got to London was find a quiet bench in a park with my notebook so I could write down what I've learned from this experience, who this has negatively affected, and make a plan for how I would get back on my feet as soon as possible: especially because, as most of you know, August, September, and October are amongst the busiest months of the year for interior and architecture photographers. I compiled a list of things I wish I had done before this incident happened. I hope you will use my experience as a catalyst to make changes to your business practices and stay protected as well as prepared. 
Insurance
The most important lesson I learned is that my insurance policy was not comprehensive enough. Our businesses are always changing and growing and our insurance policies need to change with them. When I first got coverage for my gear in Canada, my business was still quite small, I was shooting with a basic mirrorless Sony with a single lens, a cheap tripod, and no lights. I never saw the need to have very compressive insurance and so I never read the fine print in the policies, especially when it came to traveling internationally. Many photography gear insurance policies cover you for theft, damage, fire, etc. within your own country, but may not cover you internationally. This is what happened to me and it was a very tough lesson since in the last few years my business has grown and my gear has become incredibly valuable. Learning that none of my gear was covered under my current plan was devastating. Take the time to get insurance if you don't already have it, read the fine print, and ensure your policy is up to date and covers all of your current needs and gear. 
I highly recommend reading Part One and Part Two of Brandon Vogts's article on 'Photography Business Insurance, Understanding and Shopping for a Policy' for a more in-depth description of insurance. Brandon wrote, in great detail, about business personal property and liabilities and their importance. 
A big takeaway for me was the fact that my insurance policy did not cover business interruptions. This is coverage for lost income in the event of property loss to compensate you while your gear is being repaired or replaced. This is crucial. Unfortunately, I had to cancel multiple shoots upon my return home, adding up to a lost income of at least $15k while devastating my clients. 
Pay very close attention to what's called 'Inland Marine Policies', this is where you will learn about what is covered outside of your local area or home country. Even some of the best policies for your equipment only cover 50% of your kit's value when you are outside the insured area; and in my case, 0%. 
This should be the very first thing you do as a business owner and as a professional photographer, even if it seems like a burdensome monthly expense. Find a way to slightly raise your rates to offset the cost of the insurance. You will not regret it when something terrible happens. Add up the total value of all of your gear and ensure the policy you choose covers you fully. Remember, this value is ephemeral in this industry and should be reexamined frequently. 
Data Backups

 
If you were conducting a shoot and your gear was stolen, would your data be protected? This is another big lesson I learned from this incident. I lost an external hard drive once, back when photography was just a hobby and it was devastating to me, even then. Did I make changes? Nope. Do I regret that now? Absolutely.
I have been doing backups all wrong for years and I had no idea. Too bad it took a major loss of data for me to learn. As Brandon Vogts said in his article Backup Basics for Photographers, "There are two types of people in this world: those who have lost data, and those who will lose data". For a very in-depth examination of this topic, please read his article. 
While theft was the cause of my data loss, there are many other potential causes; such as hardware failure, viruses, drops, liquid damage, fire, and user error. User error is important to note because if you have a proper backup system in place, it drastically reduces the likelihood that user error will affect you. 
My backup system is an embarrassment and needs to be fixed. I have been shooting major design projects for 4+ years and simply uploading the files to portable external drives, of which I now have 6six at 5TB each. These drives are known to fail or become corrupted and I know that, yet I still keep using them as my only backup. I deliver finished files to clients using Dropbox and Pixieset, but the working files are not protected. 
Here is what you should ensure you're doing to keep your invaluable files safe:
There must be three total backups of your data. The simplest setup would be to have a physical and constant backup of your files onto external drives like a Synology NAS system. These can be pricy but you can be sure I bought one right away when this incident happened. The second should be an online backup of your files on the internet with a cloud service like Dropbox, which can be pricy, or Backblaze (a cloud backup service that works well with a desktop computer). The third backup should be an external drive off-site (mine will be at my best friend's house). Remember that any off-site backups will need to be updated frequently to remain effective and of course, remember and factor in the limitation of storage space. 
When you have three backups, one being off-site, you can rest assured that your data is safe. 
You might be asking yourself the same thing I did, "what if I'm on location away from home, how can I ensure my data is safe?". I've decided that when I travel for work I will keep files on my laptop until I get home, copy the files to an external drive kept separate from my laptop each day, and upload the work to a cloud service at the end of every day. 
Your clients often spend tens of thousands of dollars on their photoshoots with you and so they deserve to know the files are safe. The only person that can ensure that is you, so take the time required to research a setup that works best for you and make the investment. Trust me, there is nothing worse than telling a client their files have been lost, it's truly devastating. 
Here is a very brief guide to using a Synology RAID setup:
Tracking Devices
As I mentioned, one of the first things I did when I got to the police station was try to track my Apple items using the Find My app. Upon this failing, I decided I would try to figure out a way that my gear could be safely tracked if this were to happen again. Here are a couple of ways you can do this:
AirTags – This is the easiest and cheapest way to track your gear but it has to be done right to be foolproof. When the police told me these thieves are professionals and they toss traceable items immediately, I knew an AirTag would likely not work because they would find it and toss it. The best solution I can think of for this is to physically sew an AirTag into your camera bag or glue it beneath the liner of a camera box. Pelican makes a really good adhesive case for AirTags. They are unlikely to find these right away or toss the bag or box and may just give you and/or the police the proper amount of time to find your items. I do not suggest approaching someone with your gear, but rather to trace it in real time while in contact with the police.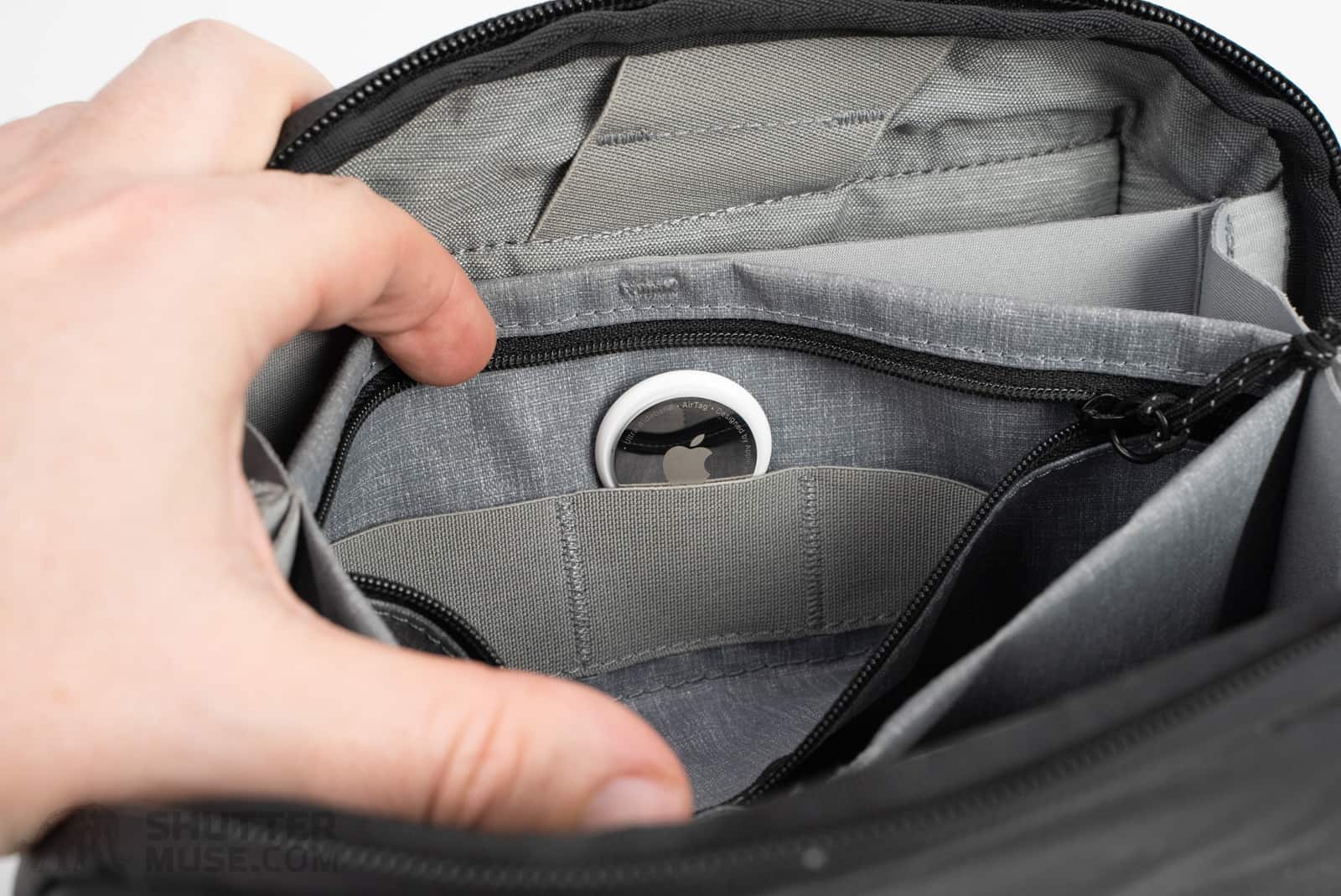 GearEye – This is a very promising future product that is currently in the Kickstarter stage. This product utilizes RFID adhesive stickers to place on individual items in your kit. Each item can be labeled in their app, i.e. 32-64mm, and traced via a remote which connects to Bluetooth devices much like AirTags. This also helps you if you're prone to leaving pieces of gear behind because it will tell you if anything is missing from your bag at the end of a shoot.
Take Inventory
The most difficult task I had to complete when this theft happened was to find a full inventory of my gear that was stolen. The police required a comprehensive list of every stolen item, along with corresponding serial numbers and purchase value including original receipts. I was making this report for over 2 hours because I didn't have this information readily available and had to resort to searching every receipt and serial number in old emails and credit card statements. 
Keep an ongoing list of your gear and update it when you buy something new as it will speed up this process instead of wasting valuable time that could better be spent tracking your stolen goods. Take photos of your receipts or keep digital receipts in a labeled email folder for quick access. 
Complacency and Examining Habits
There is a complacency that can manifest when you're working in an industry for long enough. We create systems that work for us and we become comfortable with them. The problem is that these systems have to change and adapt as our businesses do and when we become too comfortable, we overlook crucial things that can have devastating outcomes. I became complacent in traveling with my gear. I didn't do my research on the safety of the country I traveled to. A simple Google search could have saved me $30k and a lot of stress and grief. I placed too much trust in people and assumed the worst would never happen to me and acted accordingly. Ignoring all of the signs before this incident is what hurt most. I've been told by many professionals about the importance of comprehensive insurance but I stubbornly didn't want to pay $200/mo for it. I was told about the importance of proper data storage and backups but I figured my portable drives were good enough. I didn't adapt as my business grew and now I'm suffering the consequences. 
It's easy to be defiant and assume everything will be fine, but a much better practice would be to assume the worst and ensure we are protected. I'm lucky that I wasn't injured and I know it's only stuff, but I have learned a lot from this. 
Has this happened to you? Do you have anything to add? I'd love to hear your take in the comments and please share any advice you might have to be protected against theft. Sharing our stories; the good the bad and the ugly, can help us all be more careful, more successful and ultimately join us together as a community. I look forward to learning from your experiences. 
Stay safe.