2022 Photo of the Year Award
Sometimes all it takes is a single image to catapult a photographer, project, or client to fame. In an era where images are more important than ever, what kind of impact can a single image have? The 2022 Photo of the Year Award seeks to find the single most captivating image created by an architectural photographer—a tall order, no doubt!
Submissions for this category are the simplest of all, and we are expecting a wide range of entries from architectural details to wide shots of entire cities and developments. As long as the built environment is visible, the image is welcome.
The intent of this award is to find images that powerfully communicate the sense of place, beauty, and design prowess inherent in our architectural world. Submissions can feature people or be devoid of them entirely, can show interiors or exteriors. We're looking for unforgettable images that not only tell a story but also display photographic talent and mastery; whether through composition, lighting, mood, or impact.
Prizes
First prize: $1500 USD and the gorgeous APALMANAC Photo of the Year trophy. Architect-designed and custom made, this trophy is a show stopper and just a little cooler than the collection of soccer trophies in your bedroom from 1992. Your name will be laser etched into the solid walnut trophy and be an incredible addition to a home office or studio. Note that the trophy is in ADDITION to the cash prize. No hidden fees, no payment for trophy – it's a hard-earned and rightfully won award, as it should be.
Second prize: $500 USD and the runner-up APALMANAC Project of the Year trophy. Just as cool, but a little smaller.
A shortlist of the top ten photographs will be published on APALMANAC. For each shortlisted entry, there will be judges' comments and explanations of their choices.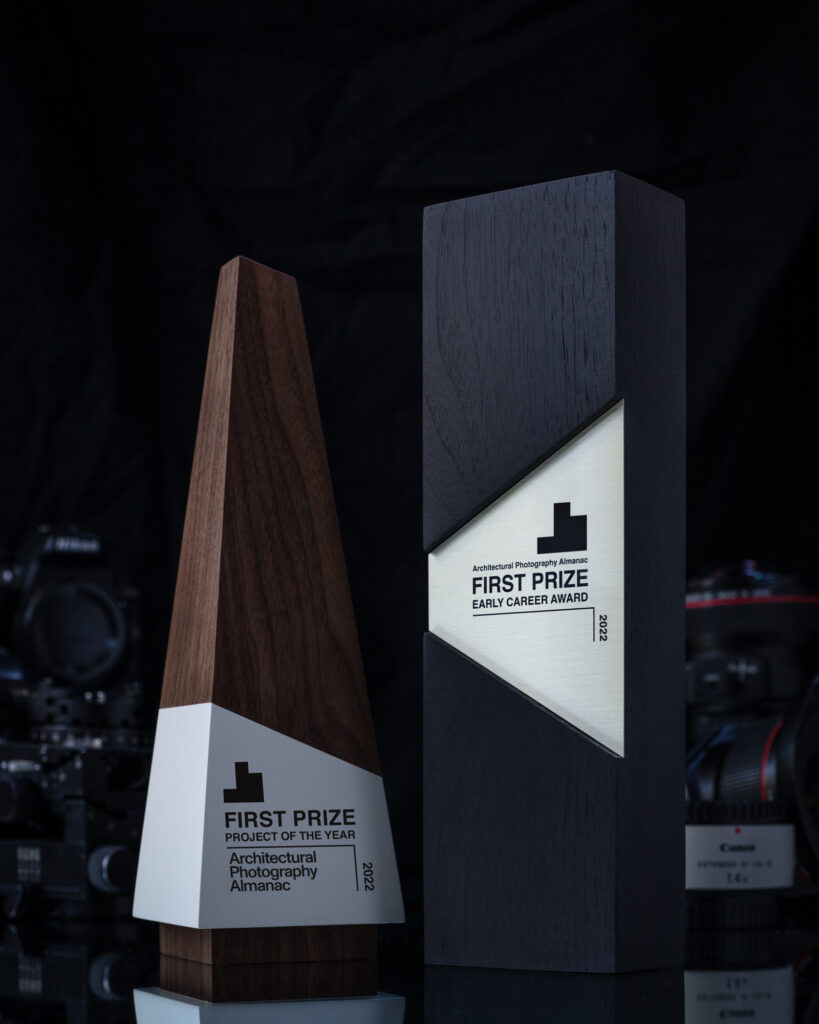 Judging Criteria
Impact: In an era where people are inundated with imagery, does the submitted photo make the viewer stop and look? How many images are we exposed to every day, and how many of them truly stick with us? Can we find an image that cuts through the noise and stands above the rest?
Technical prowess: It goes without saying that the photograph must be very well executed from a technical standpoint.
Subject: While we aren't looking for the most expensive or grandiose subject matter, we are looking for how well the photographer has captured their subject of choice and what kind of decisions went into creating the photograph.
Story: Can a single image tell a story? Can we relate to it, see ourselves in the space, understand the plight, or joy, or beauty of the subject without being there?
We expect winning images to be announced in April 2023.
Entry Instructions
Upload one image in JPEG format, no larger than 10MB total. Images must be at least 1600px on the longest side, and no more than 4000px on the longest side. Non-JPEG images and images smaller than 1600px will not be accepted, as we would like a large enough file to be able to accurately judge the content of your photographs.
All images must have been created in the year 2022.
Your name and any identifying information will be stripped from images before they are submitted for judging.
Submission Deadline: December 31st, 2022 11:30pm
Photo credit for lead image: Tim Griffith, 2021 Runner Up, Photo of the Year