About the PR Guide
Over the years, we've seen firms of all kinds—small, large, new, established—struggle to figure out how to get their work published. The world of design publishing is often opaque—and, at once ever-changing and fully rule-bound. This guide offers a framework of easy-to-implement action steps to demystify this world and get your work published.
We have broken down what has been purposefully kept a difficult process into approachable, distinct categories: photography, pitching, publication, and post-publication. It is our aim to help you do this work yourself so that you, at a fraction of the cost, have just as much of a shot at publication as the firms that hire incredibly expensive outside publicists.
The PR guide is an easily-digestible and easy to follow framework for firms of all sizes to follow.

Who is the PR Guide for?
The PR Guide was written from the point of view of experienced publicists in order to help architects get their work published. We have found significant value in providing this information on the Architectural Photography Almanac because the relationship between designer and photographer is so intertwined that a failure for either party to understand the publication process can lead to disastrous results for both photographer and architect.
Designers: Do you feel like you are missing out on a critical component of your business? Have you struggled to build a recognizable brand behind your work, or develop relationships with key public figures and clients? Getting published in local, regional, and national (and even international) publications does not have to be expensive or difficult, and is crucial to not only forging these relationships but also sharing your work with the world.
"It's helpful to have a sense of where you'd like your project to be published before doing photography. Some magazines, like Architectural Record, demand a focus on details, architectural decisions, and formal ideas. Others, like Elle Decor, rely on lively styling and a sense of interior decor. It's essential for you to work with your photographer in assessing which publication might be interested in your project and organizing the shoot accordingly" – Excerpt from the ARCH PR Guide
Photographers: Do you want to add incredibly valuable knowledge to your business repertoire? How many times have you been asked to help get a project published, or if you have a contact at a magazine where you can pitch a story? Do you want to help craft pitches to potential clients which involve publication, but are not sure where to start? Do you want to be trusted to photograph portfolio-worthy projects that are a step above the ordinary? Do you want a peek behind the publishing world's curtain to better understand how to get your images and your clients' projects published?
"It is recommended that you do a scout before doing a shoot, so that you discuss with the photographer what they believe the most important angles are. It is not recommended that you attend the shoot, in fact, we recommend that you do not go to the shoot. It is very difficult for the architect to let of ownership at this stage, but photographers are trained to see buildings and projects with an editorial eye, which is what is needed. We have many times encountered architects who want to art-direct a photo shoot, resulting in unworkable editorial photography that then needs to be re-shot at significant expense to the designer" – Excerpt from the ARCH PR Guide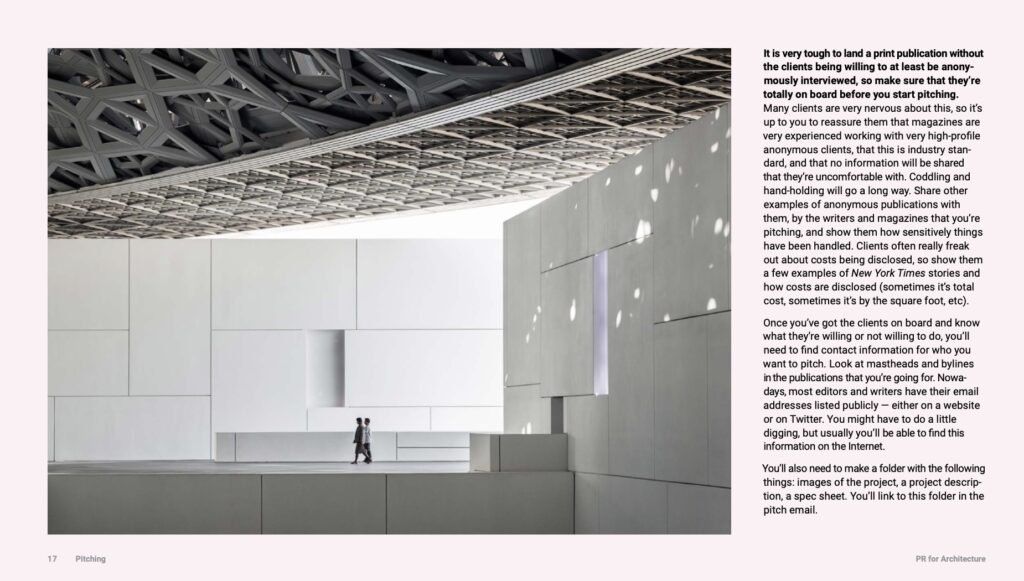 About Eva and Marianela
The Architectural Photography Almanac is proud to partner with writers and media strategists Eva Hagberg and Marienela D'Aprile, to release the ARCH PR Guide.
Eva Hagberg and Marianela D'Aprile are writers, strategists, historians, and design thinkers. They have collaboratively and collectively represented a large number of boutique architecture firms, securing long-form features and cover stories in, among others, the New York Times, Wallpaper*, Monocle, Dwell, Dezeen, Interior Design, and Architect. In addition to writing, they have both worked extensively to commission photography to document landmark projects across North America, representing residential, commercial, hospitality, and educational projects.
Hagberg is the author of the forthcoming scholarly monograph When Eero Met His Match, a historical look at the first architectural publicist ever and a theoretical look at the relationship between architecture and the media.
Frequently Asked Questions
How will I receive the PR Guide?
The PR Guide will be delivered to your email as a PDF with a password contained within the email that will allow you to access the PDF. If it doesn't arrive within a few minutes, check your spam folder.
Is this an Architectural Photography Almanac product?
This product is sold as an affiliate product on a third party website. If you have questions regarding support, feel free to contact APAlmanac or the email address contained within your purchase email.
Was the Architectural Photography Almanac involved in production of this guide?

Architectural Photography Almanac provided images and feedback for the guide. We have worked closely with the authors for years to get projects published and are proud to partner with Eva and Marianela to bring this knowledge to the design world at a reasonable cost when compared to hiring an outside PR firm.
Can I use this on my iPad/Kindle/iPhone/Tablet?
You may have difficulty downloading onto a mobile device unless you can download directly into the 'files' app (iPhones and most Apple products include this). We recommend downloading first to a desktop or laptop in order to ensure compatibility, and then transferring to your phone or iPad using your preferred method.
Your purchase funds the Architectural Photography Almanac
We are proud to run a blog free of advertisements and as a result our topics are not influenced by financial bias or pressure to positively review a certain piece of gear or suck up to any industry figures.  Writers are free to explore any topic, whether controversial, opinionated, or otherwise. Sales of this PR Guide generate income that helps to pay for server costs, pay the writers for their valuable contributions to architecture and design, and for our Mailchimp subscription which we try not to annoy you more than once every other week with despite the angry emails that tell me I'm wasting people's precious inbox pixels.